When life gives you lemons...make a cocktail?
Is that how it goes? We don't know. What we DO know is that the temps have *finally* gotten us to "let's bask in the warmth of a long lazy afternoon for as long as is humanly possible" status and we are going to make the most of every sun-kissed minute—with a sweet-tart sip in hand. After polishing off the last of last month's big batch of sunny hot-pink rhubarb syrup, we decided to whip up a few bottles of this exquisite homemade lemonade. Perfect for slaking your thirst after a long day marching, salading, "working", gardening, or (literally) doing nothing at all.


Hand-turned wooden bowl, Minnesota Clover Honey, Bud Vase, Easy Table Linens
This is "lemonade" in essentially two parts: honey-thyme syrup + lemon water. "Lemonade" isn't a misnomer here, but, like many of our favorite recipes this one could be halted, mid-way through, and still yield something amazing. Just a heads up if anyone else is having a hard time executing tasks all the way through in one shot (surely we aren't alone in finding ourselves pausing mid-stir, the brain bounding away on a maelstrom of thoughts? Don't despair, lean in to the pause). 


Thyme-Honey Lemonade

- 3 tablespoons honey
- 1 1/4 cups sugar
- 2 liters of water (~8 cups)
- Handful of fresh-cut thyme sprigs
- The juice of ~7 lemons
- 1 thinly sliced lemon for PRETTINESS!

Put honey, sugar, thyme, and and 2 cups of water in a your favorite little pot. Bring to a boil and simmer until honey and sugar is completely dissolved and your kitchen smells amazing.


Let the syrup cool and pop into the fridge for 4 hours minimum. At this point you could just stop and enjoy yourself some thyme-honey simple syrup drizzled on whatever needs it. If that's the case, put it into a little jar for easy deployment. To make two big bottles of lemonade, split the syrup between two of these awesome 1liter flip top bottles and stick them in the door of the fridge.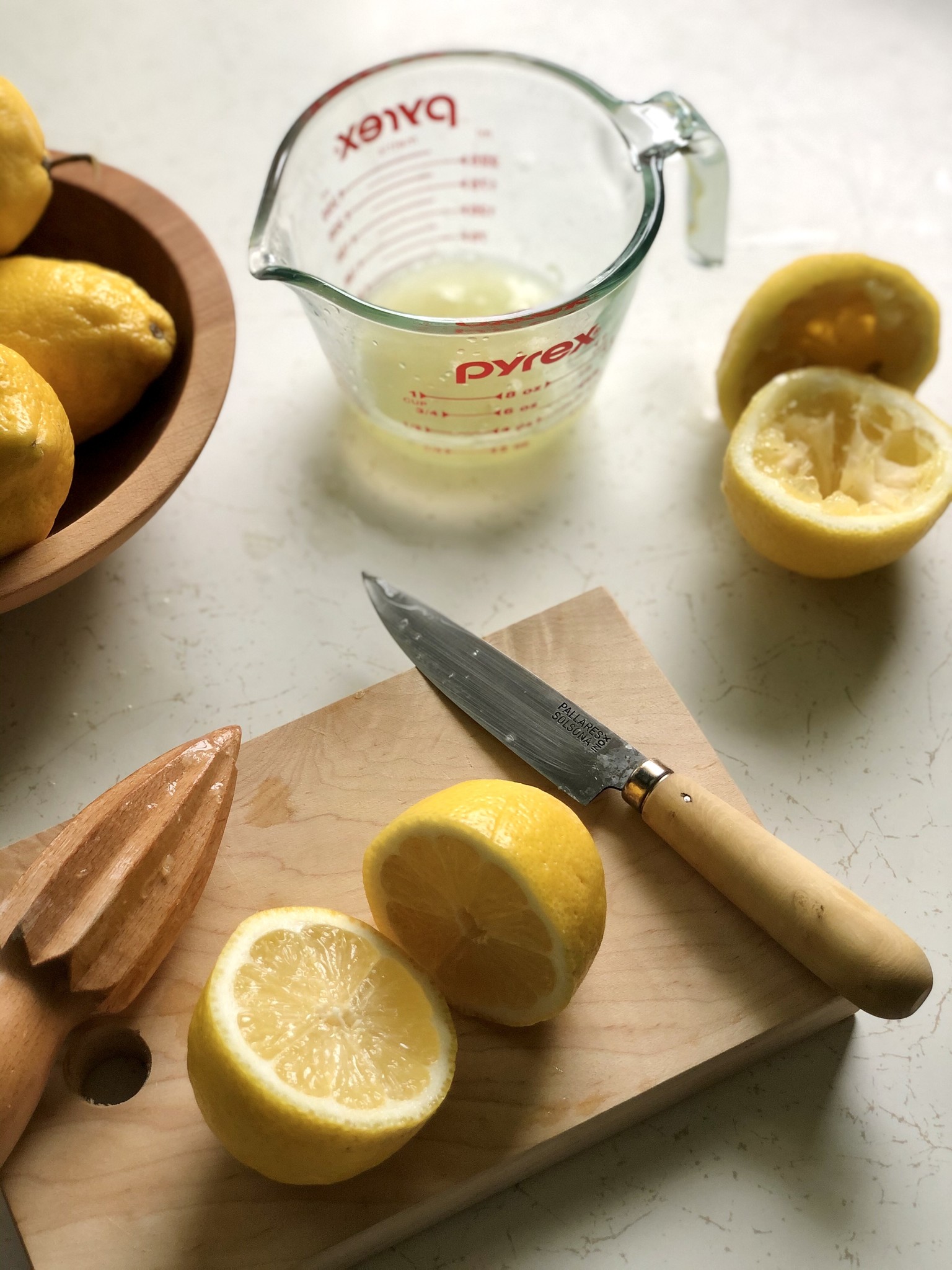 Pallares Kitchen Knife, Mara Metz Cutting Board, Citrus Reamer, Hand-Turned Wooden Bowl


Slice and juice your lemons! Once you've squeezed them, you can use old lemon halves for cool stuff like: polishing up brass or copper (just dip the end in salt and rub'n'buff away), or let them soak in vinegar for a few weeks for another all-natural all-purpose cleanser, cover them with salt in a jar to make preserved lemons, or take a page from Aspiring Tea Spokesperson Jim and send one whizzing down your garbage disposal to make it lemony fresh.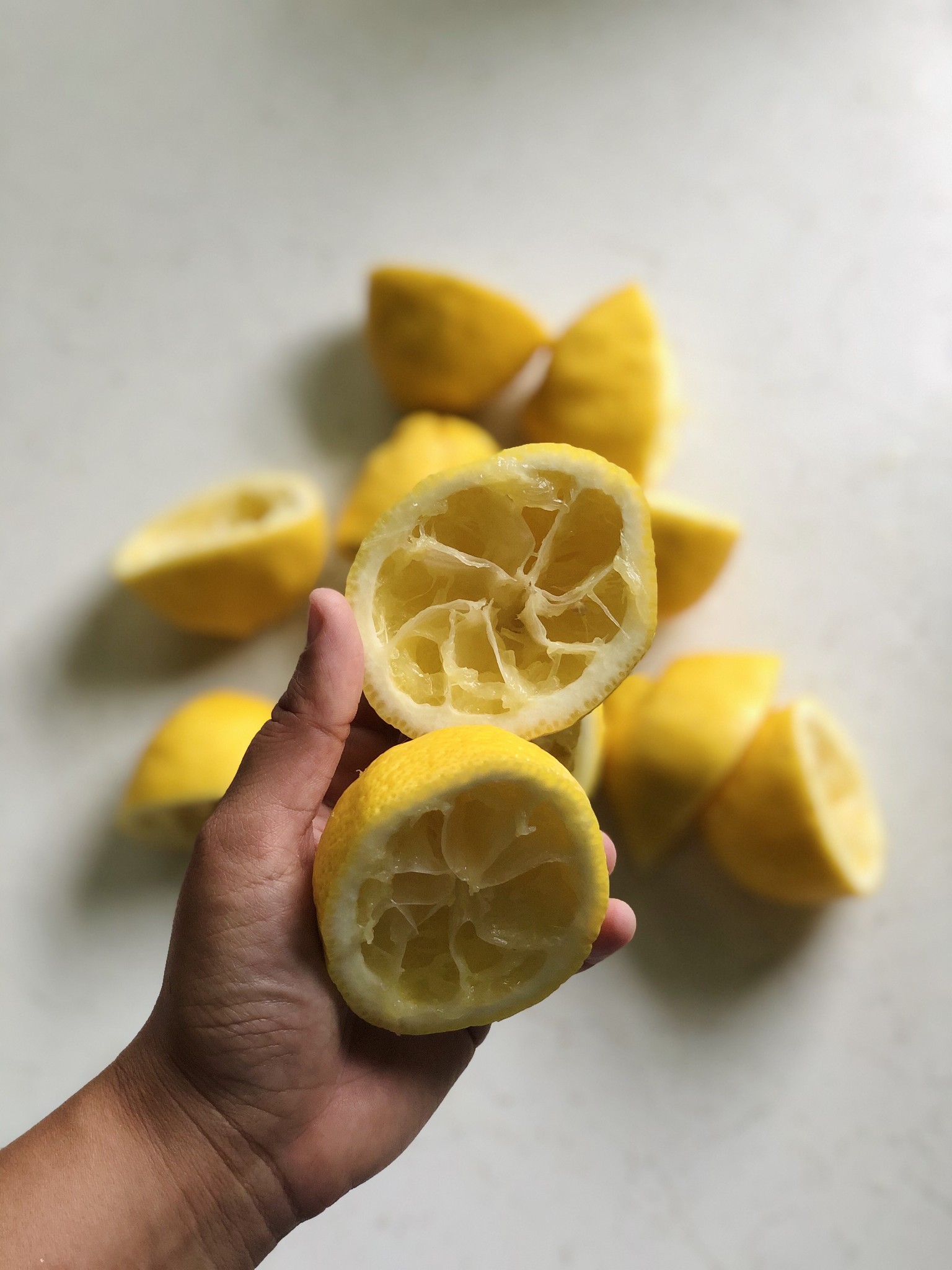 Once your lemons are juiced, strain out the seeds (feel free to add some of the pulp back in if, like me, you're a pulpy gal). When the syrup is cooled, add water (sparkling or still, your call) and lemon juice.
And there you have it! A nice, backyard picnic/cocktail night/sit-and-drink-some-with-some-chips-in-the-afternoon-kind-of treat! Maybe add blueberries! The options are endless! We have even considered adding a splash of tequila directly into the cup...OR NOT! It's summer, you do you!
And if you have a neighbor/friend/loved one in need of a little pick-me-up, go ahead and take that second bottle on over there (before you finish the whole thing yourself). Whatever time it is and however you're feeling, everyone deserves to enjoy a little summer in a glass. Cheers!