It's simple: we're all at home, let's make it good....with some sweet-tart springtime in a bottle!

When ray-of-sunshine-personified
Heather
and her wife, Lisa, moved into their 1950's dream home-zone last year it had been in the same family for 68 years. In the manner and romance of living in an older home, they love discovering the histories and mysteries that that family left behind in the architecture—small proofs of lives-well-lived and nurtured in the very same place. As the weather warmed, they turned to the garden. In the back, they found a riot of rhubarb: 7 mature plants that had been loved and well-tended and (obviously) divided numerous times in the 68 bracing springs that came before this one. Not ones to mess with tradition, Heather and Lisa divided the plants again and gave them to friends and family, and were
still
left with an overabundance of tart pink stalks. Ahh, the way of rhubarb!
What to do? Make Rhubarb Syrup, OBVIOUSLY! A tart-sweet delight married, in the traditional way, with spring's other sweet-tart miracle: fresh strawberries. Springtime personified!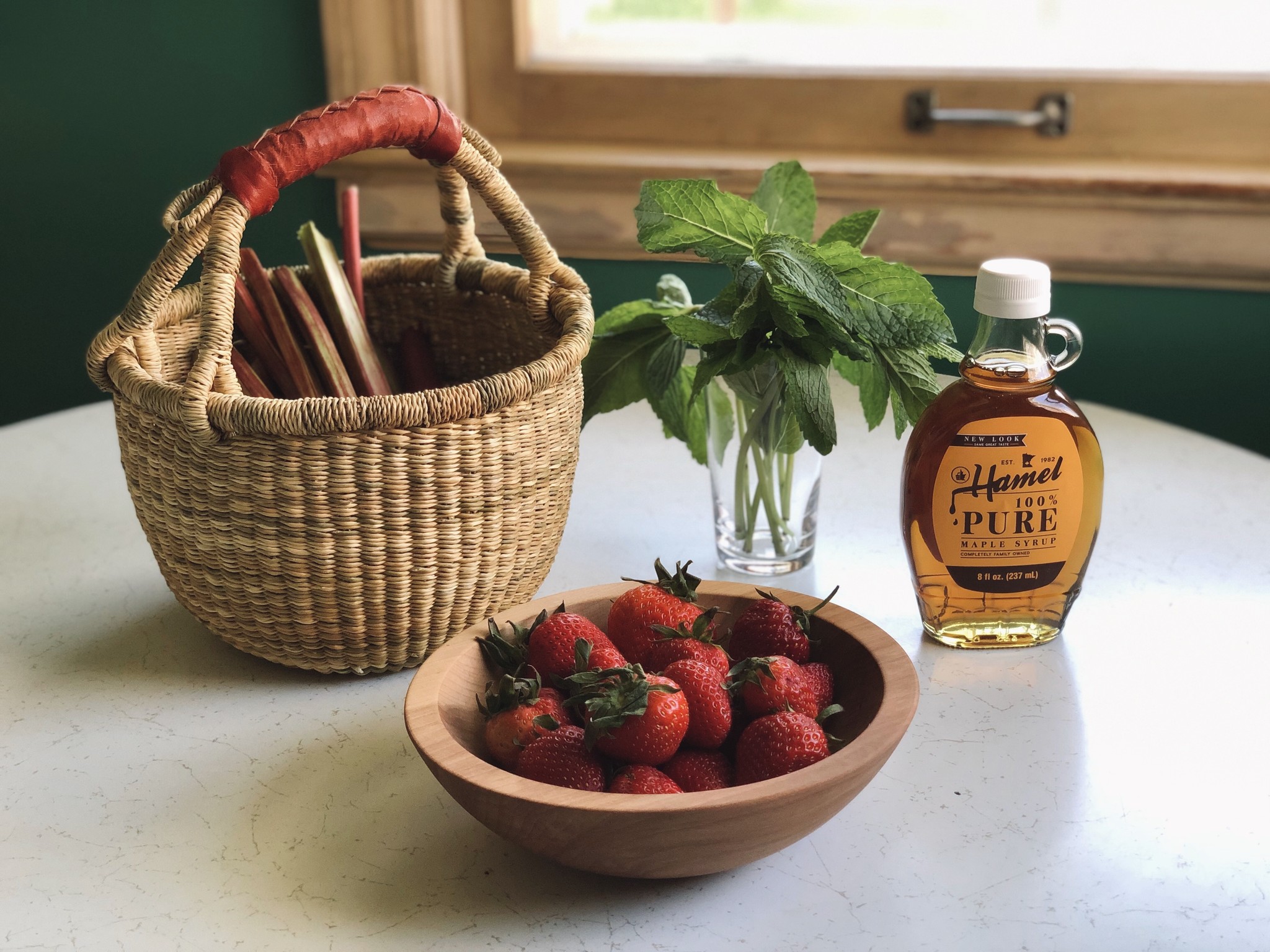 Kiddo-Sized Bolga
Basket
, 
Holland Mill Turned Beech Bowl
, Japanese Seltzer Glass


RHUBARB STRAWBERRY MINT SYRUP
adapted by Heather from here 
Ingredients:
2 cups ripe strawberries, hulled and sliced. This is an especially good application for berries on their last legs.
2/3 cup rhubarb, chopped (1-2 stalks, depending on thickness)
1/3 cup mint leaves, chopped
1 cup water
3 tablespoons pure maple syrup agave, or sweetener of choice (or, in my case, like, WAY more—8 Tbsp? 10? Or you can just substitute 1 cup of sugar!? This is syrup, for goodness sake!)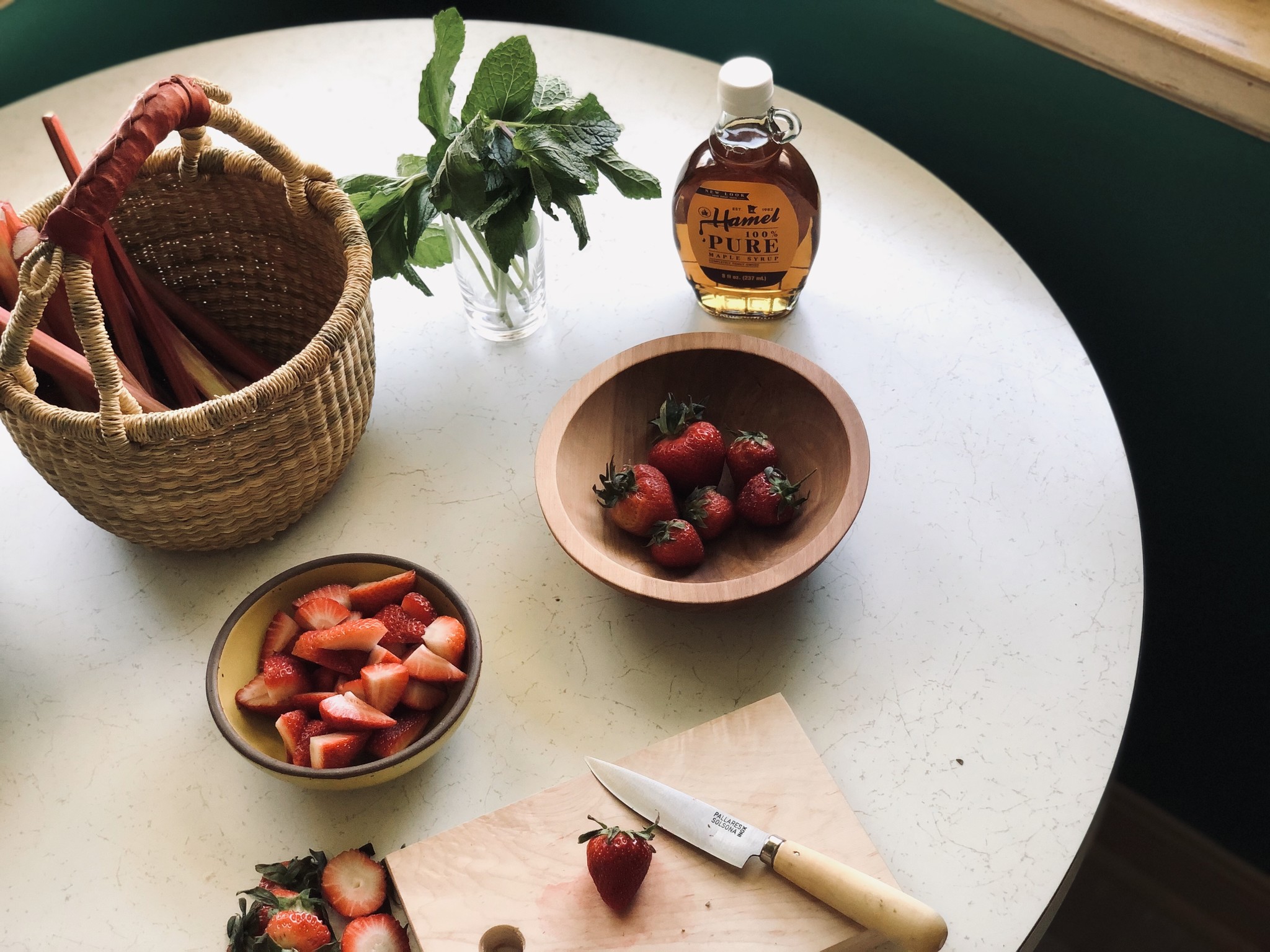 Mara Metz Snack Sized Cutting Board, Pallares Kitchen Knife, Kiddo-Sized Bolga Basket, Holland Mill Turned Beech Bowl
Instructions:
Add all ingredients to a medium-sized pot and bring to a full boil.

Reduce the heat to a simmer, cover the pot and cook for 20 to 25 minutes.

Remove from heat, mash the fruit with a fork, and allow mixture to cool for 15 minutes.

Using a

small fine strainer

, strain the juices into a cup. Press down on the fruit using a spoon or fork in order to get all of the juices out.

Use that fruit pulp in your baking recipes! Or as a compote! Put it on ice cream! With ricotta on toast! Pork chops!

Allow simple syrup to chill in the refrigerator before deploying.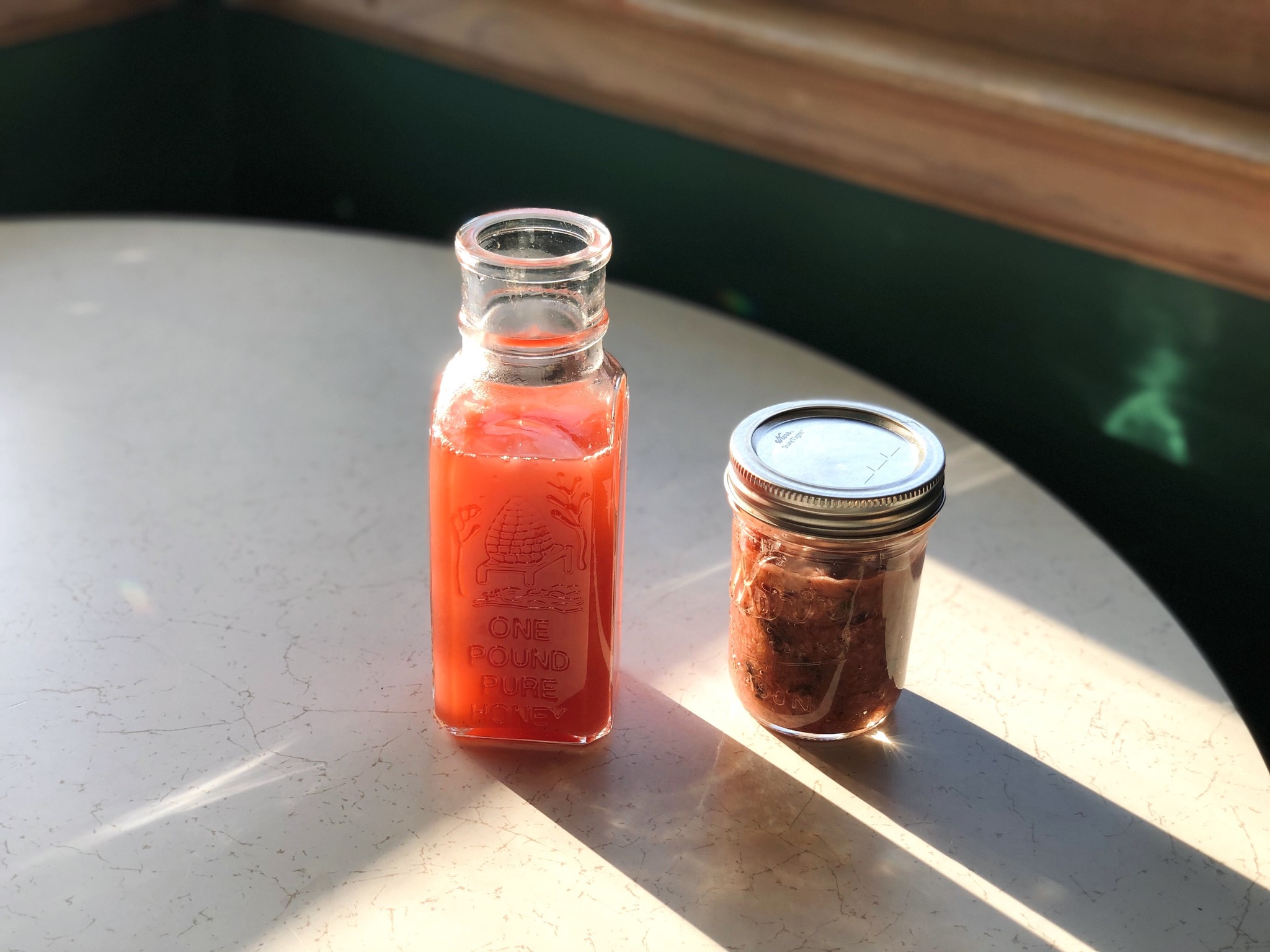 HOW TO ENJOY
Add this bright, sweet, scarlet treat to cocktails, lemonade, iced tea, ice cream, or
Heather
's fave: homemade soda! Mix in a good bloop with some sparkling water and ice, throw a mint leaf or two in with it, pop your
stainless steel reusable straw
 in there, give it a swirl, and head outside with it for a blissful afternoon sip!
FYI: The Foundry At Home is our very own Foundry series of ongoing/daily/weekly/golly-we-hope-not-longer-than-monthly activities designed and executed by our insane-amazing shop team to occupy your BRAIN and engage your BODY and help us all lean into the lovely moments of calm and beauty that are possible.