There are so many things to love about June.
The shockingly long days. The first fireflies. The very feel of the air on your skin...And the fact that the combination of the earth's bounty and the long days' blessings make it ok for you to basically eat snacks for three hours straight outside under the glow of the last rays of sun and effectively call it dinner. The lingering evening outdoor nosh is one of our favorite shared Two Pony traditions, so it's natural that we share the magic with the CSA.

Of course this exact same thing can happen indoors any time of the year, but there's something about small bites, small plates, and a big June mood that just go together. Allow us to clarify: when we say "snacks" we aren't talking about a bowl of chips (though there is certainly room for chips on the outdoor table), we're talking about putting together small bites of whatever is at hand and in season, popping it all on a tray, and grazing until the sun goes down. You can find a few of our favorite tips for putting together a "this-totally-counts-as-dinner-nosh-platter here and below are a few CSA-tailored recipes that cascade into each other (make one, or make them all!) to dovetail perfectly with these long, glorious twilights.
Quick Pickled Rhubarb
No canning required, these sweet, tart, tangy, and delightfully PINK rhubarb pickles are ridiculously easy. They make a great bright and acidic friend for punching up your mezze, both visually and flavorfully. Save that bright pink pickling brine, you'll see why below!
Ingredients
4-6 rhubarb stalks/sliced to your preference
2 cups water
2 cups red wine vinegar
1 1/2 cup Turbinado Sugar
zest of 1/2 small orange
2 bay leaves
1/2 tsp black peppercorns
3 tbsp sea salt
1 tsp fresh ginger 
3 dried chile peppers (we love ancho or thai, but crushed red pepper will work in a pinch... feel free to adjust for your spiciness preference!)
1 tsp mustard seeds
Slice rhubarb in your desired shape. We like 1 1/2" batons sliced on the diagonal, but you do you! If you encounter stings when you're slicing the rhubarb (similar to celery) you can give it a quick peel first with a vegetable peeler if that's your preference.

Add rhubarb to a clean jar—large enough to hold all of the pickling liquid—with a lid.
In a non-reactive pot (stainless steel or tin; avoid cast iron, aluminum and copper), combine water and red wine vinegar.
Place over medium heat and add in remaining ingredients.
Bring to a boil then reduce heat to low to simmer for 5 minutes, until sugar is dissolved.
Once cool, remove bay leaves. Pour over the rhubarb, making sure the rhubarb is fully covered with liquid.
Put the lid on and refrigerate for at least a day. If you leave the chiles in it will get spicier as it sits! 
After a day, enjoy!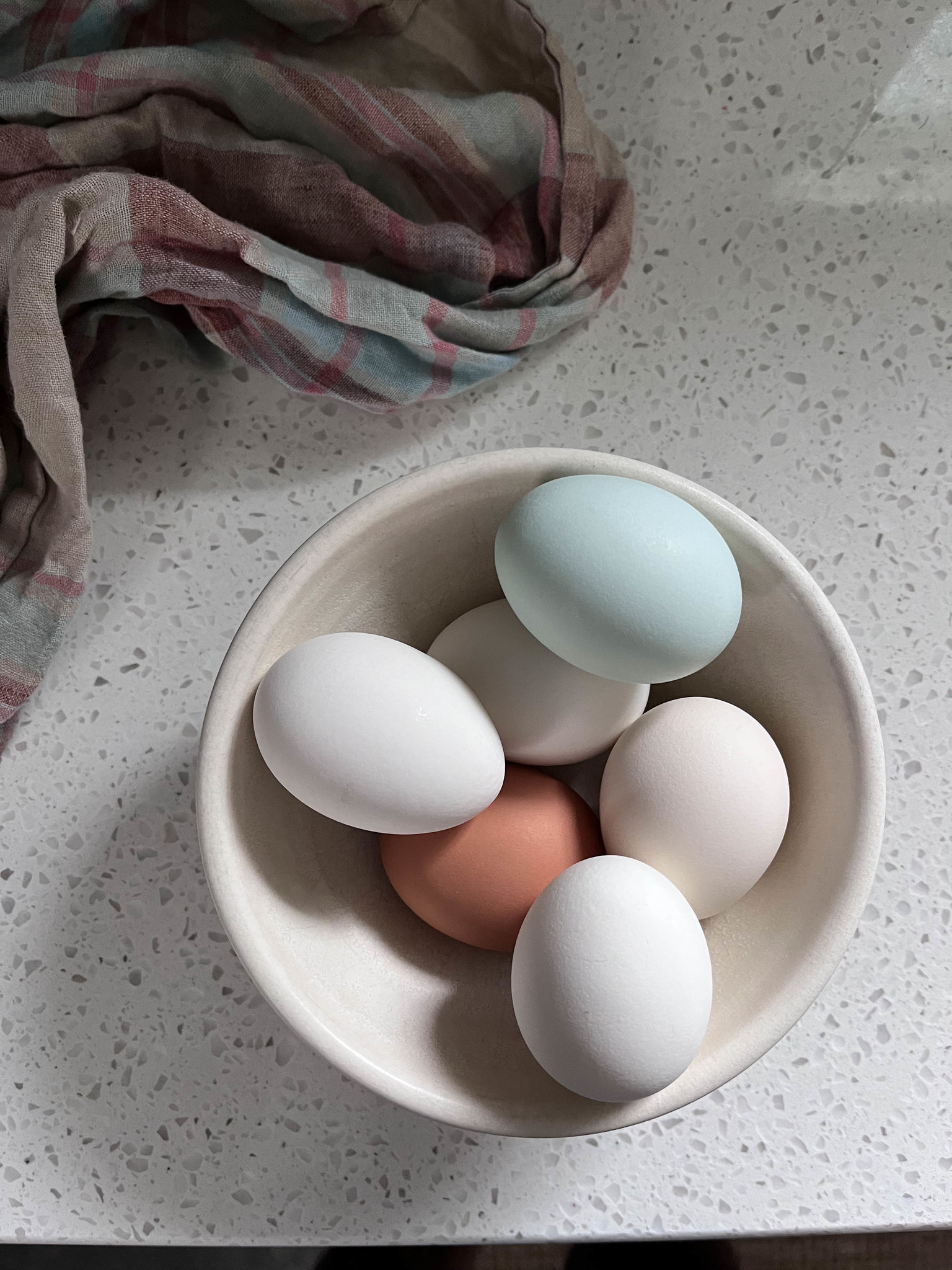 Rhubarb Pickled Eggs
Once you've made your rhubarb pickles, transfer them to a smaller jar with enough pickling liquid to cover the pickles. In your original jar, you should have ~2 cups of pickling liquid.
Hard boil and peel as many eggs as will fit in your jar of pickling liquid (8 is usually a good bet). Add them to the liquid until they're submerged. Put them in the fridge for as long as you can stand: pickled eggs can be eaten after a few hours of marinating, but the longer you leave them submerged the picklier—and pinker!—hey'll get. We like a weeknight pickle that gets eaten on the weekend. Eggs pickled for a week will last in the fridge for A MONTH (!) but these always get eaten well before then. As always, maintain proper food safety protocols and don't eat anything that smells funky.- your mother.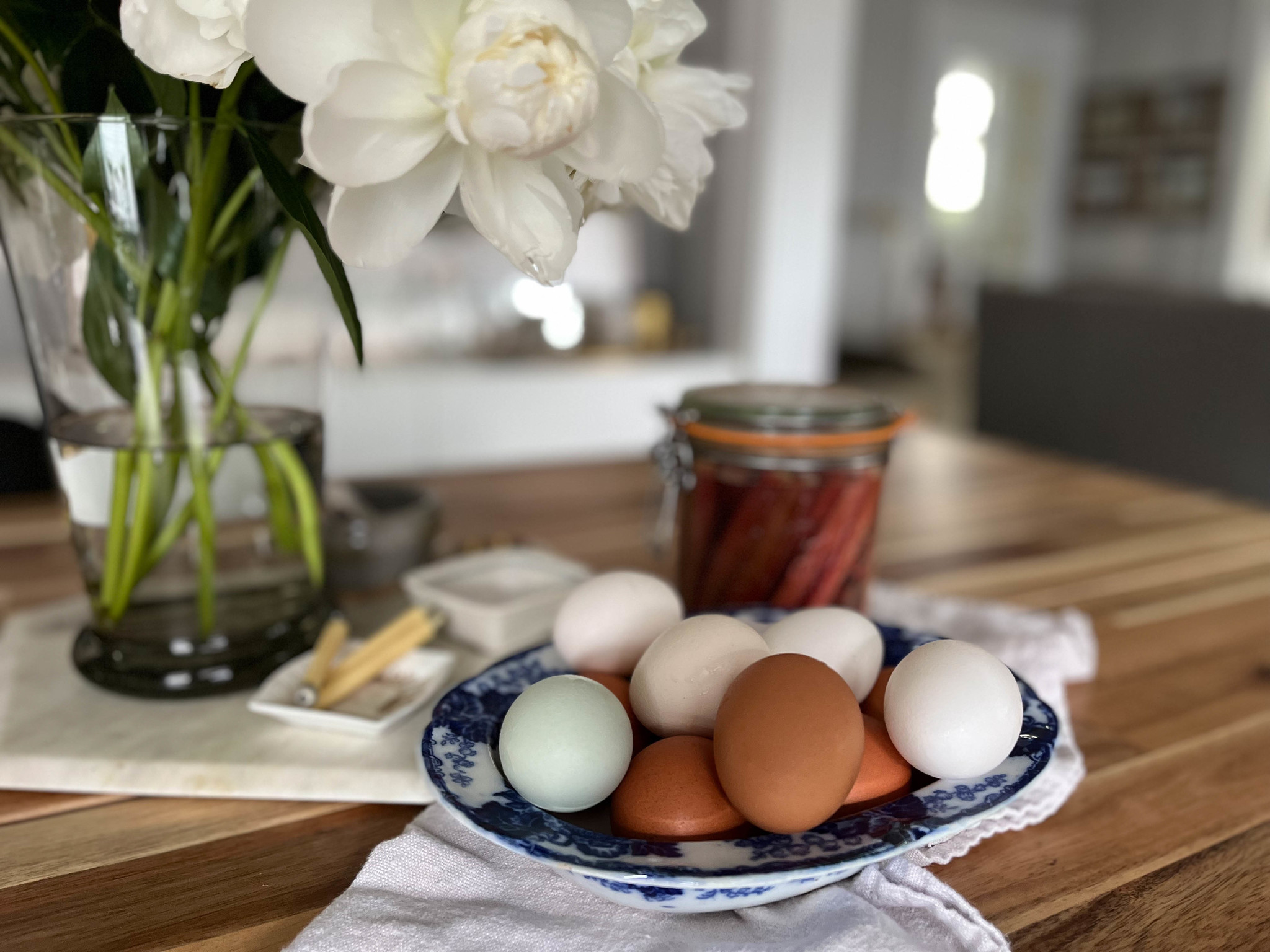 Rhubarb Pickled Deviled Eggs
Rhubarb pickled eggs are DELISH as-is, but if you want to get all "host-with-the-most" on it, a deviled egg never goes askance.
Ingredients


8 Rhubarb Pickled Eggs
1/4 c mayonnaise
1 tbsp dijon mustard
1 tsp minced rhubarb pickle 
Thinly sliced rhubarb pickle for garnish
salt + pepper to taste
Cut your rhubarb pickled eggs in half lengthwise and remove the yolks into a bowl.
Mash the yolks with the mayonnaise and mustard until a creamy consistency has been achieved and then stir in the minced rhubarb pickle, salt, and pepper to taste.
Using a spoon, divide the mixture among the egg whites, filling each cup (if you want to get fancy, you can put the yolk mixture into a pastry piper or a plastic bag with the corner cut off and pipe the mixture into each egg, but that is usually fussier than we care to get).
Garnish with thinly sliced rhubarb pickle or chopped chives and enjoy!
Chive Blossom Vinegar
Lisa's favorite from Leite's Culinaria
It's easy to make sweet, delicately flavored chive blossom vinegar. The blossoms are cleaned and placed in canning jars and warm white wine vinegar is poured over. Once cooled, the vinegar is left in a cool dark spot to infuse and turn a blushy-pink.
1 cup Champagne or white wine vinegar
1 cup chive blossoms
In a small saucepan, gently warm vinegar but do not boil. Meanwhile, submerge your chive blossoms in cold water to knock out any garden stowaways or fresh-from-the-field dirt. Drain and shake off excess water.
Stuff chives into a clean, glass jar and cover with the warmed vinegar. Make sure all chive blossoms are submerged.
Seal jar and store in a cool, dark place for 1-2 weeks minimum while your vinegar infuses. Don't shake! If using a metal lidded container the vinegar may react with the lid and alter your tasty infusion.
When you're happy with the strength of your infused vinegar, strain to remove chive blossoms. Store and use as you would white wine vinegar. We love this infusion in dressings and marinades all summer long.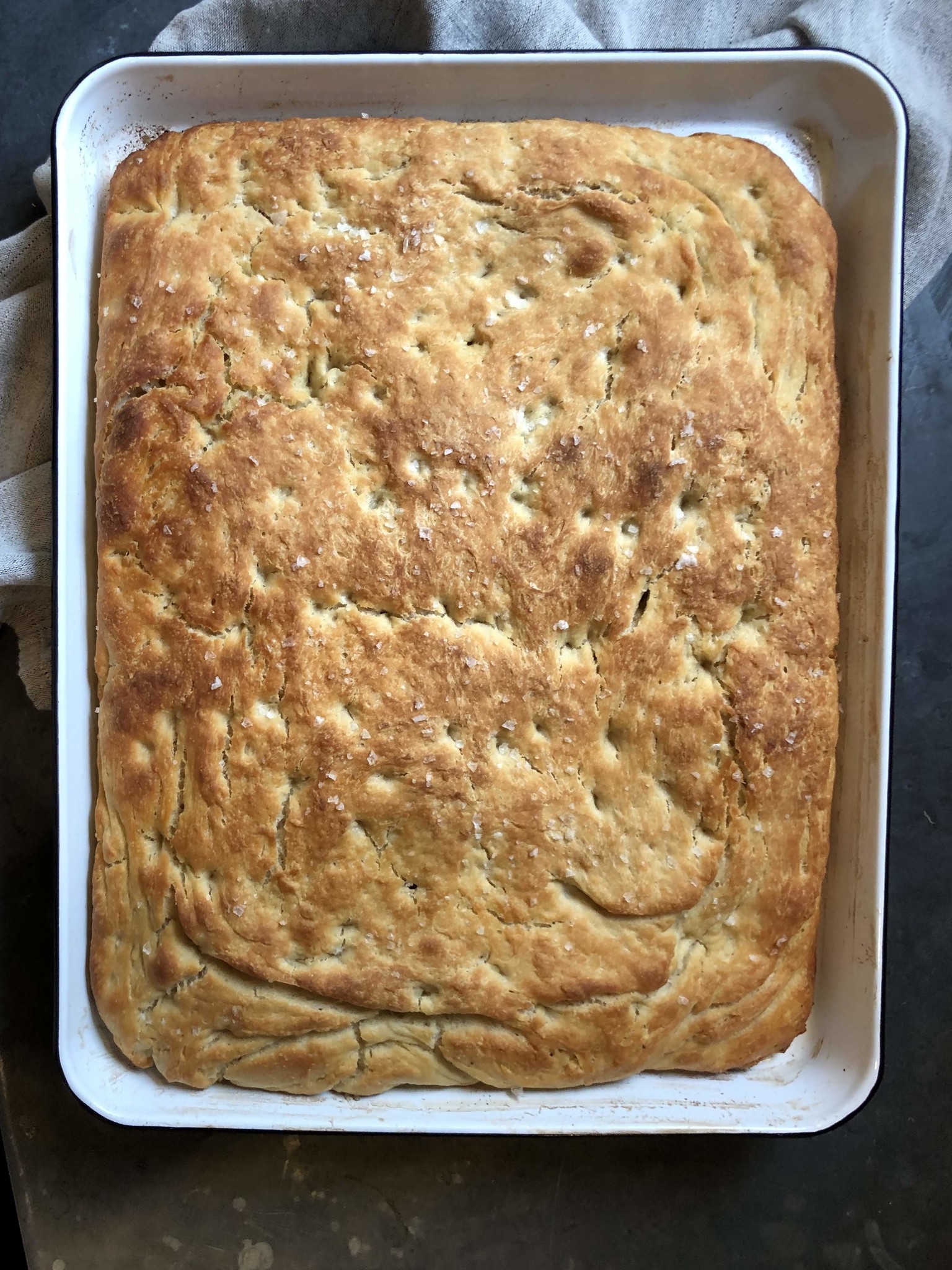 Shockingly Easy No Knead Foccaccia
from Bon Appetit
This overnight bread is—as the name suggests—both shockingly easy AND a total showstopper. Bake and serve in your new enamel pan—and serve with sliced radishes and butter—for maximum oomph and beauty.
1 1/4-oz. envelope active dry yeast (about 2 1/4 tsp.)
2 tsp. honey
5 cups (625 g) all-purpose flour
5 tsp. Diamond Crystal or 1 Tbsp. Morton kosher salt
6 Tbsp. extra-virgin olive oil, divided, plus more for hands
4 Tbsp. unsalted butter, plus more for pan
Flaky sea salt

Whisk one 1/4-oz. envelope active dry yeast (about 2 1/4 tsp.), 2 tsp. honey, and 2 1/2 cups lukewarm water in a medium bowl and let sit 5 minutes (it should foam or at least get creamy; if it doesn't your yeast is dead and you should start again—check the expiration date!).
Add 5 cups (625 g) all-purpose flour and 5 tsp. Diamond Crystal or 1 Tbsp. Morton kosher salt and mix with a rubber spatula until a shaggy dough forms and no dry streaks remain.
Pour 4 Tbsp. extra-virgin olive oil into a big bowl that will fit in your refrigerator. This puppy is going to rise! Transfer dough to bowl and turn to coat in oil. Cover with a silicone lid or plastic wrap and chill until dough is doubled in size (it should look very bubbly and alive), at least 8 hours and up to 1 day. If you're in a rush, you can also let it rise at room temperature until doubled in size, 3–4 hours.
Generously butter your enamel baking pan (or you can use a 13x9" baking pan, for thicker focaccia that's perfect for sandwiches). The butter may seem superfluous, but it'll ensure that your focaccia doesn't stick. Pour 1 Tbsp. extra-virgin olive oil into center of pan. Keeping the dough in the bowl and using a fork in each hand, gather up edges of dough farthest from you and lift up and over into center of bowl. Give the bowl a quarter turn and repeat process. Do this 2 more times; you want to deflate dough while you form it into a rough ball Transfer dough to prepared pan. Pour any oil left in bowl over and turn dough to coat it in oil. Let rise, uncovered, in a dry, warm spot (like near a radiator or on top of the fridge or a preheating oven) until doubled in size, at least 1 1/2 hours and up to 4 hours.
Place a rack in middle of oven; preheat to 450°. To see if the dough is ready, poke it with your finger. It should spring back slowly, leaving a small visible indentation. If it springs back quickly, the dough isn't ready. (If at this point the dough is ready to bake but you aren't, you can chill it up to 1 hour.) Lightly oil your hands. If using a rimmed baking sheet, gently stretch out dough to fill (you probably won't need to do this if using a baking pan). Dimple focaccia all over with your fingers, like you're aggressively playing the piano, creating very deep depressions in the dough (reach your fingers all the way to the bottom of the pan). Drizzle with remaining 1 Tbsp. extra-virgin olive oil and sprinkle with flaky sea salt. Bake focaccia until puffed and golden brown all over, 20–30 minutes.
Serve with sliced radishes and room temperature butter if desired and/or sprinkle with chopped chives.
FOR SIPPING
Rhubarb Simple Syrup
Ingredients:
2-4 stalks rhubarb, chopped
1 cup water
1 cup honey
Combine the rhubarb, honey, and water in a heavy-bottomed saucepan and bring to a boil. Lower the heat to a simmer and cook gently, stirring occasionally, until the fruit is soft and the liquid has thickened slightly, about 20 minutes.
Set a fine-mesh strainer (or a standard strainer lined with cheesecloth) over a large bowl. Pour the rhubarb through the strainer until most of the liquid is in the bowl. Press the solids a little with the back of a spoon to extract more syrup.
Carefully pour the syrup into a clean bottle. Close or cork the bottle and refrigerate. Rhubarb syrup will keep for quite a long while in the fridge.
The leftover solids are also delicious as a rough, chutney-style jam! Excellent on yogurt, toast, cake, or alongside everything else. Keep refrigerated.
Add this bright, sweet, scarlet treat to cocktails, lemonade, iced tea, ice cream, or homemade soda: Mix in a good bloop with some sparkling water and ice, throw a mint leaf or two in with it, pop your stainless steel reusable straw in there, give it a swirl, and head outside with it for a blissful sip.
If you want to turn golden hour into cocktail hour, then go ahead and whip up a...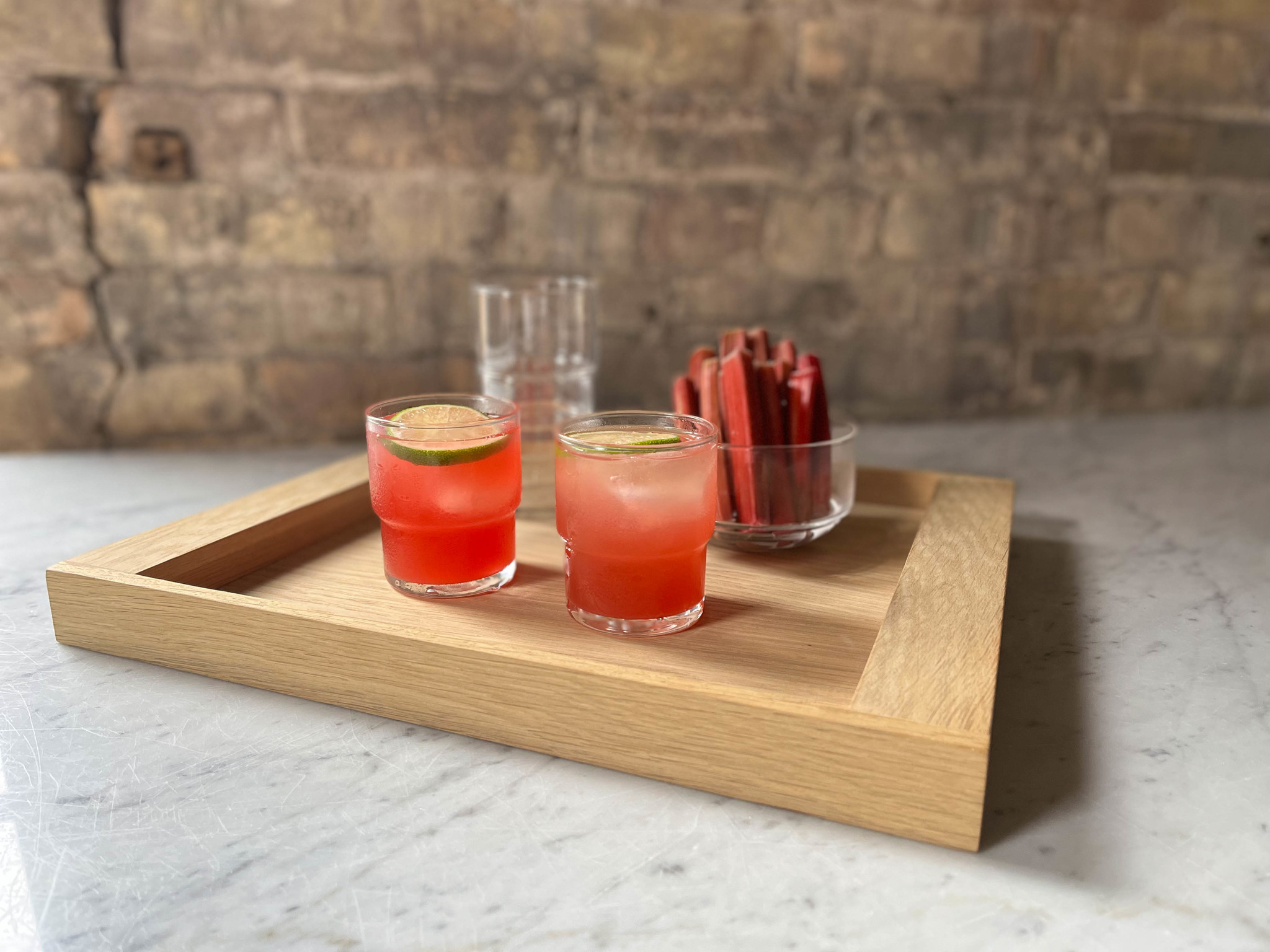 Rhuby Slipper 
Juice of 1/2 a lime, plus thinly sliced lime for garnish
2 ounces tequila or gin
2 ounces dry white vermouth
2 ounces Rhubarb Syrup
Dash of bitters (we like Peychauds)
Combine all ingredients over ice in a shaker, shaking vigorously until the shaker feels icy cold. Strain into a rocks glass filled with crushed ice, garnish with lime wheel.
Enjoy!