We are thrilled, absolutely THRILLED to introduce our new Foundry Home Goods Refillable Bulk Bottles.
We've been dreaming and scheming on these bottles ever since we launched our Bulk Cleaning Supplies section. The reasons to go bulk are beyond compelling. Choosing to buy environmentally friendly, ethically produced, naturally-fantastic-smelling versions of your go-to cleaners from small vendors you trust is a simple, easy pivot towards sustainability. When those powerhouse cleaners are also sold, shipped, and stored in beautiful, functional, re-usable vessels? The choice is as clear as a streak-free, lavender-scented window.


Inspired by classic amber apothecary bottles, our 16 oz. Foundry Refillable Bulk Glass Bottles are available either pre-filled with our Ruby-approved all-natural powerhouse cleaning supplies OR empty and ready for your favorite bulk soap, lotion, or DIY-cleaning potion.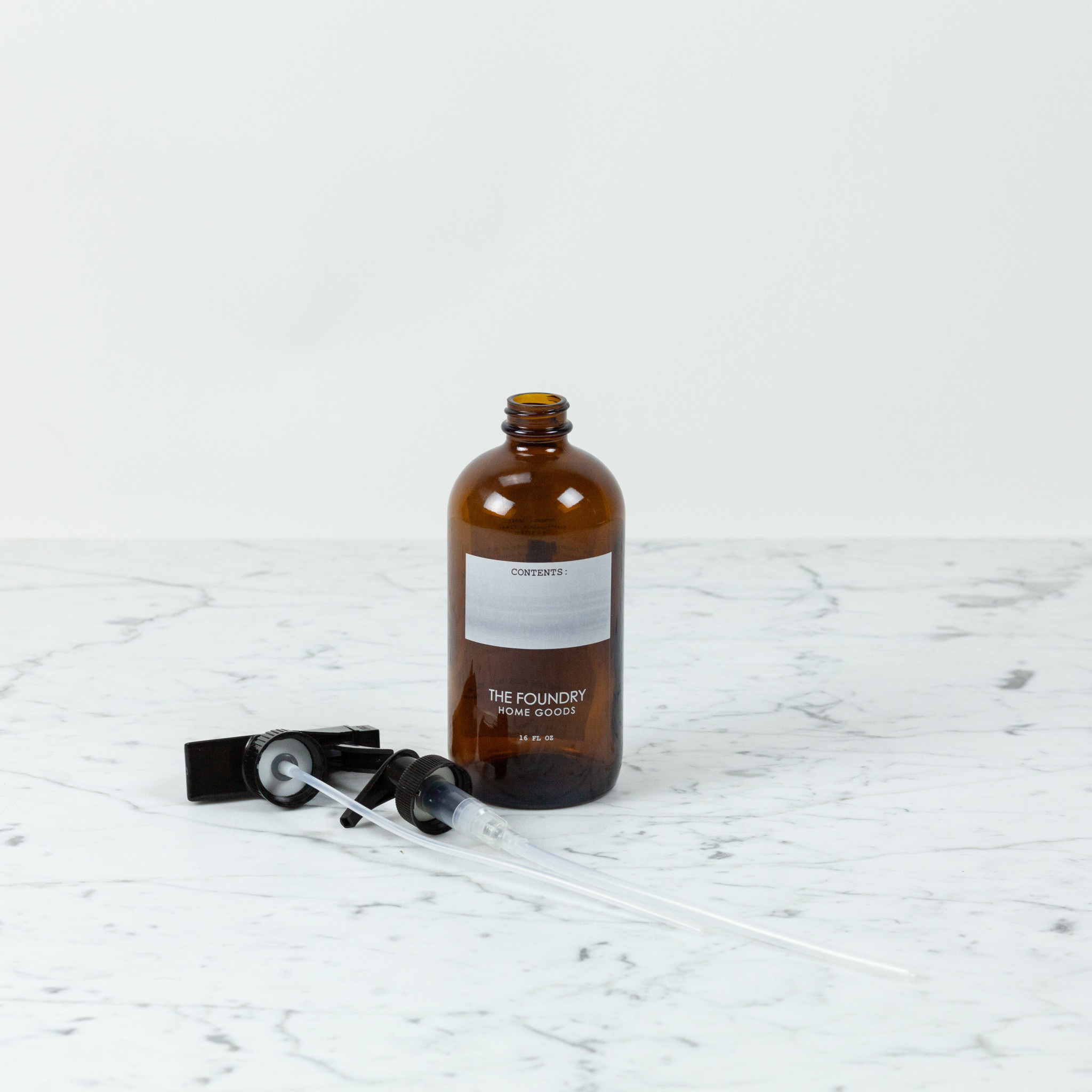 Each bottle comes with both a pump top for lotions or soaps and a spray/stream trigger top for sprays and streams. Both top styles can be closed completely or spun around and still work from any angle (a weird detail, though worth mentioning as some pumps only work from one angle and then you're always futzing with it—especially relevant for those of us who need to have things looking lined up). They are infinitely refillable, reusable, and—with a blank front by our design—re-labelable (we recommend using a classic china marker or one of these ingenious 3-in-1 wax pencils) so you can mix it up and always know what you're working with.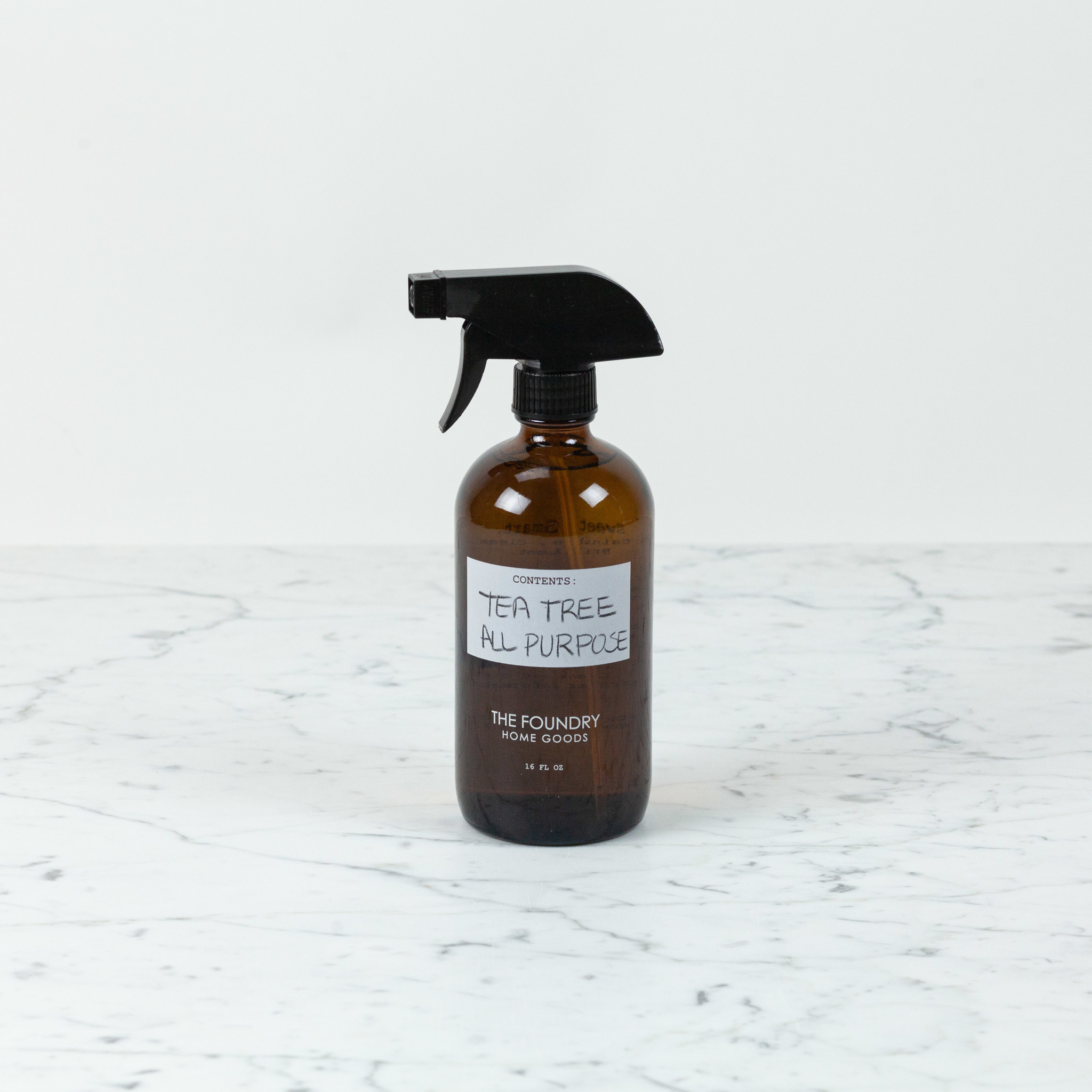 Available in Tea Tree or Mint + Eucalyptus, we love these Leaping Bunny Certified Sprays. Countertops and cook surfaces, dining tables and bathroom zones, sticky refrigerator shelves and sticky children's hands (hey, sometimes they get into the honey while you happen to be holding the bottle, bonus for going all-natural!)... this stuff cleans everything AND the kitchen sink and smells fantastic doing it.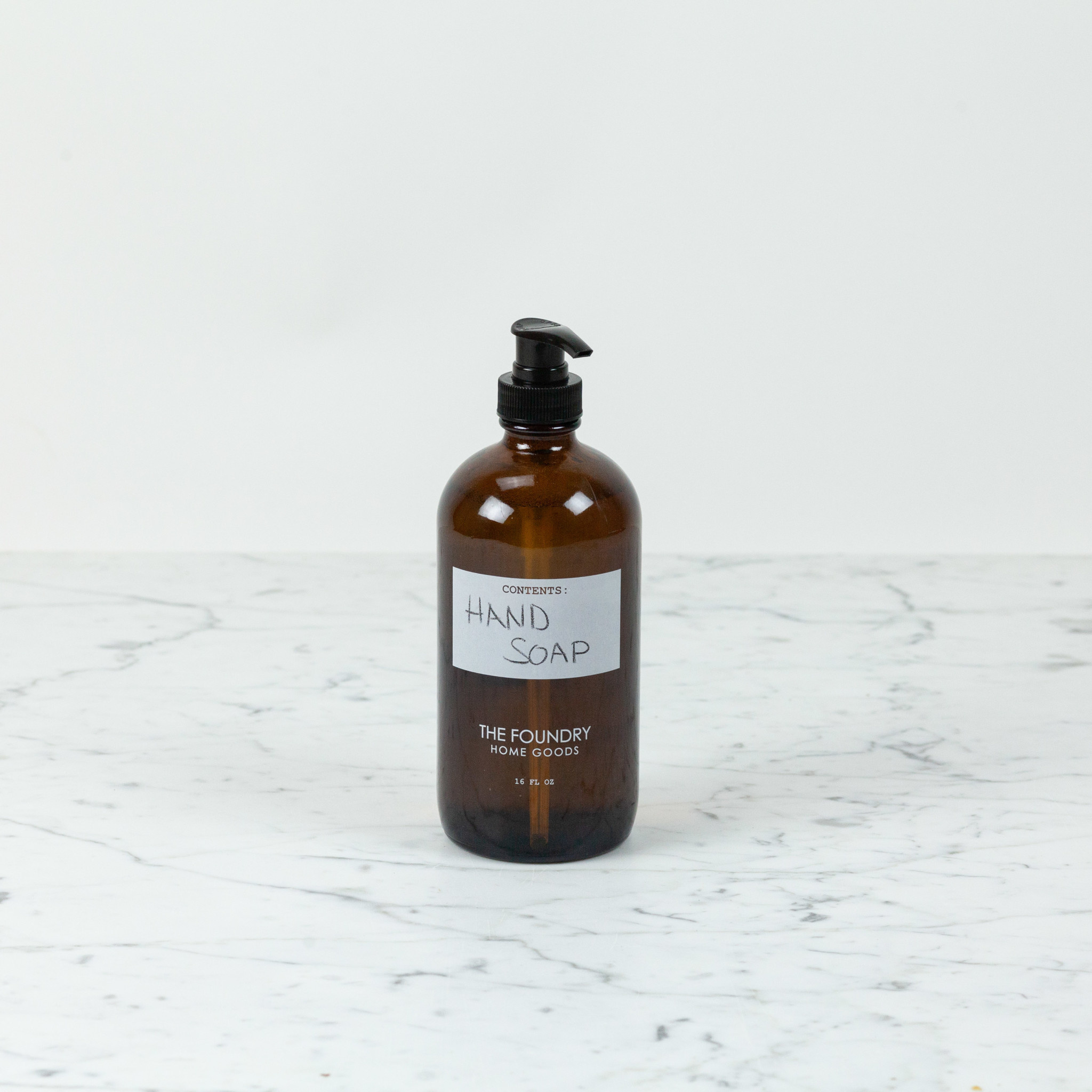 Goodness, this stuff smells freaking fantastic. Also Leaping Bunny Certified, this soap's pure lavender oils and a non-drying, perfectly sudsing formula makes the daily infinite hand-washing feel not quite such a chore. It's made us transition from singing the ABC's while we scrub up to crooning "Lavender Blue (Dilly Dilly)" to make sure we get our requisite 20 seconds.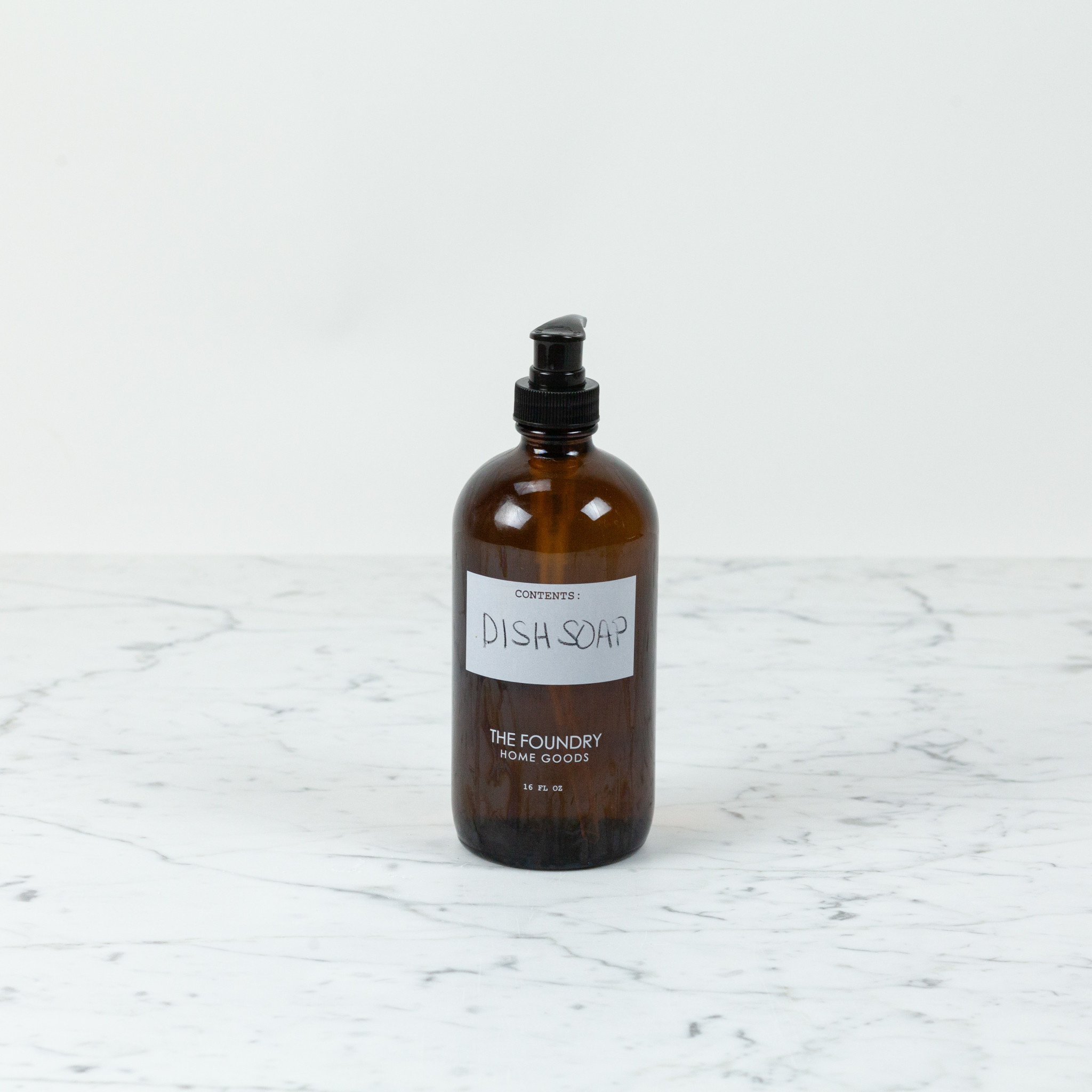 Bring on the baked on marinara, the old egg yolk, and the post-macaron-silpat. These Leaping Bunny Certified suds from BIPOC-owned cleaning collaborative PUR Home deliver powerful, all-natural grease cutting properties and a divine fresh Lemongrass and Spearmint scent. This dish soap makes quick work of a stacked sink, without adding more plastic to your get-down. Even our most stalwart green-dish-soap devotees (ahem, MOM) are happy converts.
DIY CLEANING NOTIONS, POTIONS, AND RECIPES
While our hand soap, dish soap, and all-purpose spray are essentially the holy trinity of basic cleanly needs, our favorite thing about our refillable bulk bottles is that they are infinitely versatile—ready to be locked, loaded, and labeled with whatever witchy DIY all-natural cleaning concoction best fits your needs. The dream set-up: an under-the-sink arsenal of refillable, reusable glass bottles, ready to deploy for whatever messes might arise. No plastic, no pthalates, no problem. Here, a few of our favorite DIY Cleaning Supply recipes for your bullpen.



WINDOW CLEANER

- 3 tsp. Liquid Castile Soap (like unscented Dr. Bronner's)
- 1/2 tsp. Baking Soda
- 3/4 cup White Vinegar (the cheap stuff!)
- 4-8 drops citrus essential oil (lemon, grapefruit, sweet orange)
Combine all ingredients in your Foundry spray bottle and shake well before using. This is meant to be sprayed on and wiped off—but if you're really in it to win it: don't use paper towels! Soft cleaning cloths or newspaper work better and are better (and cheaper!) for everyone. We like to save and reuse Foundry brown paper packaging for the purpose!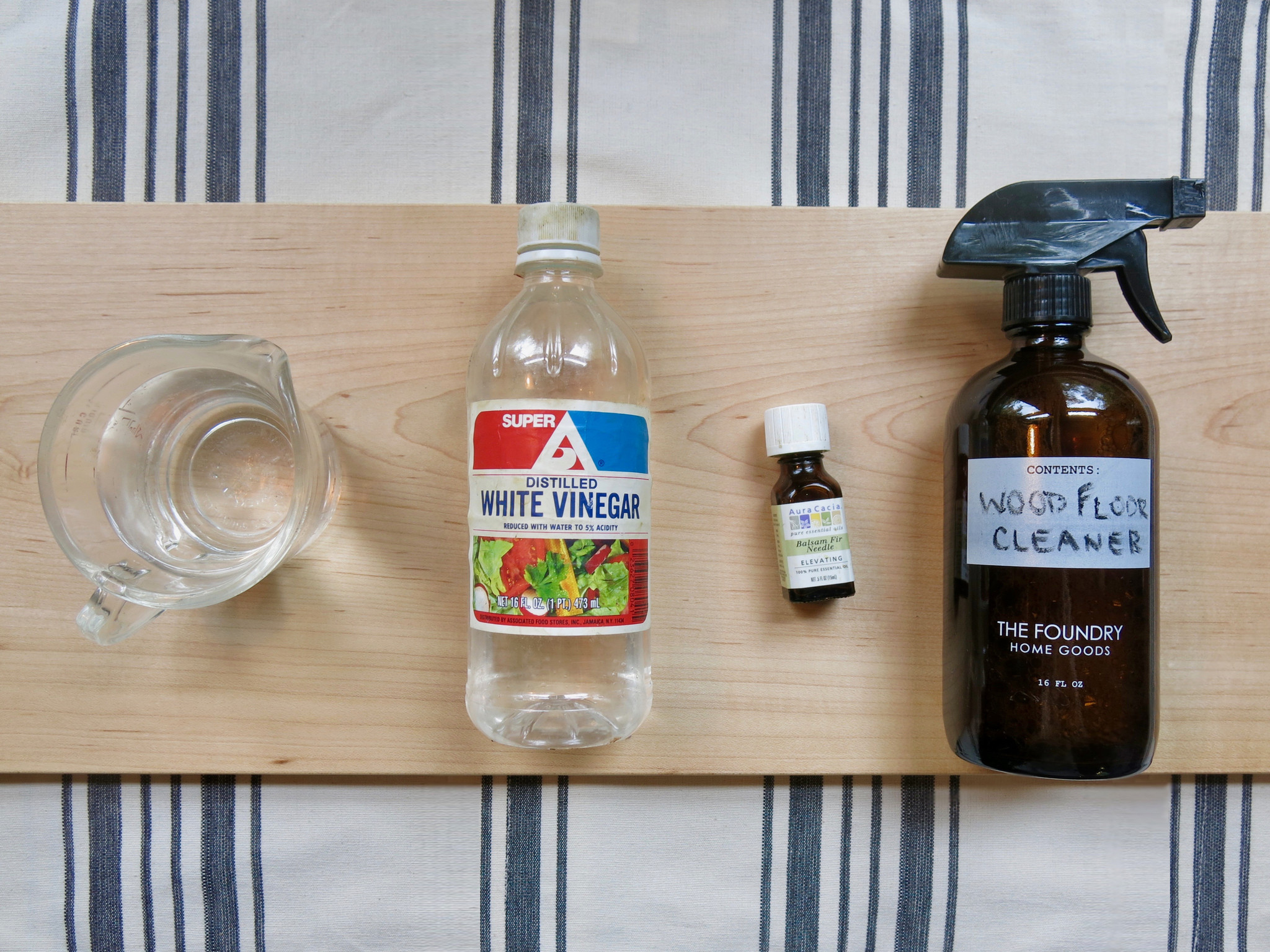 WOOD FLOOR CLEANER

- 1 1/2 cups water
- 1 1/2 cups white vinegar
- 20 drops evergreen essential oil (pine, balsam fir, scotch pine, cypress etc.)
Combine all ingredients in your Foundry spray bottle. Use sparingly, working in small sections and dry-mopping as you go. A final pass with a dry mop will make the floor nice and shiny (and not at all slippery...crucial coming from one Foundry Father who once sprayed the stairs with banana-peel-slip-worthy-Pledge).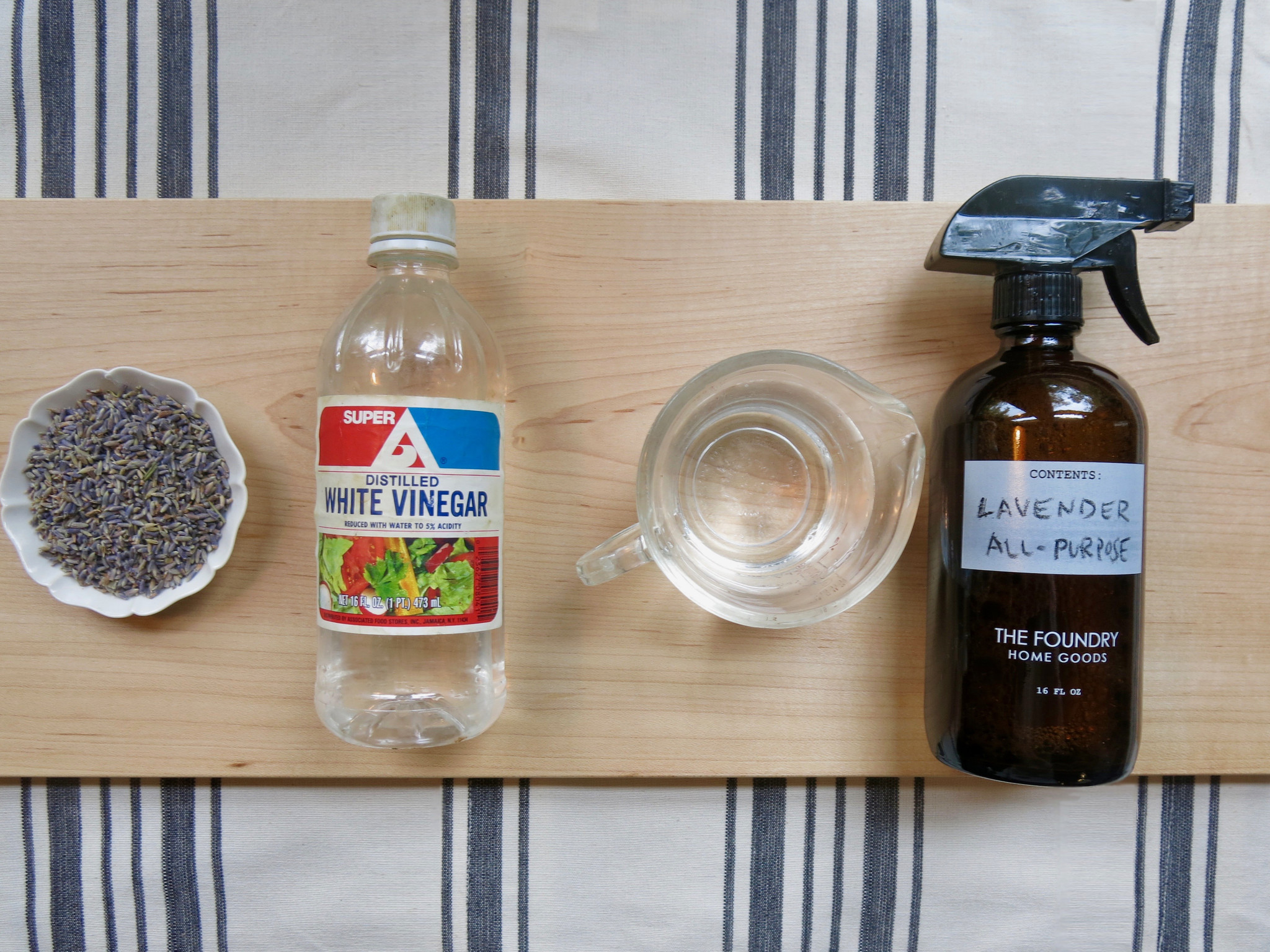 LAVENDER-INFUSED VINEGAR CLEANER

- 1/4 Cup Dried Lavender Flowers (this is a great application for bulk lavender buds that have lost potency over time, say, in a sachet but still have enough zuzz an infusion... it's also a great use for the cut stems of lavender we always deadhead from our perennial gardens- hang them upside down by the stem to dry over the winter and then zip the blossoms off the flower head with your thumb into a jar for later).
- 1/2 Cup White Vinegar
- Small-ish Clear Jar with lid (big enough to hold 1/2 cup of vinegar with a little headroom)
- 1 Cup Water
Add the lavender flowers to the jar and cover with the vinegar (you'll see a beautiful pinky color bloom almost immediately!). Close the jar and let sit in a sunny place for 3-5 days, shaking occasionally if you feel like it. If you're using a mason jar, consider putting a piece of parchment between the lid and the jar top to stop vinegar corrosion. You can make more or less of this, but keep the ratios the same: 1:2 lavender to vinegar and 1:2 vinegar to water.
Pour the vinegar through a fine mesh sieve or cheesecloth to remove the flowers. Nesting this fine mesh tea strainer inside a funnel made it so that we could pour the vinegar straight from the jar into our Foundry spray bottle. Add water and get spritzing. With slightly less sudsy chutzpah than our own All-Purpose spray, this is a life saver for quick clean-ups of sticky messes—such as the glorious kind involving fresh picked strawberries or over-enthusiastic maple syrup applications. And because (like all of our products) it's completely kiddo-safe +2 years, we love handing off the spritzer to the little ones and letting them tackle their own dribs and drabs.
Everything dirty gets clean again! Get your own workhorse clean dream team, right this way.