While adorable dogs, the magical smell of beeswax candles, and oodles of gorgeous glassware are pretty darn nice, the thing that REALLY makes The Foundry feel like home is our family. Never have we felt this more than at this wild moment in our collective Family history.
Our Foundry Family Interviews are usually centered on bringing some of our very special real-life shop magic to you across the wilds of the internet, and this one packs a double whammy: we're bringing the Foundry Magic to you with the literal dude who Brings. The. Foundry. Magic. To. You. Meta!
Today, we're sitting down with Will, zen master of our shipping "warehouse", the person responsible for our whole Ecommerce Operation, the delightful human who literally sends Foundry joy out into the universe on a daily basis, and—at this moment—the sole person in the physical shop, holding down the fort.
In the midst of uncertainty and questions of sustainable economics and small business-y states of the unions (not to mention, uh, everything else), Will has been a calm, steady, presence...an anchor—keeping things spic, span, and sanitized, and dispatching beeswaxed parcels of daily necessaries and cheer on the wings of hope and the United States Postal Service. He is an absolute gem and, heretofore has mostly been behind the scenes. Ready for your close-up, Mr. DeWill?
The Foundry Home Goods: Where are you right now?

Will: I'm in the shop! I'm usually "in" the shop, or at least below it—in the "warehouse" (which is very fancy since it is in the basement), but, when we made the call to close our physical shop doors back in the beginning of March, it's been just me in the shop, processing all of our online orders and receiving new shipments of fresh things straight into the clean-zone. The shop is such a lovely, calm, sweet-smelling place and it's been beautiful to be in here working by myself, if certainly a little strange.
TFHG: What's the scene on the street? 
W: Well, it's pretty calm and civilized. There's not a ton of foot traffic, but we do get people walking their dogs while social distancing, and then it's mostly waving and some window shopping and people looking for Ruby. As a silver lining, my job has become a little more meditative. And I get to say hey to Rose every day.
TFHG: Who is Rose?
W: Rose is our incredible mail carrier! Getting to know her, it's something I've never experienced before. Like, I've been a homeowner for five years but, since I historically work during the day, or, like, I'm never just "hanging out by the mailbox" when the mail gets delivered, I never really crossed paths with my mail carrier. I mean, if I saw them, I'd give a wave, but I never knew their name or when they came really. Now I'm like ROSE, WHAT IS UP!? and if it's after 2:30 and I haven't seen her, I'm like hmmm... Rose must be busy today. It's very Mr. Roger's neighborhood. In light of the current situation, I'm just so glad to see her, but we keep our distance.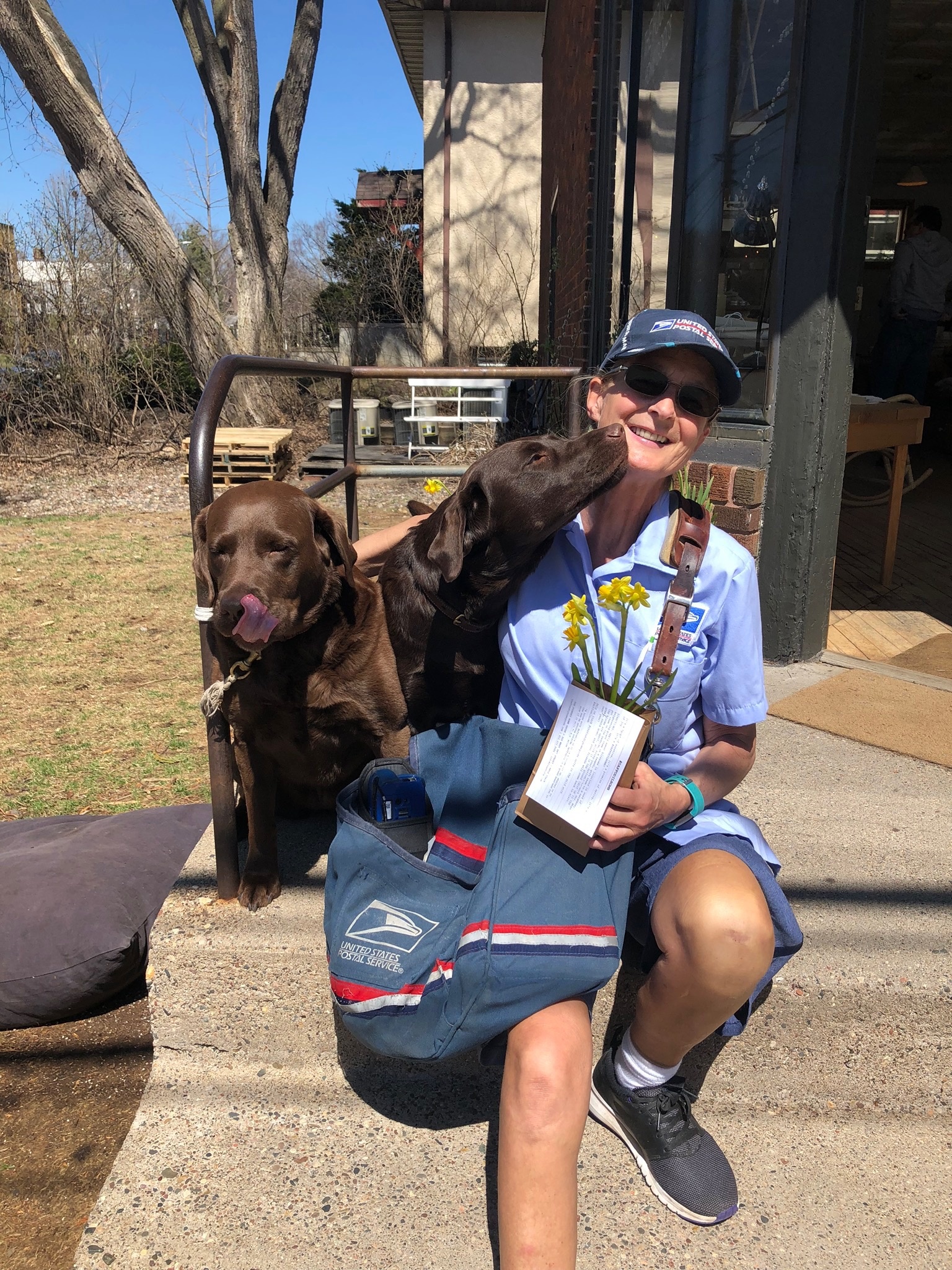 Rose and the girls, last spring.
TFHG: That's awesome. Major big love to Rose out there making it happen for everyone. And going back, what do you mean your job has gotten more "meditative".
W: Well, I joined the team just before the holidays to be point person for all Ecommerce orders. I don't come from an Ecommerce background, I made my way The Foundry through my friendship with Lillian (actually, she and my wife Nicole are, like, best buds from college). Basically since TheFoundryHomeGoods.com came into existence it's sort of been this great, beautiful experiment on what works for the team and what doesn't. There are all kinds of questions and details that people who have never run an Ecommerce operation before (such as myself before taking this job, ha!) might never have thought of.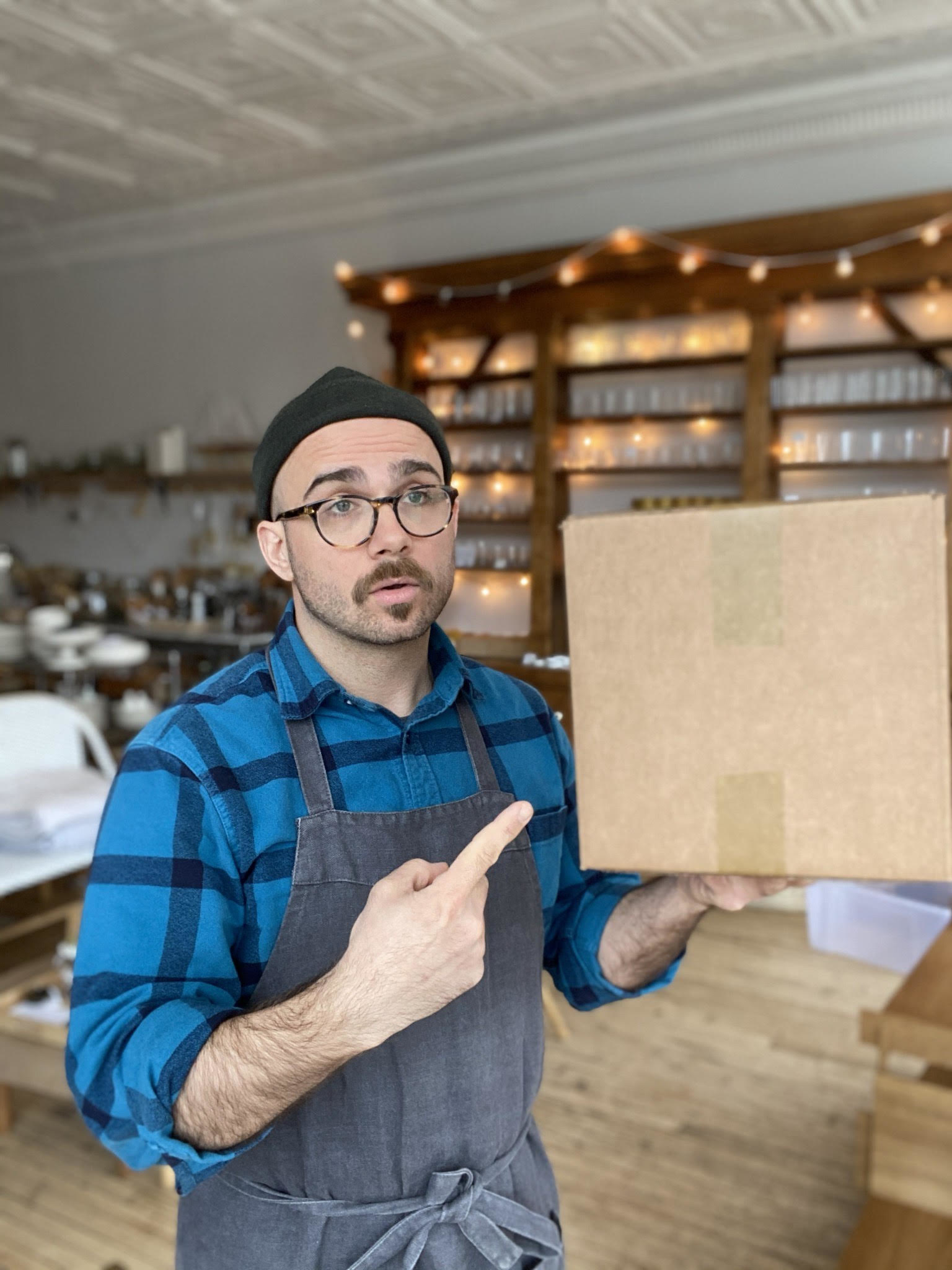 Alone in the shop right now. We are obsessed with this self-portrait outtake.
TFHG: Like what?
W: Well, for instance, since we're such a small operation, what's available online is *essentially* what's available at any given moment in the shop. And, since so many people love to make an order online and swing by and pick it up later that afternoon, we definitely like to keep it that way. But it also means that, like, if there's ONE of something and someone buys it online, then someone (now: me) really needs to hustle up to the shop floor and snag it! One of my first days in the warehouse, someone ordered the last one of the insanely exquisite John Julian Footed Fruit Stands and after the order came in, I futzed around in the warehouse, printing some other labels and doing some other things and then I slowly gathered a stack of other orders together and brought it all upstairs to gather all of the goodies...and a customer had the fruit stand in their hands! I had to play it cool and not be a complete lurker and try to wait patiently with my fingers crossed for them to put it down so I could swoop in and secure it for the web order. I hope I didn't freak them out. They were probably like "who is this bearded dude who seems to REALLY want this fruit stand!?". Now I know to hustle if it's a special one-of-a-kind item. But also, luckily, every one of our customers is literally the absolute best, so if the person who had been holding it had decided to buy the fruit stand for themselves (which would have 100% also been the right call) I'm sure the person who ordered it would have been super cool about it. I guess the moral of the story is: get more fruit stands. Bittersweetly, that's not much of a problem with how things are now, but the moral still stands: more fruit stands for all!
TFHG: Now THAT'S a message we can get behind! So, take us back to how you ended up here in your Foundry journey?
W: Well, I'm a Minneapolis hometown boy. Thinking about it, I've actually never lived that far outside of the midwest. I grew up in Hopkins, MN, in the western suburbs of Minneapolis, went to college in Milwaukee, and like a lot of people considering what to do after school, I couldn't think of a better place to land than Minneapolis. I just really like it here! There's lots of culture and an incredible restaurant culture, which I really value, and—at least when I was moving back into the city and buying my house—it's a really affordable place to live.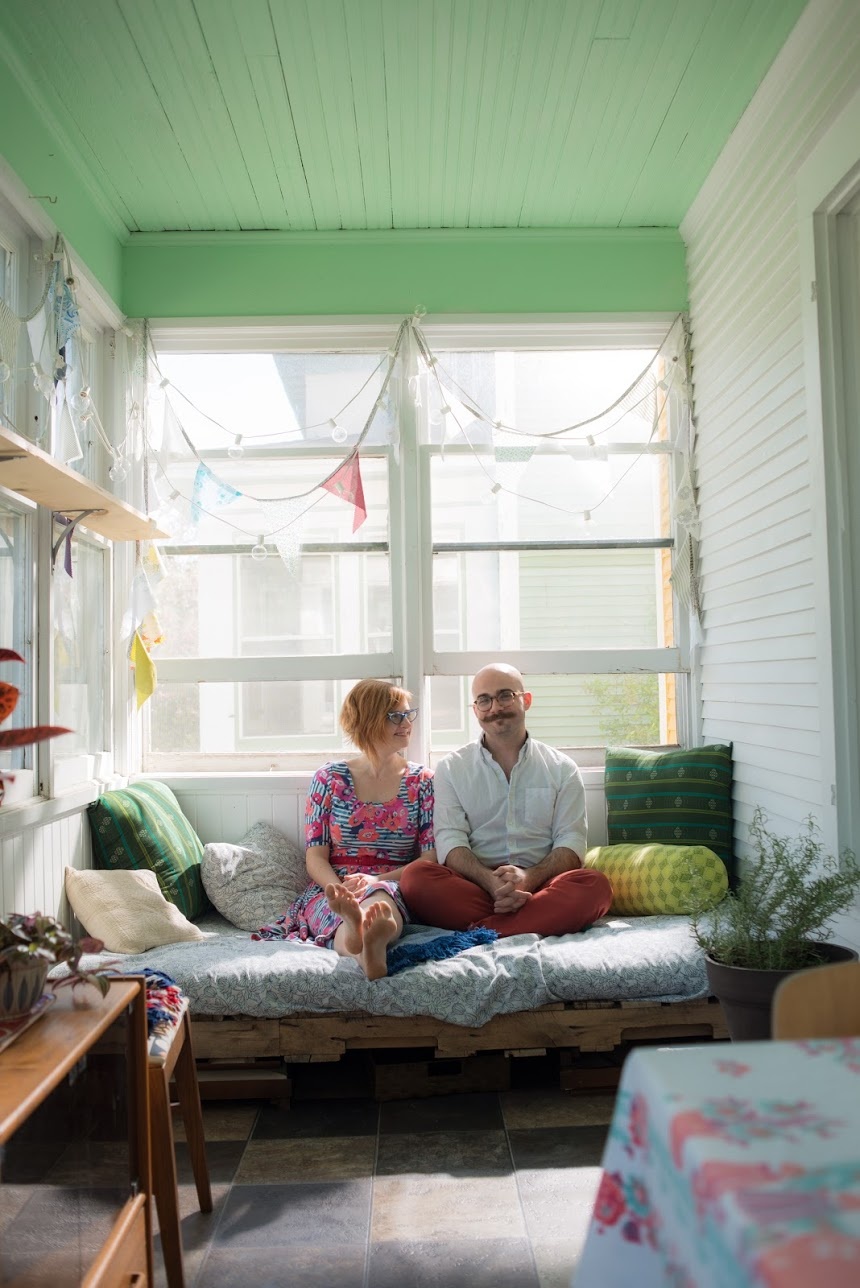 (Amazing) Will and (the truly, madly, deeply amazing) Nicole at home.
And I've known Lillian for a long, long time. As I mentioned, she's a close friend of my wife, Nicole, they went to college together and we've been hanging out socially for years and years. I actually volunteered at the Soap Factory artist space when she was there. In my other career life, I'm a videographer. Lillian knew I had just left a full time position at the exact time that The Foundry was looking to scale up their web shipping (before I came on board, it was literally just, like, whoever had a spare moment in the shop would do all of the web orders, but during the holidays especially that was starting to get a little hectic and there was little to no time left over for wassailing... can't have that). Lillian mentioned over cocktails around mid-October that even though it would (obviously) be very different than the work I had been doing, maybe it could be a fun and good fit. 
TFHG: Well?
W: Well, here we are! After the early Fruit Stand learning curves, it turned out to be a great fit. Anna and Lillian told me that after the initial run, it would be up to me to consider whether I wanted to stay on and be the first-ever "Foundry Warehouse Dude", and I ended up absolutely loving it. It's a wonderful place to work. It's not necessarily gendered, but—and maybe this is a factor of how I grew up, with my sister and mother, there was always a lot of powerful positive focused feminine energy in my household—with The Foundry being a woman-led team and business, I really value the constructive force of that energy. It just feels good here. It's delightful.
TFHG: Well, we think you're delightful. How is what you're doing now similar or different from your work as a videographer?
W: It's definitely very different, but they speak to distinct parts of my personality. Working on a shoot requires you to be super fluid. There are a lot of moving parts and, depending on what part of production you are, you have to constantly be making artistic decisions on the ground...It's exhilarating but it's exhausting. Shipping for The Foundry scratches the "type A" part of my personality: the calm certainty of numbers, spreadsheets, checking things off of boxes, making things pretty.
TFHG: Making things pretty?
W: Yeah! That's actually a huge part of it. It's a fun journey for me. The Foundry experience in the shop is so beautiful and tactile, with a focus on the lasting and sustainable...translating that experience to the online orders is a lovely opportunity and responsibility—creating a shippable box that feels good and looks great, but is also sustainable...it's so much more than just (Foundry note: at this moment, Will does a robot voice) "grab and scan plastic wrapped thing off of shelf, throw in giant box of styrofoam peanuts, repeat, repeat, repeat". I pick each piece by hand and then there's hand-wrapping, writing personal notes, tying things up with ribbon, finding the right parcel... the whole thing is very satisfying.
TFHG: Was "gift wrapping" a skillset you had before?
W: I've always been pretty good at wrapping presents, but I must say, I am at peak personal wrapping skill right now. I've also come to realize I'm "better" at those parts of the job than I gave myself credit for at the beginning. I make a mean bow. I've fallen in love with my handwriting. I've also really come to love using specific pens for specific parts of my job.
TFHG: Do you have a favorite?
W: Oh yeah. My main squeeze is the Ohto Dude Ceramic Rollerball. It has a really good weight and the way that the ink transfers to the paper—no matter what the paper is—it creates a very satisfying line, it sort of floats across the paper. It's a pleasure to write with and it doesn't smudge which is pretty crucial when you want to be writing beautiful notes AND want to be as efficient as possible.
TFHG: Being in the "shipping center" you probably have a slightly different relationship with the products than the shop staff, what are some of your daily Foundry go-to must-haves?
W: Like most people, I'm a total brush convert. I got some for dishes, but the real game changer is the bath brushes. I now use three bathing brushes every single day! If you had asked me last October whether this would be the case, I don't know what I would have told you, but probably NOT that I'd have three separate brushes for this body alone.
TFHG: Ha! Gotta take care of the bod! If it's not an overshare, can you tell us which brushes?
W: Absolutely. I use the wet/dry lovisa face brush, um, on my face. And the Long-Handled Tampico Brush, mainly on my back... the bristles are very stiff so sometimes I'll use it on my legs if I've been doing something where I got really dirty, but it's really too scrubby for most everywhere but the back. But for the back? Ahhh. I use the hand held bath brush with the knob everywhere else. It's so, so awesome. Like, was I ever clean before?? I don't know, but I'm sure as heck clean now.
TFHG: Do you have anything that you particularly covet?
W: Oh, goodness, yes. Everything. One day I'll take one of these sheepskins home with me. And the Japanese towels, the big waffle mama. I had my eye on a Pallares Kitchen Knife... the 6" carbon steel one, and I treated myself to that recently. It's truly delightful. It gets this really nice patina because it's carbon, and it just feels so darn useful. I love using it.
THFG: Can you tell us about cardboard?
W: Ha! Well, I used to be a counselor at a camp where kids made armor and weapons out of cardboard, all in the name of creativity and world building. I got really good at papier mâché and crafting things out of cardboard... That particular skillset actually comes in handy way more often than you'd think, though I didn't think I'd necessarily be using it professionally, basically every day.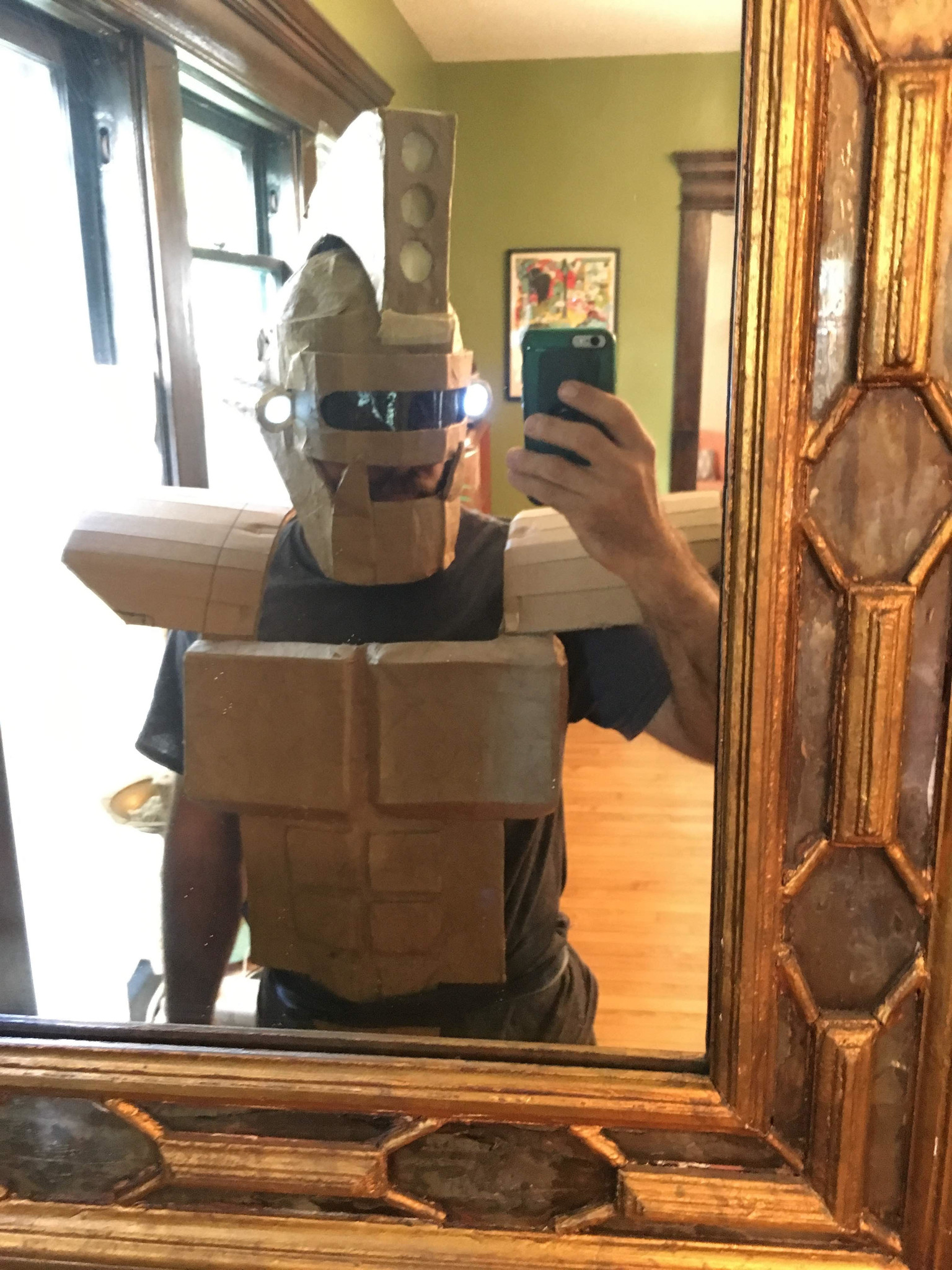 Cardboard Warrior.
TFHG: How do you mean?
W: Well, it's like we make a concerted effort to reduce, re-use, and recycle as much packaging as possible to keep waste down, and I also think it's just plain fun to send parcels wrapped up in Swedish paper and stuff too (Foundry Note: read about our packaging policy here!) but from a logistical standpoint it can be a bit of a puzzle finding the right size and shape box for any particular order. Sometimes I have to make it myself. And that's where the cardboard super skills come in.
TFHG: Wait, really?  
W: Yeah! There's something really satisfying about being able to eyeball an order on the page and be like "Oh, that's a 10" cube" or "Yep, a 12x6x6 for sure". But, like, if someone orders a bunch of 14" beeswax tapers, a champagne bucket, a giant sham pillow, and a celebration ring then I'm like "Oh, it's ON" and I get out the box cutter and hack together the perfect thing. It's really zen and satisfying.
TFHG: Do you have your own shopdog/intern at home?
W: I've got two cats and there's absolutely nothing shopcatty about them... well Sausage would do well, Nicole says she's mostly dog anyway. But the other one, Isosceles—Liesel for short—she's kind of a grump. Honestly, on days I'm doing work from home, Liesel bullies me until she is given leave to sit down on my lap.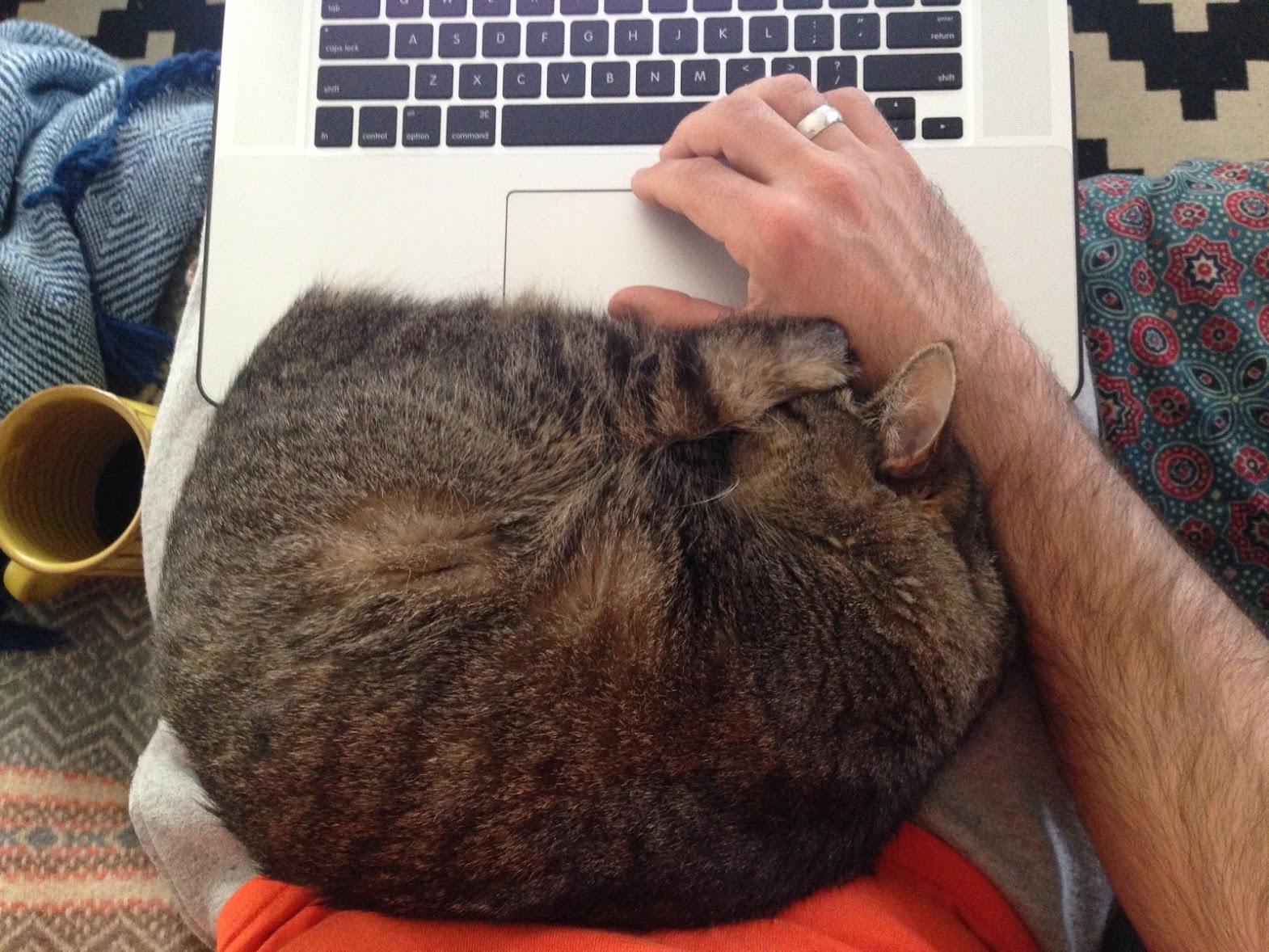 TFHG: Sounds like she's the boss and you're the intern.
W: Well her name is Isosceles, our little triangle, because she's missing a paw...she definitely milks it.
TFHG: How does the Foundry dovetail with your personal taste?
W: It's interesting. For me, The Foundry is more of a philosophical thing than anything else. I'm against disposable culture and that's a really important thing about what we carry. Like, we stock things that are meant to last. And even the things that are ephemeral things by nature, like the sponge cloths or the charcoal water filters, they can be recycled or composted or left to degrade eventually.
I mean, I definitely appreciate the aesthetic of the shop itself, but, before I worked here it felt sort of unattainable or "everything just-so". Like it's beautiful, but how realistic is that? Now that I've spent time with the objects, seeing them being used, abused, celebrated, passed down...it also makes me appreciate the visual "aesthetic" not just as a style choice, but also as something born of simple utility.
THFG: Wow. Love that.
W: Well, if you look at it a certain way, all good things are objects of utility. The pan, the pillow, the paint set, even the toys are perfectly crafted to suit their exact use and purpose. I love that.
TFHG: We're definitely on the same wavelength. Speaking of perfectly crafted toys: tell us about The Ruby Boardgame?
W: Oh, man. An almost all-consuming hobby of mine is game playing and role playing...it's hard not to think about all of the different ways that things could be gamified. We were having a Foundry meeting talking about fun things we could do, maybe for a fun treat around the holidays, and thought: Ruby needs a game. I'm still not sure what form it would take...maybe 4 different players are each playing as Ruby and it's to see who can collect the most snacks. Or maybe players are 4 different shopdogs—Ruby, Turnip, Dewey, and Janet the Walrus? Or maybe everyone plays as themselves and you're trying to entice Ruby to your home for belly rubs. It's still a work in progress, obviously. 
FOUNDRY POP QUIZ: WOULD YOU PLAY A RUBY GAME??
W: I fear that it's painfully boring, but I've been working on a rule set for my own board game based on my experiences with the kids at the cardboard camp—we'd play a choose your own adventure-type game I'd make up on rainy days... I'm in the prototyping phase now and I have to figure out a way to print all of these cards!
TFHG: What are your favorite games to play?
W: Gosh! There are so many incredible games out there. So. Let's see. There is a beautifully executed game called Illimat, illustrated by the amazing artist Carson Ellis with rules set by noted game designer Keith Baker. It's an esoteric solitaire game with its own mat. A game called Power Grid, which is a German board game where you build power plants to see who can power the most cities. And I have an ongoing Dungeons and Dragons game with my wife's sister and her husband in Washington DC and another friend who lives in San Francisco. We've been doing that remotely for years.
TFHG: That's awesome you play with your sister-in-law. Does Nicole play too?
W: Yes! We play together, but we also have our own groups we play with. I'm beyond fortunate to share these common interests with Nicole, but we both came to them separately and of our own accord.
TFHG: That sounds like a pretty ideal partnership. What does your ideal weekend look like?
W: We always watch cartoons every Saturday morning.
TFHG: SATURDAY MORNING CARTOONS. AMAZING!
W: Ha! We think so. And just... cartoons are just so good right now. Beautiful and thoughtful and not just about, like, trying to sell cereal.
TFHG: What are some current favorites?
W: Top two right now are OK K.O.! about a kid who works in a convenience store who wants to be a superhero in a world where everyone is a super hero and Danger & Eggs which is about a young girl who wants to be a stunt person and her best friend who is an Egg, so there's lots of, like, "woah-woah-Woooaaaaaaah!" from the Egg. But lest you think it's all cartoons all the time, we also love to get out and about, go for bike rides. I live about three miles away from The Foundry shop and it's *almost* bikeable season again. I can't wait.
THFG: Ooh! Tell us about your bike.
W: The bike I'm currently riding I got at a garage sale 11 years ago, I spent $20 on it. I've never had anything longer than I've had this bike. A late 80's Schwinn, it was definitely a top of the line race bike in its time. Now it's a bit too heavy for "racing", but it's perfect for me. It's a champion, it's a delight to ride. It was converted to a single speed from a multi speed at sometime before our path's crossed. I upgraded the handlebars and put on new tires, but other than that have just let it ride. It's A wonderful, wonderful bicycle.
TFHG: Do you have a bell or a basket or any other hijinks?
W: No, nothing like that. My daily bike set up is pretty spartan. But I do have some biking community friends who do this ongoing meet-up ride. My one buddy has a portable sound system he hooks up to a generator on a bike trailer and we ride around and bust a move...I covered the trailer in paper machier and lights and put a bicycle helmet on a skull and mounted it on the speaker...very bike-viking... "bi-king"?...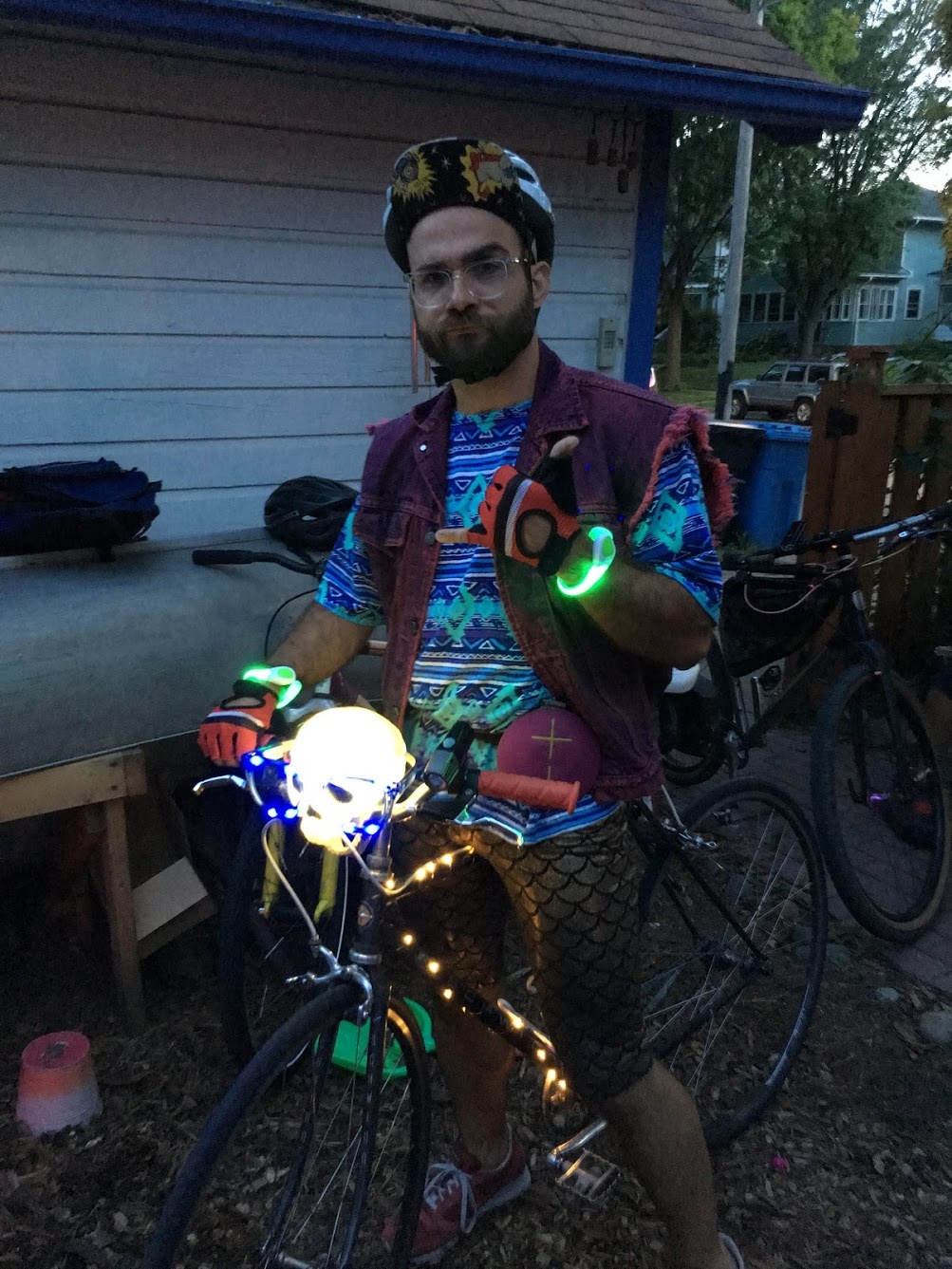 W: But that's not the usual, usually the fanciest thing about my bike is the pedals are platforms on one side and clips on the other.
TFHG: Woah. That bike party set up sounds so rowdy! We get the impression you guys say "yes" to a lot.
W: You know, I'm grateful to Nicole for so much. She definitely was a major part of me getting to this watershed moment where I decided to just, like, own all of the things I was legitimately interested in. Game playing. Watching cartoons. Putting a skull on a bike. Like, whatever. That's a thing that people go through when we're individuating, growing up, you know? Liking something for the sake of liking it or because someone else thinks it's "cool" or "not cool"... not because we actually like it. Nicole is a force that's like "who has time for that!? only things we love, thank you!" And, she and I both live that way: making space for things we truly love—like gaming and role playing games and dressing up and adventures. It's so, so fun. Who has time for anything else?
TFHG: That is pretty much the heart of the thing, no? Do what you love, period.
W: Right? Because what else is there?? You know, I'd be remiss if I didn't talk a little about costumes. We take costumes very seriously. Like we were just saying, a sense of fun and play is something we really value. When we throw parties, you know, everyone else can have dinner parties, there's enough of those to go around...WE have costume parties. I can't take credit for this, this one is all Nicole, but for her birthday, she has this amazing recurring "Thunderdome" themed party. Everyone goes all out on their costumes and we have a tournament bracket and there are physical challenges and winners. It is SO FUN.
TFHG: Uh, amazing! With such a commitment to fabulous dressing up, you must have quite a costume storage situation. What's that like?
W: Yeah, we have a pretty deep costume closet. It's in our basement in an unfinished space that has a big pipe going all the way across. Anything that can be hung on a hanger is on a hanger on the pipe, and then we have a box of hats and wigs, and another of armor pieces and play weapons, one of makeup stuff and accessories... the list goes on.
It's a lot, it's too much.
TFHG: Is it?
W: No, it's not.
Nicole likes to say we're maximalists. It's frustrating and it's delightful at the same time. We're not afraid of loud colors and bright patterns...our tablecloth is often a weird curtain fabric that Nicole found somewhere, our plates are all different. It took me a while to get used to it, but I've come to appreciate the power in embracing all of the things that speak to you.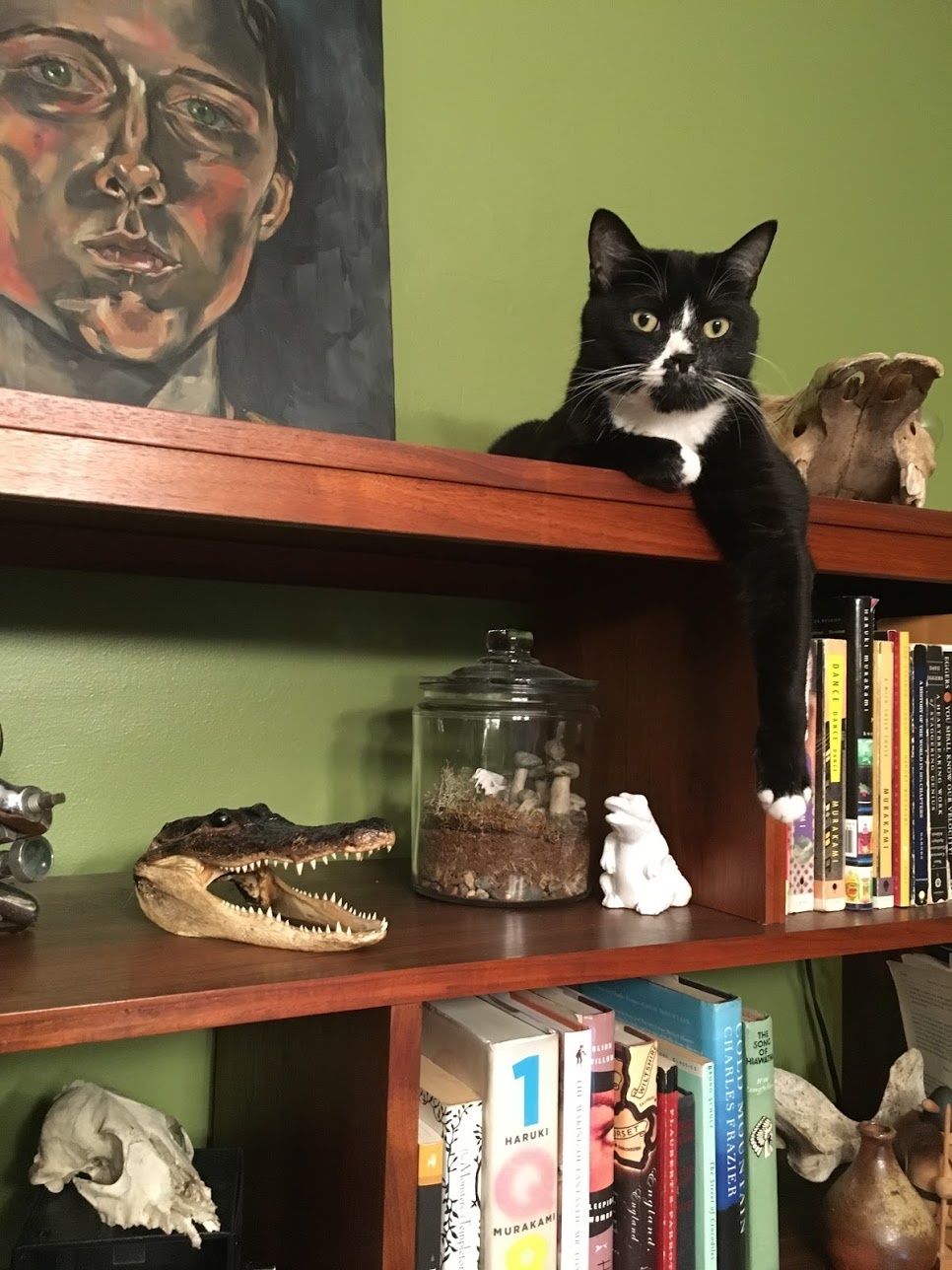 Green walls, Sausage the Cat, skulls, bones, books, and other marvelous ephemera... objects of vertu in celebration of personal joy.
TFHG: What's always in your bag or pocket?
W: I always have a pen and my journal. I have a dot grid journal that I do bullet journaling in. My nalgene. An extra phone charger. My bluetooth headphones, their charger. I always have a snack, today it's an apple. My keys with a little pocket for my earplugs in there in case I go to a concert. I often carry a bluetooth speaker... especially during the summer, I keep my speaker with a bungee on it for deploying a dance party. And I carry all this in my black Chrome messenger bag that I've had for over a decade. Talk about built to last! I bought it used off of Craigslist in 2008 and I said "when this thing dies I'll get something more grown up" and it's still going strong. Anti-disposable lifestyle in practice.
TFHG: Walking the walk, talking the talk, biking the bike. Finally, Are you more of a Ruby or a Turnip?
W: Oh, that's a good question. I think I'm definitely a Ruby. I'm just a little bit more chill than Turnip.
TFHG: Amazing. What a treat. THANK YOU, WILL!
W: Oh, you're so welcome! You know, I just gotta say: I'm just happy to be here. Everyone's cool. It's just a nice culture where people treat each other respectfully and value fun. I've been blessed in my work life to have that mostly be the case, but there have been a few places where that wasn't the case and that makes me appreciate The Foundry all the more.
Oh, and here's Rose!
Will, to Rose: Oh hey, Rose. Yep, packages are ready!
AHHHH, could there be a better ending? Perfect timing. Infinite, epic thanks to Will (and Rose!) for being such a crucial part of our Family—and keeping our Foundry ship sailing straight and true on a course towards sunnier skies.