While adorable dogs, the magical smell of beeswax candles, and oodles of gorgeous glassware are pretty darn nice, the thing that REALLY makes The Foundry feel like home is our family. While well-made objects of beauty and use make the daily rhythms of life more pleasant + effortless, like in any home, it's the people inside that really make it glow. Since not all of you live within striking distance of our real-life shop, we wanted to bring a little Foundry Family magic your way (if we close our eyes and *wish* it will almost be like we all live together on the same block). Next up in our getting-to-know-you series: our brilliant LILLIAN! While her official title is "shop manager", she is literally our everything...magician's assistant, secret agent, spreadsheet mistress, goat tamer, shopdog whisperer, cinephile, far-flung adventurer... you name it, Lillian does it. Efficiently, joyfully, and in gold Birks. Let's start at the very beginning (a very good place to start)!
TFHG: How did you find yourself in Minneapolis?
L: I came for college and never left. Wait. That makes it sound like I've actually never left Minneapolis since then. I've left for travels and adventures, obviously, but I really do love it here. I'm originally from Milwaukee and I went to a small catholic all girls school. So, I sort of wanted to go away to the biggest possible place that was still a day's driving distance from home. I took a bus up to Minneapolis by myself, spent the day bopping around, and thought "I could really just stay right here".
TFHG: Ha! So you took that bus and never looked back.
L: Exactly!
TFHG: So how did you make your way to The Foundry?
L: After I graduated from college I worked at The Soap Factory, an amazing, experimental, contemporary art gallery collective in, well, in an old soap factory. Since that incredible space was *almost* run entirely by volunteers, I also had a part-time job at The Bachelor Farmer (TFHG Note: the legendary North Loop restaurant catty-corner from our original Foundry location). The Foundry was basically across the street and I'd pop by and hang out with Ruby on my way to or from work. The thunderbolt hit that first year Anna had her "Goats in The City" party. We like to say that I came for the baby goats and never left.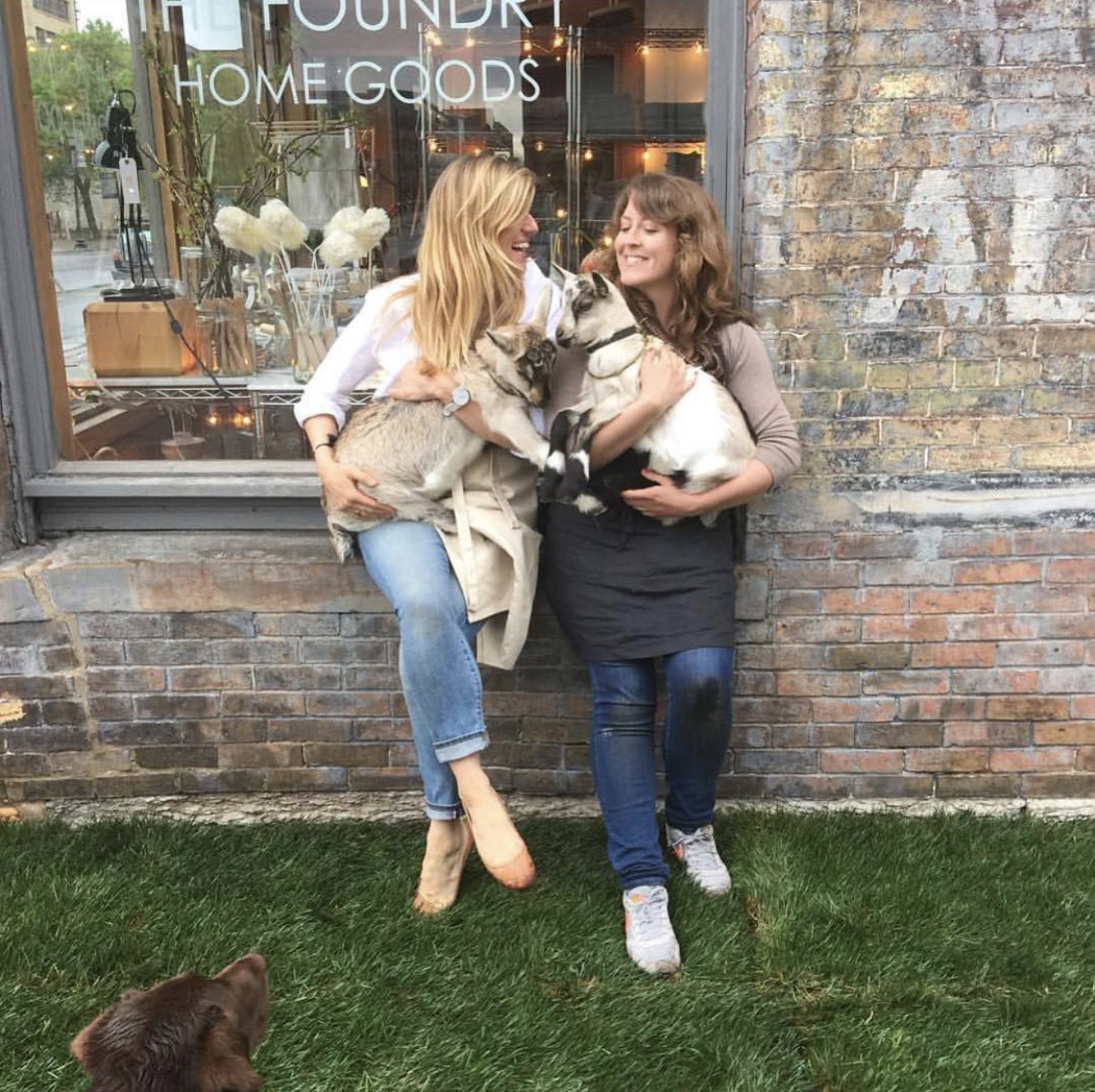 TFHG: How is your style similar (or different!) than The Foundry Style?
L: My mother is a great collector of wonderful things and I definitely got that sensibility from her. I've always had things I consider beautiful, more often than not passed down from my family or thrifted. I'm not a super emotional person but I *do* have a strong sentimental connection to the objects in my home. I love when things have an interconnected history... for instance, I live in an mid-century house and seem to keep collecting punch bowls from that era. I have four! (TFHG Note: you can never have too many punchbowls. Or maybe you can. But that number is definitely higher than four. AT LEAST six). My aesthetic matches The Foundry's in that I love things that are well-made and have a good story. Actually, it's been amazing to see how the "new" pieces we carry mix and match so well with all of my well-loved stuff. It's a testament to the timelessness of things that are useful as well as beautiful.
TFHG: So your house isn't just blonde wood and a single coffee cup?
L: NO! Some people have this vision of what The Foundry home life must be like but it's not, you know, a bunch of selfies with our plates. I hang my laundry to dry in the sun because that's what my mom taught me ("the sun is out there! let it do the work!") not because it looks good in pictures. Instead it's really just me hanging out with my dog on a variety of lovely soft surfaces. Things that feel precious or you don't want to touch are really frustrating. Basically my entire house is a dog bed.
TFHG: Sounds cozy! Tell us more about Detective.
L: Detective is my roommate and he is exceptionally beautiful. We've been roommates for eight years. He's a mystery breed which everyone seems to "know"... probably the closest is Shiba Inu?  I'm guessing he's about 10 and he's a stately gentleman. Detective is all about traveling in comfort and loves observing grasses and flowers blowing in the breeze. I'd say his #1 skill is sitting quietly. He's not the most affectionate (Shibas, amiright?), so I'm always trying to sneak in for a little snuggle and he's like "Actually, I'm sitting quietly right now, thank you."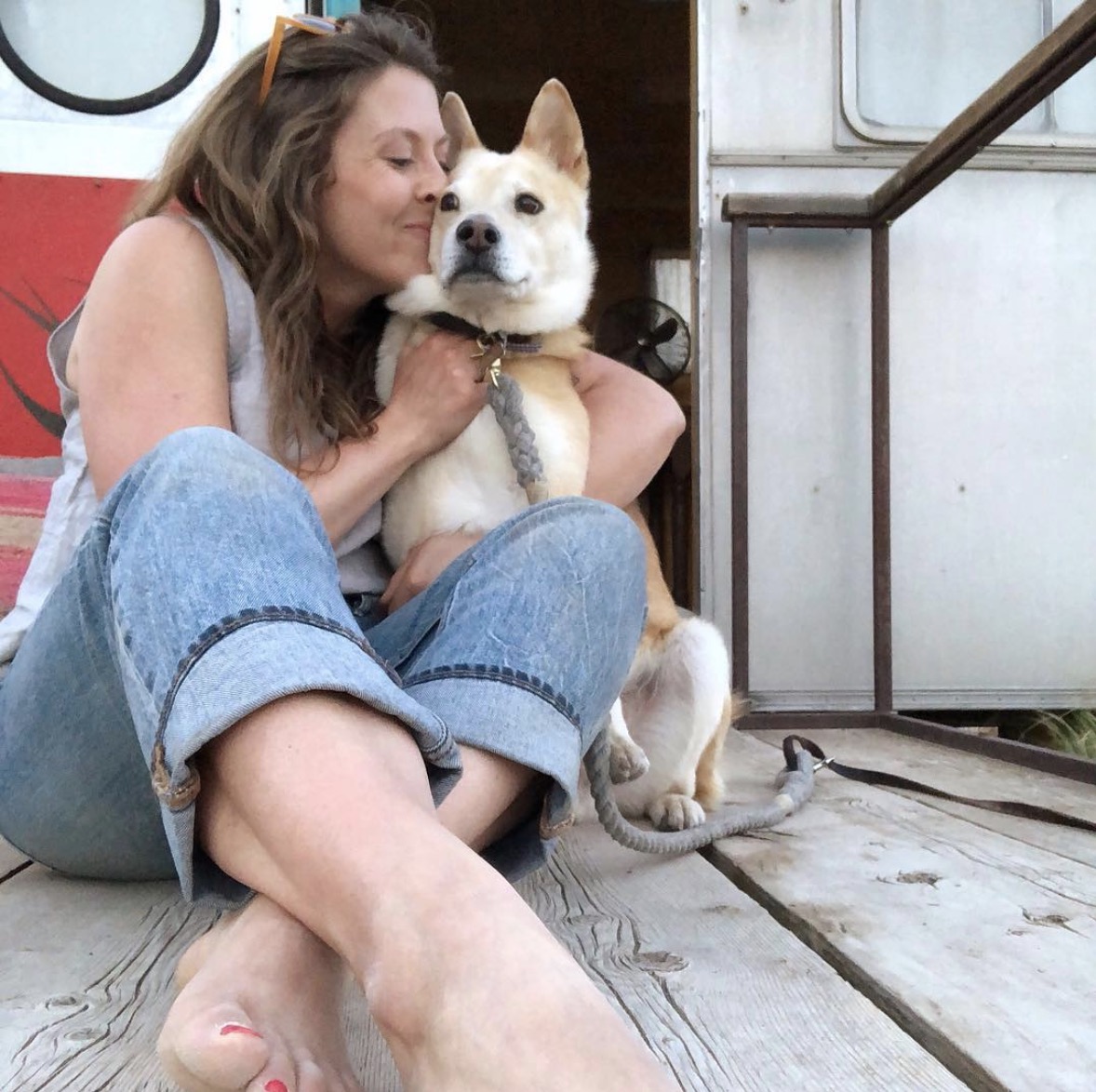 TFHG: What's your Foundry daily? What do you use everyday that you can't live without?
L: Uh, everything? I swear by the rope dog leash for Detective and I definitely use my incredible Ruitertassen bag every darn day. My favorite French cartoon fox carried basically an identical bag to his first day of school and I've wanted one ever since. It's big enough to hold my laptop without being giant and converts into a backpack. The more I use it the better looking it gets. And it's always a hit with the TSA security lines in Europe. Lots of "Oh I had one of these as a schoolboy!" from the security folks in France. I love it very much.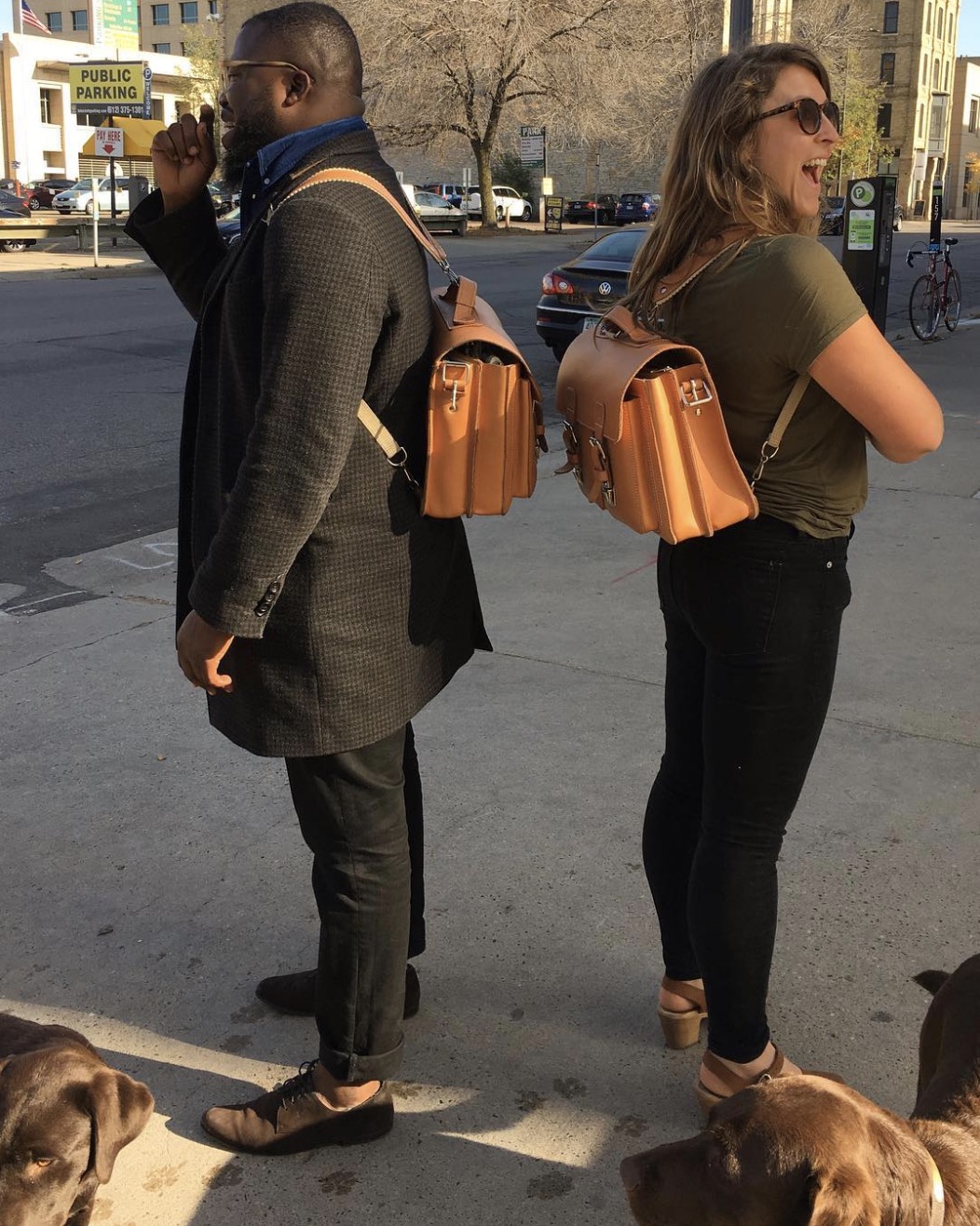 L: Oh! Also the Long Handled Bath Brush. There's nothing more satisfying than working in the garden all day and coming and scrubbing all of that dirt off.
TFHG: Ahhh, gardens. Tell us about your garden!
L: I live in an mid-century duplex with a nice big green garden space in the front and in the back. I'm in a major perennial garden phase right now. Before I moved here I moved three times in as many years and every time I moved I dug up and moved all of my perennials too like you're coming with me! When I got to this house I felt like AHHH, you guys are home. While they were getting settled all I could think was "thank god for dahlias" (TFHG Note: annuals that bloom the season they're planted). I make sure to sign up early every year to get a ton of dahlias from Anna's mom. I always have Two Pony Gardens  dahlias and tomatoes.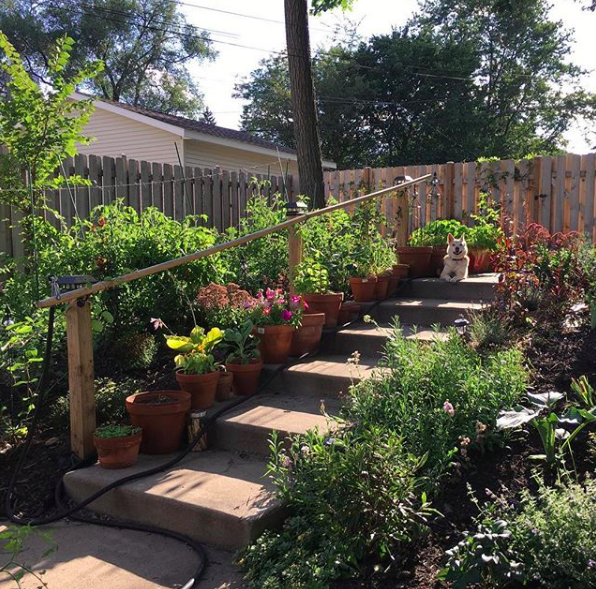 TFHG: What's your favorite plant that you have in your garden right now?
L: I have a lot of hand-me-down plants from my mom or from friends. I have some of the peonies that were growing at my house as a kid. It's kind of fun to know if my mom splits a plant that when it's blooming at my house it's also blooming at her house at the same time. I love stock (TFHG Note: one of those plain-ish English garden flowers that smells INCREDIBLE) and blooming herbs. I'm training a wisteria to climb up the gate in the backyard but I'm not training it very well. I'm not the type of gardener who does a lot of research and then executes the plan. I feel like plants are out there trying to live, I should just let them do their thing.
[TFHG NOTE: here Lillian goes on an amazing tangent about French cinematic sensibility that in effect basically perfectly conveys her entire life perspective which we present here in its entirety]
There's this Jacques Tati movie from the 50's that I love called Mon Oncle that presents and contrasts these very two different ways to live. One a sort of care-worn, old-fashioned, quirky Parisienne townhouse, all angles and garrets and copper roofing and secret rooms, filled with vining flowers on the balconies and laundry hanging from the banisters and the other this sort of super manicured, super modern, "state of the art" modern house with a kind of Edward Scissorhands type of hyper maintained garden. And "The Uncle" is this old-fashioned guy who just wants to make a coffee and sit with his pipe and is sort of at odds with this "modern for modern's sake" kind of sensibility. The vision of that modernist garden has always stuck with me. Whatever I build I don't want it to feel like that. We should definitely watch the movie!
(*** TANGENT : FIN ***)
TFHG: What is your Foundry covet?
L: OOH…that's a good question. The best way to put it is: the ENTIRE John Julian dinner line, but I'm already someone who has vintage place settings for a hundred people…so I'm just mixing in pieces for now. And, I'm actually a very good self-gifter so I pretty much have everything that I really need. Oh! But that freaking glockenspiel! God, I love it!
TFHG: What is your idea of a perfect weekend?
L: A little mini road trip or a state park trip… car camping or just to do a day trip...honestly, the dream is always just bumming around town and working in the garden and enjoying the sun/wishing it was sunny. A trick I've learned with my schedule and the shop's schedule is to smash together all of my weekends and take the biggest trip I can all at once. I just got back from a three week trip all through the American Southwest. I drove from Minneapolis to Austin, across Texas to West Texas, up through New Mexico and Arizona, stayed over with some friends in Denver, then came up through Wyoming and South Dakota and back home. I had some friends hop on and off being my travel buddies for a few legs but mostly it was just me and Detective, motoring through the desert together. I just jammed a giant fluffy pillow from the shop into the passenger seat and Detective just nestled in like he belonged right there. He's great at riding shotgun.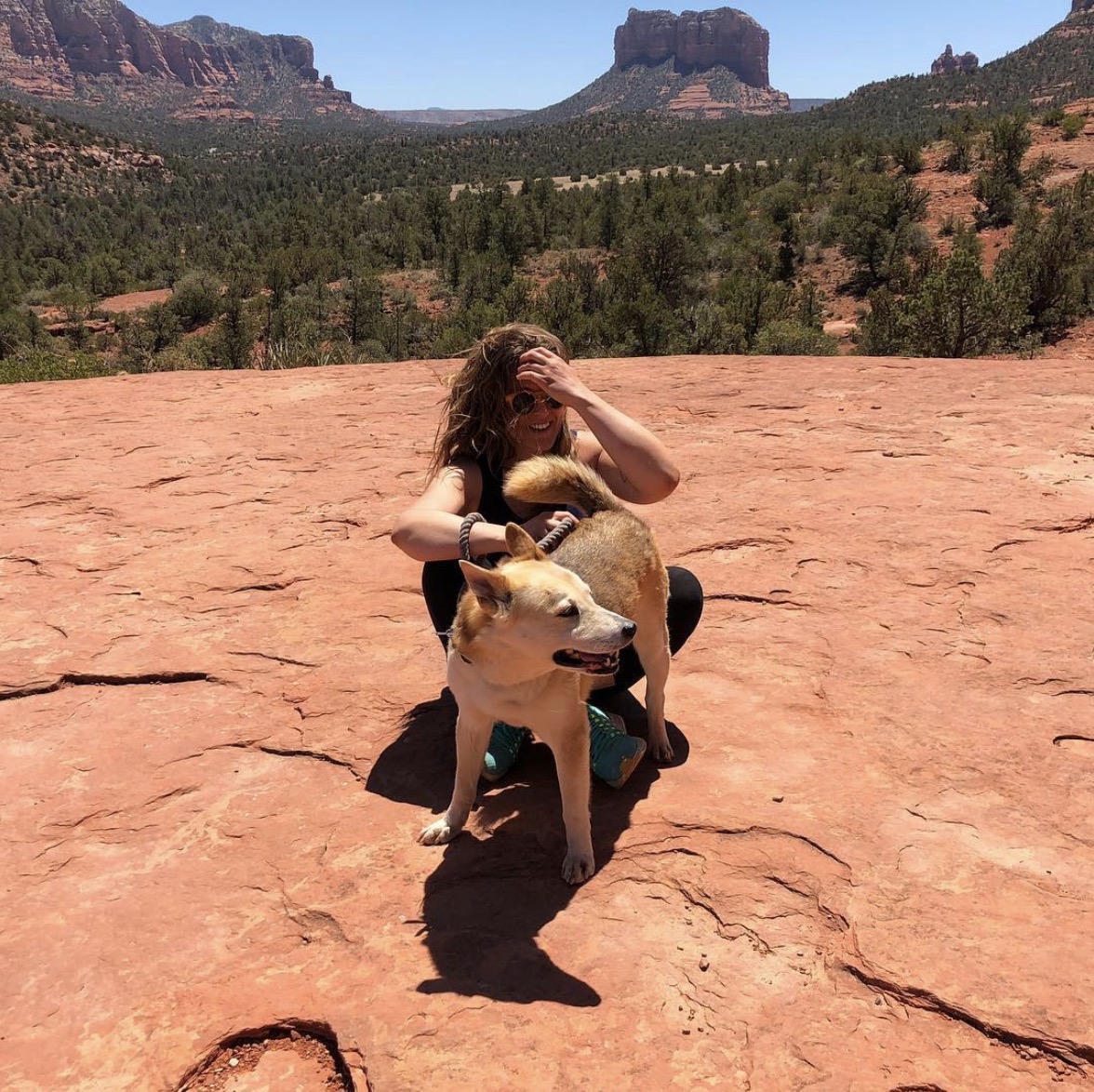 TFHG: Wow! That's a lot of solo road time!
L: I know! I was concerned I might get bored or tired, but at the end of 6,000 miles I barely scratched the surface of everything. I'd never been to West Texas or any of these super desolate areas...just being quiet and peaceful with me and my co-pilot not able to see any other thing but the horizon. It was so great not to have a solid agenda. Peaceful and alone. I couldn't be happier than driving for a few hours with great music. Rolling through the desert listening to "The Flamingos"? It truly doesn't get better than that.
TFHG: Does Detective ever take over driving?
L: He has terrible depth perception.
(TFHG Note: We've got Lillian's Perfect Road Trip Playlist—which *sometimes* sneaks its way onto the shop speakers on wanderlusty mornings—right here).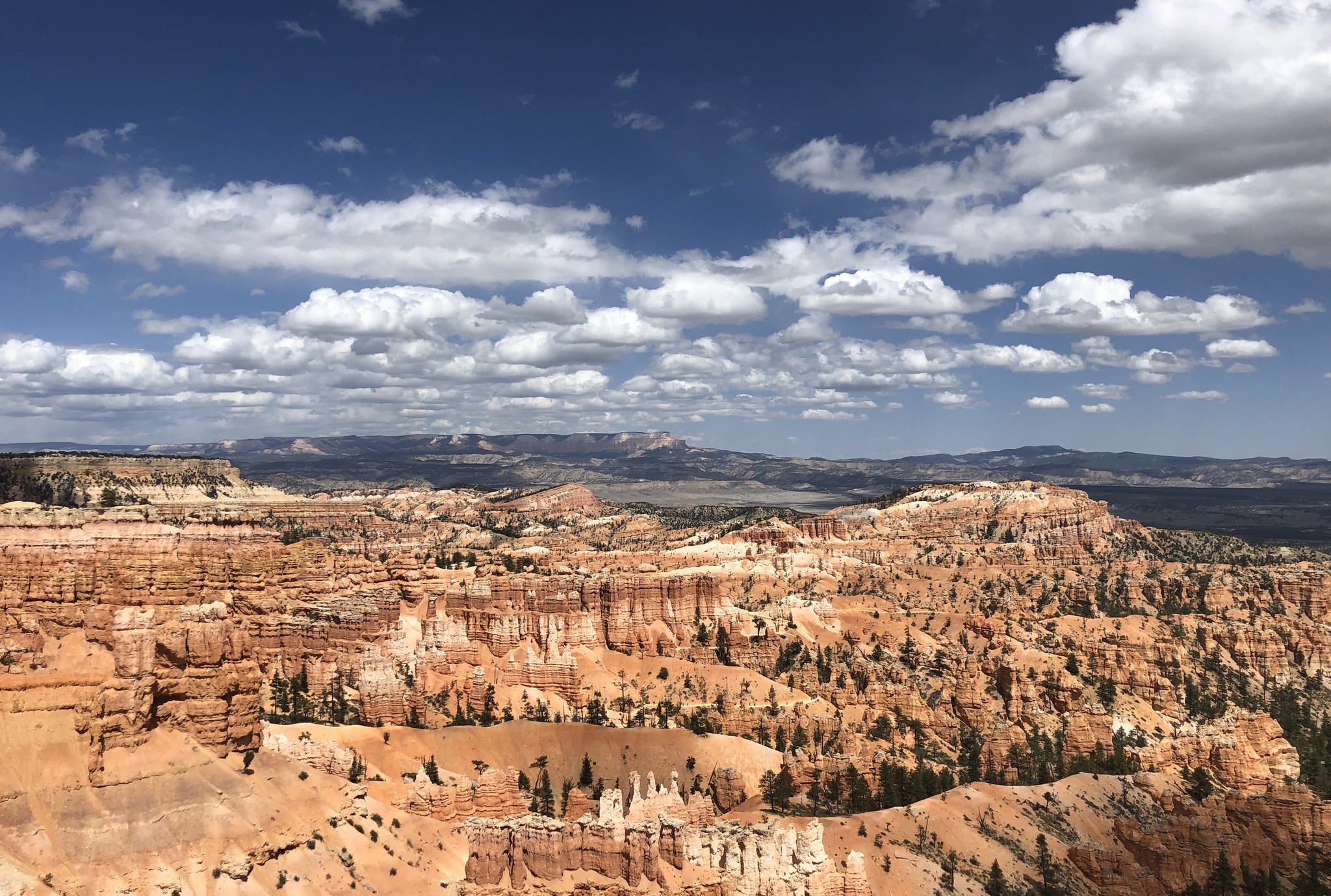 TFHG: What do you always have in your pocket/in your bag/on your person?
L: I always have lip balm and my phone and I make Detective carry our keys when we walk. My keychain has one of our travel clothes brush from Germany on it. It's this tiny 1 inch goat-hair brush. Everyone who sees him thinks it's so sweet he has his own keys...and his own brush.
TFHG: And finally: Are you more of a Ruby or a Turnip?
L: I think aspirationally I'm probably a Turnip, just because of the way she approaches every day with such joy and reckless abandon. Ruby is so serious. Turnip is real loose and ready for anything, I mean sometimes she literally just falls over.
THANK YOU LILLIAN! We love you.