When gorgeous parcels of new goodies arrive at the shop we get butterflies like when we're in the throes of a new crush. NEW GORGEOUSNESS AHH! Brand new enamelware, pristine and stacked sky high! Crisp Japanese towels, just out of their muslin wrappings! Freshly carved wooden animals, spilling out of their cardboard arks like someone left the zoo door open! All of this newness can be intoxicating, heady like the smell of just-drawn beeswax or the weak-kneed thunderbolt of a first kiss.
New *things* are exciting in the exact same way that a new crush is, all very fizzy and breathless. But crushes fade, newness wears off, and if something isn't built to last, then the magic can go pffft faster than you're done with that single use plastic fork.
Oftentimes in the shop we hear people say "Oh, I'd be afraid to use that, it's too nice". Too nice for what? For the beautiful life you are actively living every darn day? Living with fewer, better things doesn't doesn't (just) mean having hyper-curated shelves stocked only with the bare minimum of too-precious, photogenic objects and never actually taking any of them out. It means that the things we've chosen to carry here at The Foundry Home Goods are made to be lived with, loved, and used, designed for a future life as an heirloom, made to tell the story of their long and lovely histories, one hard-earned scratch + dent at a time. Tables are meant to be set, tea is meant to be brewed, glasses are meant to be cheersed, wooden spoons are meant to get dyed purple by the borscht, cutting boards are meant for mirepoix, linen napkins are meant to be dinner partied, book pages are meant to be marked—with pencil and pen, tears and red wine—and ruffle-edged by lakeside air, enamel platters are designed to be taken out to the lighthouse point for a sunset picnic (and to earn that chip on the rim when an uproarious joke sends it shooting into the rocky tidepool—luckily all the cheese had already been eaten), wooden animals are meant to be chewed on by tiny teeth, towels are meant to be fluffed along precious bodies, and candles, oh, candles are meant to be lit.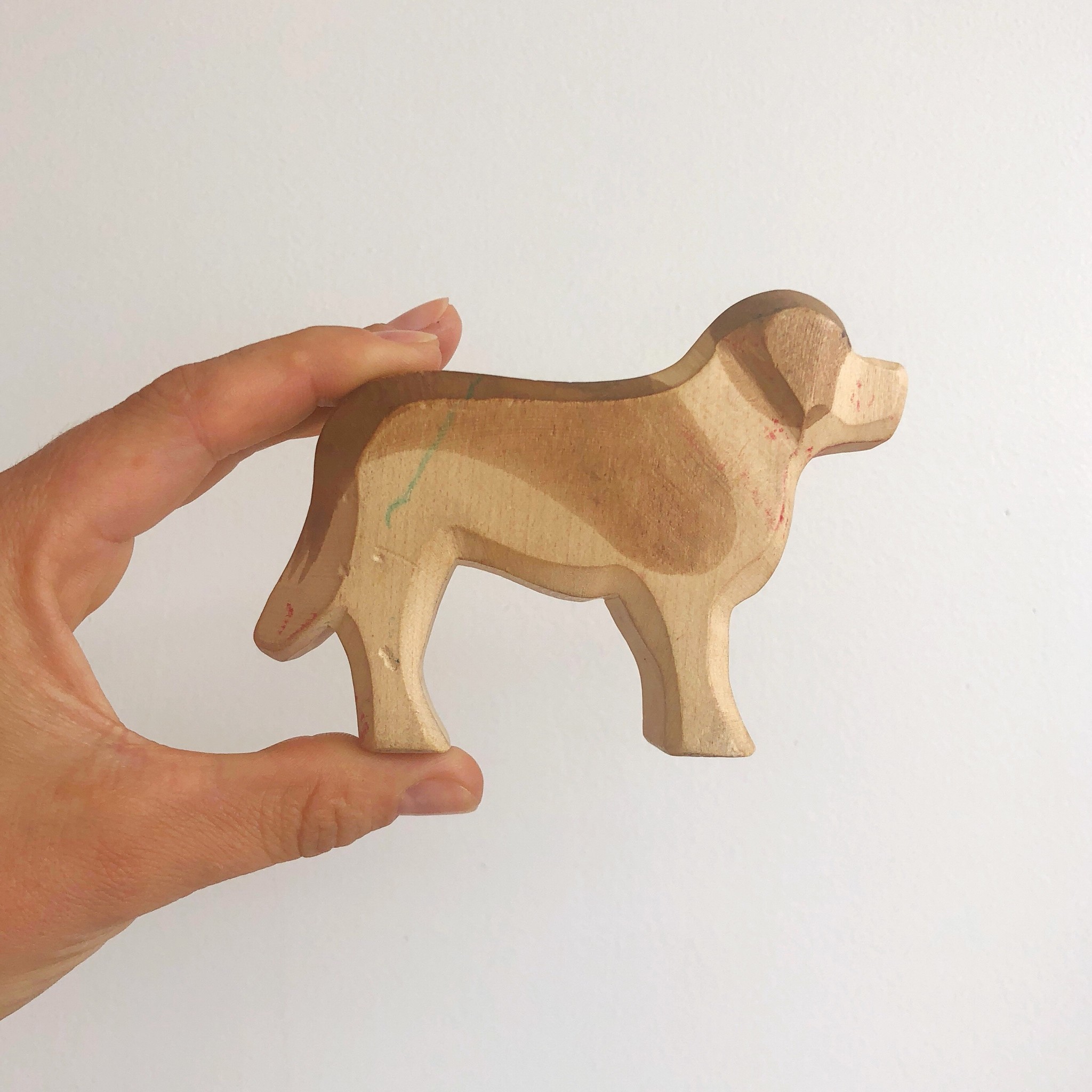 This St. Bernard was Anna's when she was little! As you can see by the bite marks, crayon "decorations" and knowing that she hasn't been a little kid for a few years now... these little guys sure stand the test of time!
Just as with the best love stories, we find that the real magic happens long after the crush, when you've lived around with the objects of your desire for a while, going on adventures, sharing hardships (like that time the red sock snuck into the washer with the white sheets), and experiencing the magically mundane rhythms of daily life together. Like true love, the best things are in it for the long haul and get more beautiful the longer they're with you.
And just like those time-tested love affairs, the relationships that last the longest are those based on mutual care. Just like with your lover, you can't get old and wrinkly along with your linens if you don't show them a little TLC when they need it (and, preferably, before they even need to ask for it). To that effect, here's some advice, our love letters to patina, so that you can speak the love language of the objects of your affection well into all of your golden years. Take care and live well.
HOW TO CARE FOR JAPANESE TOWELS.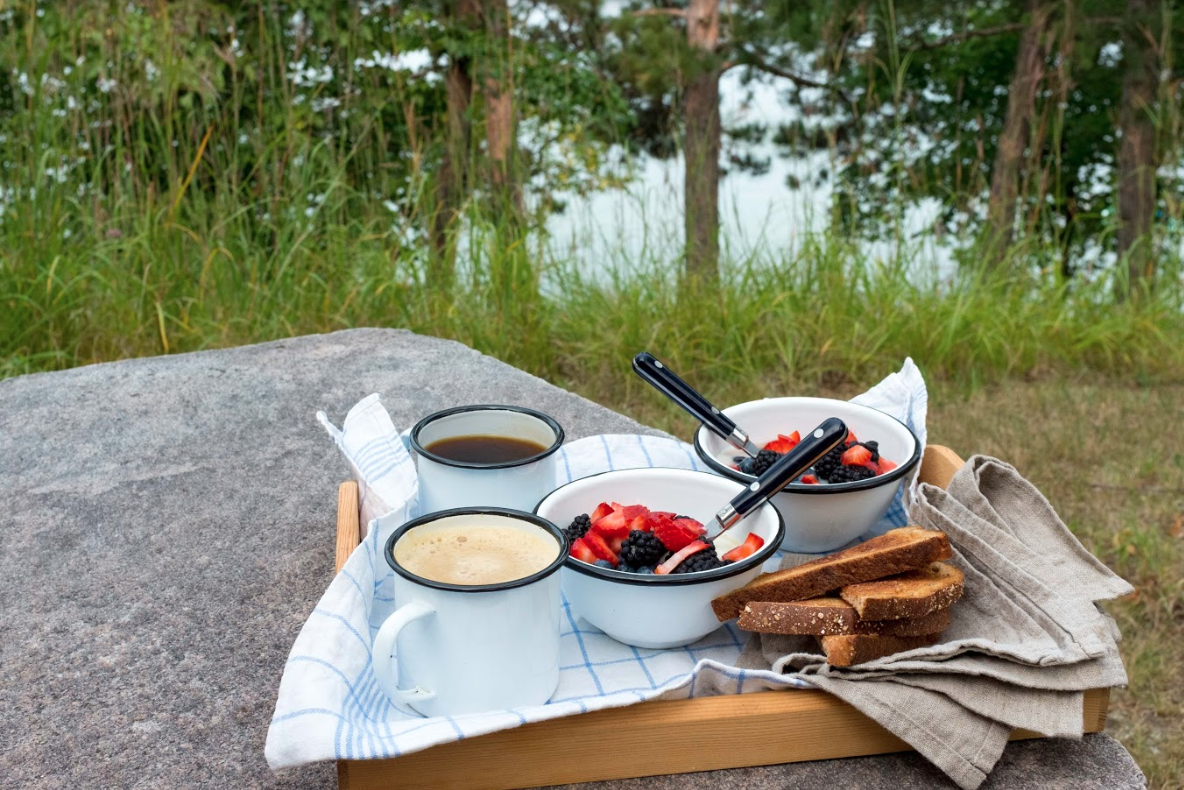 Plein air cabin breakfast!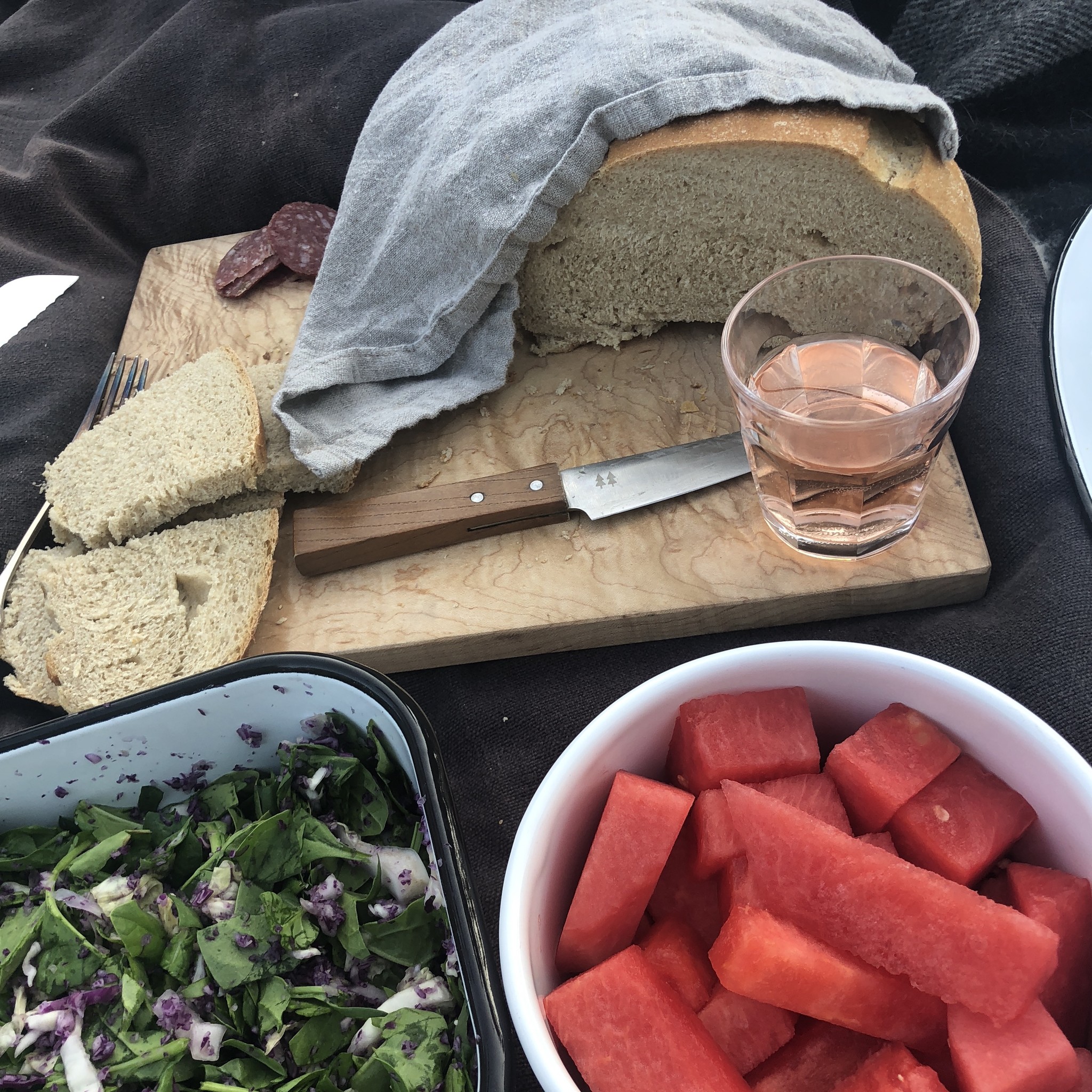 No picnic spread is complete without fresh crusty bread an and endless bottle of Rose!