While adorable dogs, the magical smell of beeswax candles, and oodles of gorgeous glassware are pretty darn nice, the thing that REALLY makes The Foundry feel like home is our family. Well-made objects of beauty and use make the daily rhythms of life more pleasant + effortless but, like in any home, it's the people inside that really make it glow.
Since not all of you live within striking distance of our real-life shop, we wanted to bring our Foundry Family magic to you (if we close our eyes and *wish* it will almost be like we all live together on the same block). This week, we're sitting down on a goldenrod yellow couch in a room filled with books to talk with Heather, our almost mystically-positive lover of color, toter of tiny volumes of poetry, and acting president (and sole member of the local chapter) of the Foundry Cat Club.
The Foundry Home Goods: Hello! You're not at the shop so...where are you right now and are you wearing a hat? (Foundry Note: Heather has serious hat style and can pull off hats that, in our opinion, anyone other than Ruby would have trouble rocking)
Heather: Indeed! It's chilly today and I'm wearing a warm red beanie which goes perfectly with my yellow couch. It's cold and grey today, so we need a little color. I'm in my living room, which is very cozy. It actually overlooks a cemetery.
TFHG: A cemetery!? Wow, so, quiet neighbors?
H: Ha! Yes, it's actually kind of a joke because if my wife, Lisa, had gone into the family business she would have been the fifth generation in a family of morticians so we always say we chose it to keep it close to the family tradition. But, in all seriousness, the cemetery is very beautiful and peaceful and has a very calming vibe watching the light change across it throughout the day. Oh, hey, Gilly.
TFHG: Gilly?
H: One of our cats just wanted to get in on the interview and hopped up on my lap.
TFHG: Tell us about the menagerie.
H: Well, we have two cats...Gilly (named after the SNL skit) and Patti Smith (named after, well, Patti Smith, the poet and musician). And this summer along came Dewey. We're an all-lady house! We were joking we'd never be outnumbered by our animal companions, but here we are.

Gilly, Heather, and Dewey, taking a break from baking cakes.
TFHG: Dewey! The dreamiest. How did Dewey come into your lives?
H: Well, it was the most wonderful surprise. Our friend who lives in Vancouver texted us over the summer to say that her dogs were accidentally having puppies and would we like one? We were literally closing on our new house in less than three weeks and we looked at each other and said "we'll have room, should we?" and it was a resounding YES. Dewey has just been the best. She's mostly golden retriever with some collie and it means she's so sweet but also very, very smart. I'm used to cats and it's been a bit of a paradigm shift, but I've been so surprised and impressed with how well-behaved and happy she is as a puppy. 
TFHG: So Dewey came from Canada? Did she hitchhike?
H: No thumbs, but she did roadtrip down from Canada to us. Consequently, she loves being in the car. I can't wait to take her on more trips, like Lillian with Detective, she'd be such a great wingwoman.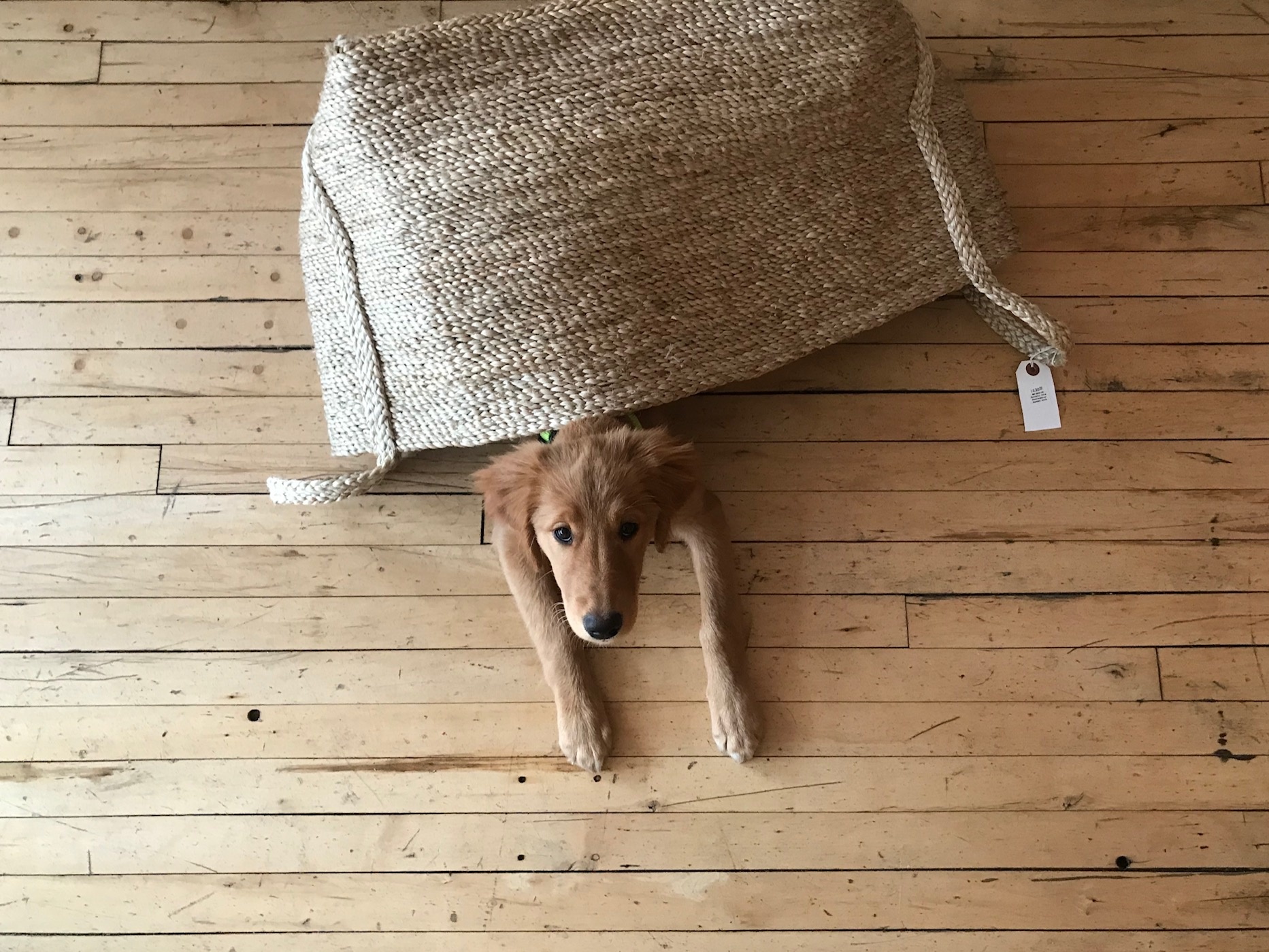 The ultimate wing-woman.
TFHG: How did the girls take to the introduction of Dewey into their world? 
H: They've been great! Dewey is super respectful of their personal bubbles in a way that is pretty surprising and wonderful. Like, she really reads their moods and needs and gives them space. It's basically like a mutually respectful staring contest at all times. Someday maybe we'll get to the point where it's a big cuddly pile but for now it's like "I see you, I respect you". They all have their boundaries and there's no drama.
TFHG: Wow, so new house, new puppy... this was a big year.
H: Yeah! New house, new puppy, new neighborhood, new job at The Foundry... it was a big year of lots of changes, but really excellent ones. By the time the holidays were rolling around we were really settling into the magic of all the changes. It was a lot of adjustment, but in the end, the overwhelming feeling has been: Yes. This is right.
TFHG: Wait, when did you get married? That didn't also happen this year did it?
H: Ahhh, nope. We got married in 2014 in the fall... 
TFHG: Wait...when? 
H: October, 11th 2014! 
Foundry Note: At this point we realize that Heather and Susannah AND our newest Foundry Family Member, Will, all got married ON THE EXACT SAME DAY IN THE SAME YEAR BASICALLY AT THE SAME TIME. WHAT!?
TFHG: Wow. WOW. Serendipity! And wow, trusting that intuition on all of those big changes. Bravo. It's hard to believe it's only been six months since you joined the team. How did you find your way to us?
H: It was such a surprise, but definitely the good kind. I was a long-time patron—my wife used to work across the street from the former North Loop location, so we used to pop over all the time. Once, ages ago, Lillian and Anna sent out a random message on a Friday to some Foundry friends—shop regulars, artists, neighbors, just folks who they knew from coming by—and said "hey, let's all hang out tonight!" That night, because of weather or whatever, no one else on the list ended up being able to come so it was just me and Lisa and Lillian and Anna at a small table at the local bar for hours and hours...it was one of those magical evenings, like new-old-instant friends. We kept up being buds, then the shop moved and then we moved and then, actually it was the day the dog was born but Dewey hadn't come to us from Vancouver yet, and we just happened to stop by the Tangletown shop to get stuff for the new house. We got to chatting with Anna, and it was right in the middle of all of these big transitions for us, I had recently left Wild Rumpus (Foundry Note: Wild Rumpus is a beloved, ICONIC Minneapolis book shop...a must-visit!) and the house and the dog etc. etc. and, like a bolt out of the blue, Anna said, "Do you want to come work here? You can bring your puppy!!" It kind of just fell in front of me and felt like just the right kind of thunderbolt.
TFHG: We feel the exact same way!
H: It's just complete serendipity coming together, making connections...you just never know what's going to happen! And it's just been so fun. I knew it was going to be fun but didn't know how fun. To be in a beautiful space with beautiful people, meeting a ton of folks from the neighborhood, drinking champagne at random times...and it's been so sweet to watch Ruby with Dewey...Ruby is the best possible role model for a young pup. It's been pretty magical to be a part of this family.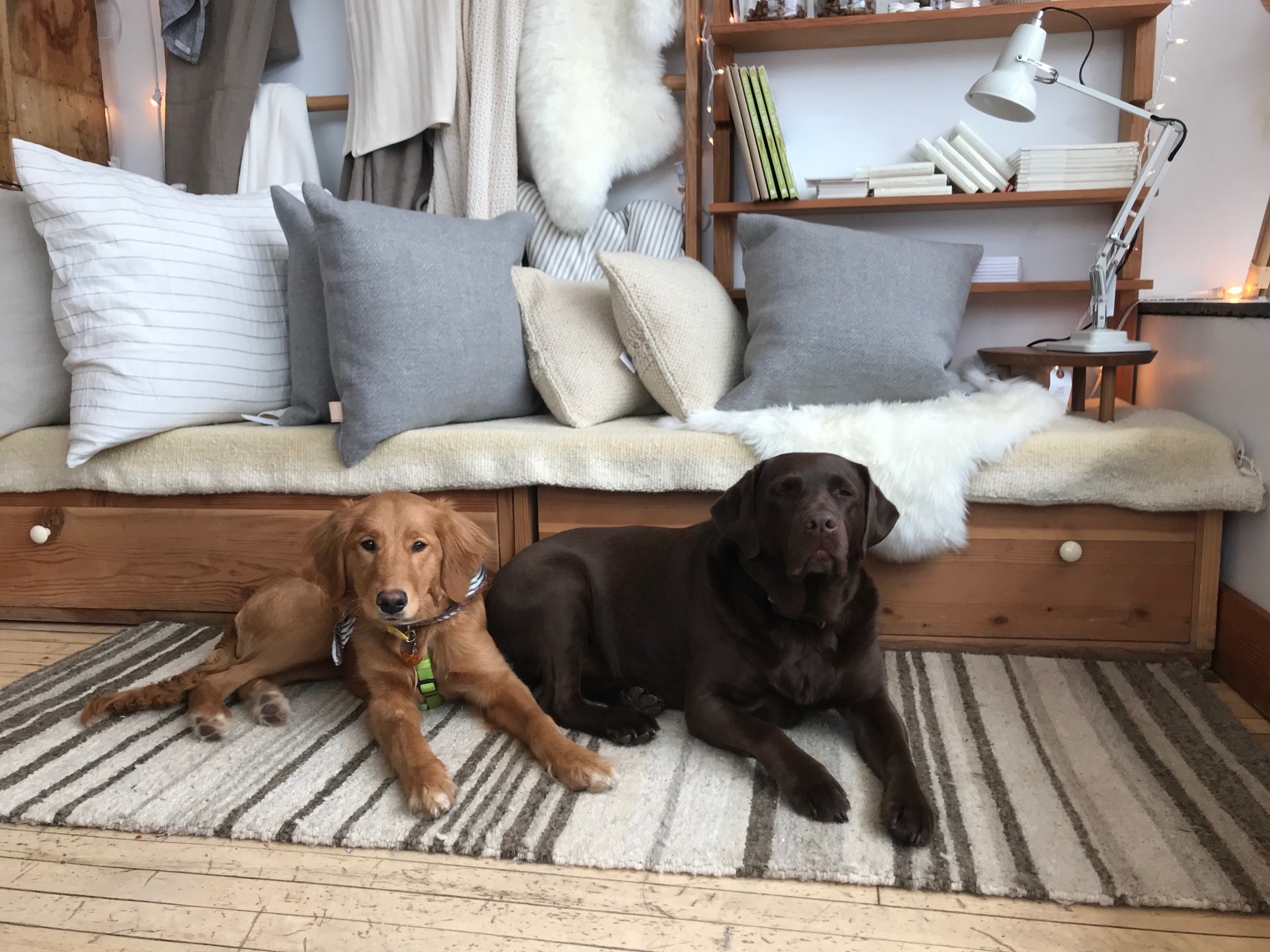 Young Shopdog Grasshopper Dewey, and Mentor-Sensei Ruby.
TFHG: Speaking of Family, tell us about Aspiring Tea Spokesperson Jim™️.  He's quite a personage to have in your chosen family!
H: Oh, Jim. What a character! Basically all of my family ended up being chosen family. I'm actually adopted into a big family of Germans and Swedes, all lefse and kinda bland food. I love it, though. I was adopted as a baby from Romania and I'm always happy to talk about it! It's truly an amazing, beautiful thing. Both my parents—who live in the suburbs—and Lisa's family, too, we all do Scandinavian Christmas and it's just this big happy time.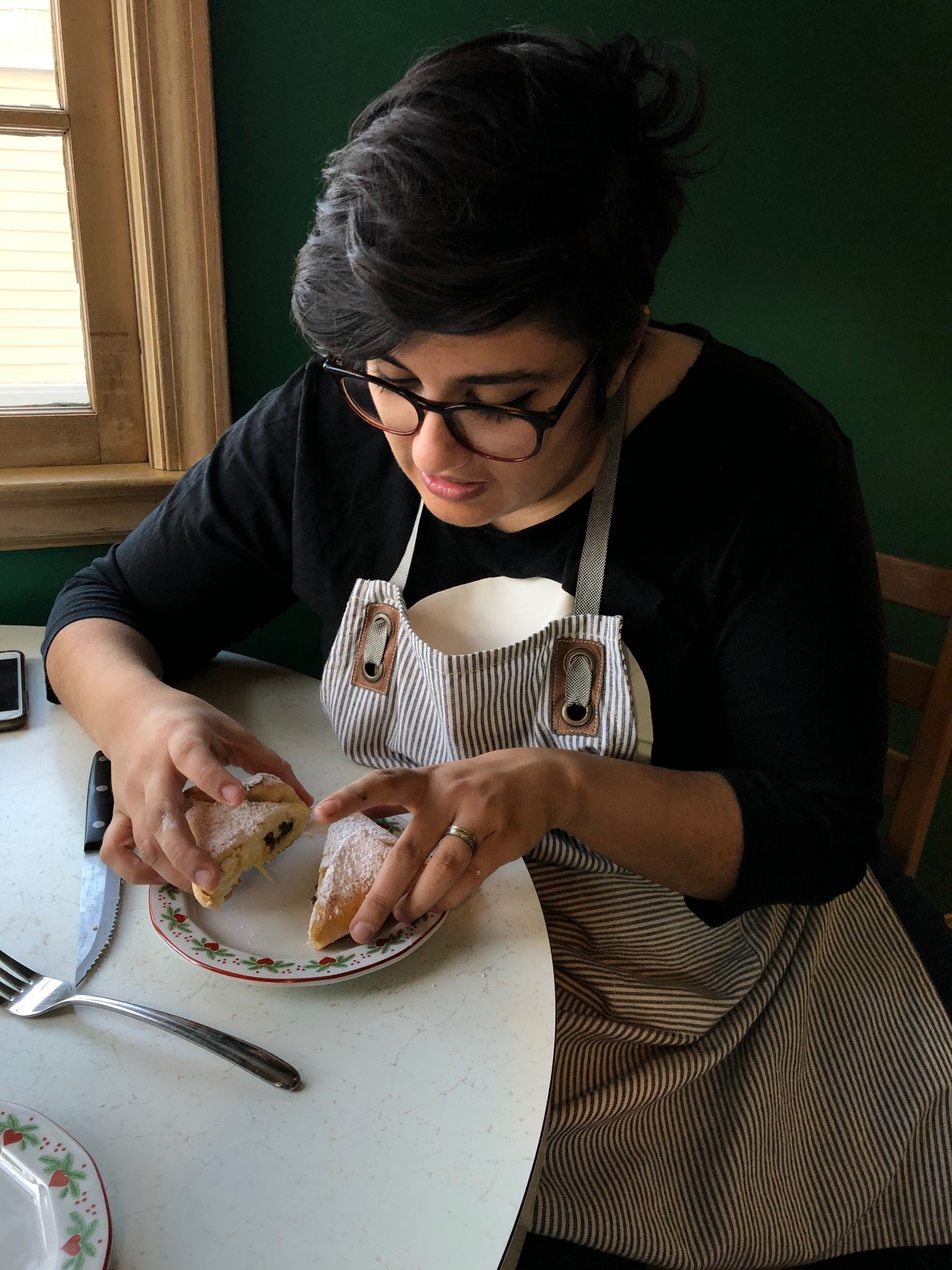 Heather in her kitchen, after her first ("pretty successful!") attempt making Romanian pastries...served on Scandinavian holiday plates, of course:)
H: Anyway, I met Jim before I met Lisa, actually, he's hard to ignore. He's a real force! He's found himself in a wonderful renaissance of tea and art appreciation. As I mentioned, he's a former mortician and now he's a full-time tea lover and concert goer. (Foundry Note: We were thrilled to host Aspiring Tea Spokesperson Jim™️—a.k.a. Heather's father-in-law—at The Foundry to test out our new shipment of Bellocq teas... see the video here). He really focuses on joy. He has frequent dates with Dewey and Penny (Dewey's cousin, also a golden retriever) to have a tea party with chicken nuggets. Being a self-proclaimed Aspiring Tea Spokesperson™️ is a commitment, but one he's made joyfully. He is absolutely enjoying himself and the pleasures of a personal tea party.


TFHG: Oh my! Those videos are PRICELESS! We love his red phone (and when you called him on the Grimm's wooden play telephone in the video).
H: Ahhh, The red phone! He wants to put one in all of our houses. He'll sometimes keep a red phone in the car in case anyone needs it, but I think we're safe because our house came with an original pink rotary phone.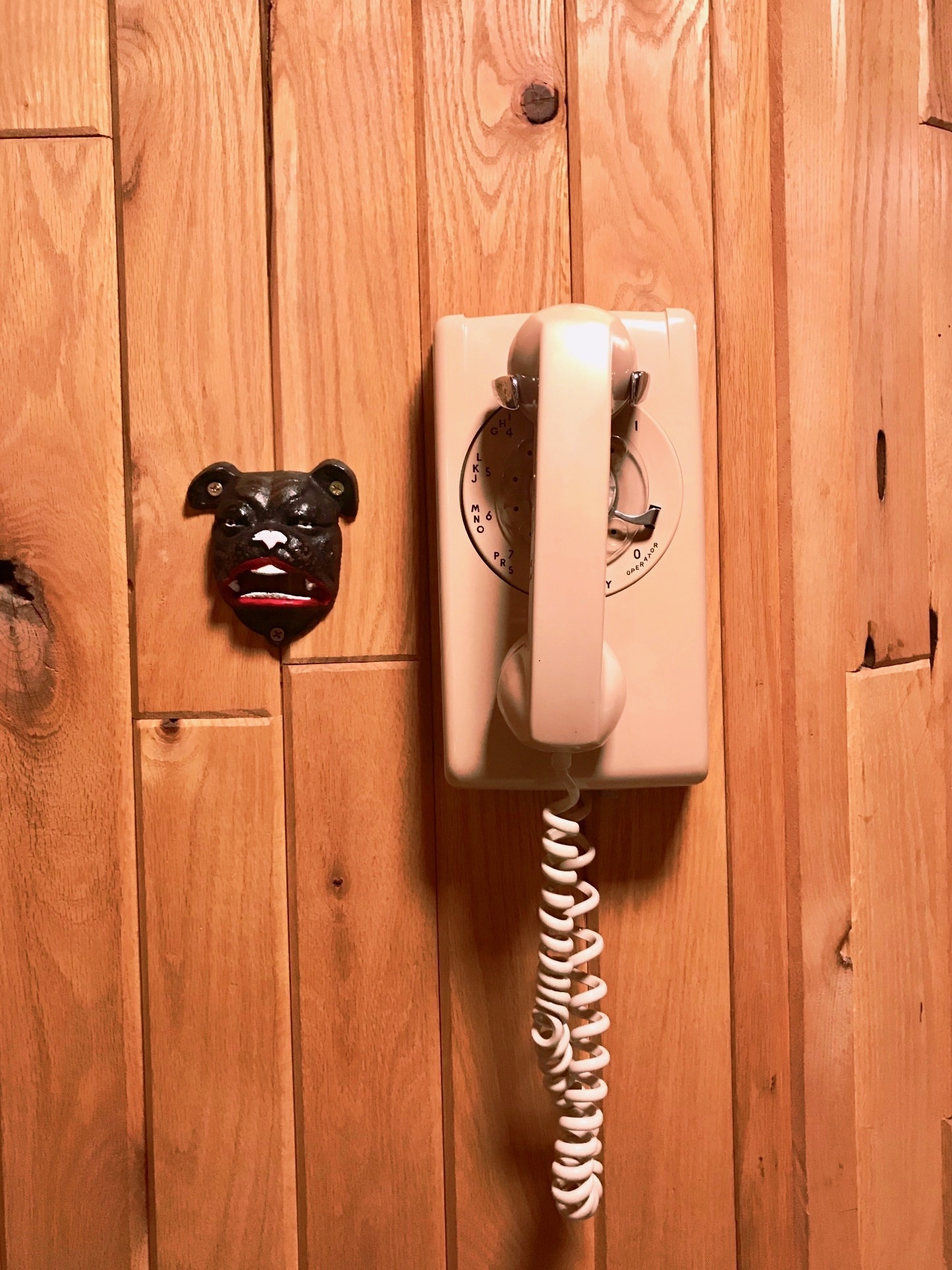 Pink phone (with bottle opener that Lisa got specifically because it "looked like something weird that would totally be in your relative's basement").
TFHG: Wait...your house came with a pink phone?
H: Oh yes, and if you can believe it, it's not even the most interesting thing that came with it! The house was built in 1951, but we are only the second family to live there. The woman we bought it from had lived there for almost 70 years. She would have been about my age when she moved in, which I love thinking about. It's pretty classic 1950's—powder pink bathroom, original wood paneling, big fireplace, french doors...it gives me the feeling of going to my grandparent's house in the best possible sense. I want people to feel like they're at their cool aunties' house.
TFHG: You and Lisa definitely have a "cool auntie" vibe... but tell us more about the interesting things that came with the house, please?
H: Well, there's a secret door built into the stairway. You pull a tiny knob on a piece of the paneling and it opens onto a little place with a built in shelf to put your boots.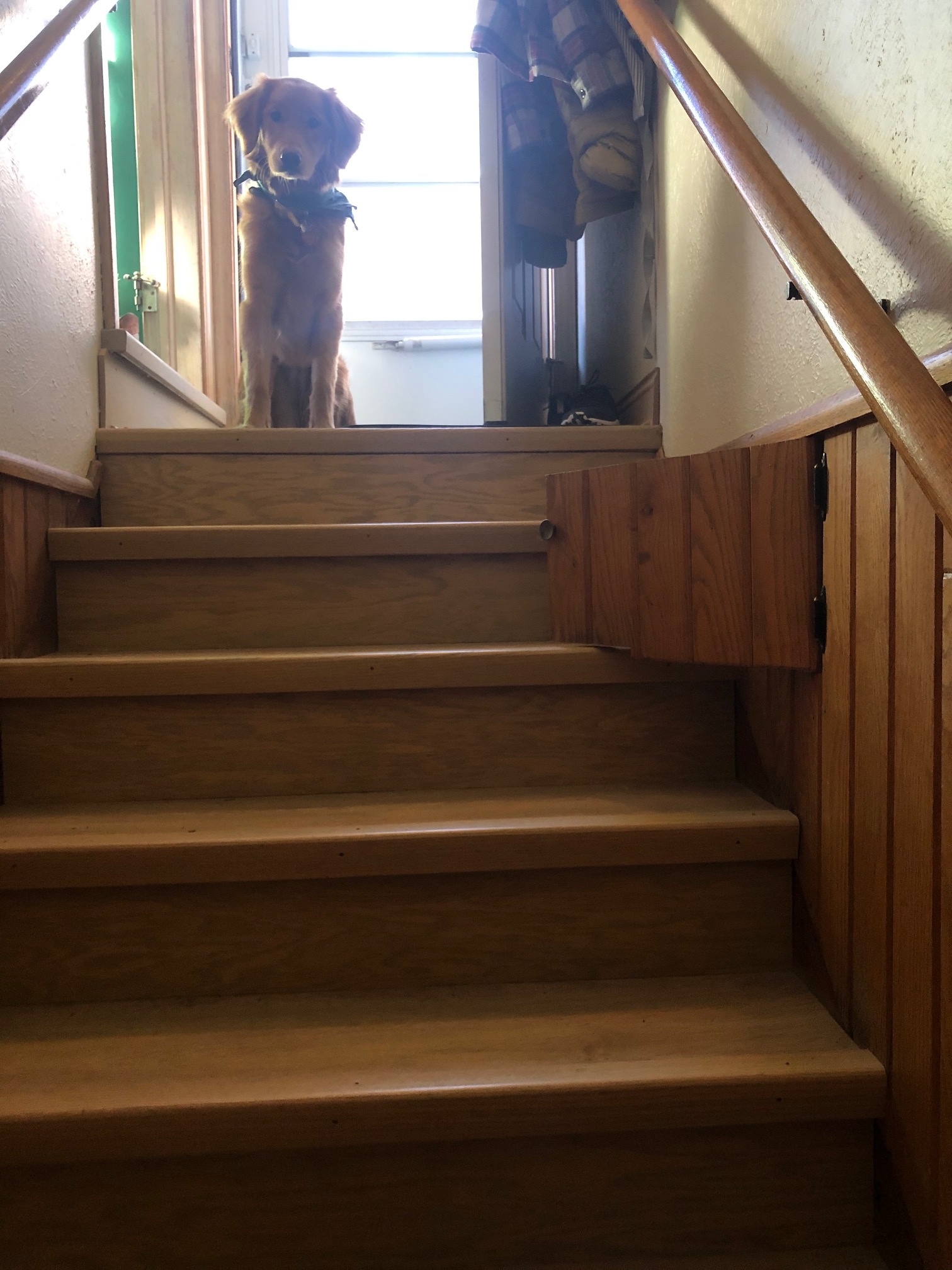 "Dewey and the Secret Boot Door: An Albinson Family Mystery"
H: I love thinking of the family and their boots all lined up in there. And there are old lightning rods on the garage, because the dad of the family was a lightning rod salesman at some point. Probably the most fun thing about the house is the flagpole, though. Like a legit, super-tall flagpole, right in the front yard.
TFHG: A flagpole!? What kind of flags do you fly?
H: Well, there was an American flag flying when we arrived, but the protocol for respectfully flying the American flag is a lot of responsibility...moving it to half-mast at appropriate times, making sure it is always lit at night, taking it down and folding it at the end of every day or when it rains. We didn't want to botch it, so we had a special flag-lowering ceremony, led by Jim, who in his work had some experience with the proper care and ceremonial folding of battle flags for military funerals. So now the original American flag is stored in its special box in a place of honor inside and we swap the less sacred flags on the pole out whenever we can. Every season, every holiday, we like to fly colorful flags. We love them and take it pretty seriously.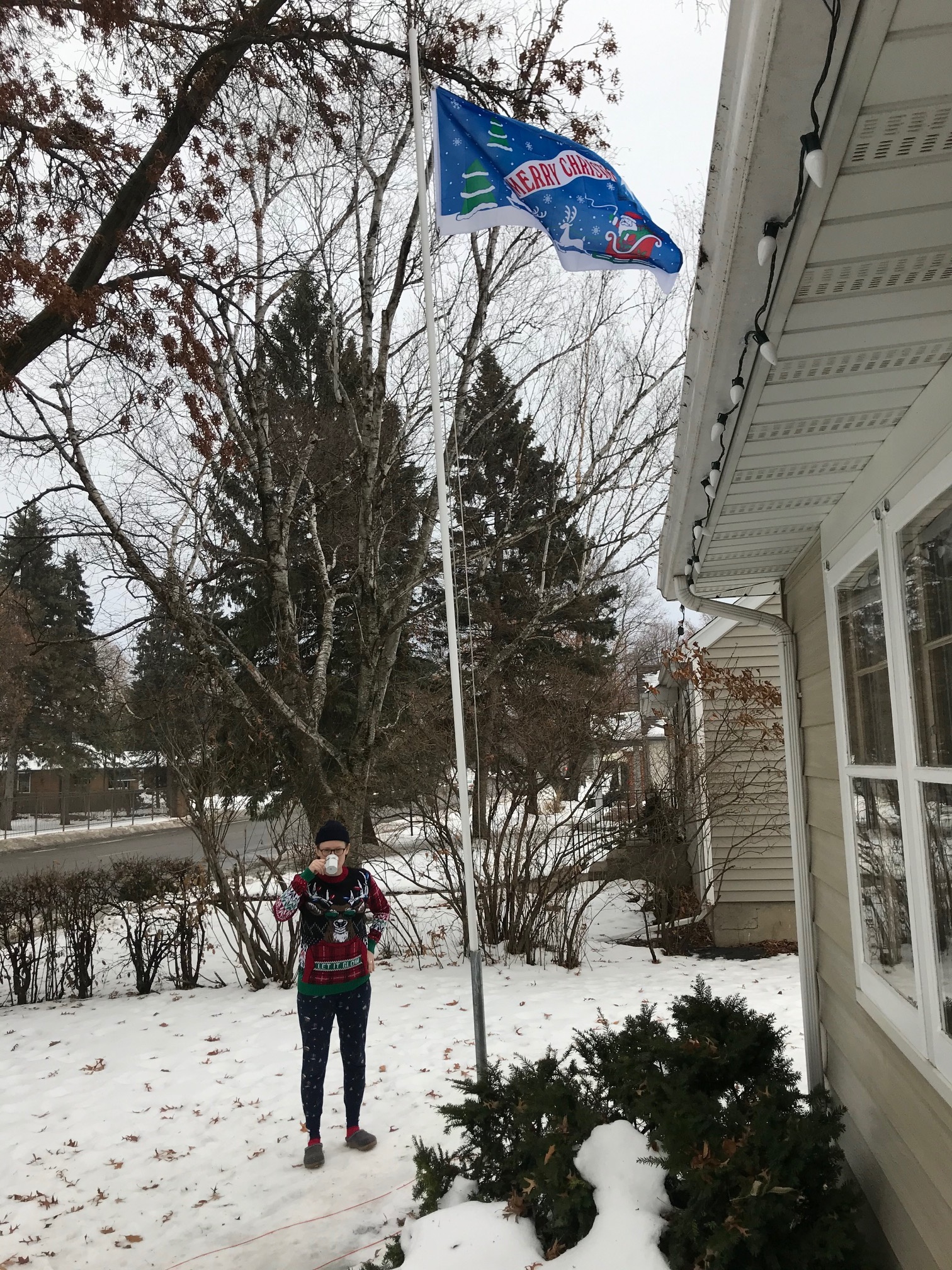 Lisa and the flagpole, Christmas Morning.
TFHG: Now we know what to get you for your next gift...How is your style similar/different to The Foundry style?
H: It's interesting in this particular house, it's been sort of a radical shift. We always lived in these much older places, brownstones with big, open white walls and gorgeous built-in woodwork and all of our stuff was sort of chosen to "fit in" with that sensibility. When we got to this house, the house definitely said "I'm a modest mid-century!" and our furniture said "We're from a cabin in the mountains!" and it was a little weird. We talked a lot about how to make it feel right and fresh and "us", and we settled on COLOR. We've really been leaning into it and it's a bit of a learning curve. The wall in the living room is a deep, rich, blue, like the bottom of a swimming pool. The couch is goldenrod yellow. There's the powder pink bathroom (and the phone, of course!) and the kitchen is a really resonant, vibrant green called "tournament field green" which has been especially fabulous in the winter because it can be so relentlessly beige outside.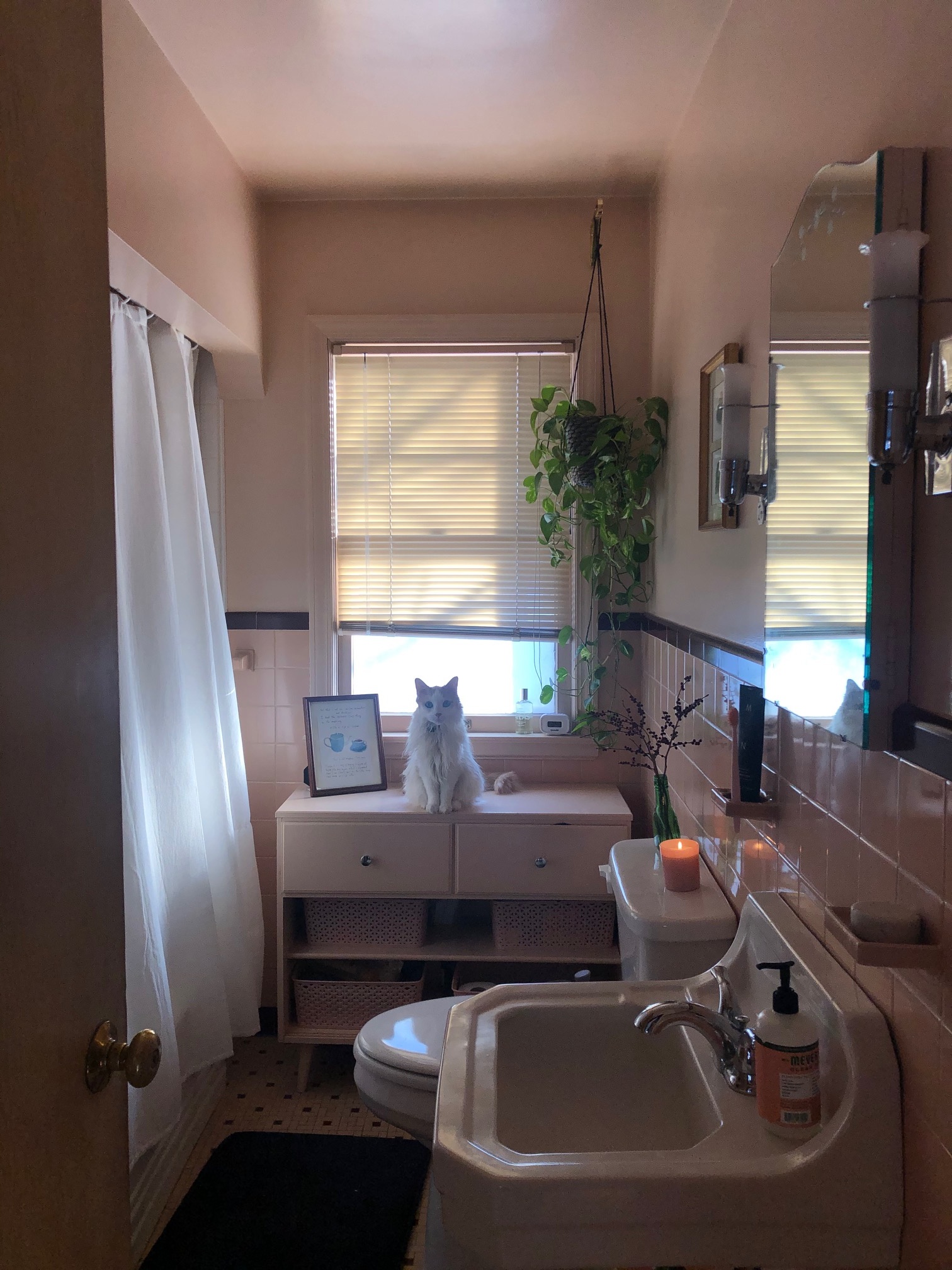 Gilly holding court ("excuse me, it's OCCUPIED!") in the powder pink bathroom.


H: Starting a job at a home goods store just when you buy a house is so fun and SO dangerous. But, it has really highlighted a particular beauty of what The Foundry carries. When you're in the shop, everything is so calm and lovely and neutral. All of the things have this very specific aesthetic, and everything definitely looks gorgeous together. But the flip side to all of those neutrals and woods and natural colors and textures and textiles is that they are actually great in any house...mine, one that's crazier and more colorful than mine, or one that's more minimal...like it's just adding to the well-woven tapestry. I love it. 
TFHG: What are your daily Foundry go-to's?
H: Definitely the brushes. As objects themselves they're unassuming but surprisingly beautiful. And there's so many uses! Yes, this is billed as a "dish brush" but perhaps it's a "tiny back brush" (that's actually a little bit of a joke, I gave my mom one of my favorite dish brushes for Christmas and I had already given my dad a big back brush that looks kind of similar and when my mom opened it, she said "Oh, how wonderful! A tiny back brush!"...which isn't necessarily accurate, but she's definitely not wrong!).
Someone recently asked me about my brush collection and I just said "hold on" and came back with, like, 12. They're so simple and awesome, just natural bristle and wood. It's like they're ephemeral but will also last for a long time. 
My favorite of the more obscure brushes is the Book Dusting Brush. Because it's long and graceful and it might not immediately be clear what it's for. But once you've used it...basically you can never go back. Ours lives on the bookcase.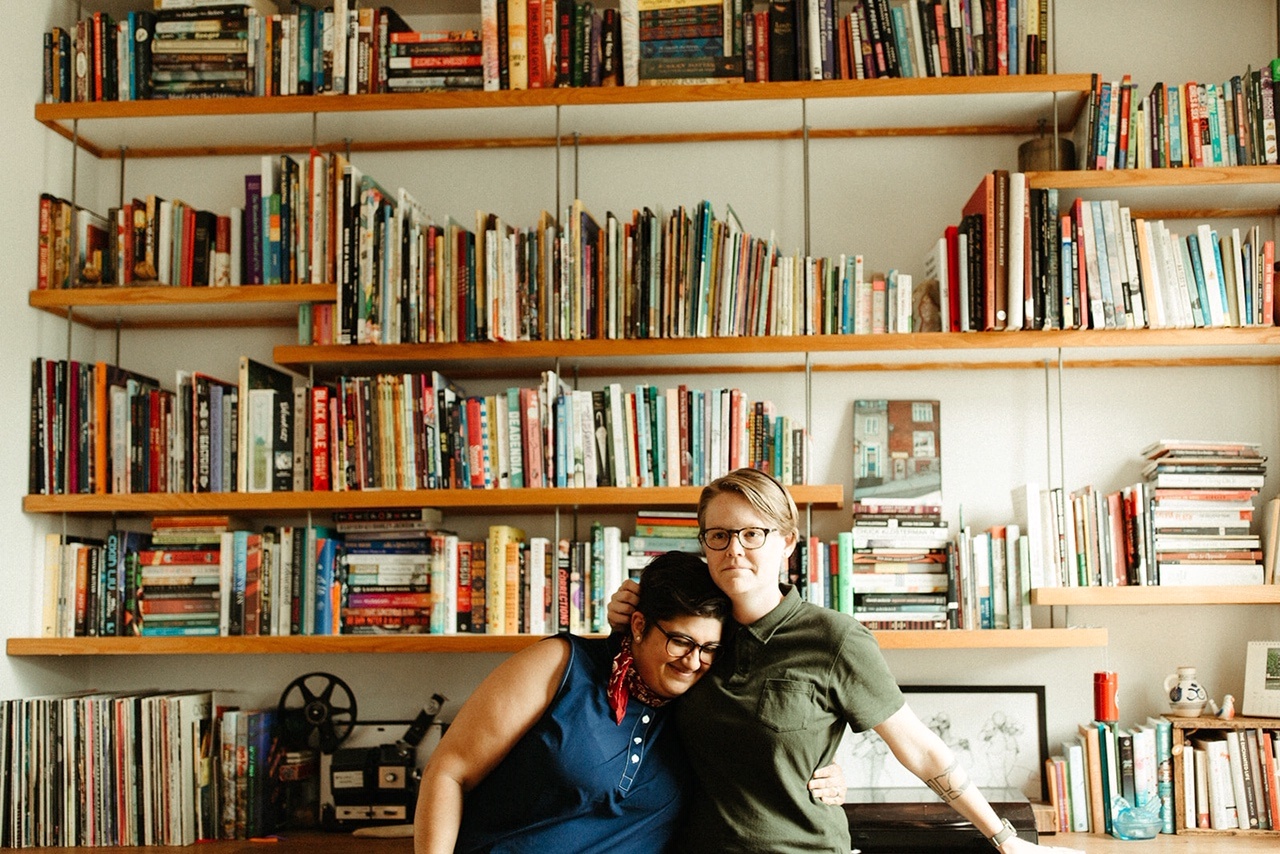 Heather and Lisa with about HALF of their book collection at their old brownstone...where to put them all in the new house!? Photo c/o Sarah Ascanio Photography.
TFHG: That's actually a burning question: coming from your book-loving background, we assume you have TONS of books. What do you do for book storage? 
H: Oh, man. Books have been so interesting in this house. Every other house we've lived in had these massive built-in book cases, and this one? No bookshelves! And us arriving with 30 boxes of books! We've been thinking: how can we back into book storage so that isn't just like "HELLO MASSIVE WALL OF BOOKS"? So we've been trying to tuck and incorporate our books into the rooms in ways that feel natural. I actually started to put books into rooms by what you might want to reach for when you were in that space. Sorting by mood, maybe? So all of the kitchen, cooking, and food-centric books are currently in the dining room. In the living room there's mostly fiction and some beautiful children's picture books on the coffee table. Picture books make the best coffee table books. They'll make you laugh, or have an honest experience of whatever emotion you want to feel. I never actually open any "coffee table book" people have sitting out...it's like they're too intimidating. But picture books? People always pick them up and fall in love. I keep poetry books in the bedroom, philosophical and art books in the office...It's a treat! Always in a new space, you're not just envisioning what you have but also how you want to live. 
TFHG: Well said! As far as those visions go, do you have any Foundry dream-covet items?
H: Well, I just got a Ruitertassen Backpack as a gift to myself from myself for Christmas... I just fulfilled one of my dreams so now I guess I have to get a new dream! There are so many beautiful things, I'm always just like oh. my. goodness...I feel like I'm the only person thus far who doesn't have much of the drinkware. Roli Polis, Spanish wine glasses...but I think I love the little mouth-blown cognac glasses that just came in the most. I'm a great proponent of drinking cocktails, but my wife used to be a bartender, so she's in charge of making them. I showed these glasses to Lisa, and she said they'd be just perfect for whipping up a little cocktail, just a sip or two. Something about having things in small portions just makes them delightful, you know? And since they're individually hand-made, every glass has a little personality, the uniformity is all not quite perfect...but also perfect.
TFHG: When you're in the shop by yourself what music do you put on?
H: I gravitate towards some of the calmer things. I was talking with Lillian and Anna about movies the other day...there's a podcast I loved called "This Movie Changed Me" where each episode is about a movie that really influenced the person speaking... Mine is "Fantasia". What I'm seeing and feeling is what I'm hearing, you know? The shop is so soothing and so I want to be soothed. I just want to relish the "right now" of it. Like, when the sun is out and the John Julian is in the front window...it looks like a painting. When the sun comes in like that and it's so quiet and beautiful, I listen to Detective's Quiettime Playlist. Or Valentine's Evening Tail Chasing Mix. Whenever my music matches what my surroundings are, it feels like this wonderful meeting of two things.
TFHG: What do you always have in your pocket/in your bag/on your person?
H: Women's pockets are so small! In my bag I always have a pencil, journal, and a box of Fishermans' Friend...the red ones. Real menthol-y. And I always have a book. Even if it's small, a poetry book. Nothing like putting a poem into your day! Let me check and see what I have in there right now. Mary Oliver's collection of poems, "Why I wake Early". I love Mary Oliver, the human emotional connection to nature and how it informs how we relate to the world... the title poem is one of my all-time favorites:

Why I Wake Early
Hello, sun in my face.
Hello, you who made the morning
and spread it over the fields
and into the faces of the tulips
and the nodding morning glories,
and into the windows of, even, the
miserable and the crotchety—
best preacher that ever was,
dear star, that just happens
to be where you are in the universe
to keep us from ever-darkness,
to ease us with warm touching,
to hold us in the great hands of light—
good morning, good morning, good morning.

Watch, now, how I start the day
in happiness, in kindness.
TFHG: And finally, are you more of a Ruby or a Turnip?
H: That's a tricky thing. By virtue of Dewey, I've been around Ruby more than Turnip. In my truest self I'm a Ruby, but in my heart of hearts I'd love to be a Turnip. The wild impulses, the freedom. I guess I'd say I function as a Ruby with aspirations towards Turnip.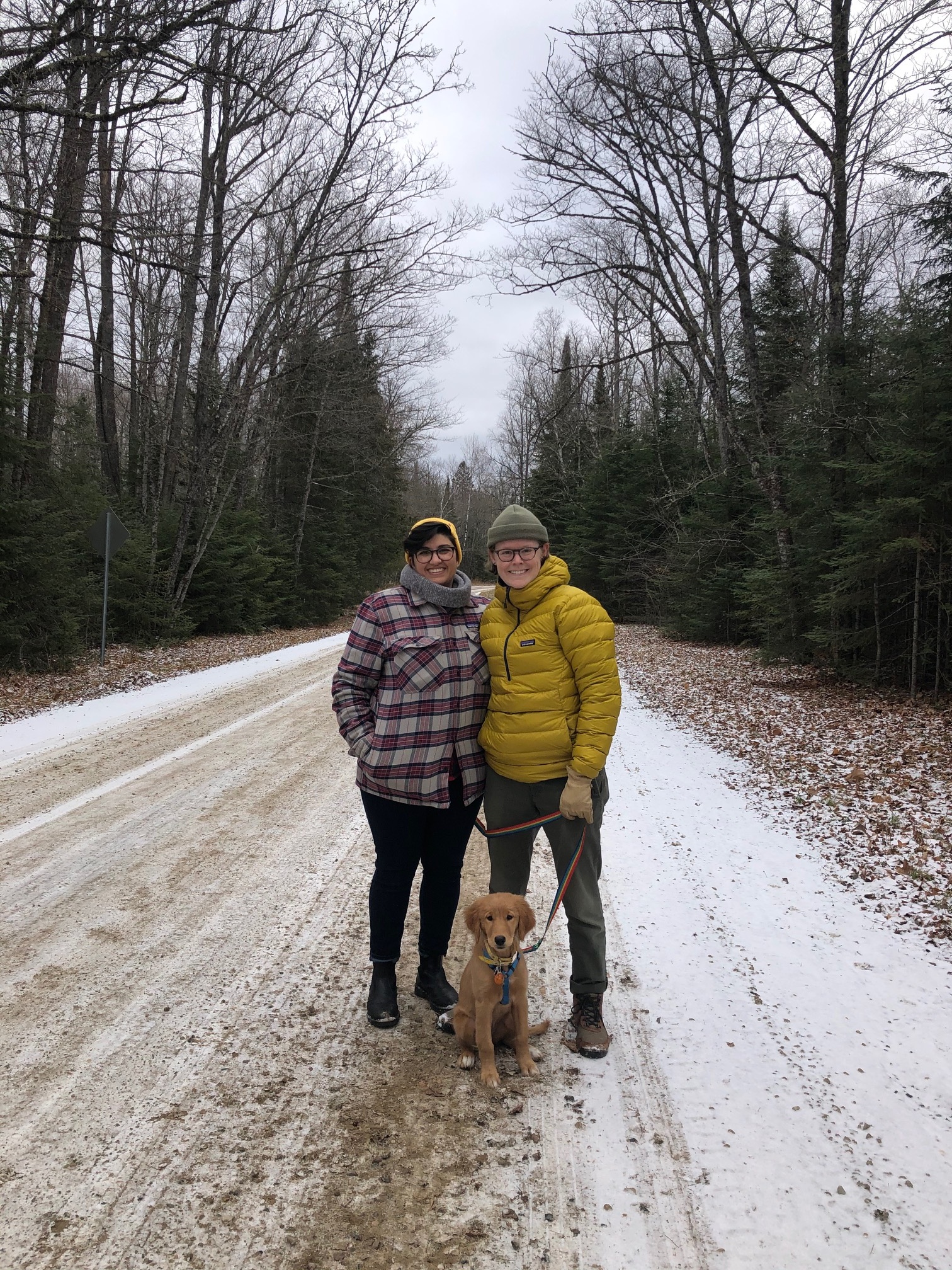 Dewey's first Minnesota winter with the family.
Wow, Heather... you are literally the best. Thank you for bringing magic (and Dewey!) into our lives.
And if you want to do a deep dive into more Foundry Family Magic, the rest of our Family Interviews are right this way!