After much dreaming, scheming, and increasingly breathless emails back and forth, we are beyond thrilled to be bringing the brilliant voice, mind, and words of our long-time Foundry friend, thoughtful chronicler, celebrated poet, and all-around excellent human—G.E. Patterson—to this space. Look for more under his byline in the future and for now, G.E.'s meditation on a dear humble companion: The Washing-Up Whisk.
"Wow! That'll be great. Thank you."
That's what you'll hear from me if you volunteer to wash the spinach or the salad greens.
If you want to set the table or carry glasses from one room to another, you can expect a nod.
Or ask to walk the dog around the block when I seem frazzled and challenged by time.
If I've invited you for a meal—or if we live together—then chances are I'm going to accept your offer.
Most people I know want to be helpful. They're eager to pitch in. They like to contribute. So I usually give the go-ahead and get out of the way.

Except when it comes to cleaning up.

"Oh, don't worry. I'll do the dishes later."

That's what I like to say.

The truth is that this job, the washing up, is too good, too sweet for me to surrender.

I like washing up. I like it much more than rinsing grit or sand from greens. I like it more than shuttling objects from the places where they rest to the places where they'll be used. I like where it comes on the timeline of cooking and eating and sitting down together. It's part of the closing act. I like the way I feel doing it.

I don't wash everything by hand because a dishwasher is often the more efficient and climate-caring option.

When I do do it, though, I do it happily.

And I like doing it because I have good tools and because of the quiet time it allows me to give thanks.

I have a few dishcloths and tea towels, a stash of sponge cloths ready to take the place of the current one, a bottle of dish soap that I swap out when my fragrance needs shift, and I have a winding up whisk made in Sweden by the visually impaired artisans at Iris Hantverk. The whisk is the longest continuously serving tool near my sink.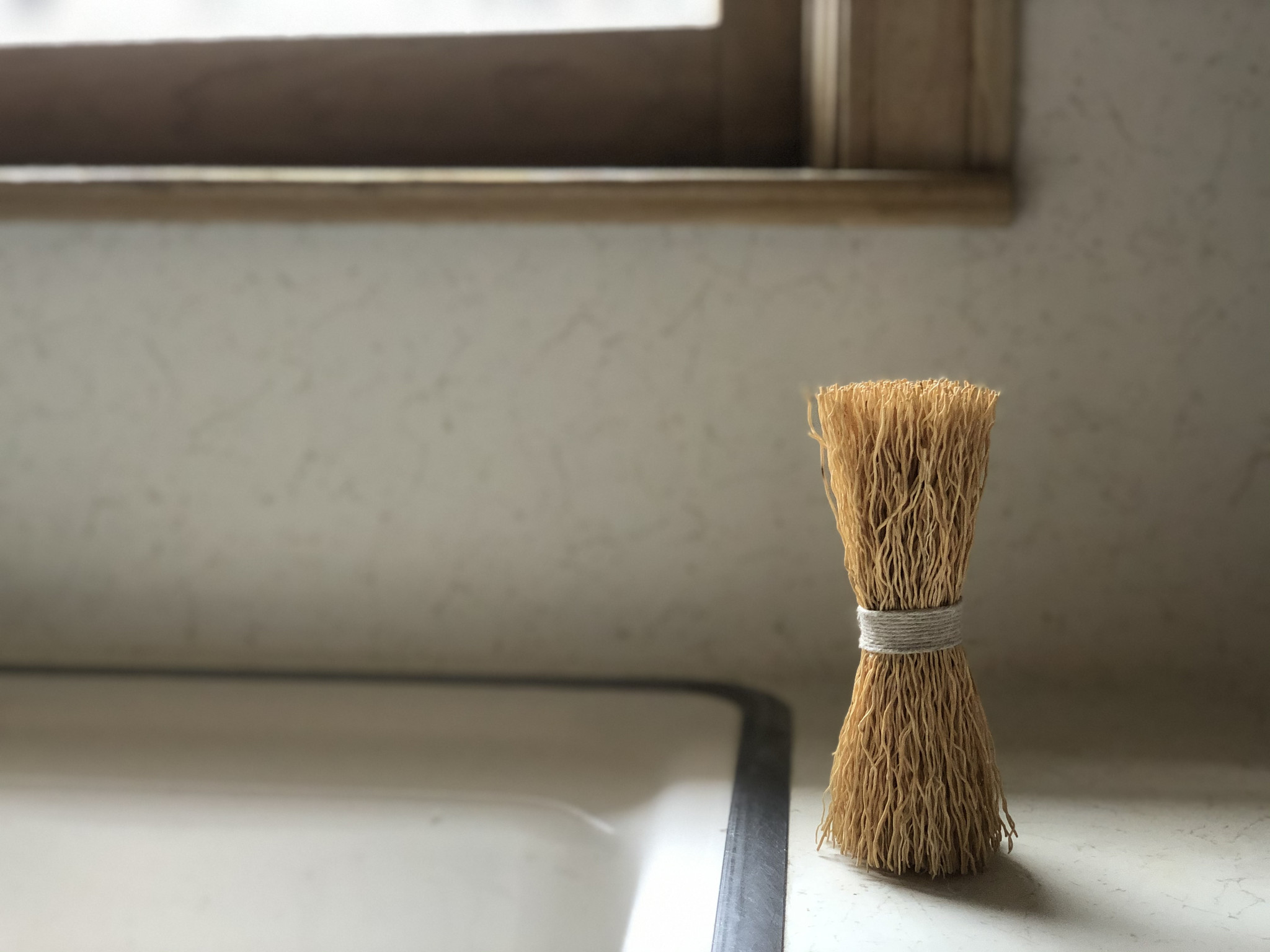 My affection for it is outsized.

It's been with me for quite a while. It fits nicely in my hand. It reminds me of who I am and who I have always been because it resembles the collections of twigs and other things (bits of nature) I gathered up and carried home when I was a kid.

(It's not made of twigs though. The whisk is made of cereal root—a grass that is named after the Roman goddess of the earth, Ceres—and string.)

It does its job and keeps quiet while I work through my emotions during the ceremony of washing up.

And any occasion where we're not putting most of the implements of cooking and eating [the utensils] in the compost bin or recycling or trash gets catalogued as ceremony.

I prefer to begin the task when everybody else has moved away from the table and settled into another activity (brushing their teeth, or driving home, or reading under a lamp in another room).

I don't want witnesses. I want to be alone in the kitchen. Or, rather, I want mine to be the only human body in the kitchen. If the dog has given up begging for scraps by this point, he's welcome to stay.

Holding and cleaning a plate or a pan or a stack of them—gives me an opportunity to slow down a bit, to reflect, to let the tide of memories settle. It's the quietest path to nostalgia that I know.

I want to and I get to think about the people who sat beside me just now or long ago. (Ideally, both). I get to recall the stories they shared: the triumphs and their laughter and the sensitive bits of their lives.

They didn't sit down by chance. I love them.

I want a little more time to touch the things that they touched.

I want to grip the vessel that held the gratin and the pot that contained the sauce or the pan that can't yet let go of the eggs scrambled in it.

These things accept the force of tender emotion that would quickly make my family and friends squirm.

I don't want the people to be uncomfortable, but I gotta let the feelings out. And the objects are able to absorb it.

The task of washing up [itself] is my soft and silent way of giving thanks for the people who matter to me and for the occasion that brought us together. It is, of course, about the recent meal and the effort that went into the weeknight dinner, weekend lunch, or celebration (birthday, new job, reunion with out-of town friends).

Part of it, surely, is the remembered history of other meals where I used the same plates, these knives, glasses and pans.

It is the first object of affection that came into my head when I asked myself, "What is one thing that you love now as much as when you first saw it?" Honestly, I love it more now than then. We have a history together.

I perhaps made a big mistake early on and didn't soak it in boiling water for the several recommended minutes before I put it to work the first time. There's no clear sign that it or I have suffered because of the mistake.

It doesn't have as many bristles now as it once did, but it still gets the cooked-on eggs out of the pan better than any other scrubber. It is quicker to release them afterward too.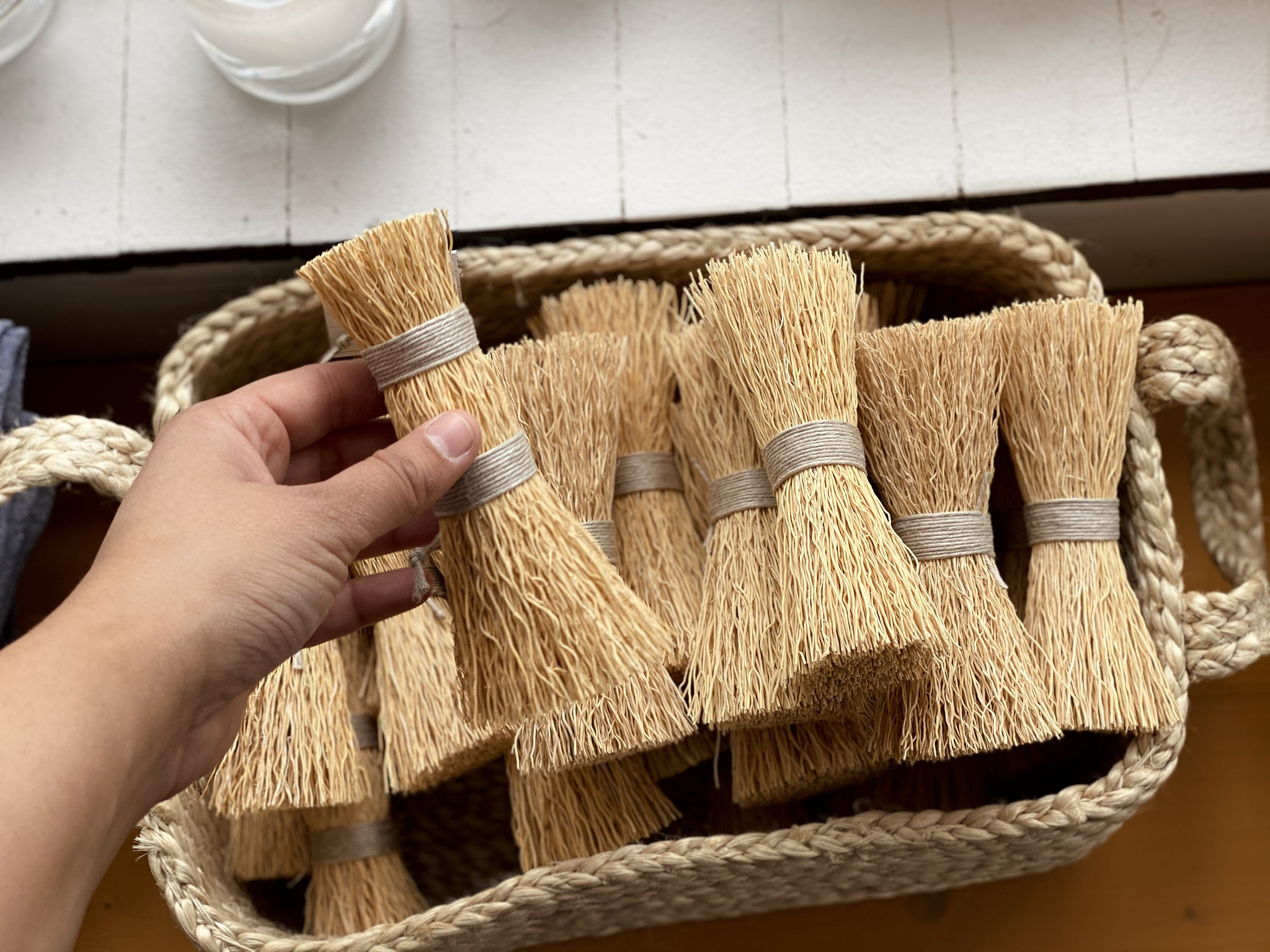 The whisk is available with one or two string windings. Mine has one. That's my preference and I'm happy [sticking] with it, but you have a choice. Everyone deserves that.

You might have other objects of affection. You might have other tasks that give you pleasure.

Washing up with the whisk is mine.