When the wind begins to bluster, the windowpanes awake silvered with frost, and the blazing gilded light of sundown mellows into the blue-gray of twilight just a tad earlier and earlier little by little until BAM all of a sudden IT'S STONE COLD DARK AT 4:30... This, dear ones, is just the time that we can reliably expect an onset of the crud.
The Sniffles. Ague. A Lurgy (as our British friend charmingly and onomatopoetically calls it). Cattarh. An achy-headstrong bummer that doesn't feel like a full-blown sickness, necessarily, but is more like our bodies are entertaining the idea of being sick at a later date, deciding whether or not to RSVP to its own pity party.
For a creeping chill and that finality-feeling of early darkness we have cozy blankets and beeswax candles in our arsenal to do battle with seasonal afflictions.
For the crud? We have Fire Cider.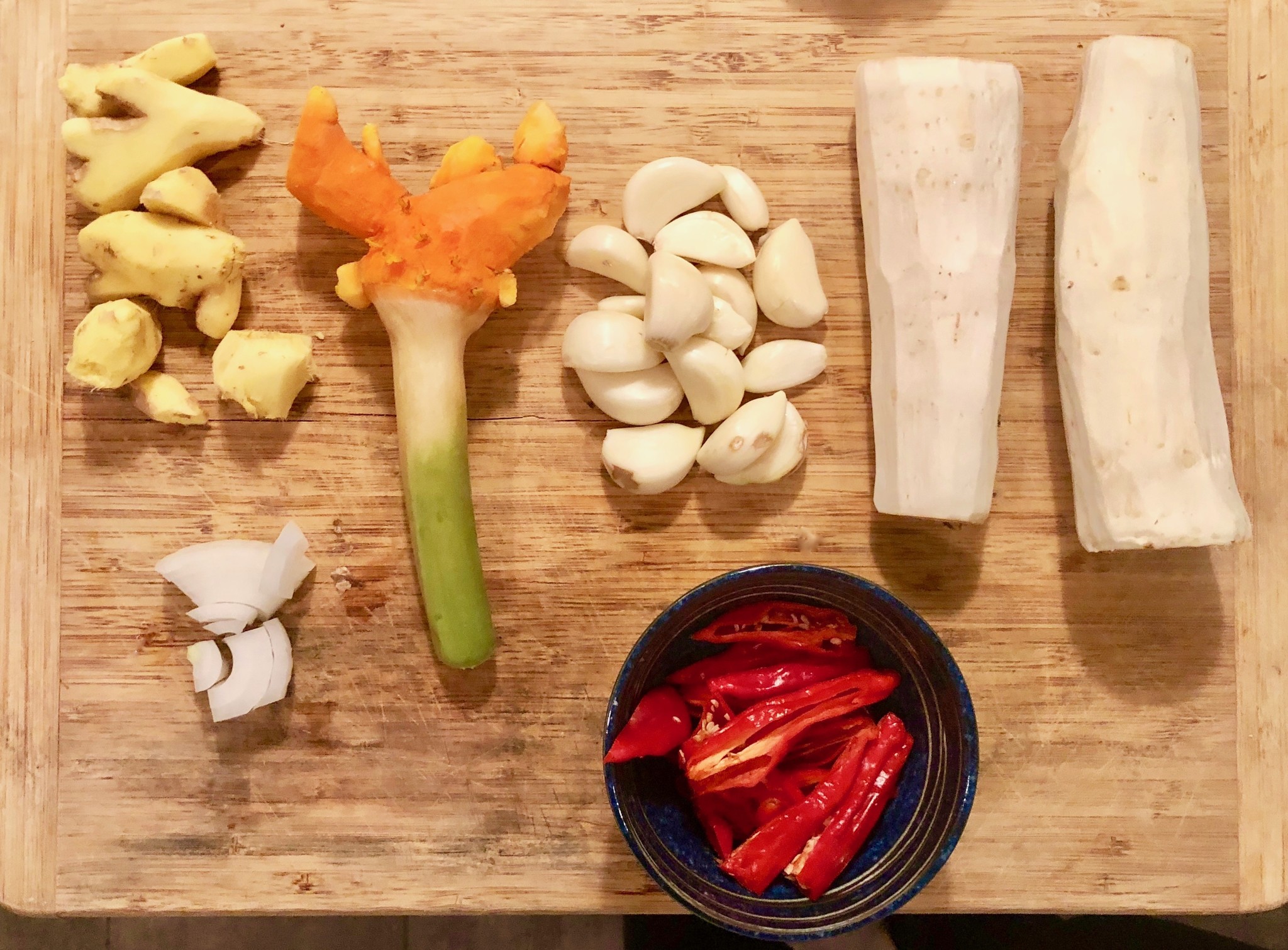 Fire Cider is a potent, pungent, bracing, vinegar-based tonic, infused with the sinus-opening and anti-inflammatory properties of raw horseradish, onion, garlic, ginger, turmeric, and a few other powerful pals. We love to keep a jar on hand for when the winter meh's strike. A tot of Fire Cider always gets the juices flowing and makes us feel better. Isn't that the point?
As last season's jar was getting down to the dregs, we got together with a few witchy friends for a Fire Cider Party! Everyone brought an ingredient, a jar, and some Apple Cider Vinegar, the conversation flowed, the r̶e̶e̶k̶ bouquet of fresh horseradish and onion filled the room, and we all went home with a big jar of future-self-care at the ready.
As many iterations of this exist as there are mason jars in the wild, below is the version and general methodology we swear by (borrowed from celebrated herbalist Rosemary Gladstar, who "borrowed" it from generations of herbalists who came before her... read the fascinating history—and trademark brouhaha—here). 
FIRE CIDER: A RECIPE-ISH
Makes enough for a 1000 gram jar but if you love it/are remedying a whole family of snufflers, go ahead, triple it, and make a big mama.
- 1 small horseradish root, peeled (stimulant, aperient, rubefacient, diuretic, and antiseptic)
- 1 knob ginger, peeled (stimulant, carminative)
- 1 head garlic, peeled (diaphoretic, diuretic, expectorant, stimulant)
- 1 onion, peeled and quartered (antiseptic, diuretic)
- 1 turmeric root, fresh or 1tbsp dried (anti-inflammatory, antioxidant)
- Apple Cider Vinegar
—optional//to taste:
- spicy pepper of your choosing, sliced (according to Rosemary: "to taste" means that it should be hot, but not so hot you can't tolerate it)
- whole black peppercorns (a respiratory stimulant that helps with absorption of turmeric)
- thyme (antiseptic decongestant)
- any other herbs you like the taste of! 
- local honey for serving
Wazz up horseradish, ginger, garlic, onion, and turmeric (if using the root) in a food processor. You can also (obviously) grate by hand or chop roughly. Food processor limits eye-watering/increases aromatics surface area. This stuff is PUNGENT! Add to jar. Add pepper, peppercorns, thyme, and turmeric (if using ground), fill the remainder of the jar with vinegar, close the lid, and shake a few times to mix everything up. If you're using a jar with a metal lid, add a piece of parchment paper to prevent the vinegar from reacting with the jar lid. If you're using a jar with a rubber gasket—like our awesome Le Parfaits—you can skip this step.
Label with the date and let percolate for ~4 weeks, shaking up every few days. At ~4 weeks, strain out the solids (which can be used as a chutney or are delicious sautéed with greens), return the liquid to the jar, and you are ready to roll!
Traditionalists say to keep this in a cool, dark place. If your comfort level with live ferments in dark pantries tends towards the conservative, we also consider the fridge to be a totally acceptable cool, dark place.
We take ours in our favorite mug with some hot water and a generous dip of local clover honey, but we've been known do everything from sipping it straight to adding it to a bloody mary or hot toddy (what, not a "remedy"??). Honestly, the act of just opening the jar and smelling it feels restorative.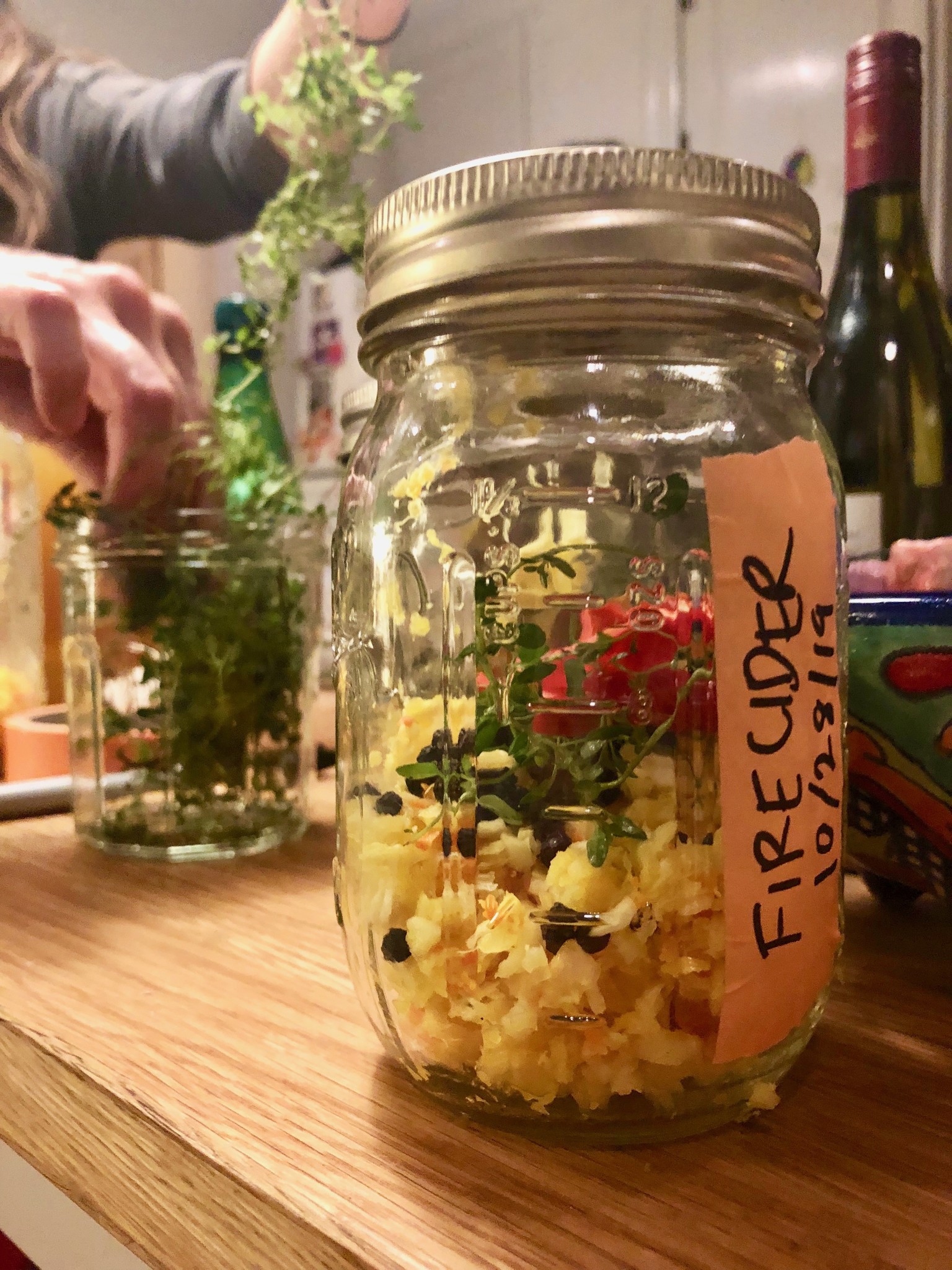 A note from your favorite witches: We are amateurs! Not doctors. Obviously, always seek the advice of your physician or other qualified health provider with any questions you may have regarding a medical condition. Never disregard professional medical advice or delay in seeking it because you read something on a shop's website.