As any well-heeled 8 year old will tell you, there will never be a time that a classic Shirley Temple is not a great thing. Bubbly sweet, subtly golden yet with the ascendant whirl of ruby red at the bottom giving it the sophisticated air of a potion, something specially "prepared", a tiny cocktail straw, occasionally/best served with TWO maraschino cherries PERHAPS interwoven with a sinuous orange slice and MAYBE (if the place has really got it together) these items speared through by... A TINY SWORD.
My word. Is there anything more elegant? more refined? The conceptual romance of the Shirley Temple is similar to that of a well-made cocktail, the power of intention and making and ritual and celebration and all that and yet, because of its sweetness, its inherent pinkness, and its special accoutrements, there is something beautifully pure about it.

But. Is it delicious? On the one hand, sure, there is definitely a certain nostalgia for the exact flavor. And, on the other hand, no. They are VERY sweet (it wasn't until a few measly years ago that we realized that the principle ingredient is actually Ginger Ale NOT sparkling water and, no, don't let anyone tell you it's Sprite #purists) and traditional grenadines don't particularly taste like much at all and certainly not like its namesake pomegranates...if you asked us to describe the flavor we'd have to say it tastes very..."red".

Looking for something with substantially more going on in the actual flavor department and ever-so-slightly less in the "all hopped up on sugar goofballs" department, we ordered a few very special "syrups" a while back. Made with naturally foraged or sustainably harvested botanicals, pure cane sugar, and single origin spices/organic ingredients whenever possible, these syrups taste like something...something good. Like the kitchen bustling below the party in The Nutcracker, the curtained reverie of a Turkish bazaar, or juicy and exotic tropicalia.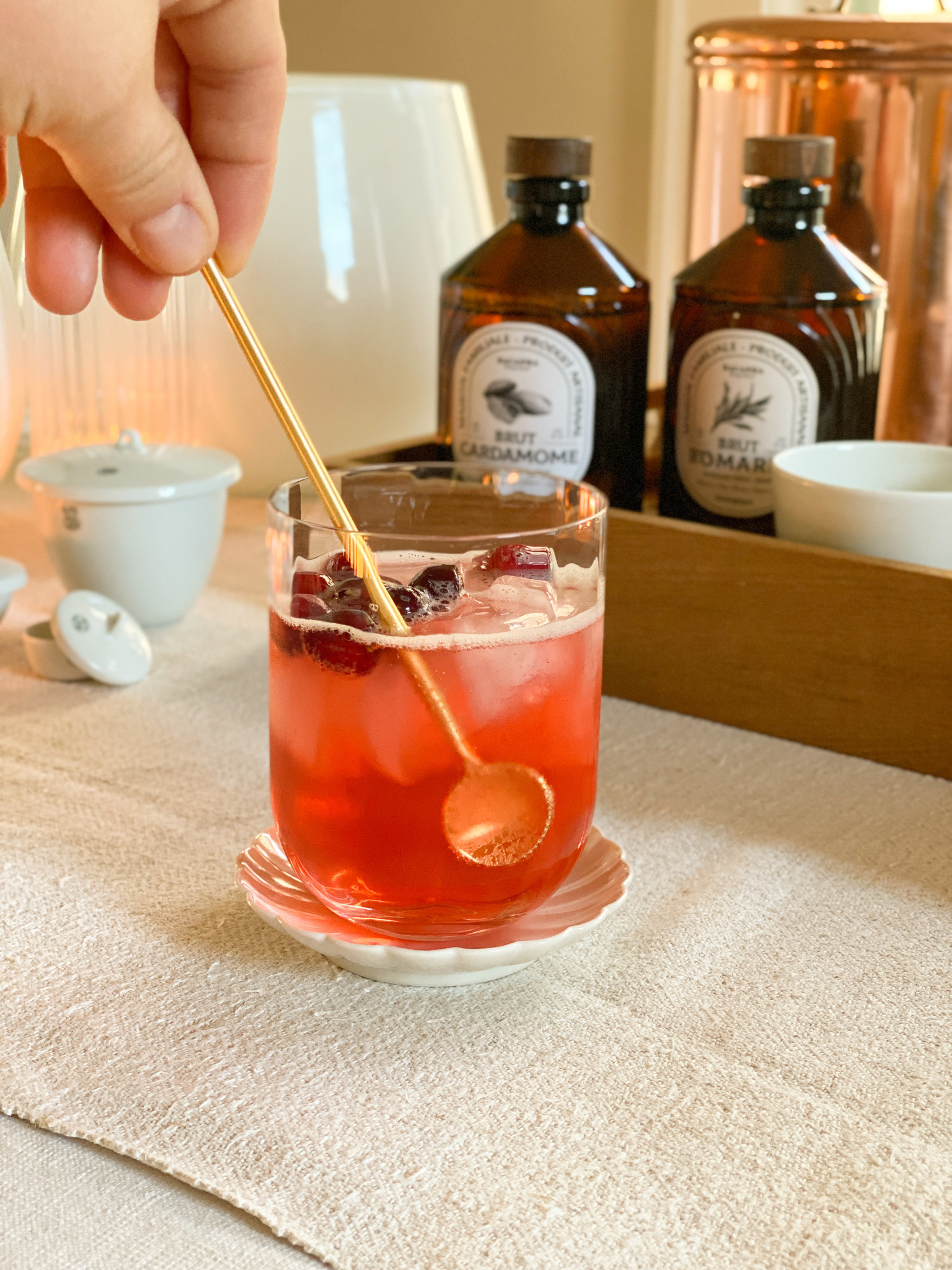 Unapologetically pink, unabashedly delicious: *actual* Grenadine, Sparkling Water, Candied Cranberries/ Mouthblown Bavarian Glass, Gold Cocktail Spoon, Hemp Runner, Laboratory Porcelain Barware

With our theoretical love for the Shirley Temple front of mind and a few celebratory meals ahead of us on the calendar these syrups have arrived just in time to put up a velvet rope at the kid's table—and give everyone at every table a fantastic n/a option. If a Shirley Temple is Grenadine + Ginger Ale + Cherries and a Roy Rogers is Grenadine + Coca Cola + Cherries then we'll call these concoctions:

THE RUBY TEMPLE 

Fancy Syrup + Sparkling Water + Ice + Pretty Cup + Celebratory Mood

BAM! That's it. While the subtle sweetness and rich colors of these extraordinarily simple bubbly handmade syrup drinks will delight any and all 8 year olds at the table, they also suitably complex to make a delicious celebratory sip for all ages. 

A few variations on the theme for budding mixologists of all ages:


Rosemary Syrup + Sparkling Water + Lemonade
Cardamom Syrup + Tonic Water + Splash of Rosewater
Ginger Syrup + Warm Milk + Grated Nutmeg (this one gives both hot chocolate AND Strawberry Quik a run for its money)
Elderflower Syrup + Muddled Strawberries + Sparkling Water
Rose Syrup + CRANBERRY SAUCE/shaken or stirred + float of Sparkling Water
These aren't "recipes" per se just an opportunity to scheme up a few delightful ways to make something deliciously easy without boundaries, barriers, or booze*. Tiny swords optional but encouraged.
*full disclosure, of course these are also all delicious with a tot of your favorite spirit if that's how the spirit moves you. Do what feels right in your body!