"Home" can mean so many different things to many people. Home is where, when you have to go there, they have to take you in. Home is the center—but not the boundary of—affection. Home is where the heart is. Home is not where you are from, it's where you belong. Home is where your brushes are. Home is...here. And while it is undoubtedly true that the thing that makes The Foundry feel like home is our family, it's also undeniable that we wouldn't be a family or have a home if it weren't for the beautiful magic and dream-making prowess of our fearless founder, Anna. From the electric spark, alignment of stars, and sheer force of will that brought our little corner of the world into existence to why Ruby is her soulmate, we convinced Anna to sit still for 45 whole minutes (and talk about herself!? for all of you who know her, this is a true double-whammy of a feat!) and give us the inside scoop on how our wonderful shop came to be.
The Foundry Home Goods: Tell us where you are right now.
Anna: I am under a canopy of trees on Nicollet Island in a hammock in our backyard. We live in an old house that built in the mid-1800's downtown but was moved over here to the island in the 1980's. The Mississippi river is on either side of us. And it's lovely.
TFHG: It sounds lovely!
A: It's wonderful out here... a little patch of groomed wildness right in the middle of the city. It's different, obviously, but parts of living here make me feel like a kid. It has a little of the same wildness of my childhood...To feel that but be surrounded by my city? It's pretty special.
TFHG: Tell us more about that wild childhood?
A: Before I was born my father opened a stove store just down the street from the original Foundry building and he sold wood burning stoves, flannel sheets, and axes, you know, that sort of thing. Basically it was the original general store vibe. That was back in 1979. We lived in an old farmhouse that had been abandoned and that my dad was renovating by hand and the house was heated with woodstoves from the woodstove store. We were wild children out there, very "back to the land". Running through the forest, collecting small reptiles, raising chicks (successfully and unsuccessfully). It was very free and exploratory. It's very similar to how my sister is raising her girls now in the Hudson Valley.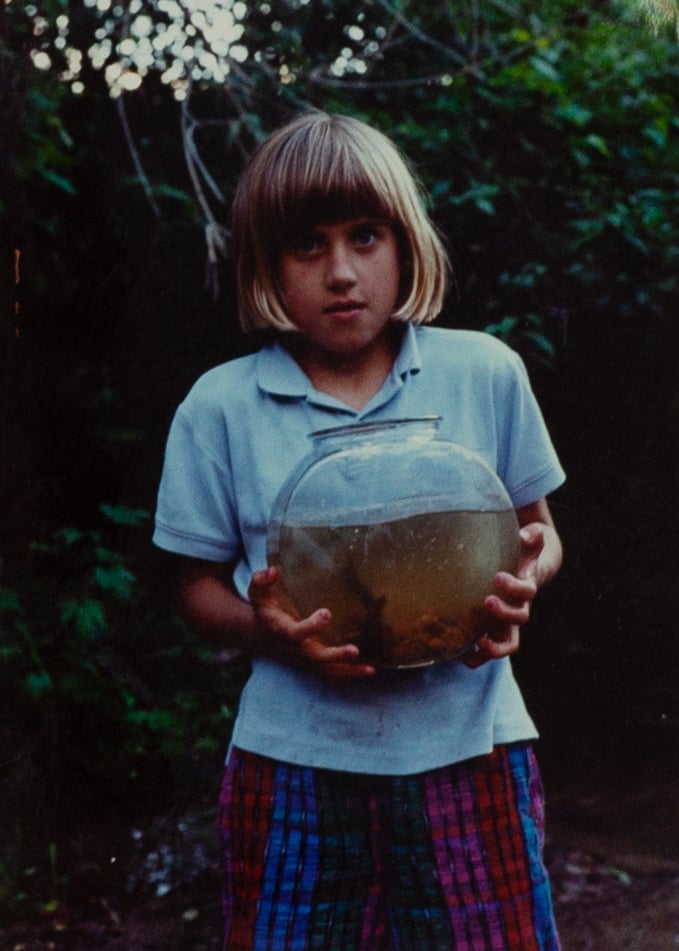 TFHG: A general store? Was that the inspiration for starting The Foundry?
A: Well, the idea of his general store and the notion of fully stocked shelves and rooms full of useful tools has always been really appealing to me. But that's almost more personal. I feel the the same thing with a fully stocked linen closet. Growing up, we had this sort of untamed, hands-in-the-dirt, hard-working, wood-fired home life from my mom and dad but I also got a lot of the opposite tradition... that more classic home-keeping inspiration from my Grandma. You'd open her linen closet (Foundry note: Anna secretly loves opening people's linen closets) and there would be these huge beautiful stacks of clean, sweet-smelling sheets and quilts, quite old and super soft from being washed and line-dried a million times. She had things from her mother and her grandmother that she still used because she took such good care of them. I still have those things. Sheets with my great-grandmother's monogram on them that are still in use on my bed. I love that.
TFHG: That paints a vivid picture of your grandmother's house...would she be there while you were exploring? Or would you be on the loose?
A: Because my mom was such an avid gardener (Foundry note: and still is! Anna's amazing mother, Lisa, is farm mistress at Two Pony Gardens), during the summers, my sister and a whole bunch of cousins—all girls very close in age— would spend summers with Grandma, morning 'til night. We'd pretty much spend entire months in our swimsuits, in and out of the water all day, all summer long. I'd take a break, steal a chocolate chip cookie, and spend afternoons just poking around the house. There were desks that still had all of the pens and stationery in the drawers, vanities that had all of their old bobby pins, compacts, and perfume bottles. It was just like these amazing, beautiful old artifacts of another era. There was so much to explore in that house and everything was so well kept. And she'd throw these big amazing dinner parties. She just did a lovely job making her home. 
TFHG: She sounds like an incredible woman.
A: Absolutely. And it wasn't for any show, it was natural for her and she and took great pleasure in it. I still love to go over to Grandma's house and get her to tell stories. We'll open up a cupboard and take something off the shelf and we'll talk about where it came from and it weaves together a lot of different stories. She has the most amazing memory too. You'll pull down a tiny little salt bowl from the back of some closet and she'll say "Oh, that was given to me by Ma Mac for our engagement party!" She has all of theses stories connected to everything. We still connect over home stuff.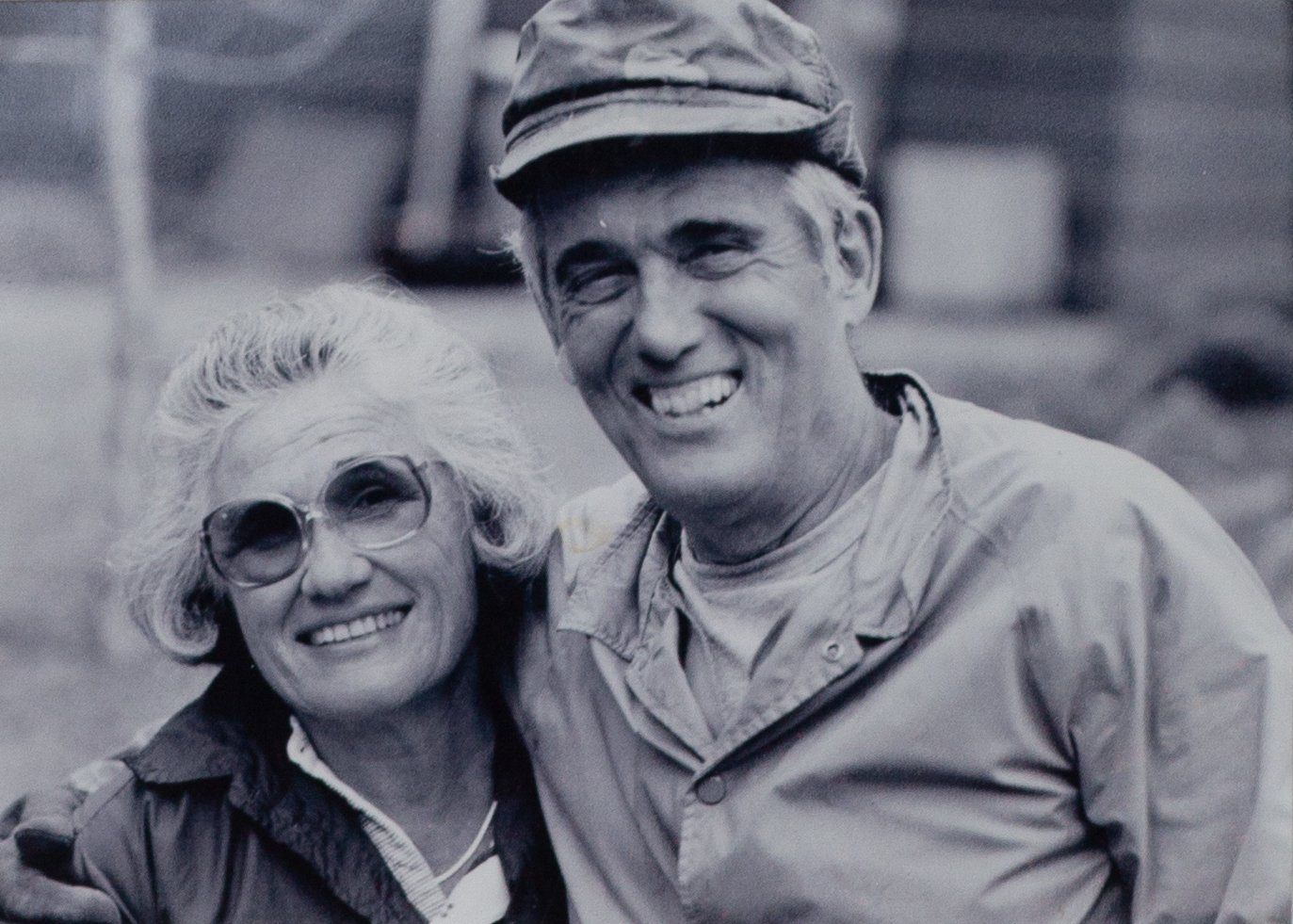 On the other side my grandfather, Grandpa Judy, was constantly working. He'd come home from work, take off his suit pants and immediately put on his work pants. He loved to plant trees and he'd do a lot of forest tending around the house. He was always mindful of which trees were older and needed to come down. He'd tinker in the garage and would wash the cars and tractors all the time. He had all these great tools, like his "handbroom" and his "muslin", and he had this special contraption in the garage that was specifically for wringing out old towels. I always wanted to be in the garage so I'd be wringing out towels barefoot in my swimsuit just so I could hang out with him. I got a lot of my love for utilitarian tools from Grandpa Judy.
Actually, his business was kitchen tools and cutting boards. It was called Foley Manufacturing (Foundry note: Foley was a well-known kitchenware company based in Minneapolis). They made a special food mill for making baby food and applesauce and also these really cool nesting salad bowls, spatulas, spoons, and these wacky cutting boards shaped like different animals. 
TFHG: Was the factory in Minneapolis?
A: The factory was in River Falls and he was always driving for the job. He was a super classic guy and really loved talking to people. There would be these stories of Grandpa, you know, he would be passing through some small town on the way to somewhere else on business and he would go into the gas station and end up talking for 30 minutes to the clerk there or whoever came in. He always just enjoyed humans so much. 
I'm a conflicted introvert/extrovert. Half of me would be totally happy staying at home my entire life, but I do love talking to people when they come into the store. Having these kinds of interactions with strangers the world feels much more intimate and sweet. Just taking the time to connect human to human, hear stories, and laugh together. I definitely got that from my grandfather.
TFHG: Did he talk to you about what it takes to run a business?
A: Well, he was an amazing businessman. His was a human connection way of business. He always told me when I was young: "You know Anna, a business deal, it has to be good for both parties. If it's not good for the person providing the products and the person buying the products, it won't work."
Whenever I'm bringing on new artists, especially ones that are just starting out—figuring out how to make their art into their livelihoods, we always sit down together to try and figure out how to make it work. How can we help simplify their production, how can we work together to help support them? And then instead of being like "I'm a business person doing business person robot things" it's like "I'm a human doing sweet human things" and that feels good. It was definitely that way with Kate (Foundry Note: Beekeeper Kate, now one of our dearest friends and favorite humans was launching her beeswax business at the exact time we were launching our "we-must-be-burning-beeswax-at-all-times-business". She was one of our very first meetings. As Anna says "we both wore suits!").
TFHG: Oh those early days must have been so exciting!
A: Oh it was incredibly exciting! But also a little terrifying.
TFHG: Let's back up. How did the dream for The Foundry begin?
A: When I started to make-believe it in my head, I was living in New York, working for Holly Hunt, which was an amazing high-end perfectly executed design showroom open only to the trade. We worked with architects and interior designers and it was this very elevated environment, a lot of polish a lot of glamour. It was so much fun and I was learning so much, that was my school.
The pieces were always insanely beautiful and these spaces we were working with in New York... just like the most gorgeous apartments you can imagine. It was a strange experience to be in these shiny perfect penthouses that had this hush and then take the elevator down and the doors would open on the street and all of a sudden you'd be surrounded the rhythm and noise of the street and subway... that was really exciting and really nourishing and, while I loved both of those worlds, the difference made me feel like I wanted to capture that—that feeling of making something as beautiful as those lush apartment spaces, but that would feel as alive as what was happening on street level. I wanted to be on a wider spectrum of humanity.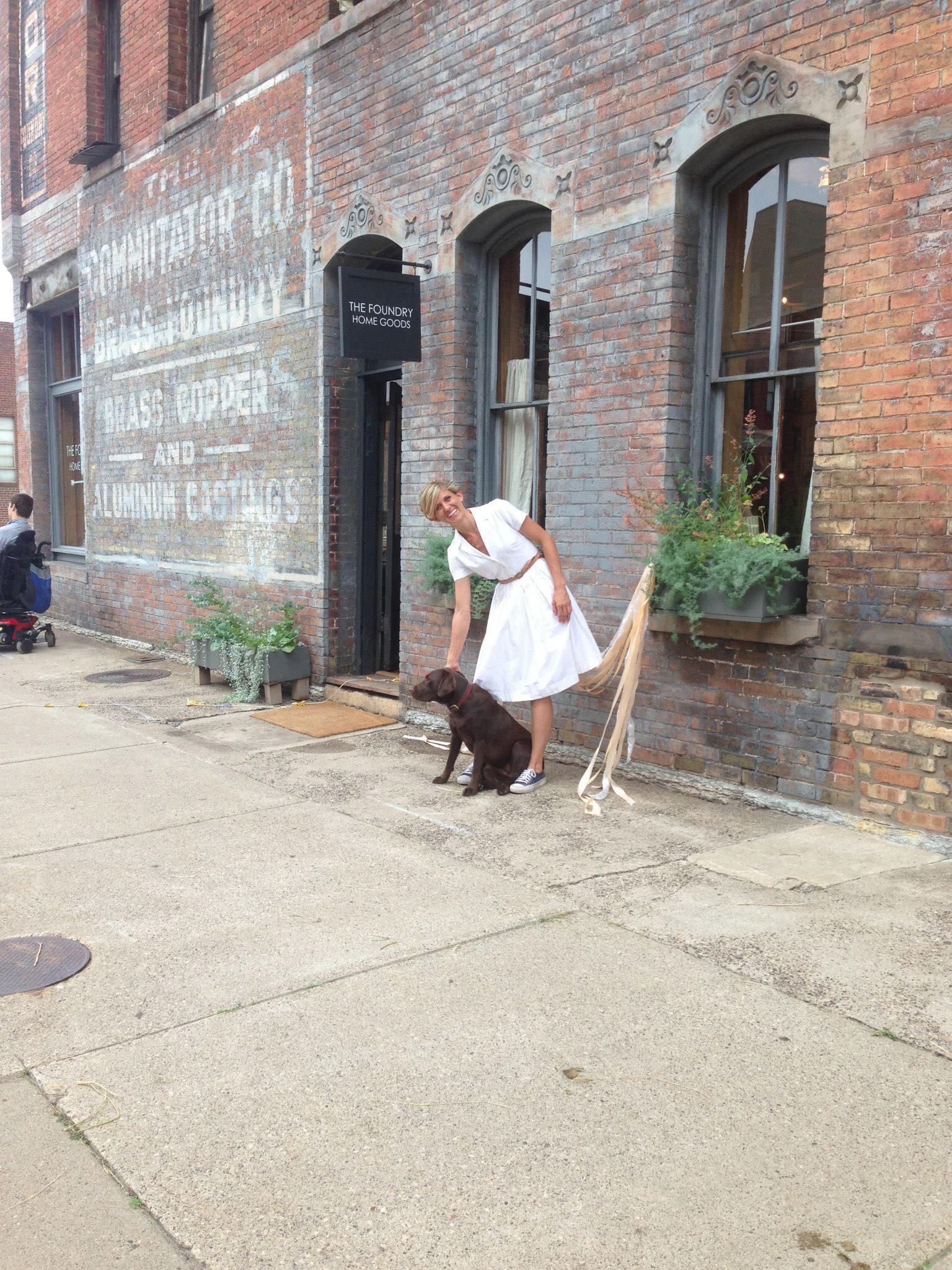 When I was visualizing the next step, I always had something in my blood for the original Foundry building. The building had been vacant in the 70's and was stripped of its old industrial fittings (Foundry note: it had been a working brass, copper, and aluminum foundry in the industrial age) and my dad had bought the building and always had his offices there, first for the woodstove general store and then he had a software company there in the 90's. He had built a few apartments upstairs that he rented to these amazing artists and modern dancers. I basically grew up toddling around that building and always loved the feeling of it. I spent a lot of time visualizing what this world could be. A place for staples, a place for making everyday living easier and more beautiful. And then The Foundry building became vacant again right at the same time that I was having these thunderbolts in NYC about wanting to be more connected to a sense of community and home.
TFHG: Is that when you decided to move back?
A: Well, I moved back to Minneapolis in January 2012 to get my bearings and try and save some more money and I got an amazing intermediate position working with Brenda Scherping who has this really cool design showroom at IMS. She's a mom to two kids and she has this incredible positive attitude and she never stops moving. She has this force where it's like "let's try this... let's figure it out... let's just do it and see what happens!". I can get stuck creatively sometimes really wanting something to be perfect and right and I learned from her if you just keep moving and have trust it will stick. It will happen. If you don't get too attached to the outcome, things will happen. I couldn't have learned that at a better time.
TFHG: What was the timeline between deciding you wanted to open the store and then opening?
A: It happened fast! Faster than I think I even knew. I had the idea that I wanted to make this space for people to get beautiful things that they'd use every day and when I heard the shop was coming up for rent I called my dad and he told me that the lease started in the fall and that he'd give me two months grace period after the lease started to pay the rent. It was like AHHHH! I had everything I'd saved in New York (Foundry note: which was literally only a few thousand dollars) and basically six months to make the whole shop happen. It was like: now was the time, if not now, when? Thinking back on it I think it was secretly perfect that it had this really tight turnaround time and super low budget because if I'd had time to think more about it I probably would have been like "what!? you can't do this! this is a crazy idea, Anna!". 
TFHG: Just crazy enough to work!
A: Everything seemed to fall into place in this weird way. I had this vision of how I wanted it to be and I wanted every penny of my start-up budget to go to the products themselves, so in June or July I moved into the building and just went whole-hog trying to figure out how to make it work.
I hate buying stuff...especially if you have a basement (Foundry note: here Anna's voice gets thrillingly excited) there's SO MUCH MATERIAL you can use! I would so much rather make something work from these three pieces of wood work than go to the lumber yard, you know? But to get the shop going I had to get pretty creative. I found a bunch of paint at family members' houses and mixed them together to get the grey for the door and the white for the shop. I found a bunch of sheet rocking mud and I just kept playing with it until I got this stucco plaster look for the walls which was so much more in tune with the vibe of what I wanted the shop to be...more natural and lived-in-feeling.
I scrounged all around the building, which had been an old shipping warehouse and offices in its prior life, and people had left a bunch of old supplies behind. One man's trash, right? The tables I used were old desks that had been left lying around from when my dad had all of these employees...simple oak desks with shiny laminate tops. I peeled the laminate off and sanded it all down. We still use those tables!
The branding sort of came from necessity too. I found a bunch of index cards and loose-leaf paper around, and I figured out a way to print receipts on the notebook paper so I didn't need to buy a receipt printer. And there were a few rolls of brown paper and one giant spool of packing twine left over from the old shipping center that used to be in the space leaning in a corner in a back room. That's what started the brown paper and twine. We still have that spool, it's amazing how long it lasted.
It was this amazing time of just trying to be scrappy and make the most of what I had access to because I wanted every last dollar to go to products.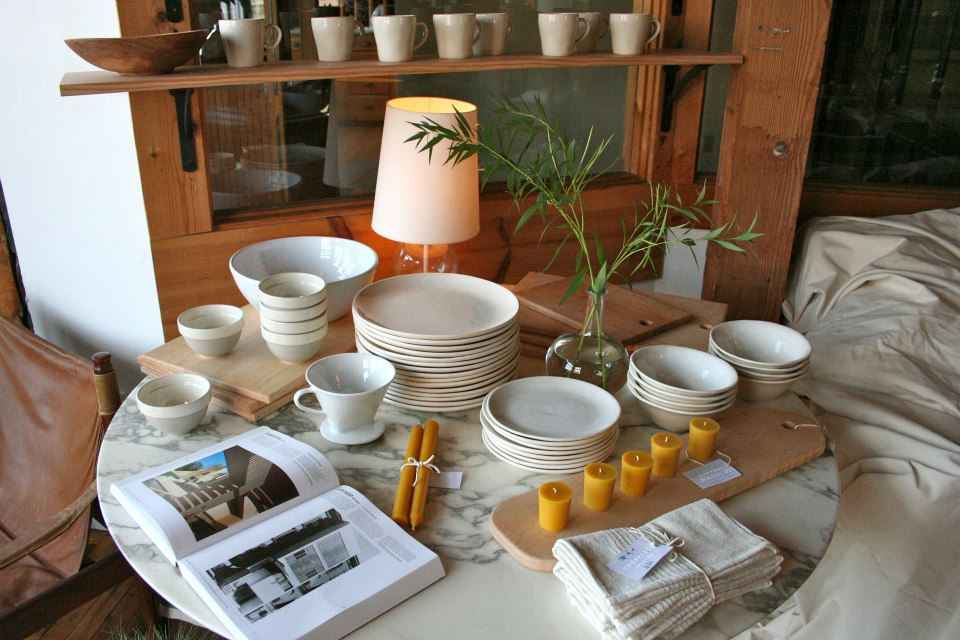 TFHG: How did you choose what to carry at first?
A: I knew I wanted it to be staples, things that people would use every day. Like how in France everyone buys a single baguette from the bakery every day, I wanted people to come buy to get beeswax for their dinner table that night from us in the afternoon. I had fallen in love with a household cleaning line that used refillable bottles at my old co-op in New York, I researched local beekeepers to see if anyone was making beeswax candles and found Kate—she was our first vendor and we were her first wholesale account. I met Cooper, who turns these amazing huge wooden bowls up in Grand Marais, at the Stone Arch Bridge Festival. And Dennis (Foundry note: who makes our beautiful August Fischer cutting boards and woodenware) had been a family friend for forever. I wanted it to be well stocked and feel full, not just like "a candle store" or a "textile shop". I had a few different artists and products that were on my wishlist and I put a collection together based on what I could afford.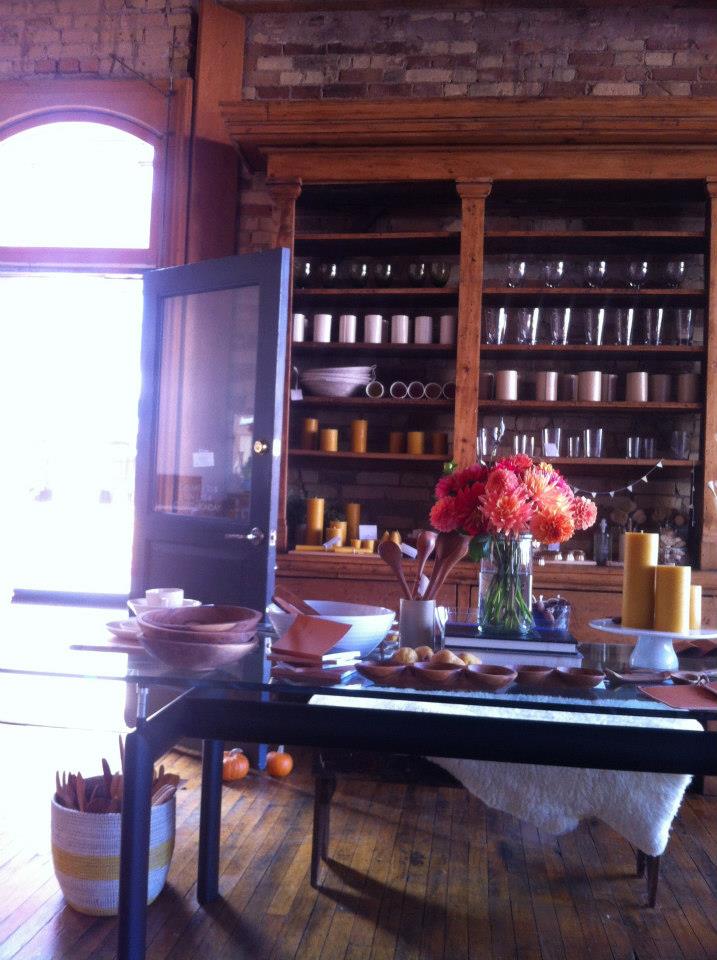 Looking at the shop now and looking back on pictures from the beginning... it looks almost empty! All of the fixtures were just stuff from my house. My dining room table, my sofa, an old desk from my childhood, a school desk that I found that I used for the cashwrap. And thank goodness it was dahlia season because anywhere that looked sparse I just filled with flowers and stacked art books of mine and antiques and hoped for the best. And all of the price tags! Oh goodness. I got everything set up and then was like "Hmmm... people might want to know how much these things cost". Ha! I didn't have a printer that could print labels, so I just wrote everything by hand on index cards with a fountain pen on the day we opened.
A: What was that first opening like?
A: We had a party! It was really fun! And a lot of people came! I'd been working on the shop for a while and people had been walking by the big windows saying hello to me, all covered in plaster dust, so a lot of people from the neighborhood came. People who came to that first party are now super dear friends of mine. We've had clients from day one that have been so loyal and wonderful that they are literally friends.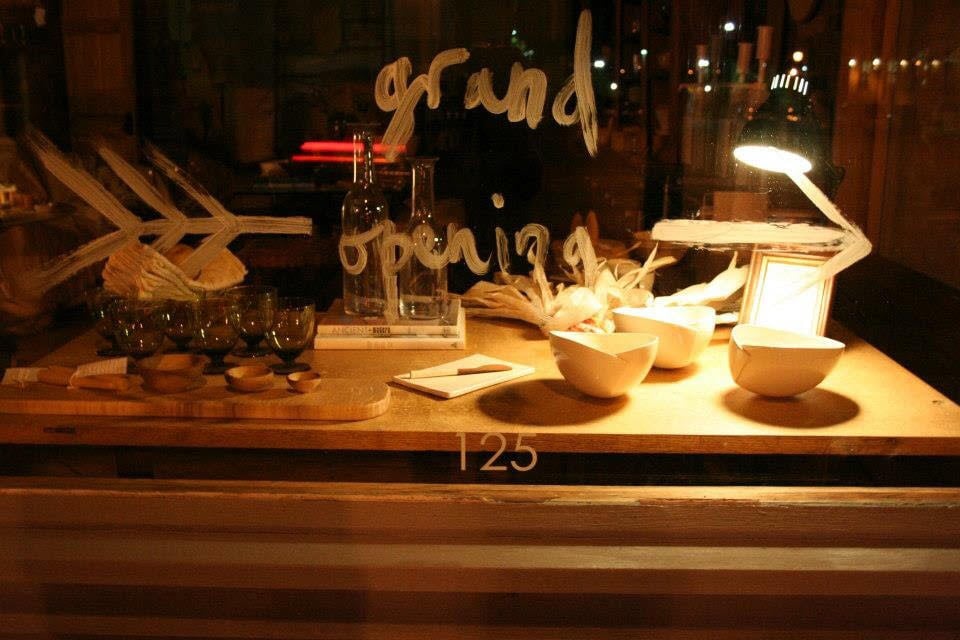 It was a huge leap. That feeling in your throat where you just have no idea what's going to happen. And I'd spent all my money and then all of a sudden making money and have it come in, the next day, it was so exciting. Like: we can do this! Then, placing the second order for restocks! It was almost addicting. That rhythm, that cycle, bringing things into the shop, unpacking them, oohing and aahing, and inviting people in and them taking things home, seeing them go find another life... it's just this true pleasure. 
TFHG: Was it just you at the beginning?
A: Oh yeah, it was pretty much just me. Though KP came in to help me unpack boxes (Foundry note: KP now works over at Two Pony Gardens, but comes back to lend a hand whenever things get...festive) and we had so much fun. Honestly, though, I had no idea what I was getting into for the holidays... what? I had to buy more stuff!? Honestly I'm thankful I didn't know more about what retail was supposed to be like because I could just make it my own thing. It's nice sometimes to be naive. Everyone will tell you certain things to freak out about...but if you don't know you're supposed to freak out, you don't have to freak out! You can just be naive for a little bit. And luckily my beekeepers were real close so I could just call them when we ran out of candles again (and again and again). 
I started collecting more vendors and bringing in new products and people kept coming in and it snowballed in this magical way. I lived above the shop and I loved it. I'd have a lot of parties so that it felt really social. I loved being there late at night re-merchandising, neighbors would walk by and I'd invite them in and chat with them. It was fun to grow it.
And then the staff came...we had Grant, he was with us the longest. He's a really stylish articulate actor, with this very precise and beautiful handwriting. He was the ideal first addition to our family because he's such a great contrast to me—he is perfectly orderly and I can be more like a cornucopia of things tumbling out of a basket. And then Grant brought Adam-I just looked at him through the window when he came in to see Grant at work. I just saw him and he was beaming and smiling and energized and I was like Yep, DONE, immediately. Like "Yes, this person is totally amazing"... just those big teeth!
Lillian coming into our lives was like this camp counselor that we all were craving and didn't even know it. This is someone who is FUN and likes to WORK and loves to ORGANIZE. She just came in and was so enthusiastic and unflappable and brilliant and immediately understood how everything was and also how everything should be. It is in her nature to have fun and make things run and nothing has to be forced. She is the backbone of this place... then Erin and Mara and Katherine from back in the day... and we had ourselves a family!
That's something my grandpa would talk about too. The company isn't just the CEO and everyone just following them. Everybody put together makes a company. When I would find someone I knew was the right person, a good person, I'd find what they were best at and have them do that, even if it wasn't necessarily what the shop "needed" based on a job description. And the thing that's what's made the shop its own thing is all of their amazing energy. It doesn't feel like it's just mine any more, it has its own life now...it's so cool from those early days of being the lone woman with plaster dust on my nose. Now I get to see what the shop can be and how it can grow with all of these different perspectives and that's really really special. It feels like it has its own legs and voice and I don't have to push it all.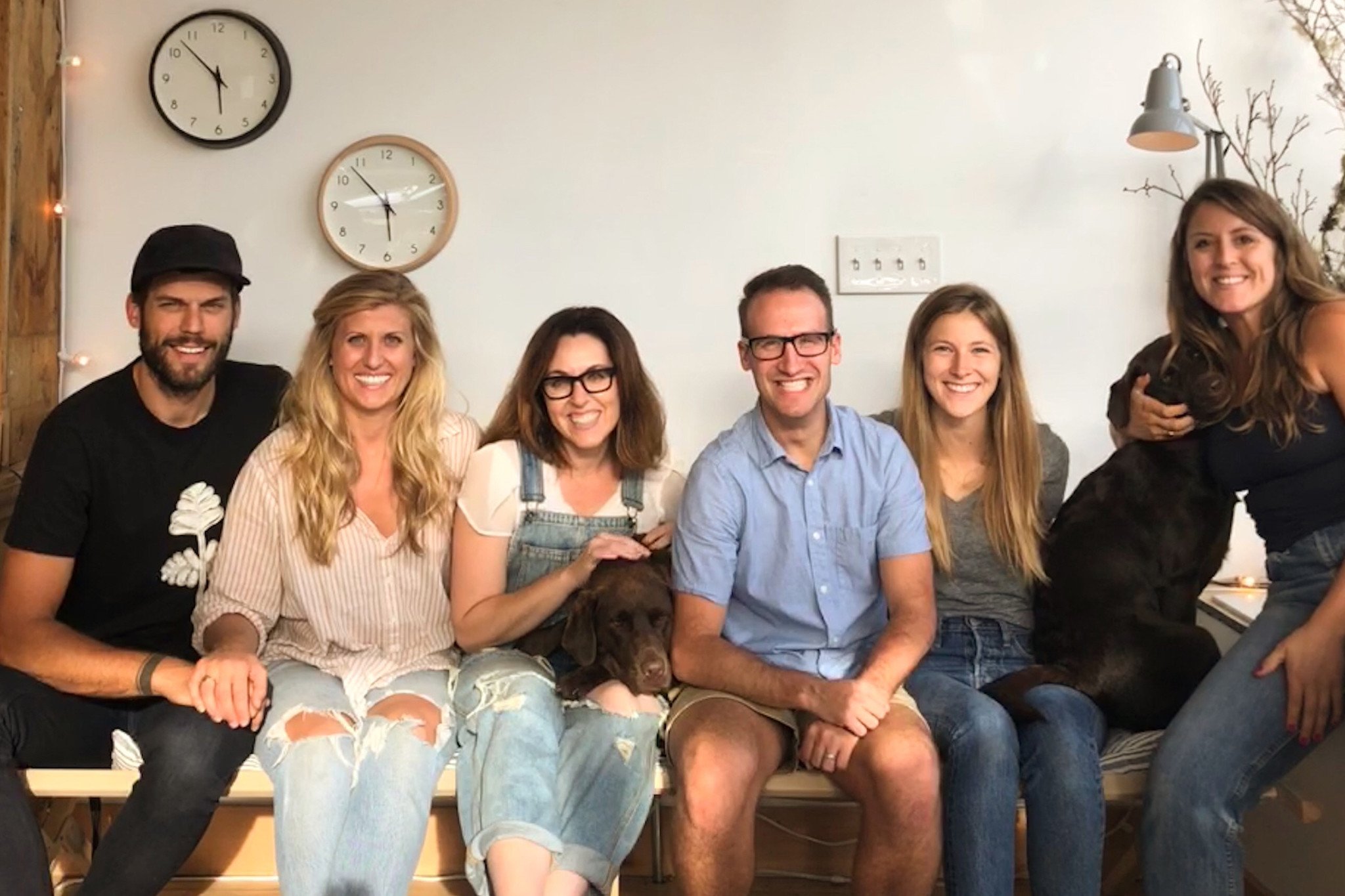 TFHG: What are things that you have more freedom to think about now that you have time?
A: PRODUCTS! Gosh, it's so much fun. Being able to spend the time to curate even more, to do more planning, to give ourselves some space for dreaming and for living. Now the business is strong enough to experiment with new things and it's SO exciting.
TFHG: What new things coming in are you most excited about?
A: Oh man. It's basically impossible to choose. But probably all the sweet things for kiddoes! Oh my god it's so much fun. There's so much JUNK out there, plastics and batteries and things that feel disposable. As more women I know become mothers, I really love the idea of things that can kick around the house AND be useful AND take a beating AND still look nice.
That's also something I learned at Holly Hunt. The Italians would come and show us these gorgeous textiles and say "You Americans are so afraid of using things...we have our silk velvets and we sit on them and spill wine on them and squish them and they look even more beautiful the more you use them!" Shouldn't that be true of everything? 
I'm a whirlwind and if things can look pretty when they're all upside down and thrown around, it's nice to know that your stuff can handle it.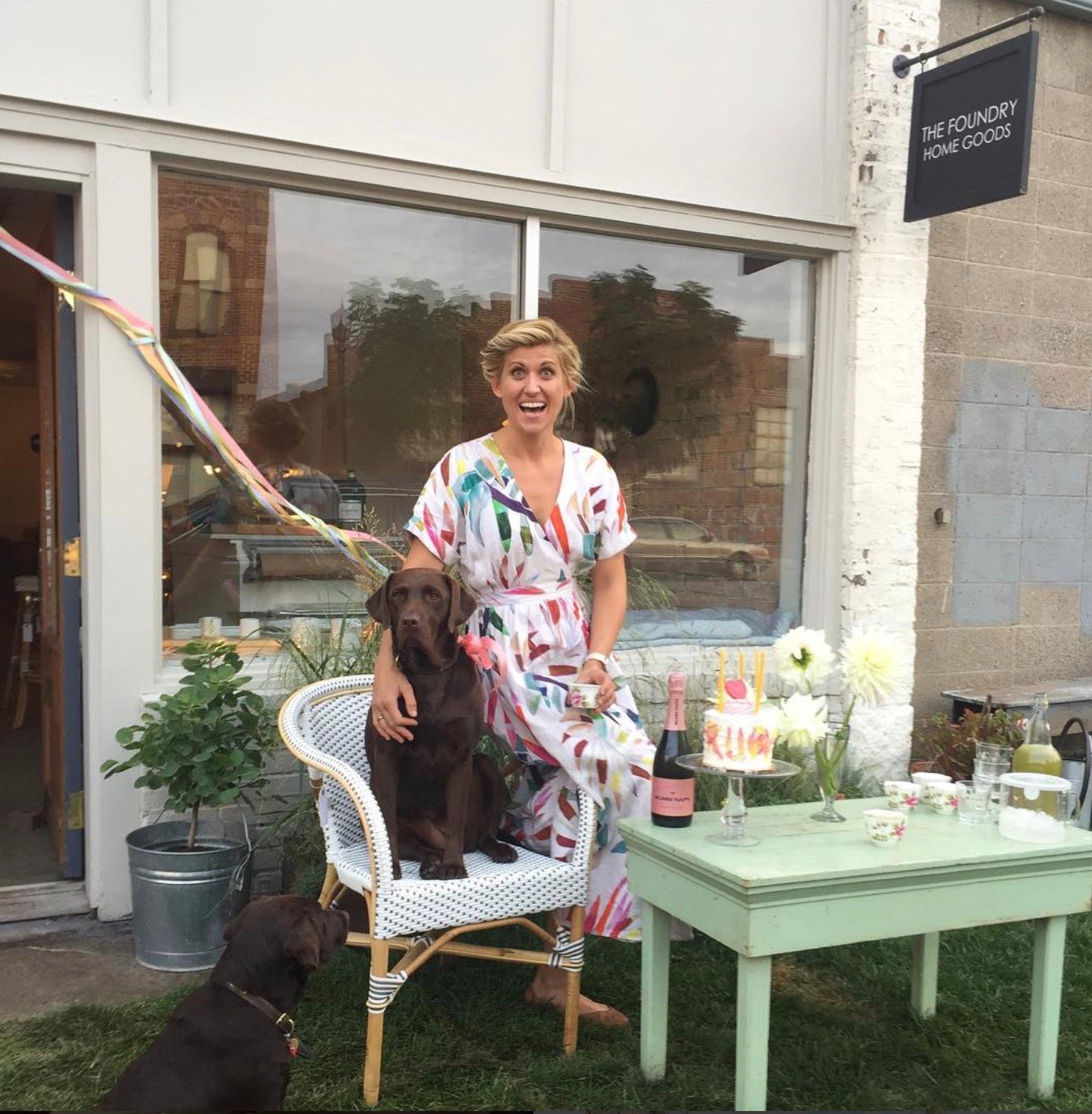 TFHG: And finally, are you more of a Ruby or a Turnip?
A: I definitely relate to how weird Turnip is. As a kid I was not very conventional, I went to a preppy suburban school and I'd wear period costumes in all my school photos. Everyone else in collared shirts and I'd be like St. Lucia in a wreath handing out cookies. It's just more fun to be playful sometimes, really lean into your weirdness and Turnip gets that. But, let's be honest, Ruby is my soulmate and she is everything to me.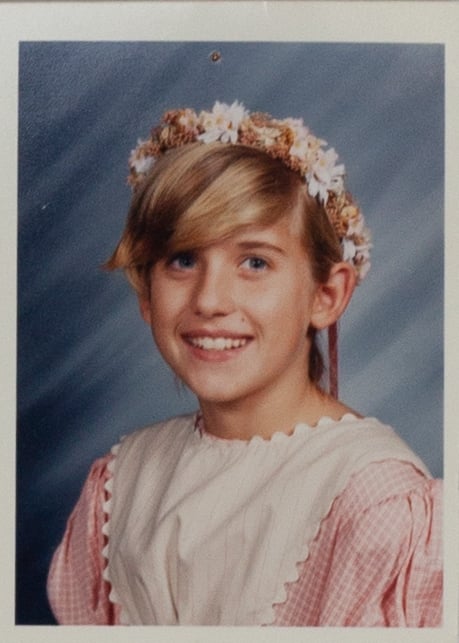 Oh ANNA, we love you! Thank you for everything, always.