When it comes to entertaining, sometimes you want to pull out all the stops: Creamy nests of homemade pasta. Perfect pours of a special sip, made to order. Tiny soufflés. Any sauce that has an -aise at the end of it. One Foundry Family member likes to make "latkes eggs benedict" brunch for 20, which has the labor-intensive-triple-whammy of making and frying latkes, poaching 40 eggs at once, and whipping up an -aise, holland. WHEW! While we certainly love challenging ourselves to up the ante on our entertaining game (and these end-all-be-all party show-stoppers are, indeed, absolutely wonderful) SOMETIMES you just want to have a few people over and not stress about it, right?
Our go-to party trick when the end-game is "have people over and enjoy"? The Nosh Spread. It's nothing revolutionary, but a well-presented table of delicious goodies can be put together in minutes, can appease a variety of dietary desires (and restrictions!), and requires no more labor from you than a quick trip to the store. Plus, if you play your cards right it totally counts as dinner. Bonus points for ease and panache if you keep a stash of spread-worthy extras in the pantry. 
Break out your favorite serving platters and boards (we swear by a mix of classic enamel, porcelain, and our very own Foundry wooden serving boards) and let's get this easy-peasy party started!
FOOLPROOF GUIDE TO A FOUNDRY NOSH SPREAD
Something crunchy.
Crackers, bread rounds, nuts, thick cut potato chips, toasted pitas. Celery, carrots, radishes, apples, jicama. Texture is key to elevating the rest of the spread—which can tend towards the soft and luscious. Consider including a gluten free option like corn chips, rice crackers, or even (gasp!) pork rinds. We said it.
Something cheesy.
Creamy and fresh, hard and mellow, sharp and classic, funky. Get an array of firmnesses and flavor profiles for maximum enjoyment and bite-making-experimentation. Cheeses are best at room temp, so go ahead and leave the bag you swooped from the cheese monger that afternoon right on the countertop.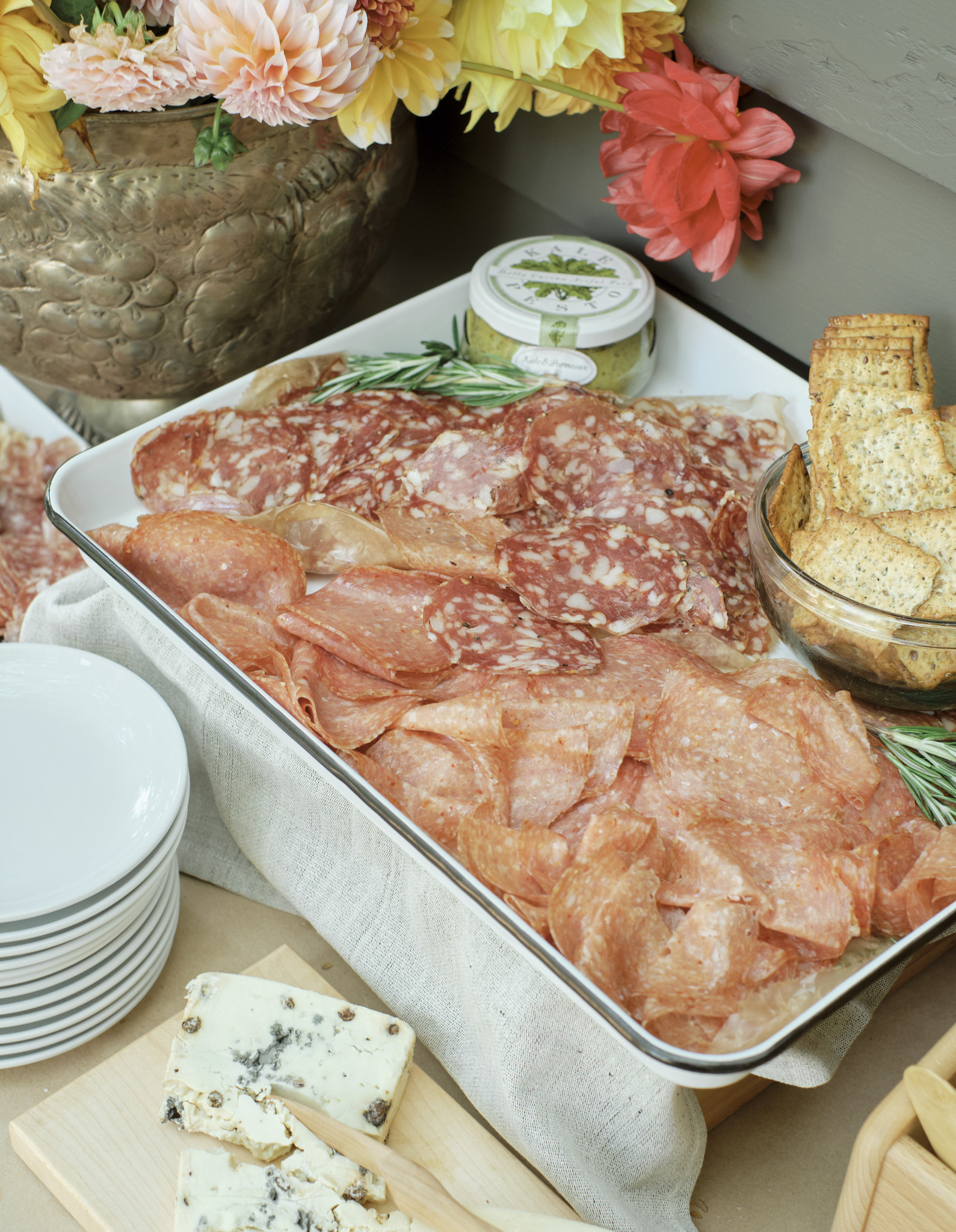 Something substantial.
No one likes leaving a nosh session feeling like all they ate is crackers. If you're going to make it count, definitely have some protein to anchor the nosh in the realm of real food. This can look like meat: prosciutto, salami, jamon, bresaola, capocollo, pâté, dark-horse-Foundry-fave mortadella, smoked fishes...Rich, silky, and redolent with spices, a few different cured meats taste fabulous and look fantastic. They don't call it charCUTErie for nothing. Hit up your farmer's market, Italian grocer, or local butcher... we love Lowry Hill Meats in Minneapolis (BONUS: don't forget to ask for samples!). OR eggs—deviled, hardboiled, or saladified. OR roasted nuts, chickpeas, or favas. We also secretly love picking up some falafel, which is a great thing for satisfying any vegetarians/humans.
Something pickled and/or brined.
Olives, peppadew peppers, cornichons, hot pickled okra (a southern staple we secretly swear by)... the tangier the better! Sharp acidity helps cut through the richness of the other items on offer. Don't forget to give people somewhere to put their olive pits! We have a few designated dishes just for this purpose (this, this, and this are faves). And we always make sure to eat a few olives before anyone arrives and put the pits where they belong so guests know to do the same. It's a dirty job, but someone's gotta do it.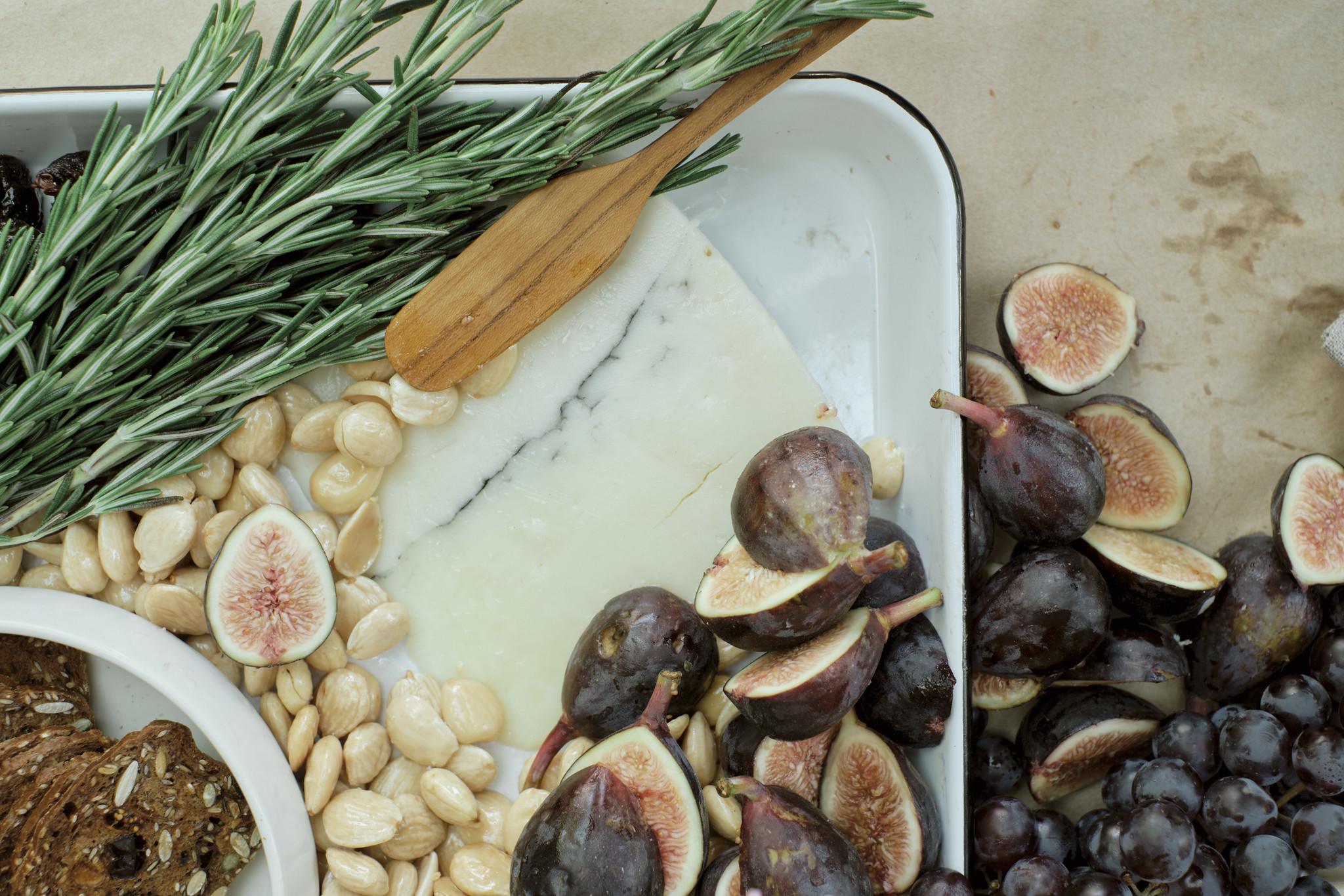 Something juicy + fresh.
Grapes are a classic, but whatever's fresh and in-season can really shine. Berries and stone fruit in the summer, apples and pears in the fall, pomegranates and citrus in the winter. And don't forget veg! We'll never look askance at cucumbers and tomatoes in their heyday. Grape tip: cut a bunch into little clusters and re-assemble. It makes it easier to pop a few in the mouth without guests loitering by the table/leaving an exposed grape skeleton in their wake.
Something sweet.
Dried cherries, cranberries, or dates, fig jam, quince paste, and (of course) honey all make a marvelous addition to a savory spread. If you serve honey you might also "invite" a few foraging honeybees to the cocktail party! Like the most stalwart introverts, they might not be the most excellent conversationalists but, left to their own devices, they're really just here for a good time.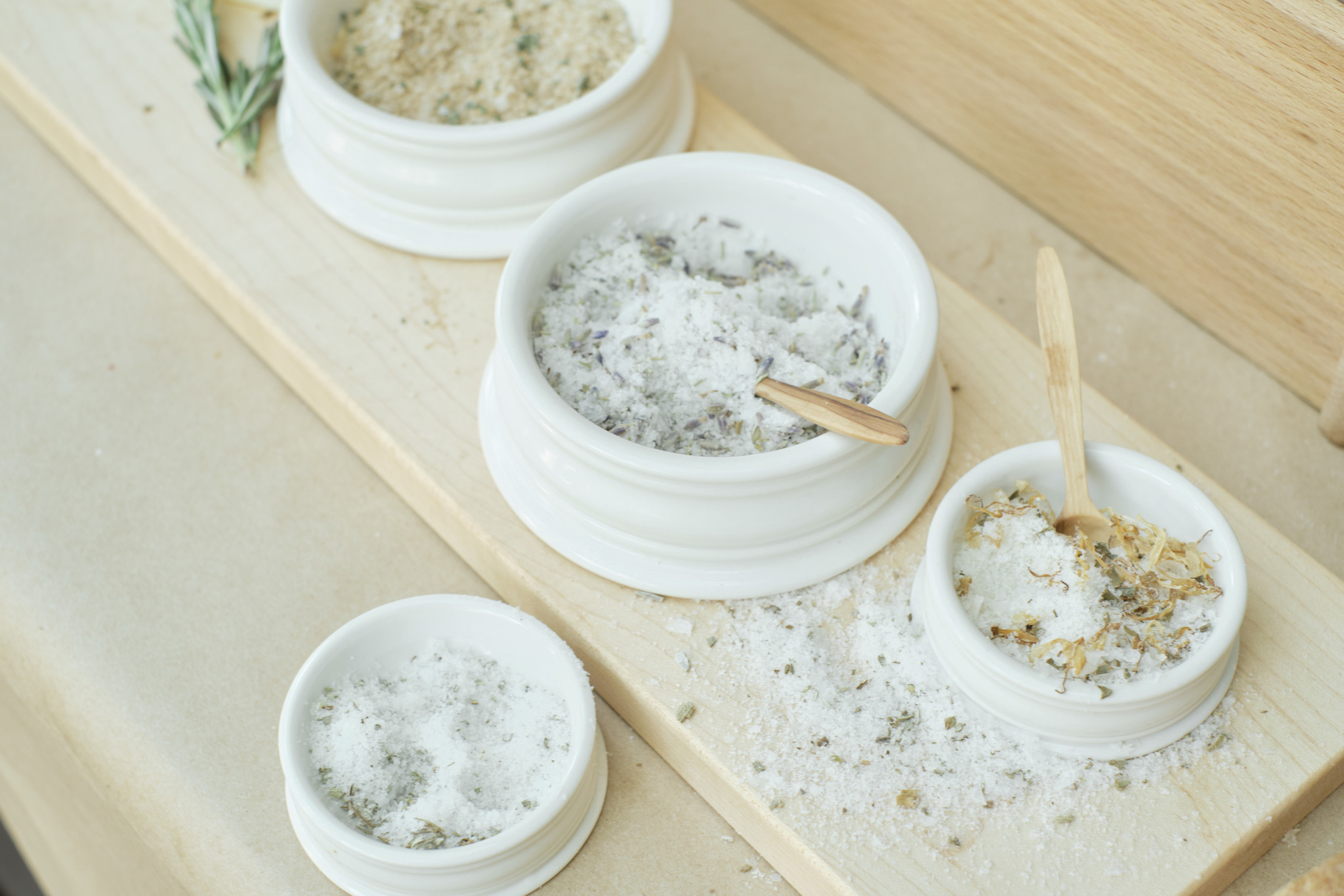 Something salty. 
Like... salt! We love a little pinch pot of herb salts to zuzz up any bites and bring out deeper flavors.
THE FINAL STEP: SET THE SCENE
Once you gather your serving essentials and assemble your arsenal of deliciousness, we always like to dot our spread with a few flickering beeswax votives (we love the rich glow of these Belgian hand-blown vessels and have been known to use our cult-favorite Roli Poli glasses—with a drizzle of wax to anchor the candle in the bottom—in a pinch).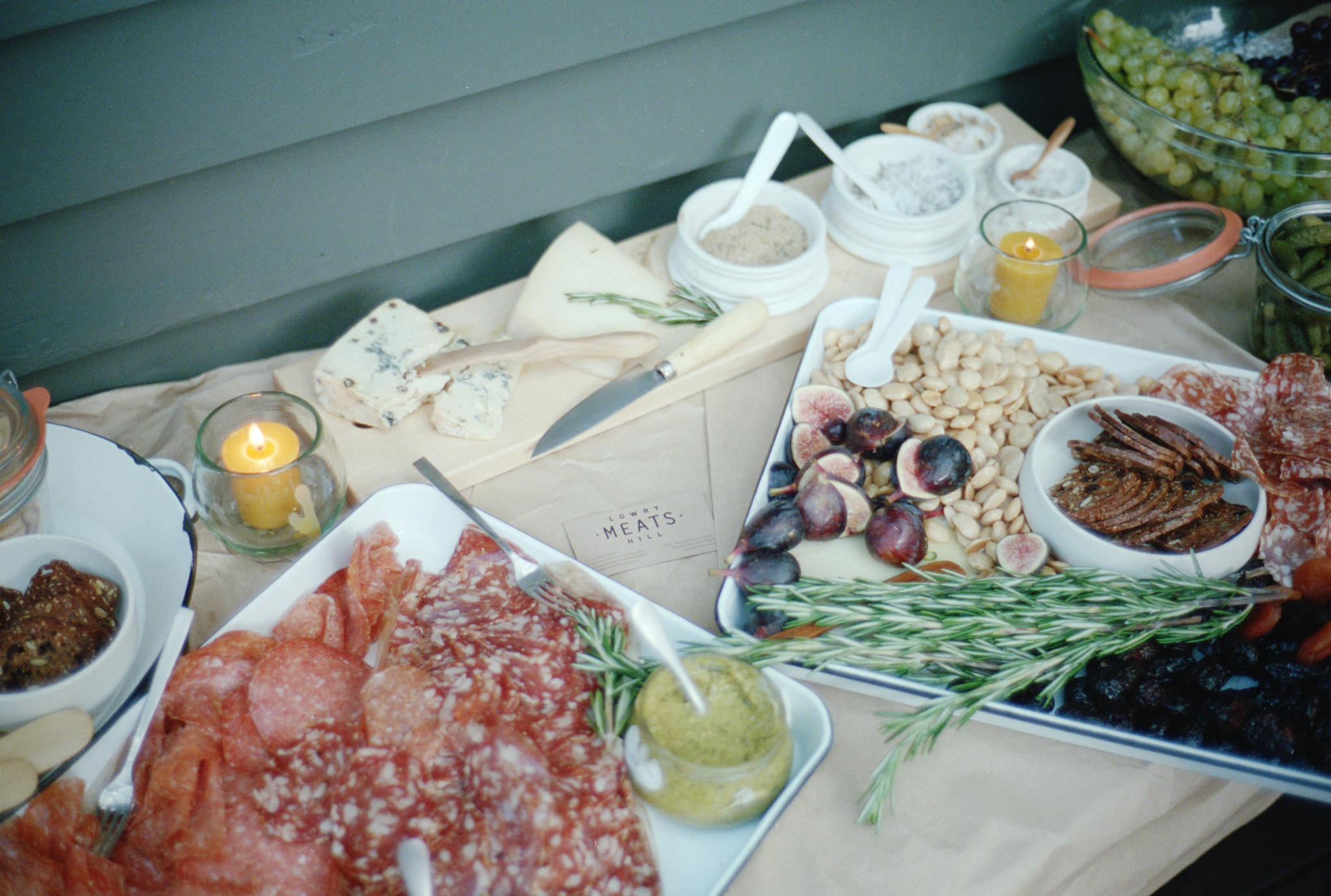 These kinds of spreads invite the kind of effortless, lingering-long-into-the-night grazing that we adore and pre-loading your buffet with good lighting ensures that the last morsel of cheese gets sliced and the last marcona almond gets snagged. The flickering light has the added benefit of making even the most ruthlessly decimated olive-pit-and-cheese-rind-post-party-carnage look like something out of a Vermeer still life. Which, of course, is always a goal when entertaining.
Now: pour yourself something refreshing, sit back and let the party serve itself!
nb: Gorgeous photos of a recent Foundry-Nosh-Spread at Anna's house courtesy of our newest favorite Foundry Family member, photographer and all-around-swell-guy Michael Spear.