When Anna posted the above picture of spring-vegetable-soup-gone-wild (spring break for soup! girls in flower crowns! pots with their tops off!), a lot of you asked for the recipe.
We're not surprised. After all, food is love. And, while we have always counted gathering those we love around abundant tables to share bounty and break bread as one of the purest existential pleasures/necessities of being human, this eternal refrain resonates more deeply now than ever. It just hits different, as the kids say. 

If you're in need of something nourishing, something fresh, something green, something that even looks good splattered across the backsplash (they don't call it that for nothin'), something that brings the household together around the table...this one is a salve for the soul. And, like the best things, the "recipe" is a mish-mash of whatever's available and what feels right. Which, at this moment, is PRECISELY what we need in our kitchens/lives.


From Anna:


THIS PARTICULAR GREEN SOUP
Ingredients


-Some glugs of extra-virgin olive oil, plus more for fancy garnish at the end
- A few slices of bacon for garnish (optional)
- Cream cheese, or some other soft cheese or creme fraiche if you are fancy. Or French.
- 2 large yellow onions, chopped
- 1 shallot chopped
- Any and all fresh, wilty, frozen or last Tuesday's leftovers of green or whitish vegetables in your kitchen. I found: some spinach, kale, green beans, cauliflower, carrots, peas and broccoli from something that was garnishing the takeout we had early in the week.
- Can of garbanzo beans, or any white beans
- Several spoonfuls of miso paste
- Spoonful or 5 of Vegetable soup stock
- Water
- Open up each and every spice and seasoning jar in your pantry and take a big whiff.  Then smell/taste the soup for the 100th time.  Trust your guts.  Season to taste.
- I found: Big pinch of cayenne pepper, lemon, a little rice vinegar, some celery salt, some Italian seasoning, and some mystery spices.
- 1 tablespoon lemon juice, or more to taste.
- Dig through the cheese drawer and hopefully you will find a rind of parmesan cheese. Chuck that in. Mom taught me to NEVER throw those out. And lucky for us, our house goes through a lot of parm. 
Basic Instructions


Start with the oil, onions.  Move on the harder veggies.  Add some of your spice findings.  Gradually add miso, stock as you add veggies.  Add the parm rind.  Keep adding veggies and stock until your pot is full and happy.  Add the leafy greens last, after everything else is soft and smelling yum.  Cook for just a bit longer.  Not too long.  You want the green to be bright green.


Puree the soup in the pot with an immersion blender until perfectly smooth and splattered all over your kitchen OR in a regular blender in batches (return it to the pot). Add more lemon juice. Taste and add even more lemon juice. Garnish each bowl of soup with a drizzle of olive oil, bacon bits, blob of soft cream cheese, chopped scallions, or other dainty vegetable or herb.  


Wait until the sundown light is as golden as the beeswax candles on your table, and enjoy with the m̶o̶s̶t̶ ̶p̶e̶r̶f̶e̶c̶t̶l̶y̶ ̶t̶e̶e̶n̶a̶g̶e̶d̶ ̶t̶e̶e̶n̶a̶g̶e̶r̶  person with the most discerning palette in your household.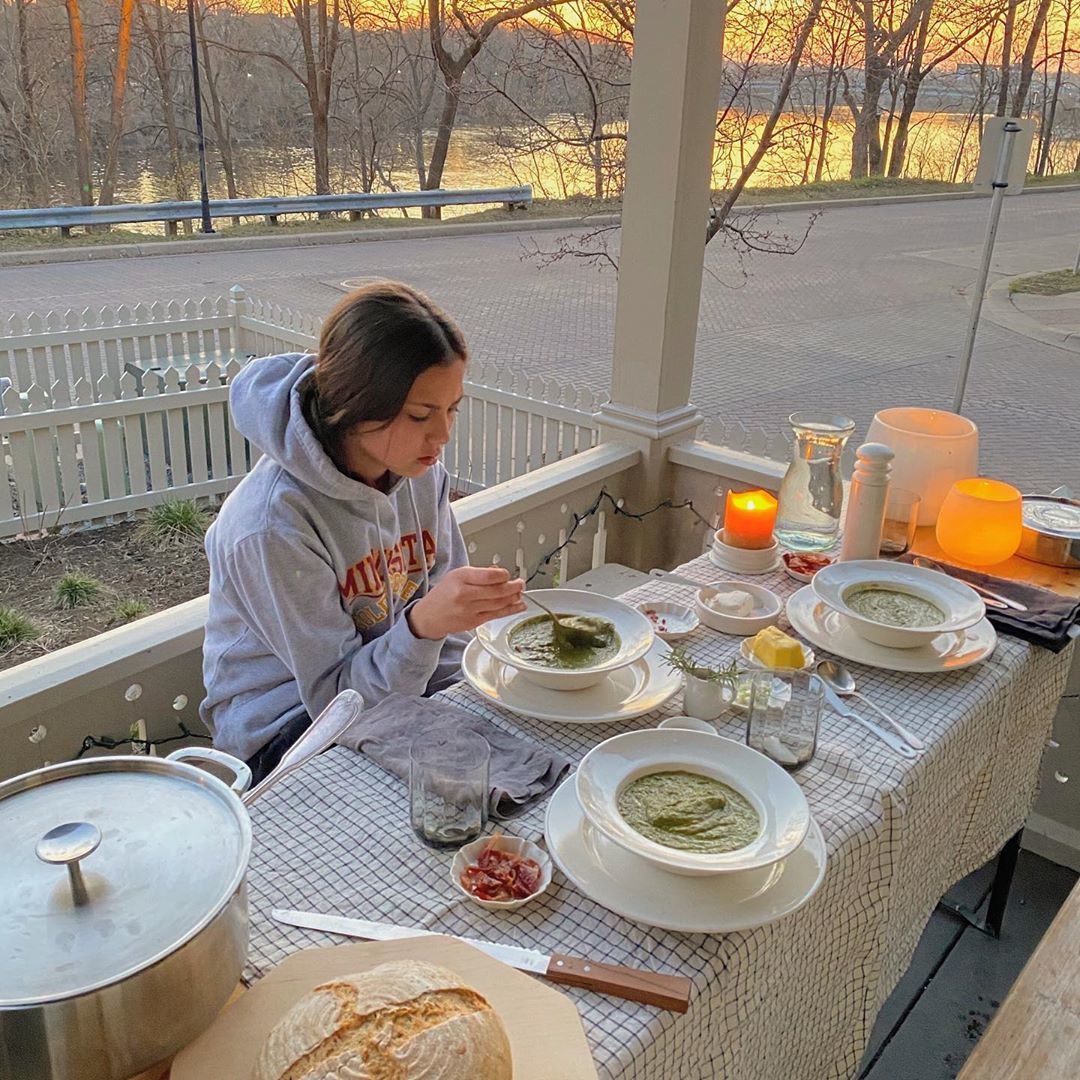 On Anna's table: Crane Cookware Tri Ply Stainless Saute Pan, John Julian Deep Porcelain Bowl, John Julian Plain Porcelain Dinner Plate, Octagonal Petal Dish (bacon not included), Dibbern Glasses, Lakeshore Linen Dinner Napkins, John Julian Porcelain Pinch Pot (perfectly fits our Beeswax Pillars), Henry Dean Clovis Vessels as votive hurricanes, Handblown Glass Carafe, Mara Metz Giant Charcuterie Board (as base for candles/making it super easy to move them all inside when dinner is done).