From love letters to pen pal updates, recipe exchanges to sweet small parcels, from community outreach to clarion calls to justice...the humble power of the written word is made for this moment.
In the beforetimes (i.e. February) it might have seemed that we were, theoretically, more connected than ever by the widening gyre of technology. Lest we forget how connected we are, a constant stream of pinging and vibrating notifications can tally up to a jangling "proof" of community in the pocket. During quarantine it has certainly been true that the unifying properties of Zoom and FaceTime, Email and Instagram have kept us all "in the loop", but isolation has also had the chilling effect of revealing just how much actual humanity can be lost in technological translation and how deeply we feel the lack of the real connectivity in our  communities. As time, distance, and the requirements of isolation have separated us, we ended up finding a more fulfilling connectivity in a slower and even more distanced space: the hand-written note.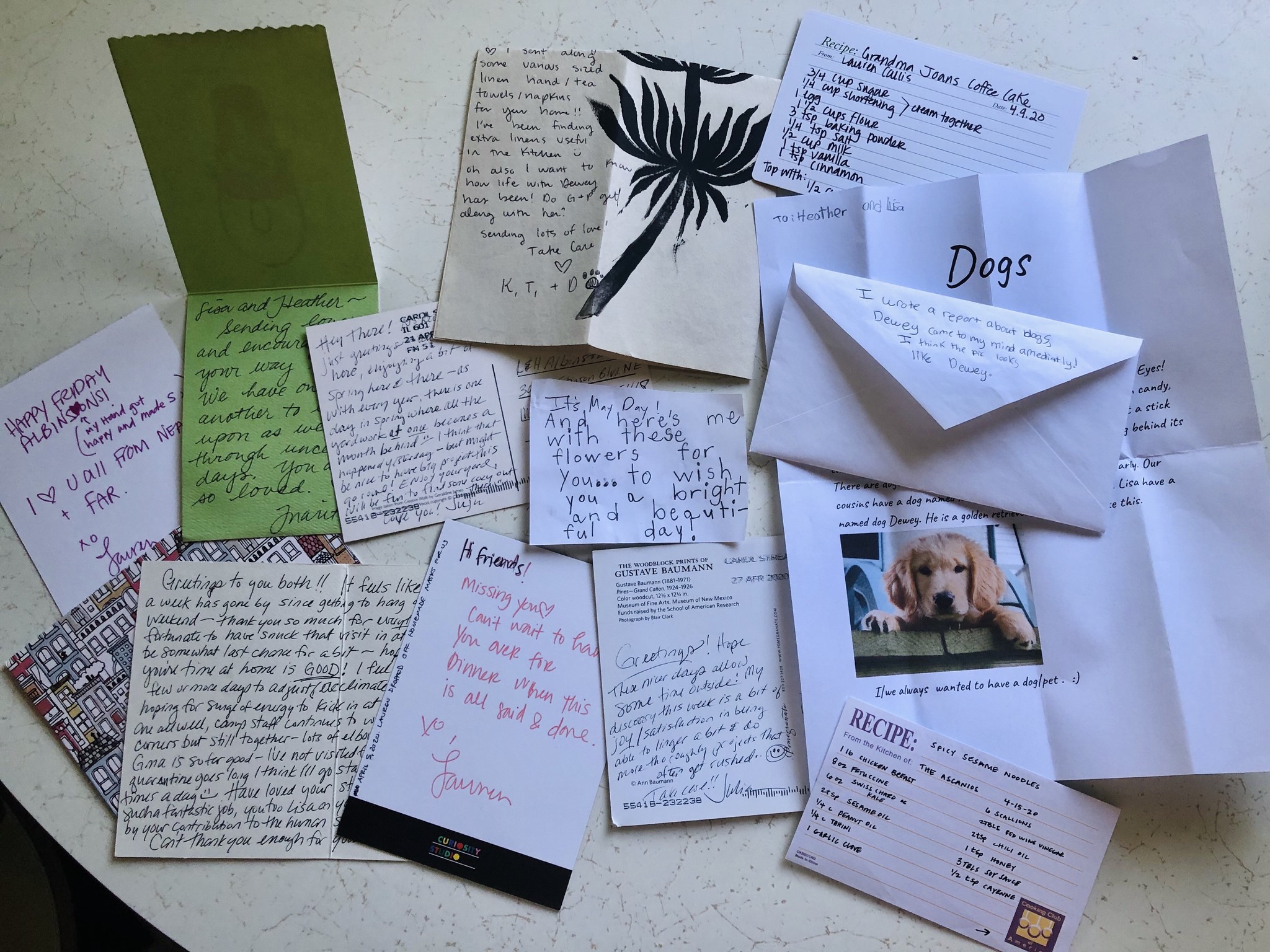 From Heather:
We've had a lot of correspondence over the course of this isolation period. Exchanging recipes, postcards dropped off with a bunch of donuts, even an essay about dogs by our next door neighbor (featuring a Dewey-look-alike!)...there have been some truly delightful surprises in our mailbox. I've made it a weekly meditation to break out my box of letter writing supplies (which I keep in an old cigar box we had at our wedding to hold coloring supplies for kiddoes of all ages) and dash off a few notes to drop in the mail to whoever I'm thinking of. It doesn't need to be a big deal, I mean, we'd all like to be Voltaire in our written correspondences, but you can just be yourself instead. Short or silly, nonsensical or on a weird piece of paper...if you're feeling it just send it. Who doesn't like to get a letter??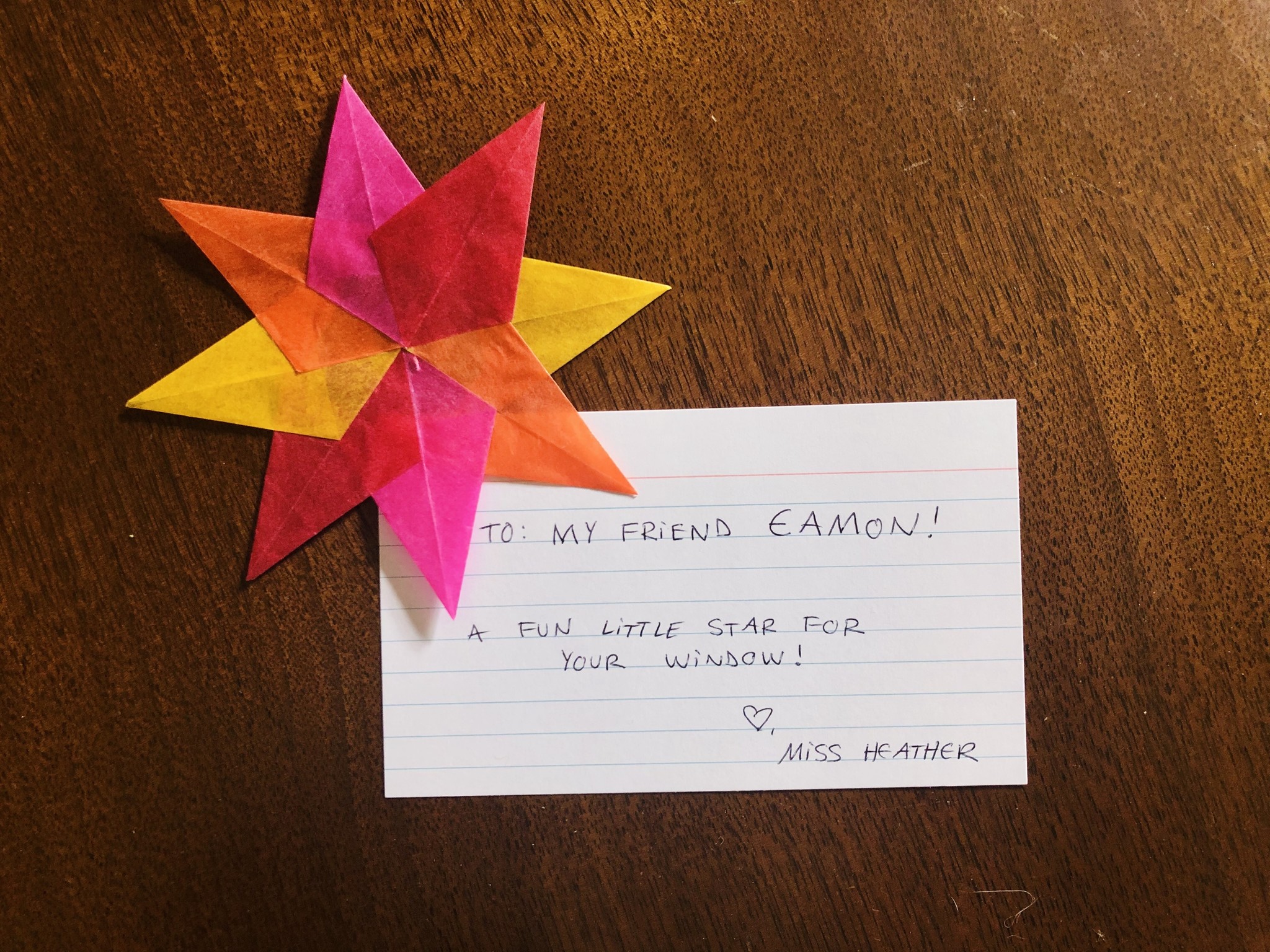 Entering into correspondence with kids is also extremely satisfying for all parties (including/perhaps especially for the recipient's parents, for whom a trip to the mailbox might be a whole day's outing). What could be more special to a little one than receiving something of your very own from the heretofore adults-only provenance of the mailbox? I've particularly loved sending kite paper stars to young friends. Hello, happy windows! The stars themselves are thoughtful and beautiful and a little mysterious. My favorite things.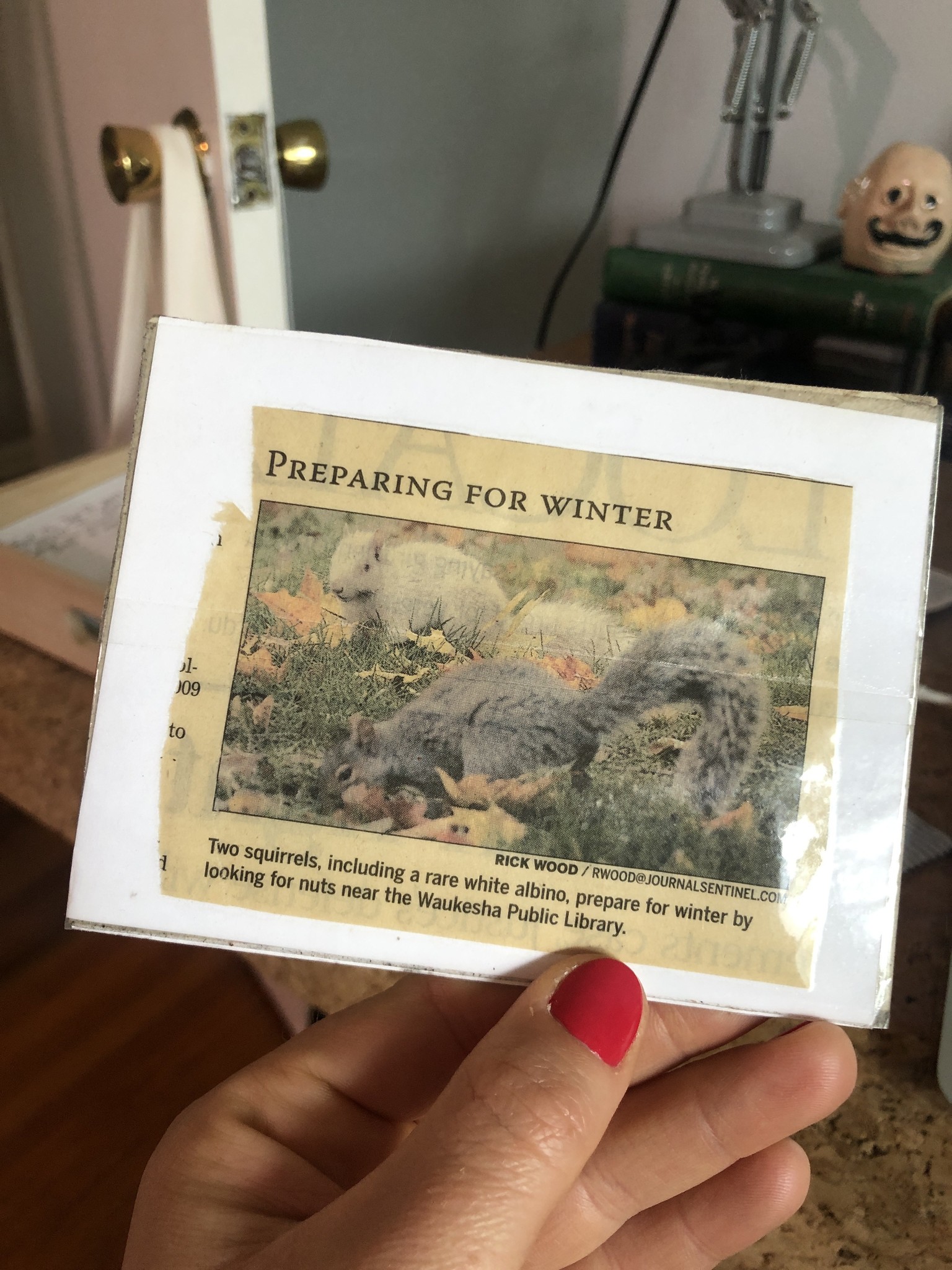 A postcard from Lillian's mom from when she was studying at the "College for Very Busy Squirrelfolk".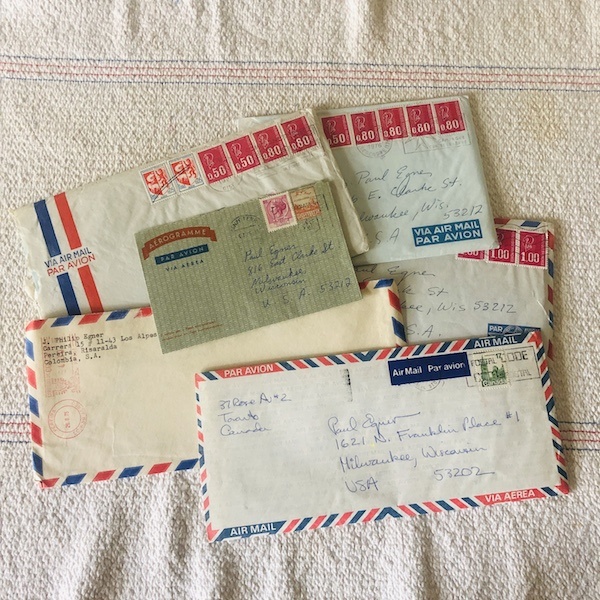 And some of the most amazing treasures found after Lillian's dad passed away. Letters to and from his siblings in the 70's. Most are about everyday happenings or even just the weather, which it turns out IS worth writing home about.

Sending a beautiful letterpress card is certainly always a good idea (and especially good for messages of great import), but some of the best letters I've sent (and received!) have been on the weird side. Postcards of a real live mermaid from Florida, a cutout of a dog that's somehow also a cow, a menu from a favorite takeout spot pasted to some cardstock...if you can take a pen to it, you can probably figure out a way to mail it.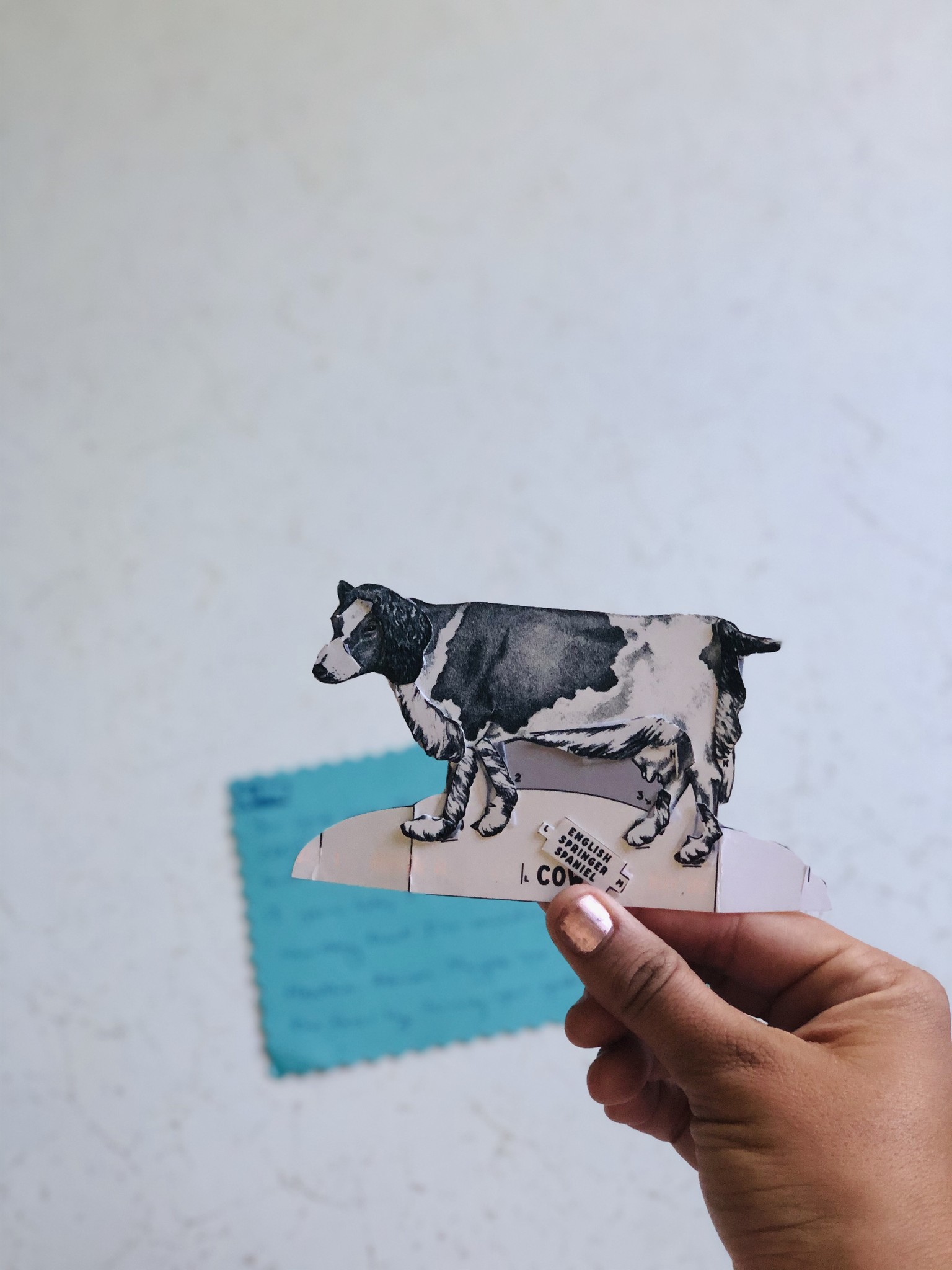 If you're looking a rainy-afternoon DIY: basically anything that's roughly 3" x 5" and sturdy enough to make it through the Post Office sorter is fair game for slapping on a sweet message and a forever postcard stamp and popping in the mail. Like Lillian says: laminate or sturdy-ify a notecard with clear packing tape and suddenly you've got a valid postcard! One side is totally fair game for imagery but remember to keep certain areas clear for their official USPS purposes, like where the sorting machine will apply the barcode!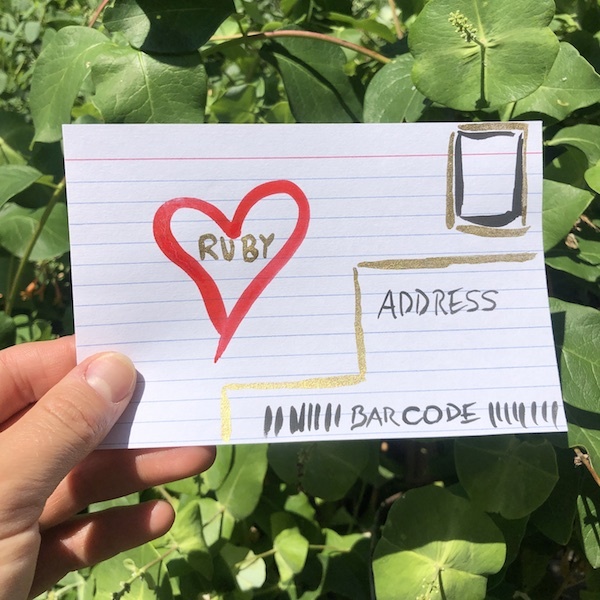 Foundry Note: a love letter to letter writing would not be complete without mentioning our deep and abiding affection for the United States Postal Service (hi, Rose!) and the fierce and marvelous civil servants (hi, Rose!) who keep us safe, informed, and—in the case of upcoming elections—gainfully enfranchised. The USPS is precious indeed and deserving of protection, now more than ever. Also: STAMPS!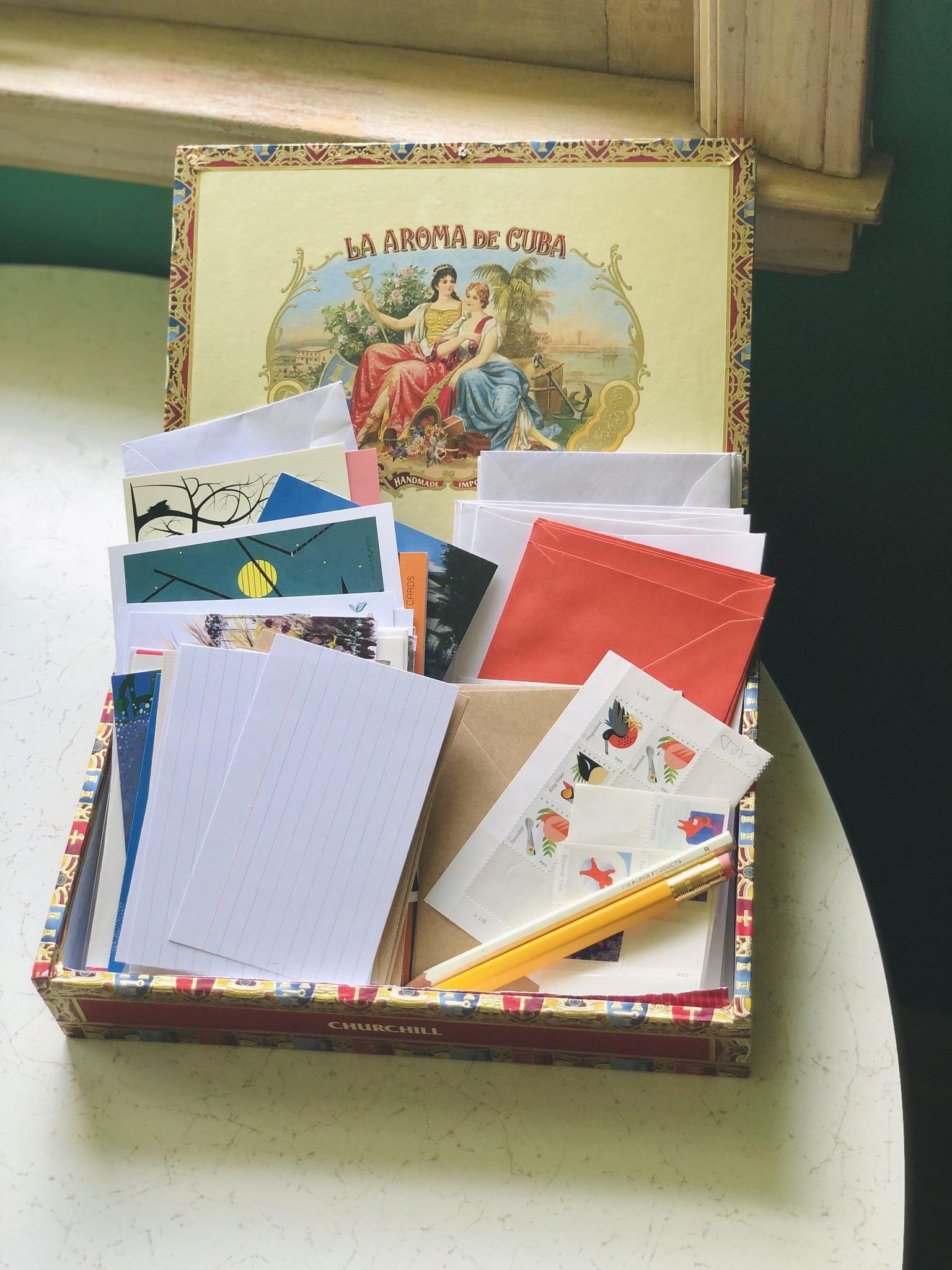 Letter writing is certainly the joyful provenance of the homebody, but it is also an eternal tool in the arsenal of dissent. One language of protest is the march. Many of us took to the streets these last few weeks to protest the ongoing violence perpetrated against Black bodies on the streets of our city this year and across our country for hundreds of years prior. For others, the pen feels as powerful in the hand as the protest sign. For those called to action to take a stand against racism and in favor building a just and equitable society for all—in the midst of a global pandemic, no less—writing letters is as powerful a weapon as it's always been.
Resources for Letter-Writing Activism
Register Voters: Vote Forward helps activists reach out to unregistered voters as an analog alternative to door-to-door canvassing, which, is understandably no longer possible during the pandemic. There are also targeted resources for energizing registered voters in specific locales (Florida, Ohio, Georgia etc).

Encourage Voting Locally: Local Indivisible Groups can help coordinate targeted letter writing campaigns using existing voter rolls (and often providing lists, materials, and position statements for various candidates). If you don't have a local group (or if your personal politics don't align with your group's directives) many registered voters can request lists of fellow registered voters in their state, sometimes for a fee. Here's how to request a list in Minnesota and here is a list of voter roll accessibility by state.

Write your Elected Officials: From the highest offices in the land down to your local school board, this tool will give you the names and contact information of all of your personal elected officials. If you're not sure what to say in your letter, Americans of Conscience is a good resource for weekly directed check-ins on relevant topics with potent talking points to get your juices flowing.
Write to the editor of your local paper. Write to the President of the United States. Write to your local school board. Write to your Mayor. Write condolences to the families of those who have lost their lives. Write to your own families and tell them where you stand. Write to your BIPOC friends and tell them you love them and you see them. Tell them you're sorry if you want, but this isn't about you. Write to the children in your life and help them become anti-racist. Write a poem. Write a postcard. Write a song. Write a letter. Write. Write. Write. Write. Then mail it.