This time of year is always asking for a picnic. But this time of year THIS year it's practically insisting on it.
Like always, now is the time when ripe berries are practically leaping off of brambles into your mouth, when food tastes best just-picked, processed with a bare minimum of heat, tucked into a trusty market tote, and trucked outside. These lingering twilights when the sun sings pink into the later hours, eating, living, and breathing in the world outside just feels right. Unlike always, this particular season's outdoor evening spent gathered with your household on a breezy patch of grass can be a necessary respite from the onslaughts of the day and—if ground rules are agreed upon and blankets are spaced right—a picnic can be a truly marvelous solution for building safe community into the cresting summer lonelies. Plus, who doesn't love putting your favorite things in a basket and taking it all on a little adventure?
From Heather:
It is a truth universally acknowledged that FOOD ALWAYS TASTES BETTER OUTSIDE. My sister (who is in our family "pod") came over with her Reasonably Big Hat™️, and we decided that it would be a fun and whimsical thing to properly picnic in the yard! We're planning some park picnic stuff in the near future, but some days just call for close-to-home fun! And look at the size of those oak trees! Perfect lounging spot. Gotta use what you have these days, and I am grateful for outdoor space of any kind!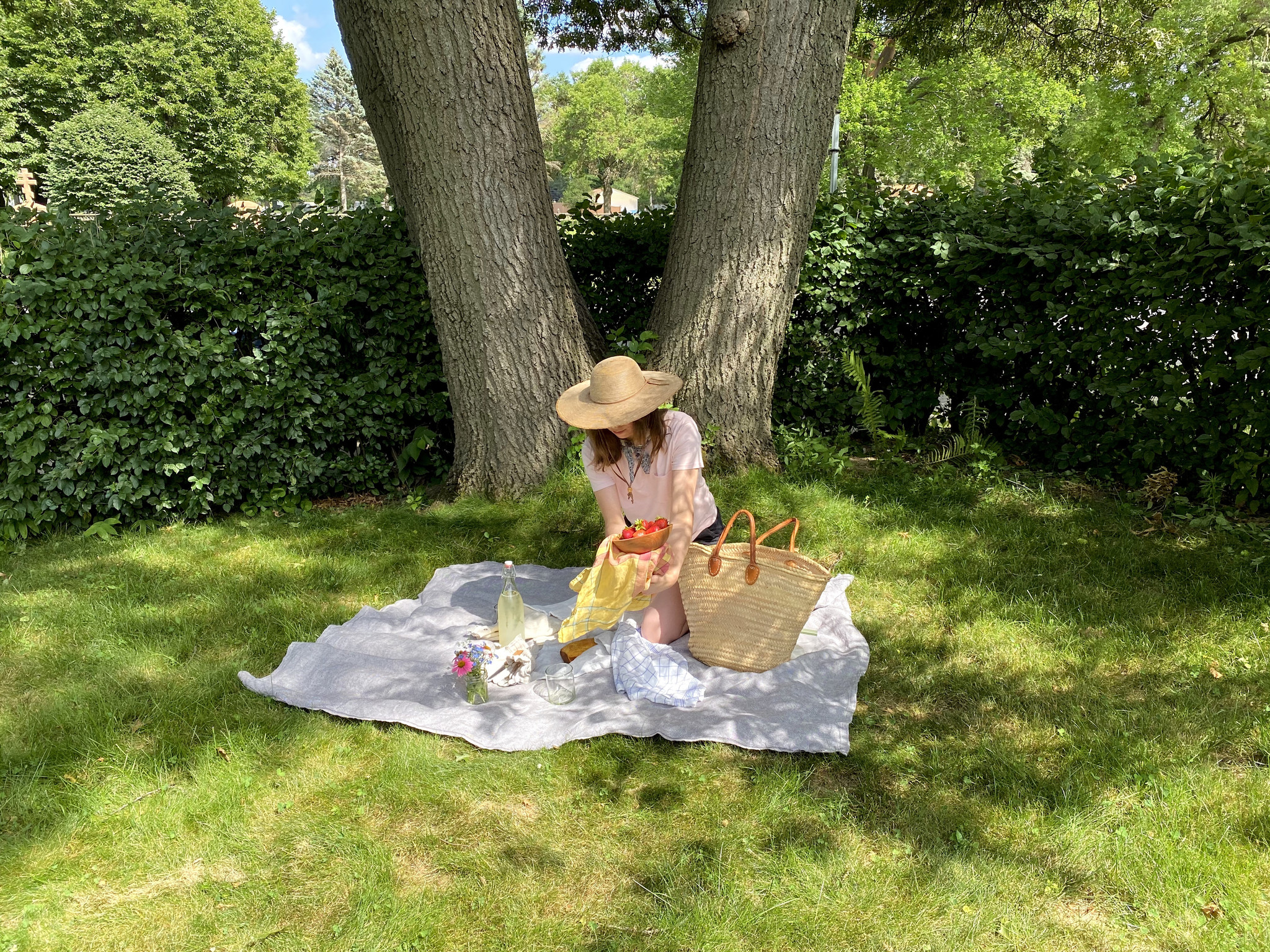 strawberry bowl, lemonade bottle, picnic tumblers, trusty market tote, necessary linens.
One very cheery thing about picnicking at home is you can still limit your picnic load to pretty much whatever you can fit in your basket, but! You can carry out some fancier dishes and they won't be jostling around in the car! Or in your bag! (Say this with me as we strike a series of poses): Easy. Decadent. Luxury.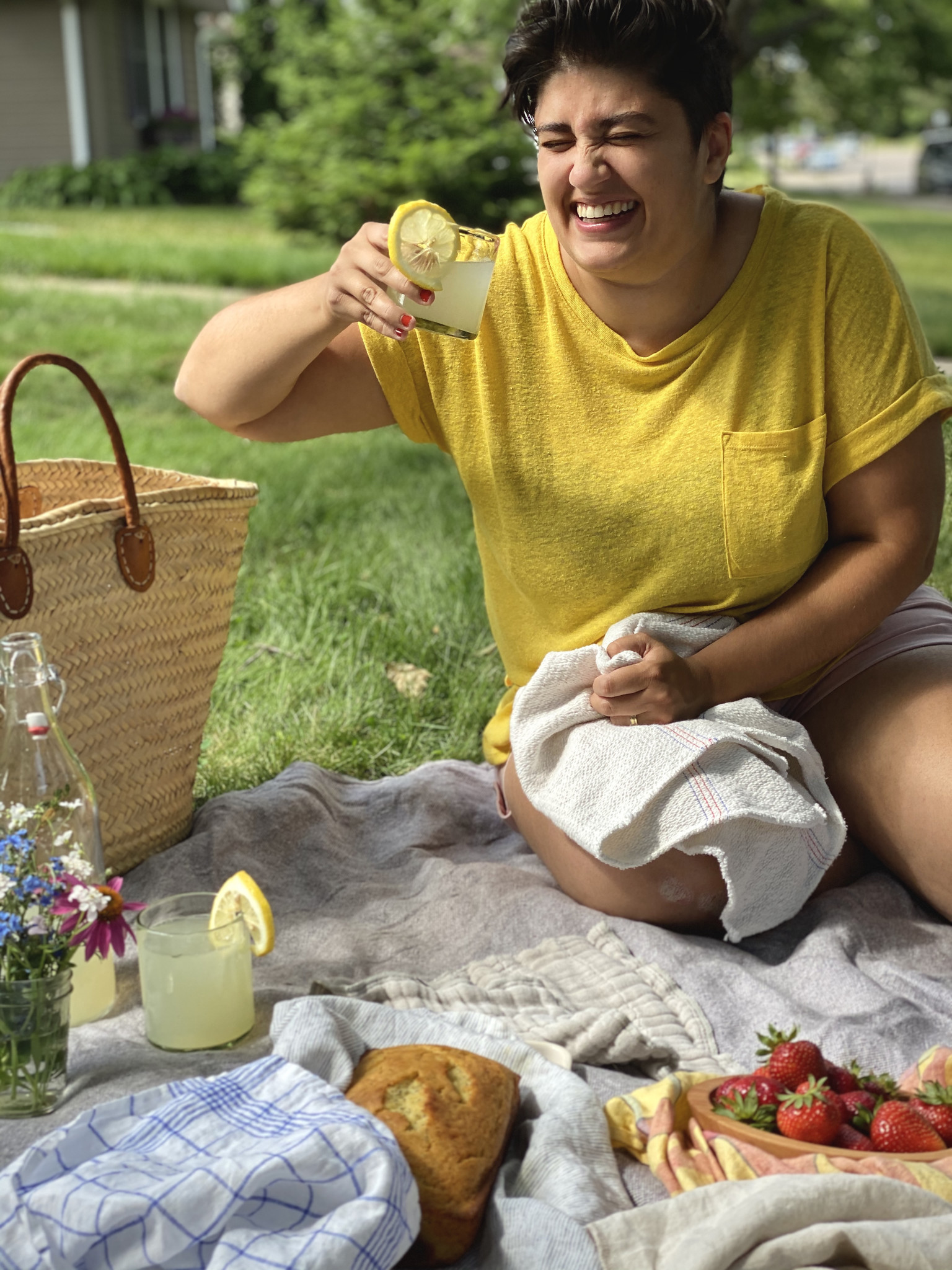 picnic tumblers, trusty market tote, bonnie brae linen, Heather's favorite cloth, strawberry bowl, lemonade bottle
I made some lemon poppyseed bread while unintentionally wearing a yellow shirt, which just felt right in the end. We glazed it when we got there because wrapping up sugary, gooey bread in a towel just sounded...sticky. One of my least favorite sensations. We also had some more lemonade with thyme. YUM. Fun and sparkly in those little tumblers.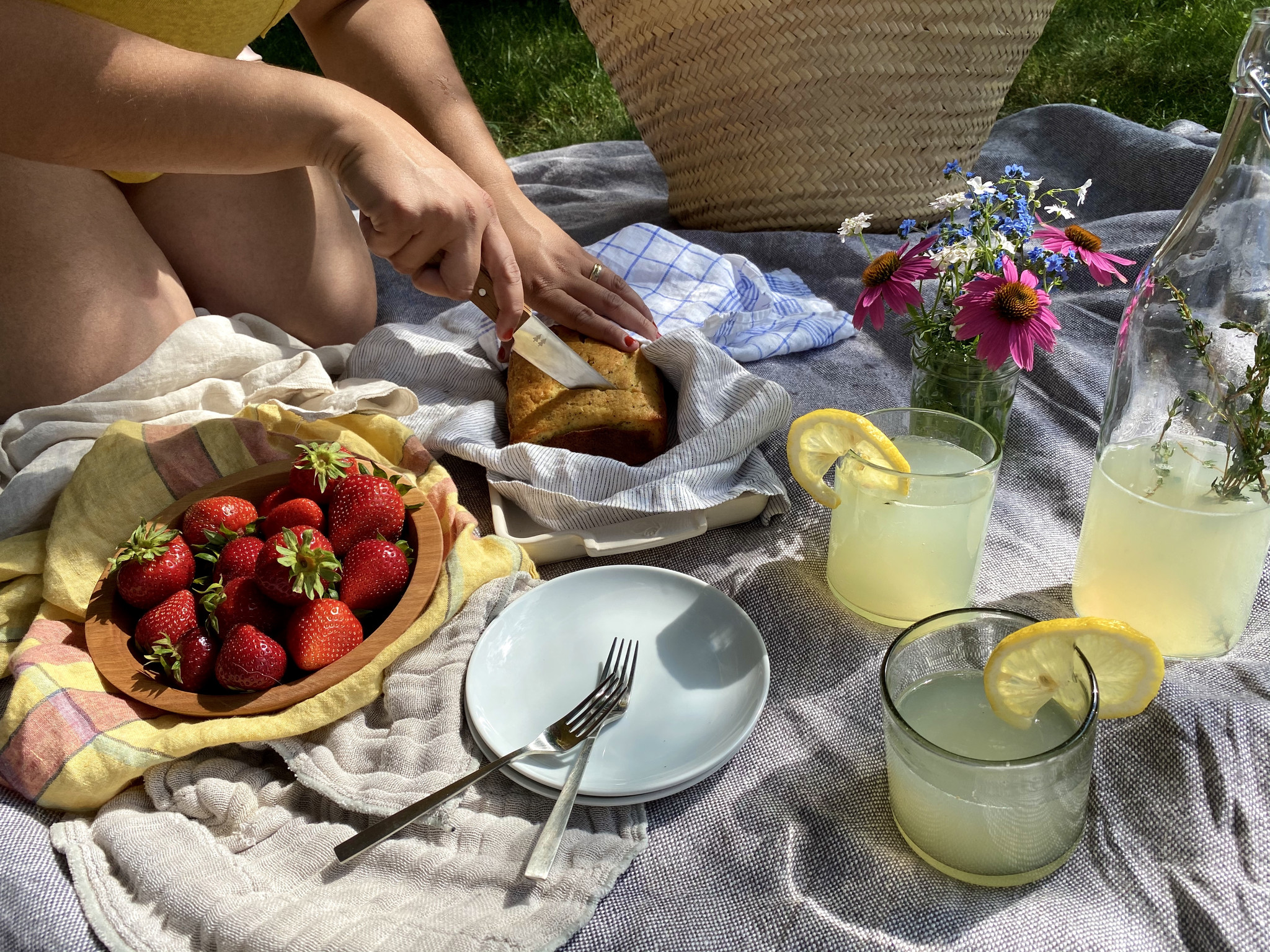 "cake" knife, everyday plates, cake forks, lemonade bottle, picnic tumblers, strawberry bowl, cheery yellow plaid cloth 
We have "big plans" to do this in the park sometime soon (and of course, I plan to also take fun dishes with me to the park, just with more tea towels nestling them together. That's what having lots of baskets is for!). But having a picnic in our yard meant Dewey could mosey on by and try to politely sneak stuff (she has become reasonably polite).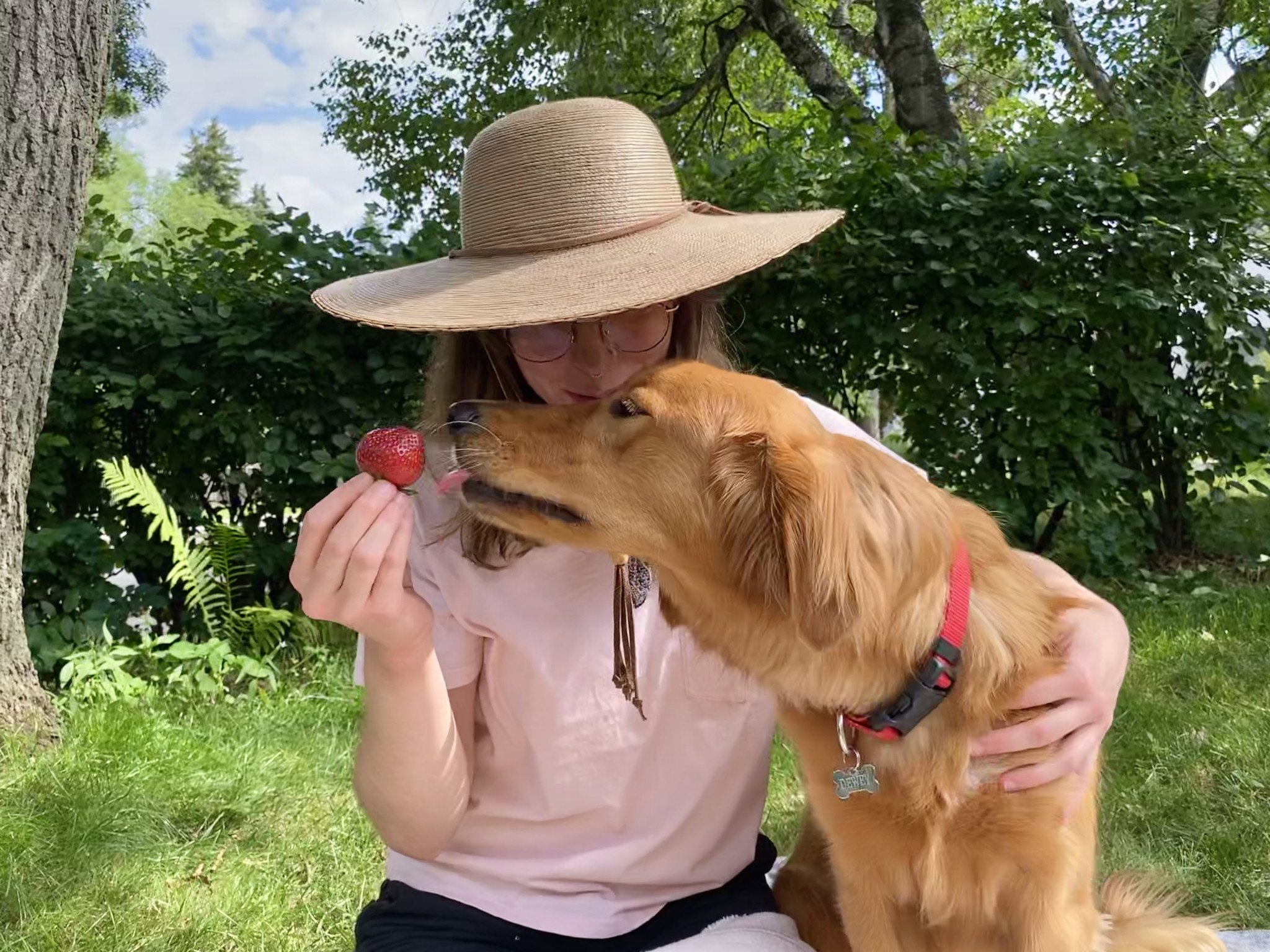 We planted wildflowers in the yard this year and had no clue what would come up. And Lo and Behold! Forget-Me-Nots! One of the prettiest little flowers I don't know if I've ever seen in person! Had to bring a little bouquet to the picnic. I thought of Anna and her undying love for the color periwinkle.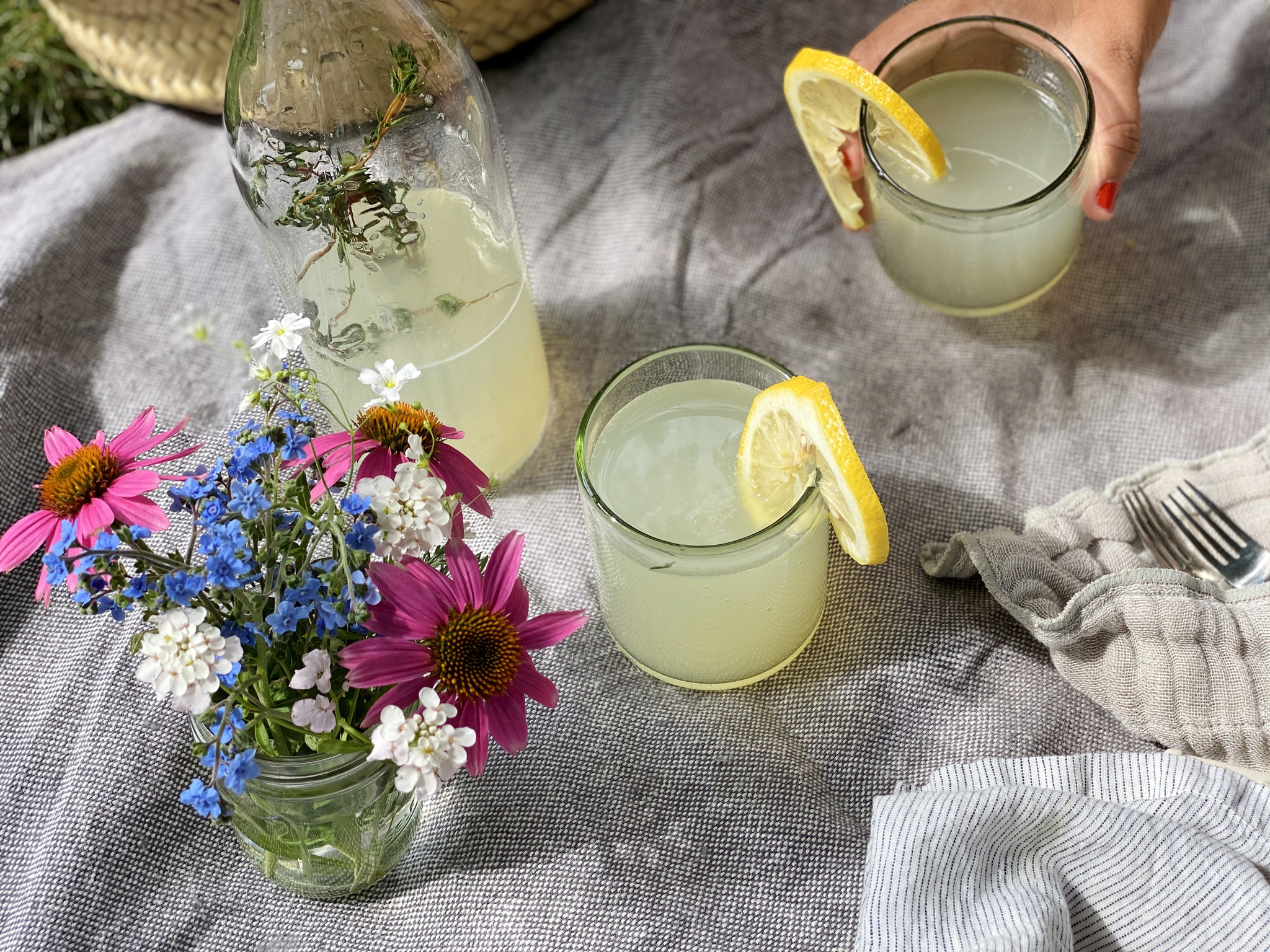 lemonade bottle, picnic tumblers, striped linens
One of our favorite things about a picnic is that it can be whatever you need them to be. If whipping up a busy-day cake was the easy work of your morning, pack that. If last-resort curbside pizza pick-up was what the day required, we promise it tastes all the better off of an enamel plate under the clearing dome of cool, post-thunderstorm evening sky. However you spread it (and whatever you pack), taking your meal al plein air hits all of the exact sweet spots of: easy, beautiful, cheery, adventurous, hopeful, and prudent. Which, of course, is exactly what we need more of right about now.
From baskets to baguette boards, here are some of our picnic-magic-making favorites.