Our Foundry Family is full of garden lovers.
Heck, even those of us without thumbs love to get their paws in the dirt, so should come as no surprise that we spend every winter dreaming and scheming of potential bounties and blooms, fire in the fireplace, Seed Saver's Exchange catalog in our laps, sketching up what-might-be in our yards and byways. The winter seed catalog ritual is one that lends itself to the miraculous. After all, what is a seed if not a small miracle? Each tiny kernel holds within it the concurrent wonders of nourishment and nature, of hope and home, of green and light and all that is possible with a little love in the right conditions.

Based in the Driftless Region surrounding Decorah, Iowa, Seed Savers Exchange was started in 1978 by Diane Ott Whealy and Kent Whealy with heirloom seeds for treasured tomatoes and flowers lovingly brought to Iowa by Diane's Bavarian great-grandparents in the 1870's. Word spread like Amish Snap Pea Vines, and before long, more and more concerned gardeners began saving and swapping their own rare, heirloom varieties and donating seeds to the collection.

Passed from generation to generation these seeds, their stories, and their often beautifully poetic names represent a powerful tradition-from the pioneer history and beautiful perseverance of American farmers served up in a home-grown Sunday feast to the irreplaceable genetic diversity that will protect our food systems for our children and their children to come. Planting your own garden with these sustainable heirloom seeds may ensure that our families inherit the bounty of our forethought along with our cherished recipes.

It's easier than you might imagine to bring some of this magic to your own home and table, just grow 'em! Not sure where to start? Here's a simple guide to starting your own plants from seeds: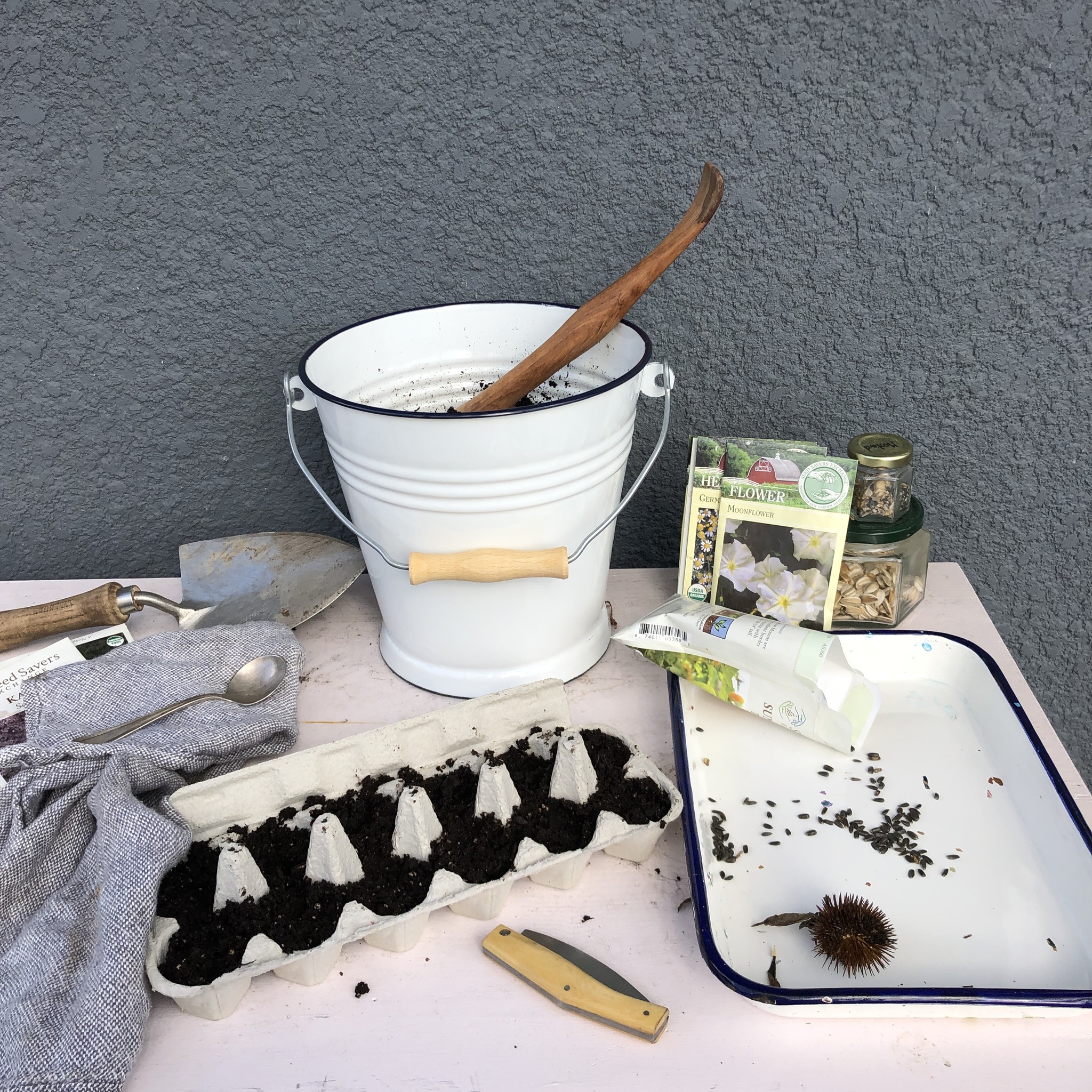 HOW TO START SEEDS INDOORS
Gather your tools! You'll need:
- Seeds!
- Old cardboard egg carton(s)
- Potting Soil
- Coffee Grounds
- Scissors
- A big spoon
- A little spoon
- A waterproof surface large enough to fit your cartons
- A big bowl or bucket

1) Use your big spoon to mix together equal parts coffee grounds and potting soil in your bowl or bucket. Why coffee grounds? Because seeds can't start the morning without it  coffee grounds add essential nutrients—nitrogen, potassium, and phosphorus—to the soil. They also help regulate and maintain moisture in the soil throughout the growing process.
2) Use your little spoon to fill the cups of your egg carton with your potting soil mixture. Fill each cup about halfway full with soil mix, keeping in mind the planting depth of each seed you're going to grow. The seed packet should have the planting depth on it. For seeds that need to be planted deeper, add less soil at this stage.
3) Pop in your seeds! Be sure not to put too many in each cup, Not every seed will sprout, but those that do will compete for resources and crowded seeds tend to bum each other out. For bigger plants/seeds (like melons)plant one or two seeds in a cup. For smaller seeds like (radish) you can plant four or five seeds in a cup.
4) Use your small spoon to cover the seeds with a thin layer of soil according to the seed's planting depth. 
5) Label your cartons! We sometimes think we will remember which is which. We are wrong. An added bonus of the egg carton method is you can write directly on the cardboard.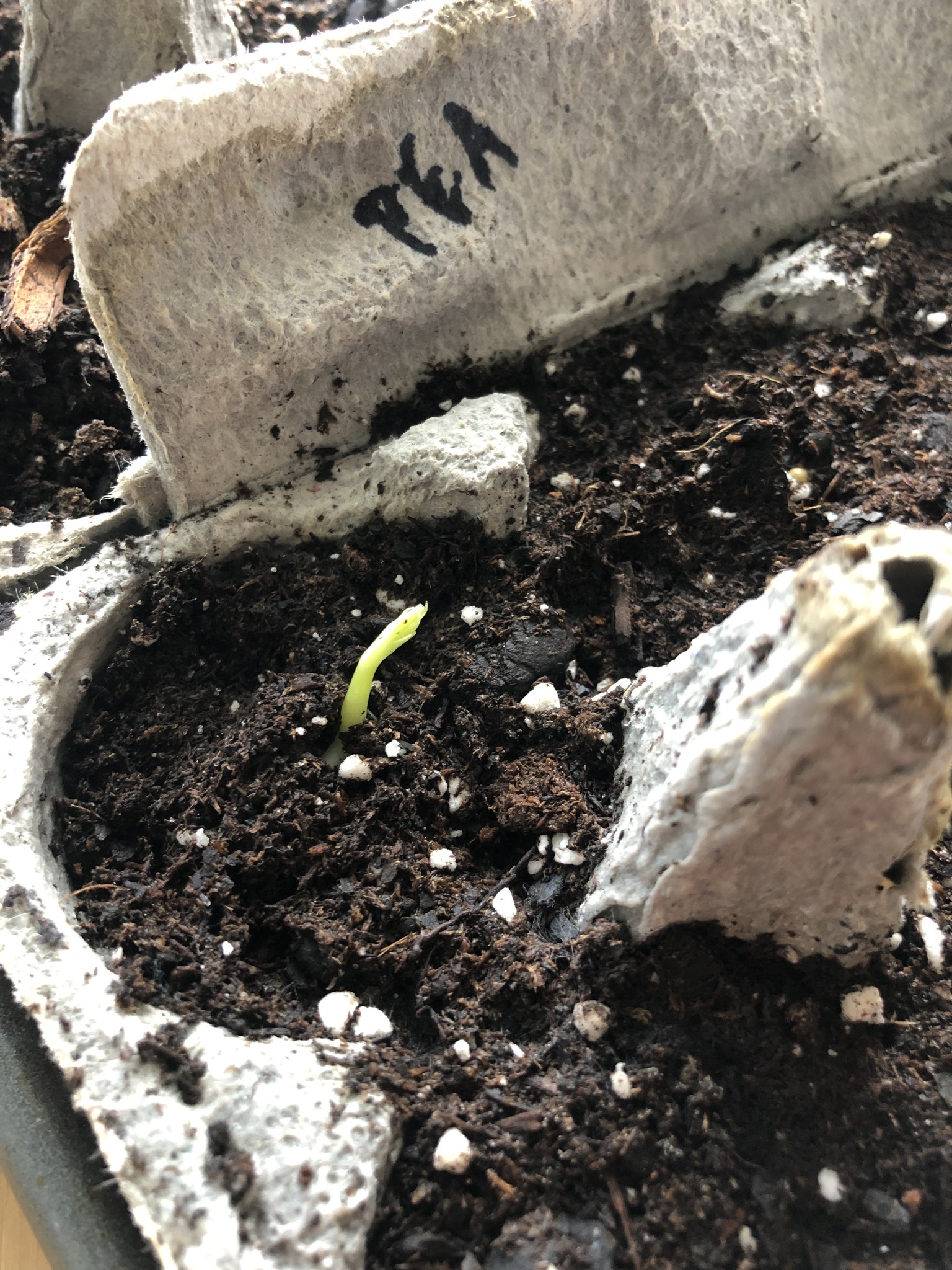 6) Place your cartons in your waterproof container.
7) Water your cups! You can water each one individually, or if your waterproof container has a rim, just keep a layer of water in the bottom of it. The cardboard of the egg carton will wick up moisture as needed and keep your seeds adequately hydrated.
8) Place your seeds in a sunny spot. The sunlight requirements for each plant (also listed on the seed packet) are different, but they all need sun to germinate, so at this stage, find the sunniest spot inside you can and let 'em bask!
9) Continue to water your plants and watch your seeds grow! This is always a beautiful thrill, but for those in our Foundry world who are currently home-schooling/unschooling little ones, this is a particularly wonderful activity, proof of the intersection of science and wonder that eventually can be tended, harvested, and popped straight from grubby little hand into sweet little mouth (this is true regardless of grubby hand size/age). Swoon!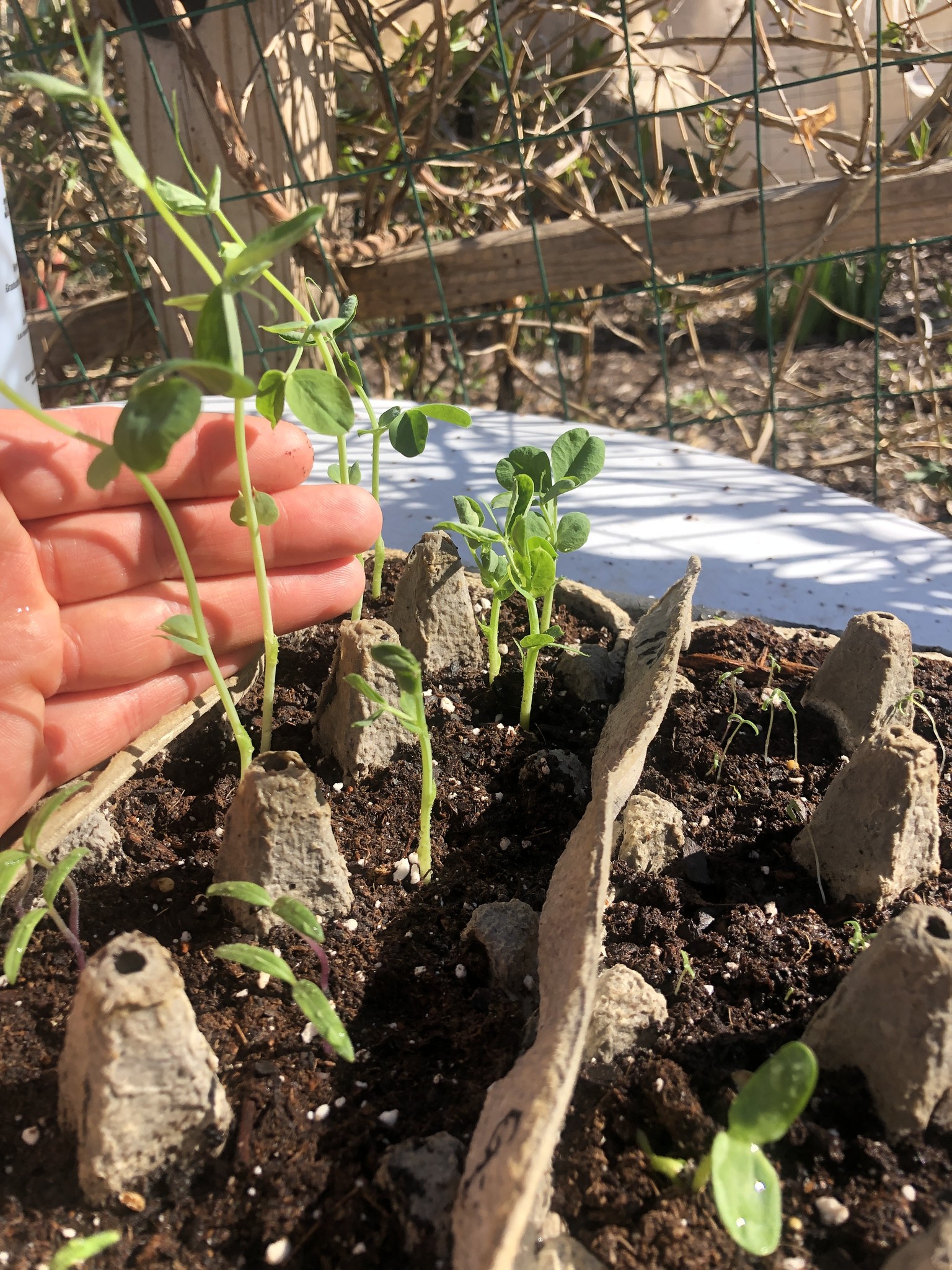 WHEN IT'S TIME TO PLANT...
When your seedlings are big enough and it's warm enough outside (the standard "guaranteed" last frost date in MPLS is 4/30!), it's time to plant. Take your scissors and cut apart the cups to separate each pot.
In addition to being a cheap, self-watering, label-friendly, waste-free alternative to plastic seed pots, the major benefit of starting seeds in egg cartons is that you can plant them directly into the soil, pots and all. BOOM! The roots will grow out through the paper (which will break down into compost eventually) and the carton's structure provides stability and helps retain moisture around roots as they grow. Some seedlings may outgrow their egg cup homes before it's time to plant outside. If this happens, you can simply replant your seedlings (cup and all) into a larger flower pot or cup. An old disposable paper or cardboard cup is nice since those will break down eventually, too, and can be direct sown just like the egg carton cups.
Consult the oracle/seed packet to determine the best location and spacing for your babes to thrive and, then, dig a small hole in the desired spot and pop your little seedling right in there! Endless options abound for watering setups and soil amendments, but we'll leave that to another day. Label it if that's your fancy and sit back and wait for beauty to unfurl before your eyes.
Get your seeds stocked, your gardening duds on, your tools out, and bloom where your are planted!