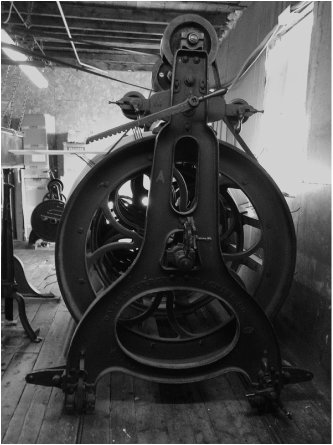 MACAUSLAND'S IS A 146 YEAR OLD (!!!) SAWMILL-TURNED-WOOLEN-MILL OPERATING ON PRINCE EDWARD ISLAND, CANADA. WE'RE TALKING WAYYY UP THERE ON THE ATLANTIC COAST, PAST NOVA SCOTIA, IN AN AREA THAT WAS FIRST COLONIZED BY THE FRENCH BACK IN THE MID-1700'S. THE MILL IS NOW IN IT'S FOURTH GENERATION OF FAMILY OWNERSHIP, AND HAS BEEN PRODUCING IMPECCABLY SOFT, COZY, 100% VIRGIN WOOL BLANKETS SINCE 1932.

THE MILL USES ALL VINTAGE MACHINERY, AND THE SKILLS OF ITS WEAVERS HAVE BEEN HONED OVER THE YEARS TO PRODUCE ONE OF THE FINEST BLANKETS AROUND. TRULY A LOCAL OPERATION, THE WOOL USED IS SOURCED LOCALLY FROM P.E.I. AND THE NEIGHBORING PROVINCE OF NOVA SCOTIA TO MAKE UP THE YARN USED IN EACH BLANKET. HERE AT THE FOUNDRY, WE LOVE FINDING SMALL, ARTISAN OPERATIONS, TO BRING YOU THINGS YOU MAY HAVE NEVER COME ACROSS BEFORE, OR OTHERWISE. IN THAT SPIRIT, WE WANTED TO GET OUR BLANKETS FROM MACAUSLAND'S.


THE ENTIRE MILL, FROM THE PRODUCTION TEAM, TO WHOLESALE AND SHIPPING, TO DESIGN, IS ALL ACCOMPLISHED BY A HANDFUL OF WONDERFUL PEOPLE OUT IN BLOOMFIELD, PRINCE EDWARD ISLAND. PEOPLE YOU CAN ACTUALLY GET ON THE PHONE. I'M SURE IF YOU GAVE THEM A CALL TO SAY HI, OR RAVE OVER HOW YOUR LAP APPRECIATES HAVING THAT BLANKET THROUGH A MINNESOTA WINTER, HELGA WOULD ANSWER, AND SHE'D LOVE TO HEAR IT. WE WORK WITH HELGA EXCLUSIVELY OVER THE PHONE; NO EMAILS, NO TEXT MESSAGES, JUST PHONE CALLS BACK AND FORTH AND FAX MACHINES. SHE IS SOMEONE WE JUST LOVE CHATTING WITH AND LOOK FORWARD TO THOSE CALLS AT THE END OF THE SUMMER EVERY YEAR. IF YOU'RE IN THE NEIGHBORHOOD, COME GRAB A BLANKET AND JUMP ONTO RUBY'S PILLOW FOR A SNUGGLE. WE'RE SURE YOU'LL LOVE THEM JUST AS MUCH AS WE DO.