We love humans of all stripes, shapes, and sizes so it sort of goes without saying that we love babies. And while it's true that the list of what a baby actually, truly, absolutely needs (food, shelter, diaps, infinite love) is pretty short, the list of stuff that babies *typically* get showered with feels infinite, strange, and somewhat overwhelming.
Fortunately, there exists a middle ground between abject minimalism and unthinking maximalism and here it is: special, thoughtful, useful, beautiful objects that make the incredible transformative journey—from dream babe to real babe, from person to parent—all the more lovely. These are wild and magical times, let's celebrate them.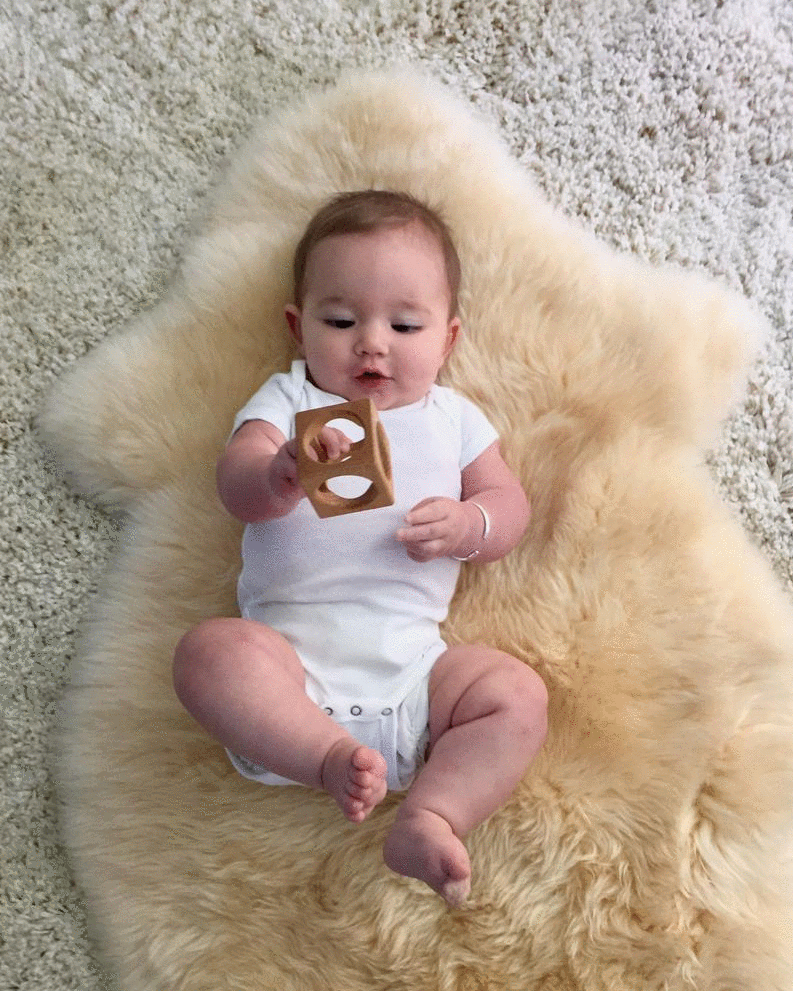 Handmade Minneapolis Maple Baby Block Cubicle- We have a lot of gorgeous analog toys (looking for a carved menagerie? a vegetable-tinted rainbow? beeswax crayons? right this way) but this simple, elegant, hand-turned maple teether is probably our favorite. Custom crafted just for us and made to our exact babe-approved specifications, little ones simply can't resist the finger-friendly silhouette and smooth rounded edges (exhibit A: Foundry Family babe, Lois Rose, in action with hers above). It looks just as good tucked in a diaper bag as it does sitting on top of your copy of Noguchi's "Imaginary Landscapes". Can't say that for Sophie the Giraffe.
Vintage Linen Comforter- Not all baby blankets are created equal. These exquisite hand-quilted comforters are made and dyed with non-toxic pigments in California. At 36x50, with two layers of hand-stitched linen and a special airy batting, these are the perfect heft and size for Papa's lap, Mama's shoulders, and babe's floor time. Bonus: the all-natural dream-soft linen is as durable as it is delicious—it actually gets softer and more gorgeous with each wash. Go forth and make that mess, little one. Comes in blush, a natural greige, and a dark umber earth color. An heirloom in the making.
Glass Carafe- Mama gets so thirsty. 
Natural Grass Shopper Basket- Even aforementioned avowed minimalists end up with a surprising amount of baby accoutrements that need to be corralled. A gorgeous basket that tucks quietly under table or chair can make a living room go from kid-nado to functioning adult o'clock in two shakes of a lamb's tail.
Old Mill All-Natural Beeswax Hand and Body Balm- We always drop a jar of this off with a jar of soup when we're making a visit to brand new parents. Made of pure, all-natural organic beeswax, coconut, and grapeseed oils, it smells heavenly, like fresh mown hay and meadows of sun-warmed wildflowers (the natural smell of pure beeswax, of course). The perfect consistency, it works wonders on hands, knuckles, knees...you name it. Ideal for anyone who finds themselves in a deadly cycle of endless handwashing or is in serious need of some self care. We've also been told that this is great for mamas' post-partum bellies and is gentle, pure, and delicate enough for slathering up babes themselves post-bathtime.
Sage Bundle- Hello: good vibes, farewell: bad smells.
Wooden Spoon- Simple, brilliant, and the dark horse secret favorite of kiddoes everywhere. Perfect for grasping, teething, tossing, exploring spatial relations, and, of course, banging on pots and pans. We also love this one, with its handy loop for tying to stroller or carrier. A wee-babe diaper bag staple that transitions into let's-help-in-the-kitchen as time goes on.
Wall-Mounted Anglepoise Lamp- What's that, you say? An iconic British spring-loaded lamp...for Baby!? Yes. Arguments that it's never too early to instill a love of good design aside, living with babe absolutely requires task lighting. Mount this over the changing table (where it will never get kicked over) or next to that precious glider (story time!) for a mellow warm glow that feels *almost* as good as a full night's sleep.
Welcome to the world, new humans! We're so glad you're here.