Growing up, did you set the table for dinner at your house? We did at ours.
The best and biggest honor was when we were had grown up enough to be trusted with the privilege of lighting the candles. Some things never change.
Visiting a childhood friend at her grandmother's house a season back, we noticed that this extremely elegant grand dame had a simple, small, hand-drawn table setting diagram tacked up in the back corner of her kitchen. This was the kind of woman who Entertained with a capital E. Who had multiple china patterns and infinite gravy boats, who taught us the importance of polishing silver (if you're going to have it should shine, she would say), and always set an impeccable table, whether for two or fifty. We were struck then, as we are now, of the simple and sweet utility of this and thought that such a thing wouldn't go amiss in our own kitchens.
So, for all seasons of bounty and abundance, for the abiding grace of opening heart and home to break bread with loved ones, above is our very own little Foundry Table Setting Guide. Print it out. Keep it tucked in your pantry or stuck on your fridge, share it with little ones just learning the way of ritual or humans of any age who might be grateful for a nudge in the right direction. Want a hard copy? Stop by the shop and pick one up!
Now that we know the how what about the what? To set a table, you need some forks.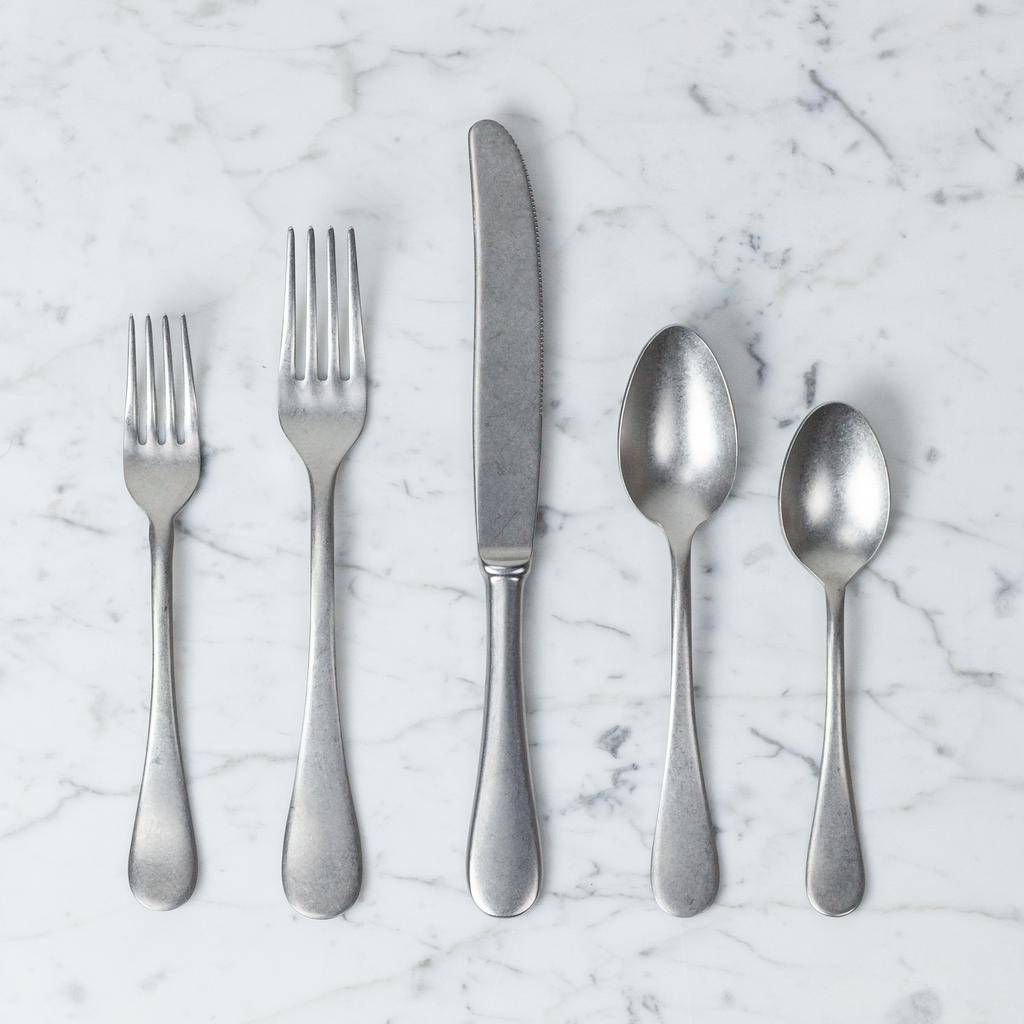 While we are firm believers in the transformative power of every table, no matter how humble, there is an undeniable pleasure in setting your table with pieces you truly love. For us that means the gorgeous, heirloom-quality place settings from the iconic Italian flatware line Mepra. After all, nobody knows the magic and power of bringing people together over food more than the Italians*. Made in Lumezzana, Italy, for generations, these impeccably crafted, perfectly weighted, and flawlessly finished utensils instantly elevate weeknight dinners to special-occasion-status, no matter what you're serving or how many are sitting down to dine. The Vintage line (above) has a classic, everyday vibe we absolutely love.
The elegant, streamlined Linea line feels modern + fresh—but with an old world sophistication that still plays nice with your Grandmother's china: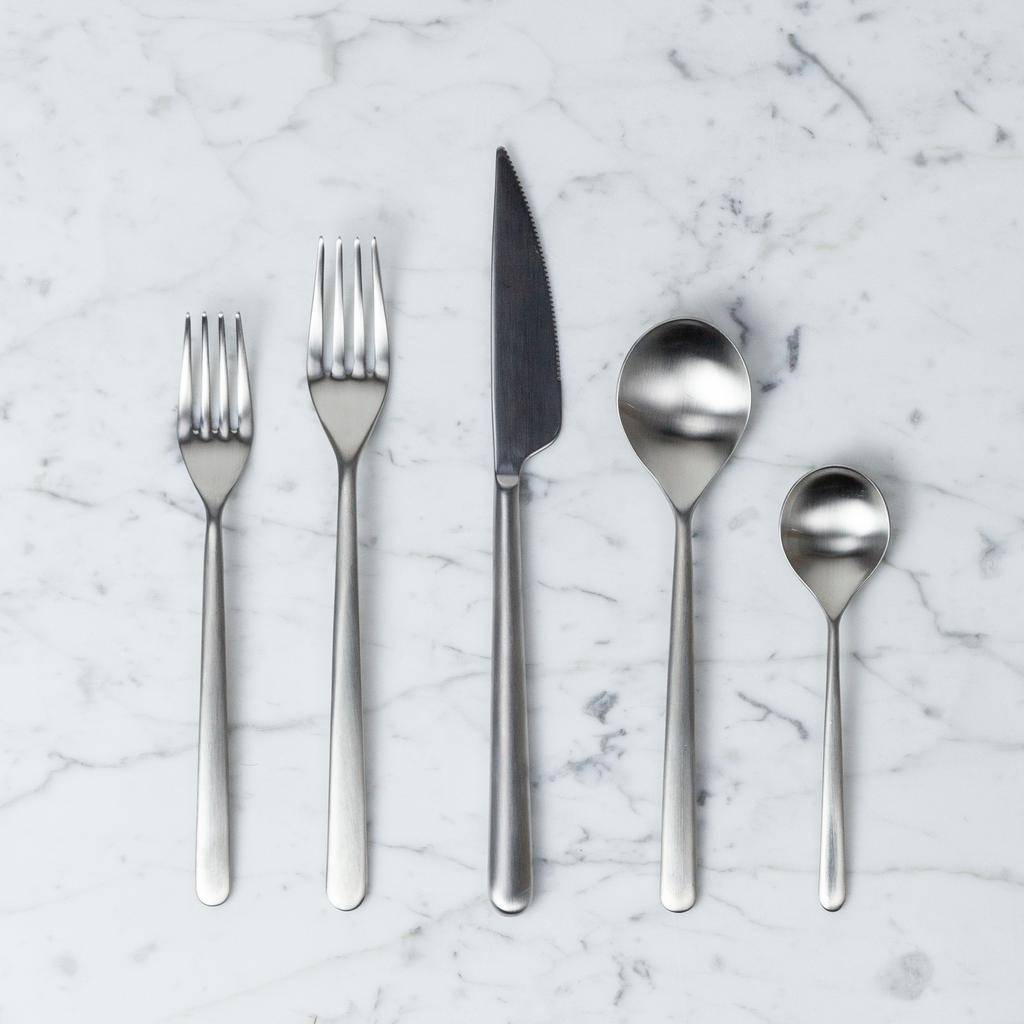 With its subtle, delicate curves and clean lines, the Natura line is perfect for sensualist minimalists: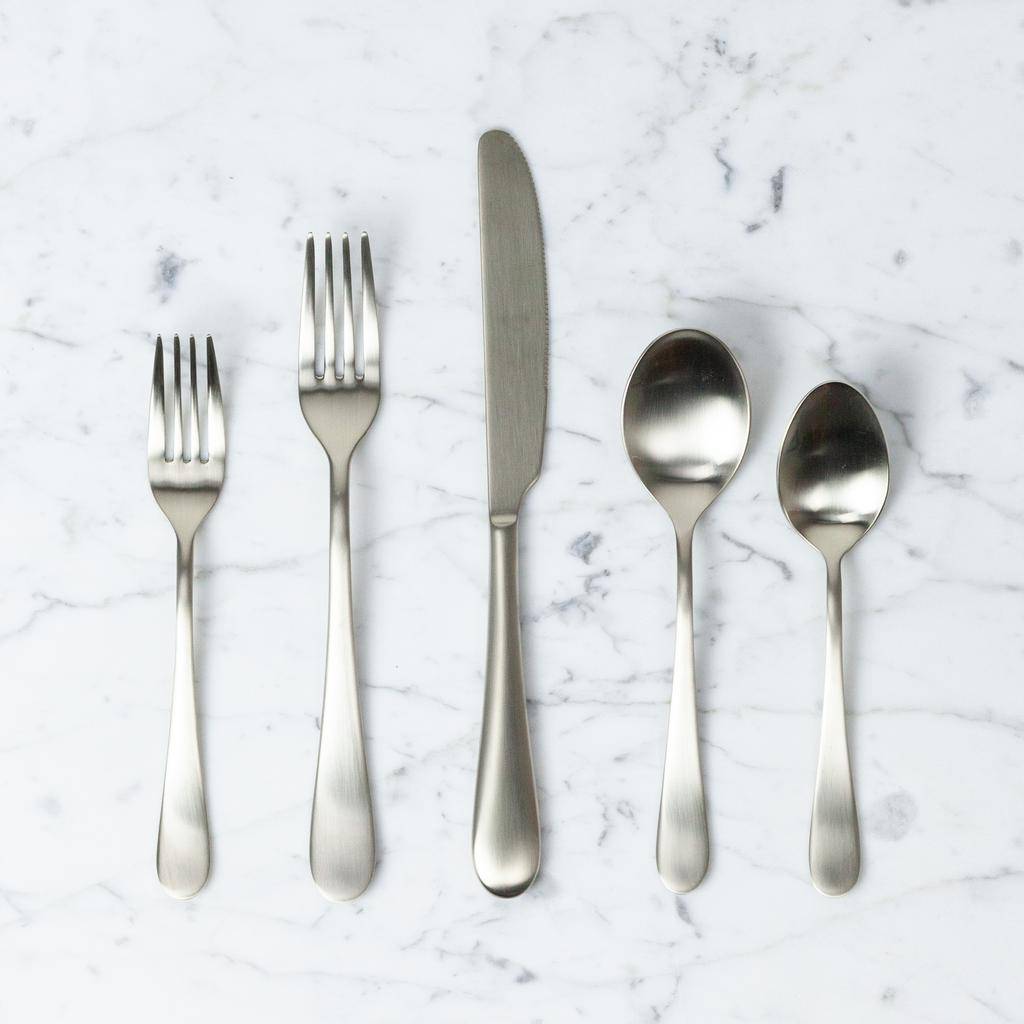 And, since beauty is NOT JUST in the eye of the beholder but ALSO in the hands of the person cleaning up afterwards: all of the classic finishes are 18/10 stainless steel...which also means that these friends can party all night in the dishwasher. How easy is that?
All of this talk of impeccable tableware brings us back to the rite + pleasure of setting a table—that calm moment of intention before settling down to nourish and commune. We have a confession to make: no matter how many times we did it as children, no matter the infinite meals we have shared since, and the uncountable tables we have laid in the intervening years, no matter how many tiny diagrams we have stowed around, when we're setting the table we somehow occasionally still get hung up on what goes where. No shame in the game.**
*After all, Italians invented the fork (curious? read this!). 
**a note on "etiquette": while there are many (many!) ways to set a table, varying from time of day to hosting continent, from what's being to served to who's serving it, this is our take on the simple "informal" settings we were raised with and which we find to be the most useful for our daily bread(plate). We'd love to hear any other considerations, tips, or traditions (comment!), but we firmly believe that there's actually no real way to do it "wrong". Shame has no place at a well-set table.
***In typical Foundry fashion, we tend to err on the side of understated when it comes to finishes—e.g. the traditional matte silver, the "ice champagne" (which to us reads like the perfect color of well-maintained vintage silver in the best possible way—with no curlicues), or the stealthy black ice oro nero. That being said, Mepra ALSO makes these lines in luxe, high-gloss gold, luscious rose gold, or even an amazing, psychadelic oil-slick rainbow (!), to name a few. Get in touch for more info, we'd be happy to place a custom order for you if you'd like to go bold. Please invite us over for dinner!