It's simple: we're all at home, let's make it good.... and this is *especially* true if someone is celebrating A BIRTHDAY!
Today we are baking a cake. And not just any cake, but a DOG'S BIRTHDAY CAKE. And not just any dog, but TURNIP. And not just any cake, but one dreamed up and executed just for us by our dear friend, the divine ANNIE GOLDBERG, head baker at the incredible Rise Bagels, late of Alma & The Bachelor Farmer, and daughter of peak Foundry Mom and good-vibes machine Barb (hi, Barb!).

While it *might* feel a little silly at this exact world-moment to bake a dog a birthday cake and then have them SMASH IT while we all celebrate on a phone call with all of our far-flung Foundry Friends & Family (details coming soon)...we say actually...IT WOULD BE SILLY NOT TO. Now more than ever it is time to stop foreboding joy and work on finding it, creating it, and staying present in it where possible. We have found this is best way for us to keep practicing gratitude...for us, it looks like a fur-pawed-cake-smash. If it looks that way for you too, recipe below!


Big love and HAPPY BIRTHDAY TURNIP!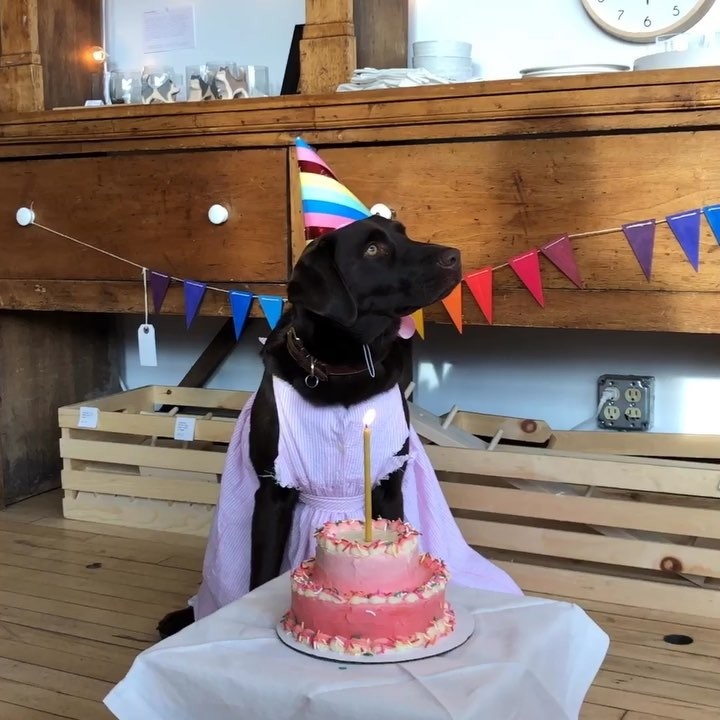 Foundry note: while this the cake Annie created for Turnip, this batter is also just plain delicious for any human...especially younger ones who prefer their vegetables masquerading as cake and older ones who like a bit of something *not too sweet* alongside their coffee in the afternoons. If this is you, these also make good muffins, with or without "frosting".
Dog Birthday Cake 
makes two 8" rounds or 18-24 "cupcakes"
1 c all purpose flour
1 c whole wheat flour 
1 t baking soda 
1/4 cup vegetable oil or any neutral oil will do 
1/2 cup peanut butter
1 cup apple sauce 
1 cup pumpkin purée 
2 eggs lightly beaten 
Blueberries
Grated carrot 
Pre-heat over to 350F
Grease and line pans with parchment or cupcake foils.
In a
large bowl
, combine oil, peanut butter, apple sauce, pumpkin, and eggs. Stir in blueberries and carrot.
Add ingredients dry to wet, stirring until just combined.
Bake 30 minutes or until a toothpick inserted in the center comes out clean. 
For frosting: Whip a block of room-temperature cream cheese with a little honey so it's spreadable.
FYI: The Foundry At Home is our very own Foundry series of ongoing/daily/weekly/golly-we-hope-not-longer-than-monthly activities designed and executed by our insane-amazing shop team to occupy your BRAIN and engage your BODY and help us all lean into the lovely moments of calm and beauty that are possible.