From youthful forays into dipping our Mother's old bridesmaids dresses into a washing machine full of RIT to more recent experiments with grown-up-feeling shibori tie-dyes, we have always had a long fascination with the transformative power of dye. When we met Minneapolis-based botanist and artist Libby London we knew we had found a kindred spirit.

Libby's work combines so many of the things we love: the beauty and limitless possibility of a garden, the bounty that can be found in wild places (if you know how and where to look), the electric spark of discovery and experimentation, the beauty of doing something by-hand—the (very) old-fashioned way, and the joy and pride in making something truly lovely out of something raw and pure.
We have loved getting to know her and are awed and fascinated by the gorgeous, simple magic of her glorious, wild-blooming, color-rich world and thought you would be too. We sat down and asked Libby our most burning/bubbling questions about her journey into botanical dyeing, here's what she said:
How did you become passionate about natural and botanical dyes?
Dyeing is both a method of production and an art form, which is what I love about it. I see natural dyeing as very similar to gardening. The process of working slowing, getting messy, experimenting with plants, and always having nature as my guide especially reflects our culture now as I see people moving towards a rejection of "screen time" and our fast-paced and busy culture. Natural dyeing is like many things I see as gaining momentum—gardening, slow crafting, cooking, and yoga—it's all part of the same idea. Something that slows people down and encourages time in nature and away from the screens. 
What are some ways that your dye processes differ from "traditional" dyes? 
Well, I can't say that they're "chemical" free, since plants contain a lot of naturally-occurring chemicals and the dyeing process is one big chemical reaction. But I don't use any non-natural chemicals, additives, or synthetics. I believe in using nontoxic and edible natural dye materials whenever possible.
For example, I choose to use soymilk as a "mordant" for most of my naturally dyed goods. Soymilk is a wonderful alternative to alum (which is commonly used as a fixative in natural dyeing—the thing that allows the dye to bond with the fabric and become colorfast) because I can store it in my fridge and compost it in the garden.
With all the gathering, the connectivity to the natural world, and the bubbling vats, natural dyeing feels a little (fabulously) witchy! Do you have any accompanying rituals to your dye processes?
Indigo is my favorite plant to dye with (and my favorite color!). Working with indigo is the most magical process for me—especially the process of growing my own indigo from seed. I've been working on cultivating cold climate indigo varieties for about seven years and I especially love the process of fermenting and extracting the indigo pigment and then drying it so that it is shelf stable for use later.
There is something so magical about growing a seemingly simple green leafy plant, and then magically extracting blue dye from it that gives me such a sense of wonder. I also am a midwesterner, so the culture of "putting it up" for winter storage in a dry form makes me feel especially accomplished and abundant when I head into the winter season with jars of homegrown powdered indigo on my shelf!
Have you ever had a surprising outcome/discovery in your processes?
Surprising throw-away (compostable) items that you can dye with + the colors they make. For example, Avocado pits and skins make a lovely blush tone. Surprisingly, green tones are difficult to create with natural dyes - which is interesting since we are surrounded by green in nature. 
Is it possible to make combinations/do you do much experimentation? If so, what does that look like?
Yes! I work with two types of layering in natural dyeing: one is eco-printing where you arrange an array of flowers and leaves on your fabric, and then roll it into a bundle. Alternatively, creating colors such as green can be achieved by first dyeing your fabric with a yellow dye (Weld is a good one!), and then letting it dry and dyeing it with Indigo. This creates a layered green hue.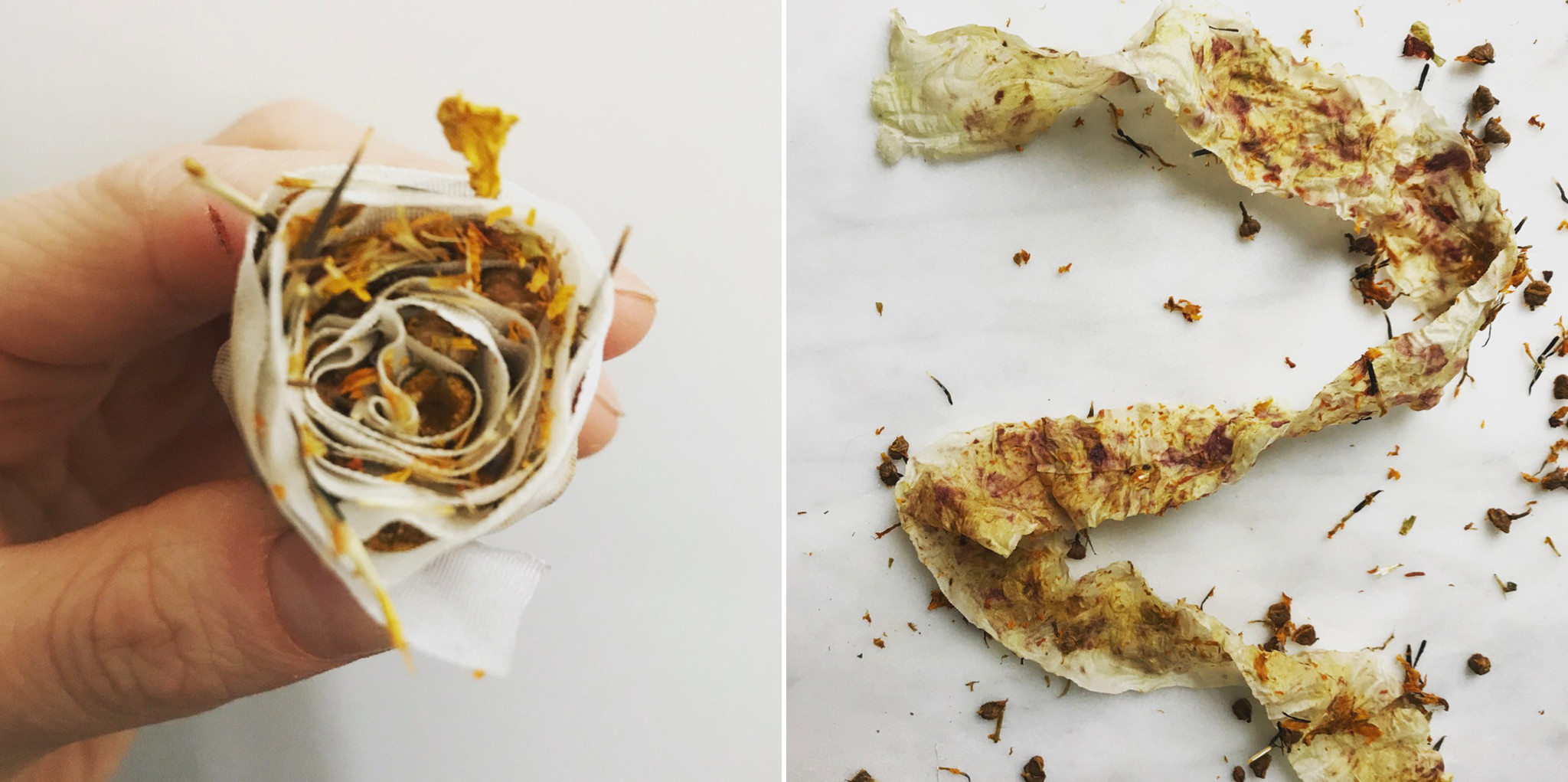 What are your favorite fabrics to work with? How are they different?
I like working with linen and silk the best. I work to source organic, locally sourced, and GOTS fabric whenever possible, and that is a lot tricker to do with silk fabrics unfortunately. Plant fabrics (cotton and linen) and animal fabrics (silk and wool) differ in how they take up the dye. For example, silk and wool are known for easily absorbing natural dyes, where as plant fabrics can be trickier.
What's blooming in the botanical dye garden right now? 
Right now, in July, I have lots of Geranium, Violets, Weld, Japanese Indigo, Woad (Cold Climate Indigo), and Marigold flowers that I am incorporating into my work.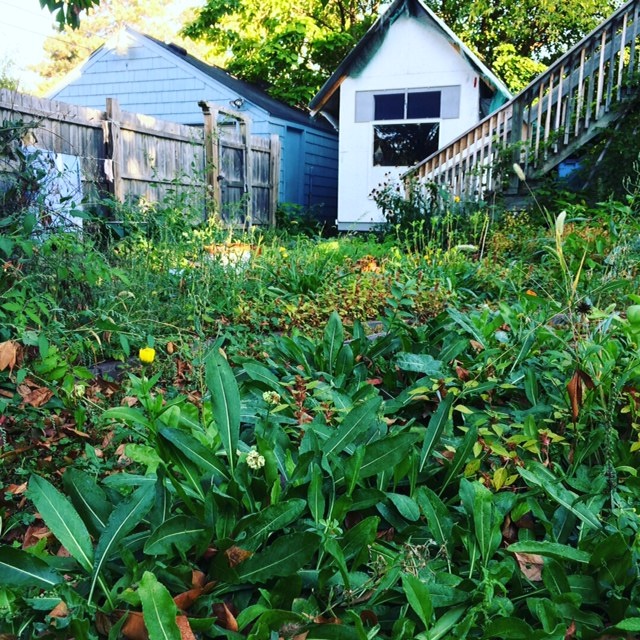 What does a typical season in the botanical dye garden look like? Tell us about your dye garden! 
One of my primary focuses in my dye garden is on indigo cultivation. I save my seeds each year, and replant them in the garden. Growing indigo (both Japanese Indigo—Persicaria tinctoria and Woad—Isatis tinctoria) is important to me, so I always begin with my cultivation of that. I have a few dye garden Annual staples as well such as Coreopsis, Marigold, Geranium Flowers, and then I always like to incorporate new plants as well such as Madder which is new to me this year. 
During the season, I work in my outdoors dye garden studio which is wonderful because I have a giant pot of indigo that stays warmed up by the sun that I can easily use all summer long, and I can grab plants and flowers from the dye garden as I work in the studio. 
What about a typical day?
It really varies! But typically it includes weeding, deadheading, watering, and on days that I am making something, it includes harvesting for my work. I've been focusing a lot on bundle dyeing on silks with plants from the dye garden recently, so harvesting enough flowers for that has been pretty typical. 
Is it mostly foraging or cultivating? Where do you get seeds?
Both, depending on the month. I forage in the spring for Crab Apple blossoms and in the late summer for Goldenrod Flowers, Buchthorne, and Black Walnut Hulls. These are plants that are so abundant in our region that I can easily take my dog for a long walk and find all of them along my path. I cultivate things in my garden that I can not easily forage for or purchase from farmers. As my business has grown, I have decided to work with a local farmer who can grow out a few more common dye plants for me on more of a scale since I need so many. She currently grows Marigold Flowers and Tansy Flowers for me and her farm is called Hollister Family Farm located in Brainerd, MN.
Are there any books or references on botanical dyes (especially history!) you have discovered/recommend?
There are so many great ones! Right now I'm super excited about Botanical Inks by Babs Behan. 
What are different cultural dyeing traditions you have discovered/are there any native to the MPLS area that you take inspiration from?
Using Black Walnut and Sumac. I honestly have not learned enough about natural dyeing historically in our region, but I follow nature on this one, and let native plants take the lead. Goldenrod and black walnut are wonderful native species in our region that make excellent dyes!
What does the typical workshop look like? Do participants need to have experience with dyeing things before?
I teach a variety of workshops, but primarily I either teach a "zero waste natural dye class" where students bring items from their kitchen or compost (Turmeric, Avocado Pits, Berries, Herbs, Onion Skins), or I'll recommend dye plants from their gardens, and we create bundle dyed scarves.
I also teach longer Organic Indigo dyeing workshops where we work on creating patterns using shibori folding techniques and ombre dyes. All of my classes are for beginners, but I like to incorporate more advanced projects for those who would like to go deeper.
Foundry Note: we are thrilled to be hosting a workshop with Libby this season. Reserve your spot now!
What items/supplies do people need to natural dye at home?
One of the great things about natural dyeing is that you can do it at home with kitchen ingredients. It is important to use pots, buckets, and spoons that are for natural dyeing only and not for eating from. Using food waste is a great way to natural dye at home and using Turmeric and Avocado stones is a great way to start with natural dyeing!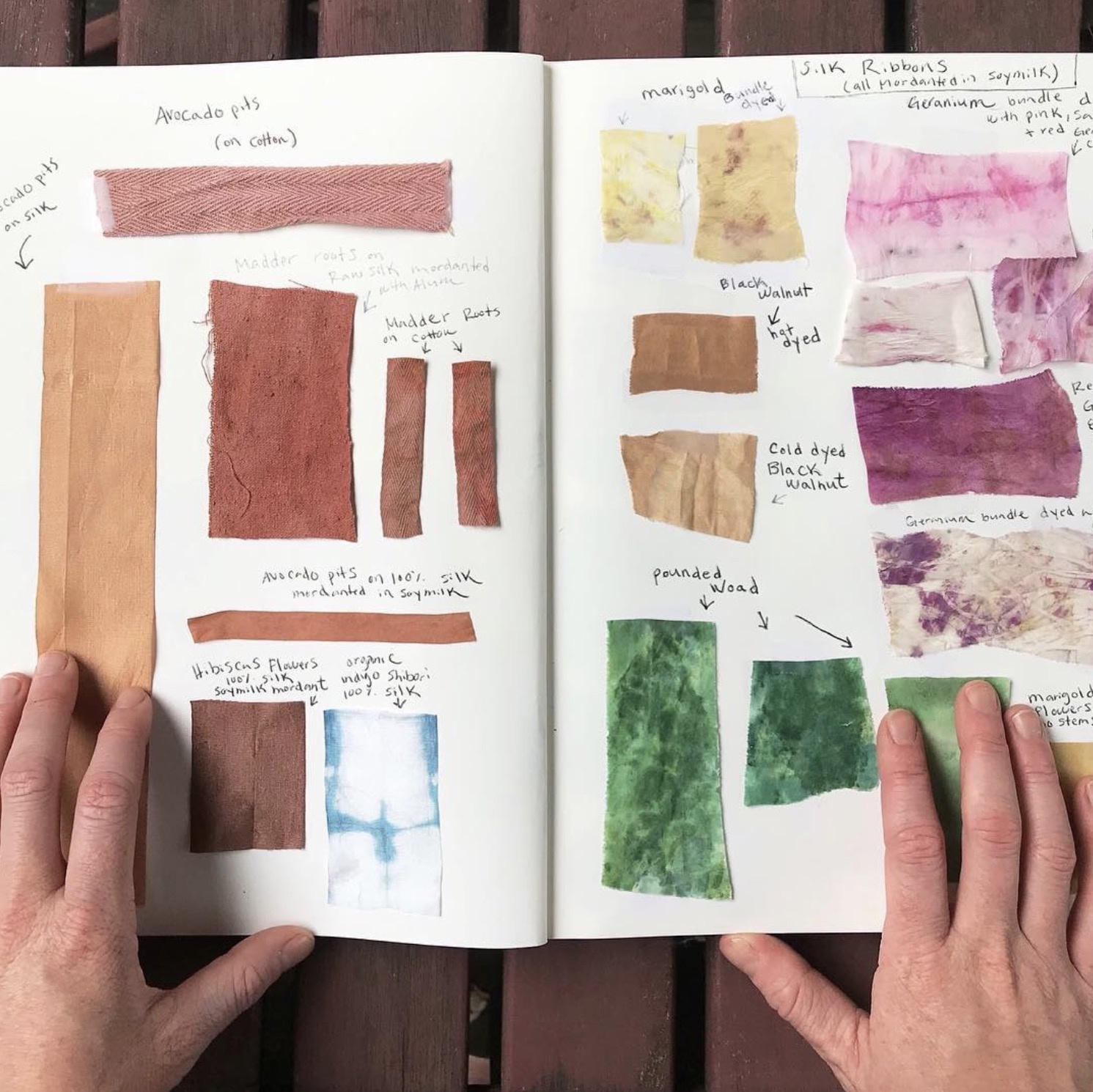 What do you love most about working with natural dyes?
Joy/play/creativity is a large part of my artistic process. Sometimes when have to rush or force the process on a deadline, I make less beautiful or interesting work, and I always have to reset by slowing down and just playing with a different materials or processes to rekindle the joy. My high school art teacher always told me to just doodle or play around with a medium we don't usually use without having pressure on myself to rekindle creativity, and I find this helps me. 
I have this creative block often when I dye in my organic sugar indigo vat in the winter outside and try to rush through it - I always end up with less vibrant and deep hues when I dye in my indigo vat in the winter because I'm cold, and it is dark, as opposed to when I'm dyeing in the indigo vat on a sunny day in my outdoor studio in the summer. In the summer my indigo dyed goods are so much richer and more complex, so I try to limit indigo dyeing in the winter months and focus on the summer months now specifically because I know it is so much more joyous and abundant in the warmer months. 
Thank you, Libby! 
Check out Libby's work, including DYI "seed-to-soak" kits and all-naturaldye-bombs (or, better yet, sign up for a Foundry x Northern Dyer Workshop!