While adorable dogs, the magical smell of beeswax candles, and oodles of gorgeous glassware are pretty darn nice, the thing that REALLY makes The Foundry feel like home is our family. Ours is a chosen family and, honestly, we've never valued the beautiful, steadfast presence of our small-and-mighty Foundry Team (and community!) more than in this wild moment in our collective histories.

One Foundry mother has a little quote taped to the fridge: Home should be the center—but not the boundary—of the affections. Historically, we've thought of our Foundry Family Features as a way to bring a little of our golden-beeswax-lit, dog-birthday-party, matching-sweatsuit, ponies-wearing-tutus-at-cocktail-hour magic from the center of our little world out into the far-flung wilds of our affections. Since our center has narrowed, we find ourselves ever more grateful for both the anchor of our core and the boundary-less nature of our connections.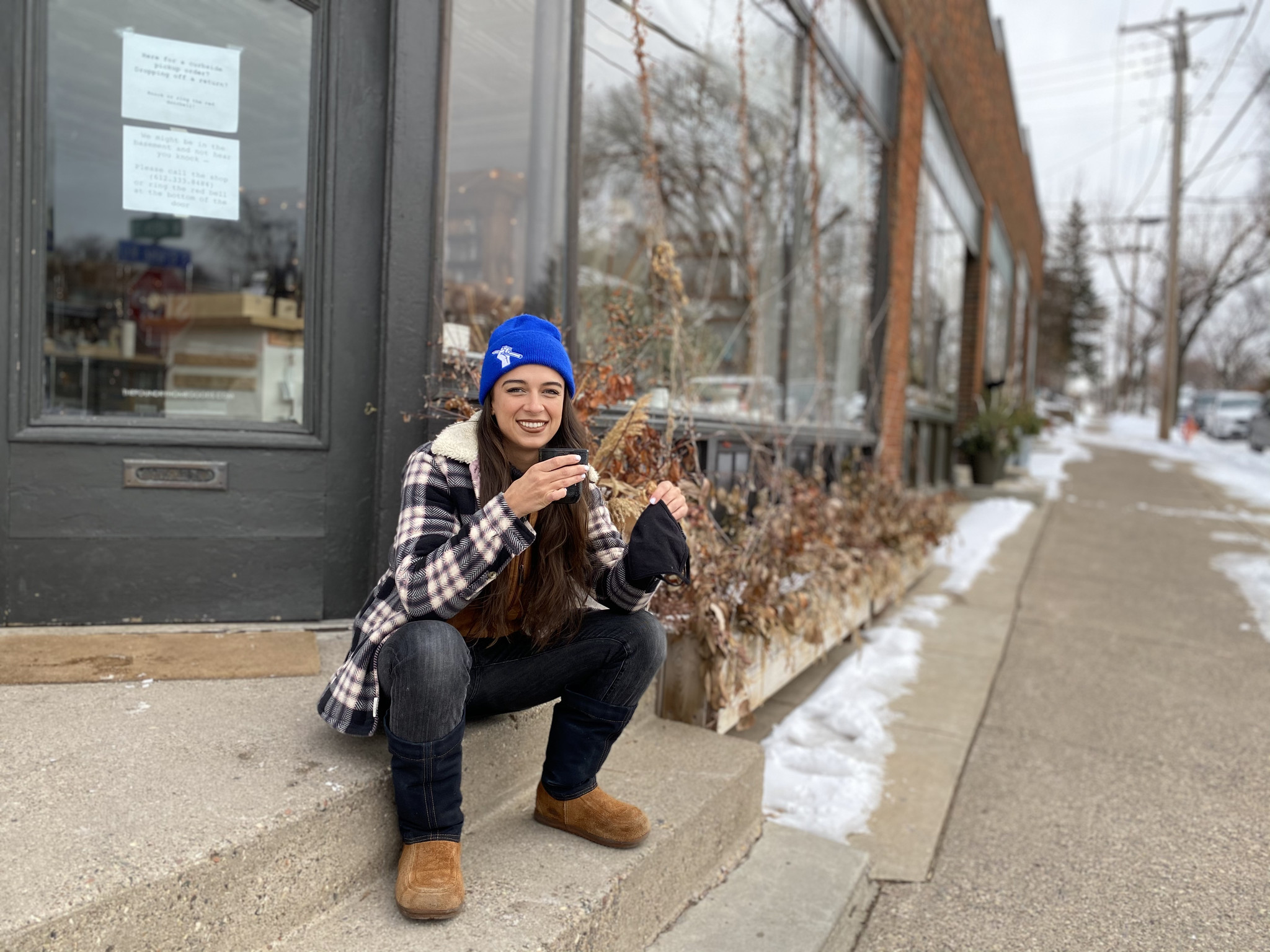 So, in the name of amplifying the magic of closing our eyes and wishing we were all together sharing a cup of something cozy, on our steps or yours (or any steps, really), we're doing a little distanced catch-up with one of the longest standing members of our Foundry Family, Katherine, a.k.a. KP! KP was the very first (human) member to join the Foundry Family, working alongside Anna in our original North Loop location until she went to get her hands dirty out with Anna's mom, Lisa, at Two Pony Gardens. She also went back to school, became a teacher, and is now adding regenerative farming "dirt expert" to her growing CV. We've been lucky enough to have her back in the shop every year for the holidays and this year we got to keep her even longer because of the tempestuous school schedule/winter pause out at the farm.
The Foundry Home Goods: Where are you right now?


Katherine: I'm at the shop! I'm solo, but it was exciting earlier today because Heather popped by to take some pictures for this interview. We were outside at a distance together for a few minutes and it felt good.


TFHG: Ahhh, the little things. Besides impromptu distance photo-shoots, what do you cherish about being at the shop?


KP: I love the moments...it's hard to explain it...but it's all about creating and holding these little moments in time. I have so many memories of being at the shop late, especially around the holidays, helping people find the exact right thing. One super magical Christmas Eve, Anna and Grant and I were at the shop late...around 9:30 maybe? And we saw two people get engaged out the window! (Foundry Note: read that little story here!) We all popped champagne and cheered! Just being together and creating those moments out of human glee and holiday jubilee. And there's still that now, but the moments look a little different... there's a lot of handing off packages at the door, joyful little dances seeing our favorite clients, and a lot of "I WISH I COULD HUG YOU's!" through the glass. I wish I could hug everybody!


TFHG: US TOO! Until then... tell us how you came to Minneapolis and how you made your way into the Foundry world?


KP: I grew up right outside the city, so I've been here my whole life pretty much. When the shop opened, I was in my early 20's and had just graduated from college with a degree in advertising, and a friend, Sarah, knew I was looking for a job and she worked down the street from the original North Loop location which had basically just opened. Coming out of ad school, people always assume that you're going to go sell whatever stuff you can sell and get a paycheck but I definitely didn't want to do that. I wanted whatever work I was doing to be something that I aligned with.


I went to the first meeting and just sat on the couch with Anna and talked about how she got there and her dreams for the shop the whole thing just felt right. Thinking about it now it's like: thank god Sarah put us together, because that decision to go to that meeting, kind of on a whim, altered the course of my whole life.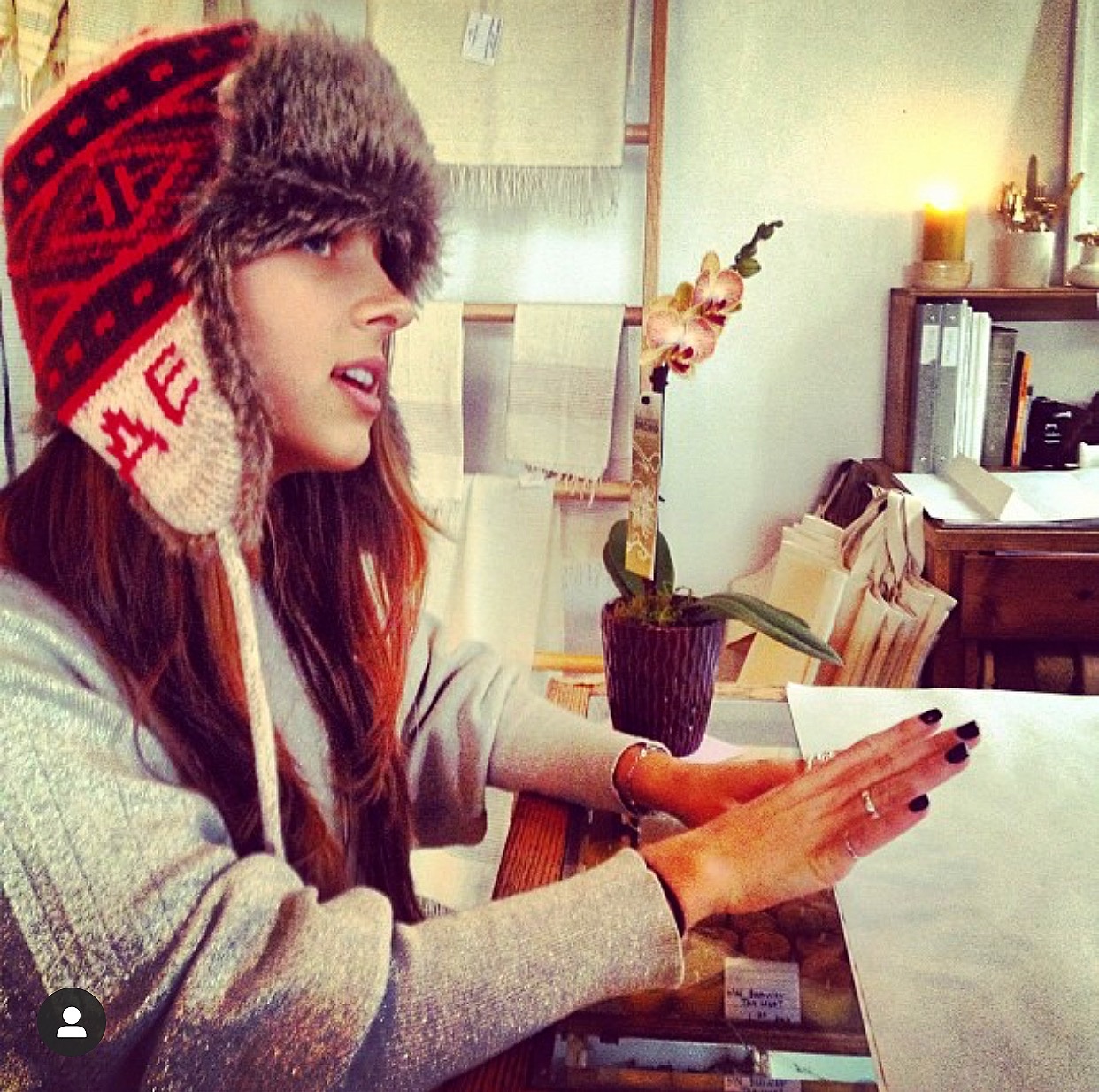 KP in the original shop! Hat: American Eagle. Nail polish: Essie Wicked. Oh, heyyy 2013!!
THFG: How do you mean?


KP: Well, it evolved in so many ways, at first it was just ten hours a day in the shop, every day, just the two of us. Oh, and Ruby of course... And then I kind of got "roped in" to working at the farm with Lisa and now that's my full time gig AND that too is evolving into this beautiful different thing than when I started. It's been one of those eternal moments where you just keep being at the right place at the right time...and that place is "somewhere in the Foundry universe".


Honestly at this point I'm not sure if I tried to, like, NOT be here I don't think that would even be an option. Anna would be like "Nope. I'm overriding that decision". And I'd just have to trust her, because she has this sixth sense for meeting people where they need to be met and then seeing what they might become.


TFHG: What do you mean when you say "roped in"?


KP: Well, that's kind of what I'm talking about! Anna likes to say that Lisa "stole me away", but I think it was more that Anna saw that there was a lot of possibility on all sides. Because I have the degree in advertising, at first Lisa asked if Anna could come help her learn how to use Eventbrite for a few hours? Oh and also, maybe some help on the website? And, hey do you know anything about cooking food because we're also thinking about doing these pizza events? Hold on, you love kids? Let's do camp! And, wait, what do you think about changing some things up with how we plant?? It slowly became this beautiful collaboration and it also opened up a lot of different mental doors for me to think of different ways of being.


Maybe that's the most important takeaway from my advertising background: everything is persuasion when you boil it down. And maybe that's why in the middle of all of this I also got a degree in education...it's all about persuasion, but for me that doesn't mean selling a thing, it's about getting people to fall in love with ideas. I'm a lifelong learner and a curious person and I collect as many knowledge nuggets as possibly can.


Being out at Two Pony, I've been given the space to be deeply curious. I became organically interested in growing food and farming and I'm a voracious reader and started really digging in. So Lisa and I decided to do the Soil Foodweb School, to learn more about closing the gaps in the nutrient cycle and allowing the literal earth to regenerate itself in ways that "conventional" ag just doesn't allow for. How we treat the land runs so parallel to how we treat ourselves. There's so much room in farming to fix so many human problems.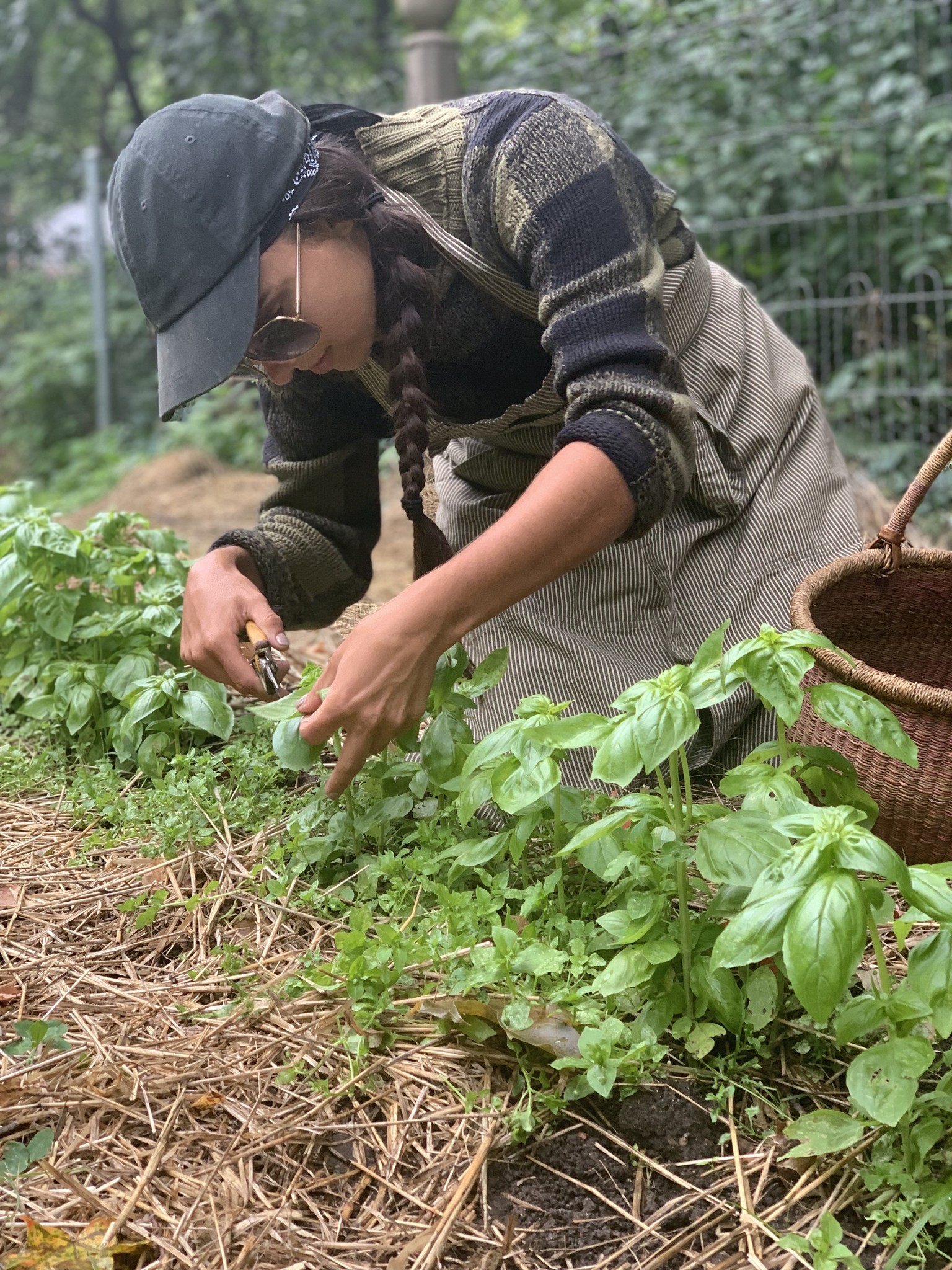 THFG: We love that–getting people to fall in love with ideas.


KP: I know! I hadn't thought of it in those terms until maybe right now. It's like: I'm innately so curious and I don't see that in everyone BUT it's a very contagious thing. If I can be nerdy enough to encourage people to be *slightly* nerdier, then I'm doing something right. I think that's what also led me to want to teach. Like, what could be better than being a middle school social studies teacher?! I was actually about to start my search for middle school social studies positions around this time last year but 2020 had other plans. But that also left the door open for diving deeper into the soil health and regenerative agriculture possibilities at Two Pony, which is a pretty incredible pivot. But...I do miss kids.


THFG: What do you miss about them?


KP: I miss awkward middle schoolers and high schoolers that tower over me. I just love kids' weird and wonderful energy and how their brains work! I really miss that energy so much. We usually do four full weeks of camp at the farm every summer and we also always have the most awesome kids who come out from the Y.E.L.L. Project at the Southside Family School...it's just so great to have someone come out thinking they hate tomatoes and then they eat a tomato off the vine and are like OHHHHHH. I missed that so much this year and we're pausing it until it feels totally safe to be together again. But! In that time and space, we're working on this major awesome shift in how we're working our soil and our land so when the kids come back there will be even WAY more amazing new ideas for me to get them to fall in love with!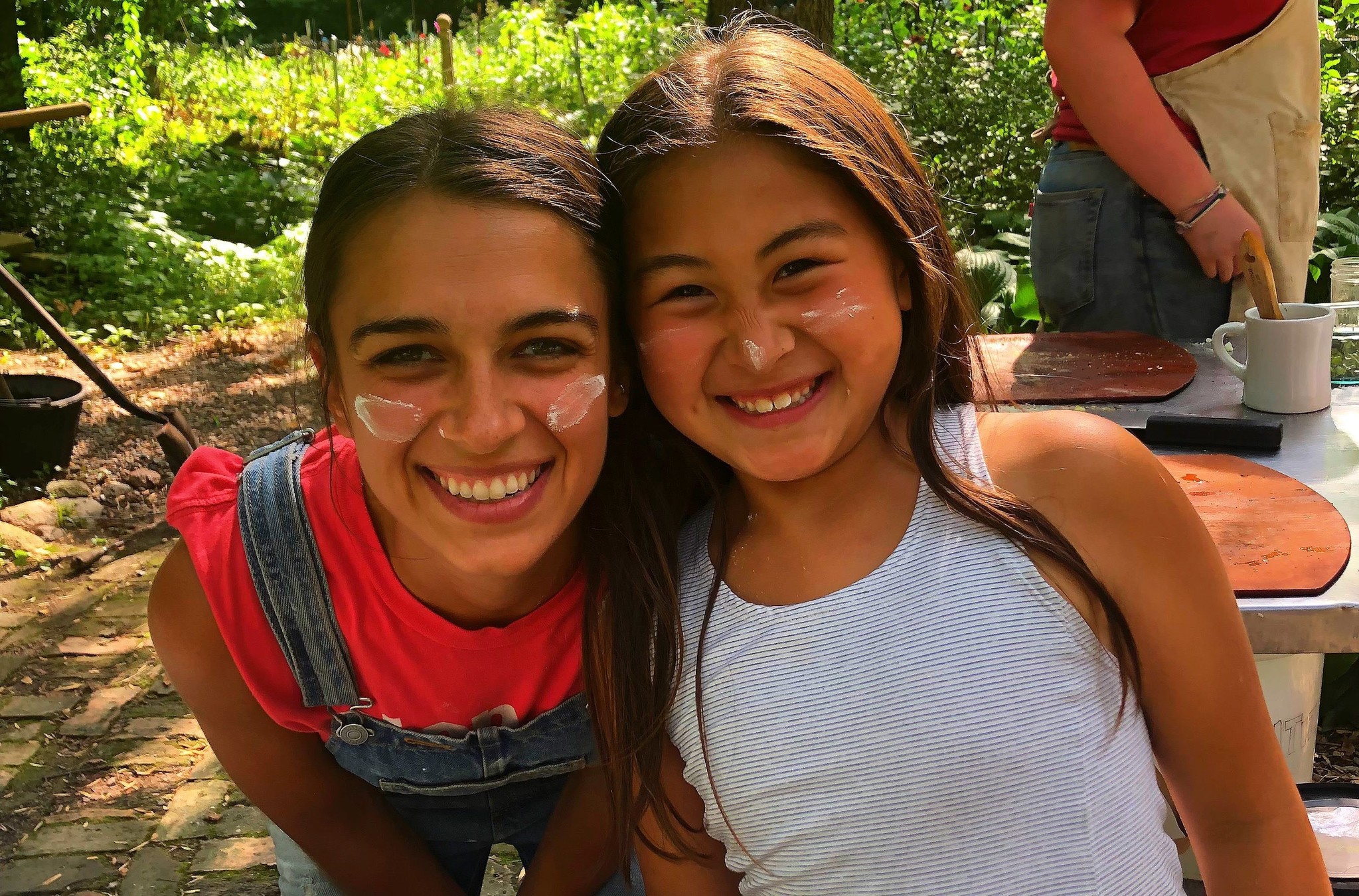 TFHG: You mentioned being a voracious reader...what are you reading right now?


KP: Right now I am reading "Gut"... yes, physically reading a book called gut about gut. Which is tying a lot of my microbiology studies together and talking about how the things work in the soil and how that is related to how things work in our bodies.


Also "Our History is the Future" by Nick Estes, that's about indigenous social justice history...Lisa and I are both listening to "Perilous Bounty" a farming doomsday book about... wait, let me read it: "The Looming Collapse of American Farming and How We Can Prevent It". Oof.


My entire reading list right now basically comes down to: treat the land as a relative and turn away from exploitative practices because all of the things—justice, equality, equity, health, prosperity—they're all tied together. I just turned 30 this year and I'm not nearly as radical as I felt prior, but it's like: we need Solidarity Economy (Foundry Note: we had to look it up, but we love it—"a wide range of economic activities that aim to prioritize social profitability instead of purely financial profits"). And honestly what that looks like in practice seems to me to be pretty much how The Foundry does things. (Foundry note: *blushes*)
TFHG: What is a book that has spoken deeply to you in your lifetime?


KP: The most influential thing I've read in the past couple of years and have read and re-read in the last couple of years—which I basically never do—is "Braiding Sweetgrass". It's a perfect blend of holistic science, deep magic, and social justice.


THFG: We feel that exact way about beekeeping, like it's the greatest synthesis of beauty and magic and nature and science and cause and effect.


KP: Ahhh, bees! At the farm we have these special "Italian Hardybees"...our beekeeper works with U of M, breeding queens to try to populate bees that are hardy enough to be in the cold north! I'm a "just a little coffee with my cream and honey" person.


TFHG: Honey in the coffee??


KP: Honey in the coffee. It's very luxurious.


TFHG: Speaking of luxurious, what's your Foundry go-to favorite thing you own?


KP: My favorite are definitely the beeswax candles. It's the thing I buy the most often, I love them. I constantly have a pillar burning when I'm home. I also love the Heavy Thermal Throw. I got mine the first Christmas we were open and have had it ever since... what's that been....7 or 8 years?


TFHG: Oh man! Love that! How's it holding up?


KP: It still looks great! I have a dark one and it hasn't faded at all. I'm one of those people who can't wear a white shirt for more than 5 minutes before getting something on it and I'm like: no way I can swing a white blanket. It would immediately be covered in spaghetti, coffee, or chocolate ice cream.

Anna's actually like that too but, remarkably, there's always white everywhere...I don't know how she does it.

TFHG: What are you currently coveting at in the shop?

KP: A sheepskin...one of the Tierra del Fuego fluffy ones! I don't even know where it's going. I think next to my bed? I'll figure it out, don't worry.

TFHG: Do you have your own shopdog/cat/intern?

KP: I don't! I find that my partner and I are too nomadic to have our own dependent. But I consider all of the animals at the farm mine so that fills that urge. Oak is my particular favorite and also Harriet the horse. Harriet is a quarter horse pony and I think Lisa got her to be company for Anna's pony, Skittlebiscuit. I always ride her when I'm at the farm.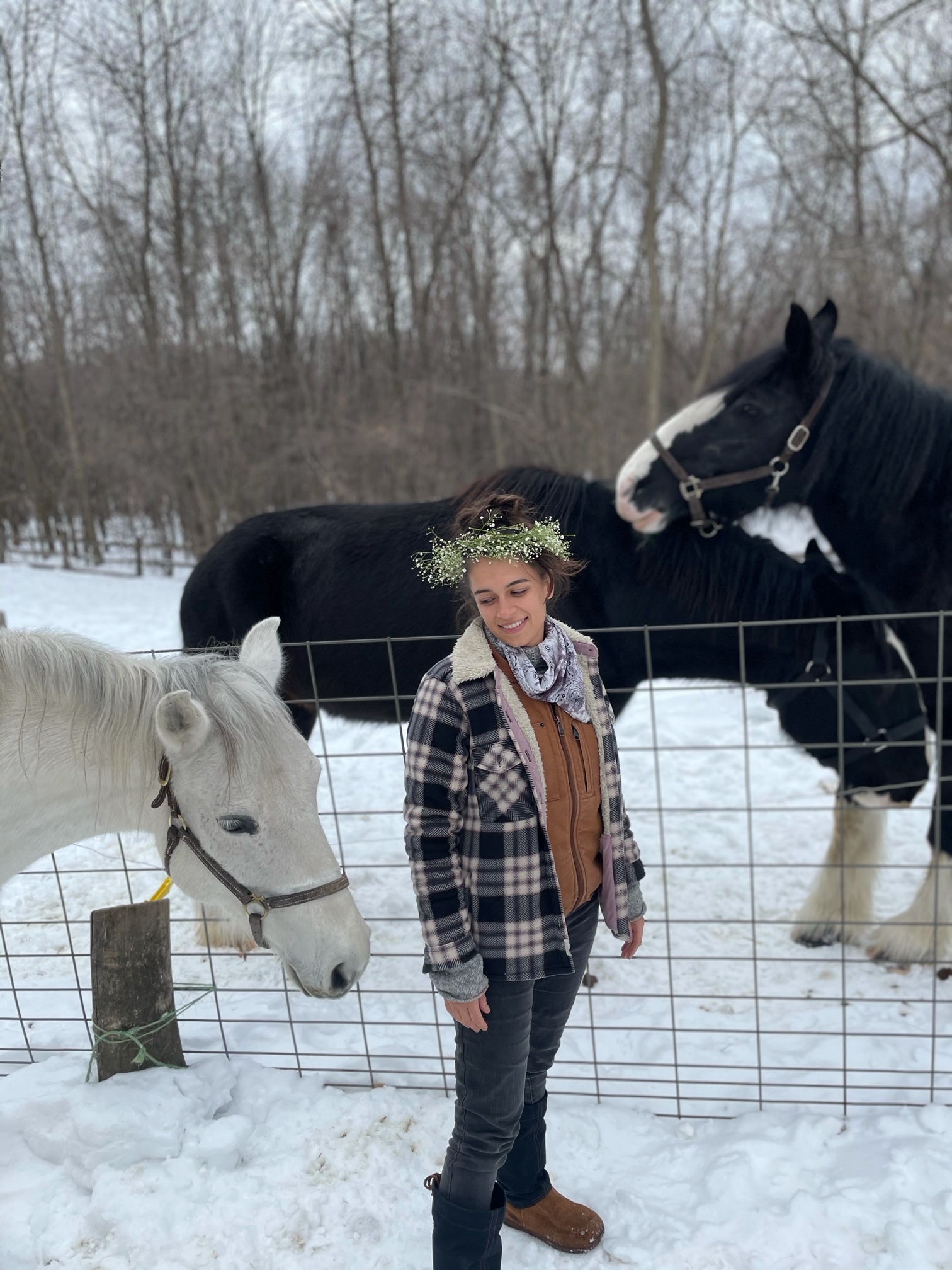 KP and Harriet.
TFHG: Oh man, we have this great mental picture of you galloping across the field, hair streaming, en route to take soil samples.
KP: Ha! It's a lot like that except no hair streaming, Lisa makes sure we're all wearing helmets which is good because Harriet is the most... spirited pony I've ever had the pleasure of working with. She's, like, half-broken (Foundry note: for non-horse people, Lillian requests that we indicate that "half-broken" means "half-tamed" and not half-"broken" like this).


TFHG: What's always in your bag or pocket?


KP: I'm currently rocking a fanny pack. I got a sweet Nature Conservancy one over the summer and I always have a Beeswax Balm Travel Size in it. I have basically given up on any other lip product. 


TFHG: And finally: Are you more of a Ruby or a Turnip?


KP: Best question in the history of questions! I have to think about that one. Definitely more of a Ruby. Not so much Turnip, but I don't know if you know Oak, Ruby's cousin? Physically I'm a Ruby but I have a real Oak energy... more masculine, more bro-ish, but with a Ruby polish.
Thank you so much KP! We love having you here with us and can't wait for more exciting Foundry and Two Pony collaborations throughout the seasons!
(Want to stay in the loop? You can follow along with the beautiful, nourishing adventures of KP and the whole Two Pony crew here and here!)