Whipped up in the blender (gasp!) and then baked, this this supremely delicious "Clafoutis" scratches the itch of "surprisingly easy weekend breakfast that feels very fancy and extra". Low on the scale of labor intensive and high on the scale of good looking and great tasting, this dish can also be filed under "a meal that is *kind of* secretly cake". We are always here for that.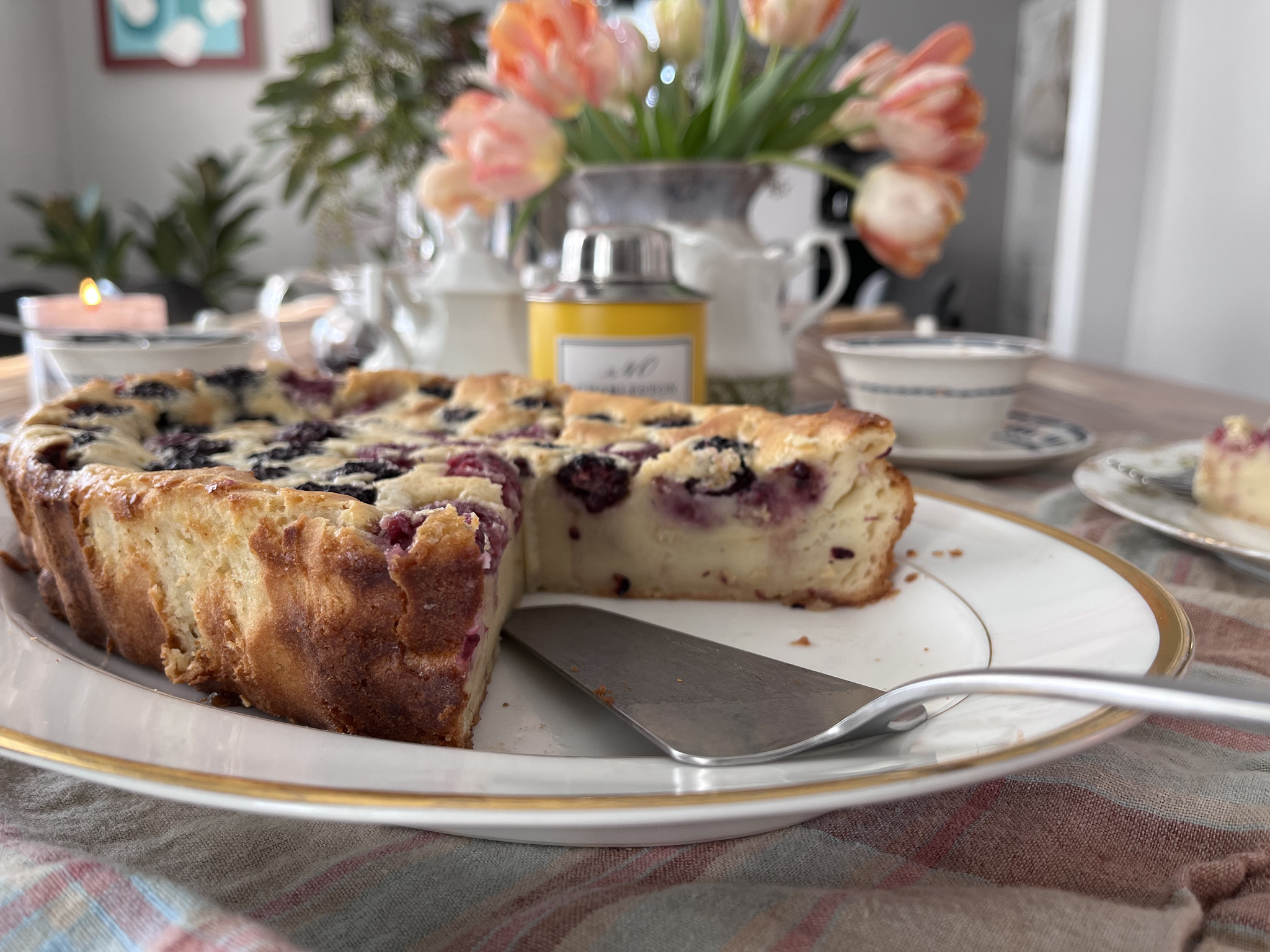 Very good with a nice cup of Bellocq tea, bien sur.

While our Saturday rituals usually include standing at the stove, somewhat relishing the time spent getting zen in our minds as we flip through endless batches of pancakes, the hands-off nature of this gorgeous Clafoutis means we have a little more time to pause over coffee or tea, perhaps pull out a favorite serving dish (vintage or new), set a lovely table with all the pretty (dishwasher safe) flatware, and revel in an easy morning. If you bake it they will come.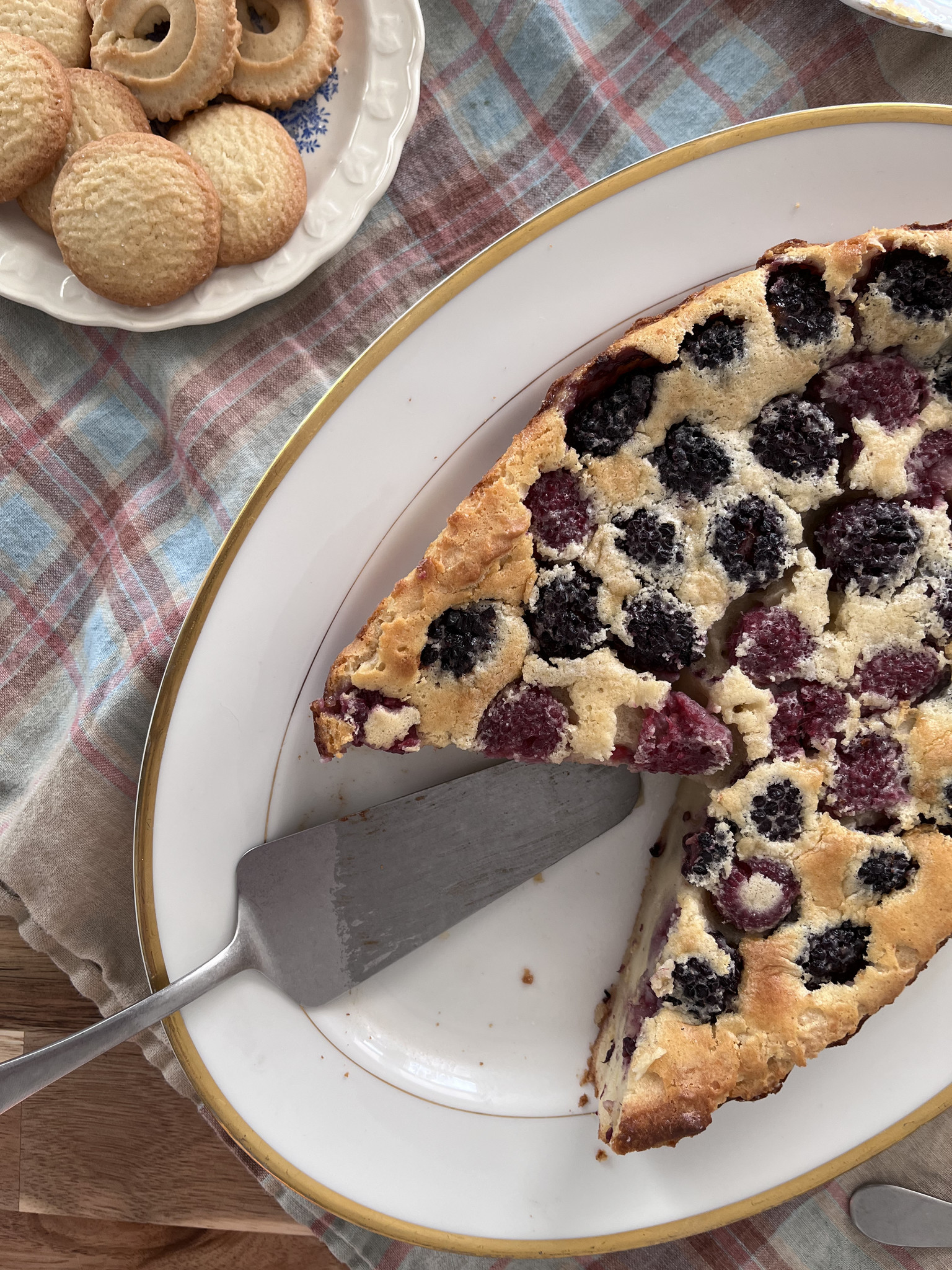 Mepra Italian Server + Flatware (brilliantly paired with Grant's collection of vintage china)
Easy Weekend Clafoutis
Inspired by

Julia Child

Grant
Ingredients
Butter for pan
1 1/4 cups whole milk
2/3 cups sugar, divided
3 eggs
1 tablespoon vanilla extract
1/8 teaspoon salt
1 cup flour
1 handful each blackberries and raspberries
1. Preheat your oven to 350º. As it heats up, butter the inside of a medium sized flameproof baking dish; it should be at least 1 and 1/2 inches deep.
2. Add the milk, 1/3 cup sugar, eggs, vanilla extract, salt, and flour into the blender and mix at top speed for minimum 1 minute, until the mixture is smooth and frothy.
3. Pour a 1/4 inch layer of batter into your dish and place on a burner set to low for 1-2 minutes. The batter should cook slightly, creating a semi-solid base at the bottom of the dish. Remove from the heat.
4. Spread your blackberries and raspberries into the dish; they do not have to be perfectly spaced but they should be pleasant looking. Sprinkle the remaining 1/3 cup of sugar over the berries evenly. Pour the rest of your batter over the berries and spread with the back of a spoon if necessary. The berries will float a bit to the top of the batter. 
5. Place your dish in the center of the oven and bake for 50 minutes to an hour; the top should puff up and crack slightly, turning a delicious golden brown. Serve slightly warm with powdered sugar if desired. 
This clafoutis is so easy, so delicious, and keeps in the fridge for coffee accompaniment the next morning (or a middle-of-the-night crouched-in-front-of-the-fridge eating-directly-from-the-pan treat.)

And don't forget, candles aren't just for dinner: light a few and read the paper with ambience.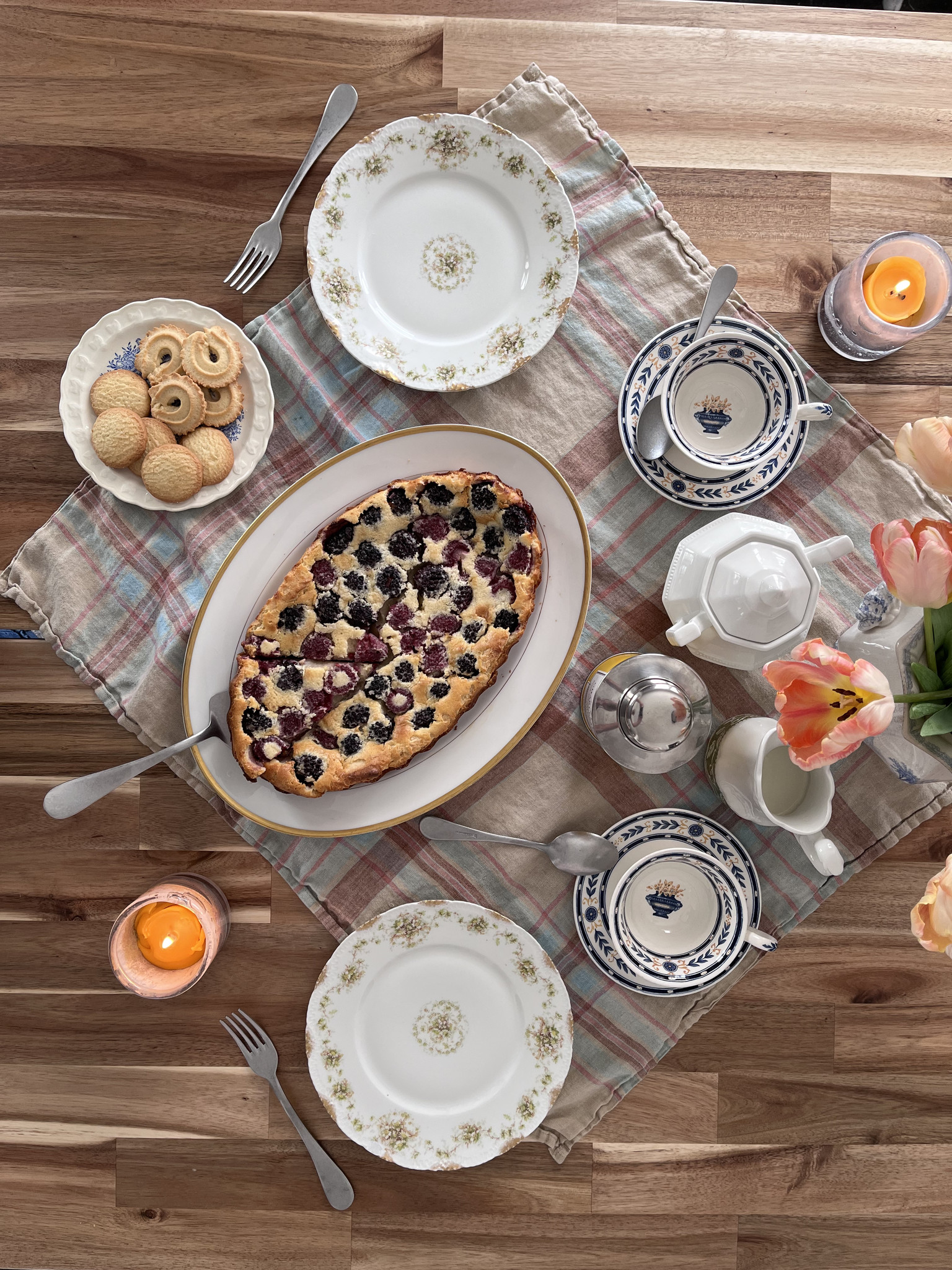 Thanks, Grant! For both the instructions for kicking off the effortless weekends we require AND the masterclass in pairing fresh Italian flatware with vintage china.