We like to think of Saipua, a New-York-based artist-driven collective (dare we say commune?) as star-crossed sisters. Dreamer-in-chief Sarah has assembled a crew of wildflower obsessives, shepherdesses, herbalists, and bon vivants who help to craft Saipua's world of wild beauty, comet bright and yet deeply anchored in family and sense of place.
Saipua's journey began, as many NYC dreams do, in a Brooklyn studio dedicated to creating many beautiful things at once. The primary lightning bolts: Sarah's wildly exquisite naturalist floral arrangements and the quietly decadent small batch bars of soap made by her mother Susan. The ride took them, as many NYC dreams do, to an upstate oasis where dahlias can take root, artists and farmers can get their hands dirty and inspire each other at the same time, sheep can grow wooly and be shorn, and soap can be batched out in something larger than Susan's original shoebox—The Farm At Worlds End. Saipua's next chapter is still being written—with an eye towards greater possibility of greater equity, beauty, justice, sovereignty, and collective ownership, naturally.

As Saipua grows and shifts, one thing stays the same: the best dang soap we've ever found is still the best dang soap around. And while the whole family (figuratively and literally, Sarah's father Pentti cuts the bars) mans the operation, it is Susan who holds it all together.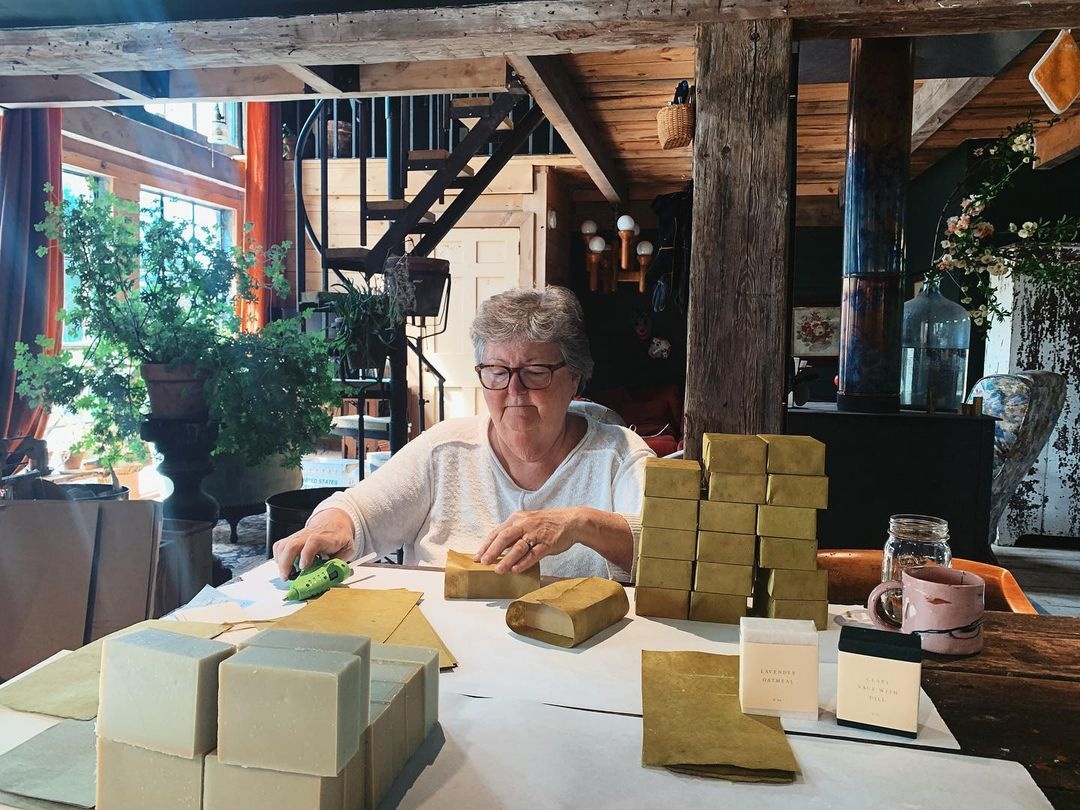 If (in that space of strange yet universal circumstance where when you meet someone in passing, in business or otherwise, and you feel a deep electric kinship, a sense of deep knowing...similar to deja vu...deja BFF?) Sarah is our mystical sister and her pup Nea is Ruby's far-off grey-whiskered packmate,  then Susan is our infinitely practical, beautifully steadfast, endlessly amazing mother (in this way, of course, she reminds us deeply of Anna's mother, Lisa, who also coaxes miraculous beauty out of hard work and ingenuity out at Two Pony Gardens). In the midst of a wild 2020 season full of changes and shifts, we asked Susan a few burning questions about the Saipua world and she—in the manner of a woman who has her own cornflower blue workwoman's soapmaking jumpsuit embroidered with the word "Boss" on the pocket—answered them for us in perfectly workwomanlike fashion.

Saipua has meant many things for many people over its blossoming history: flowers! classes! wanderlust internships! soaps! sheep! land! textiles! What do you think is at its essence right now?  
Right now soap is at the center of things. The farm isn't bringing us income right now as we've had to cancel all residencies this past year.  But soap is how we started, so we've come full circle.  
One of the things we love so deeply about Saipua soaps is their smells. It is rare to get things that are supposed to smell like beloved plants that *actually* smell like those plants... "Geranium" smelling things never seem to come close to the subtle musky-sharp floral greenness of actual geraniums, but yours does. How is this magic achieved?
I'm not sure it's magic. We don't use any synthetic fragrance. We did in the beginning, but decided years ago that we don't like synthetics…it's too much like walking by a very fragrant candle shop! Essential oils come only from plant material, so the scents are truly authentic. We also shop carefully for our essential oils. They are not all the same. Thankfully, most of our vendors will send us samples when we are designing a new soap fragrance so we can be sure it's the real deal. First, we test scent blends by mixing small amounts and tweaking until we get it just right. And then, of course, sometimes it turns out different in the soap itself, so we make a small batch of soap first to make sure it translates. Sarah and I do the 'scent testing'.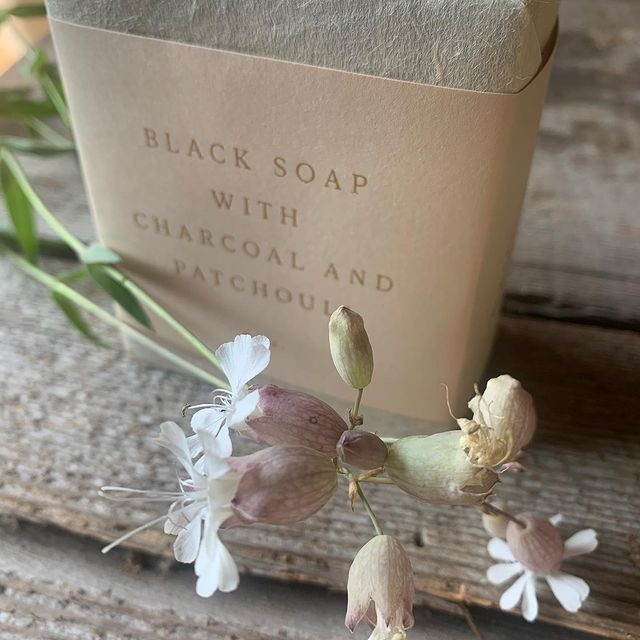 How do you come up with new products, directions, or adventures for your business? Is it outward facing (filling a need you see) or inward facing (fulfilling desires you have to learn or try new things)?

Brainstorming. Sarah and I are always talking about what to do next. Its a process and takes time. We usually look at filling a need.
Your business space is also your home space. How does that inform choices for both?
Thankfully, now the business space is in a different building and it's much better for me. Before we moved to the farm, it was on the basement level of my house! Hard to get away from work. This past spring we built a small dedicated Soap Studio on the farm, Sarah designed the space and used lots of vintage materials to do so. Now, when I leave the Soap Studio in the afternoon or evening, I don't go back until the next day!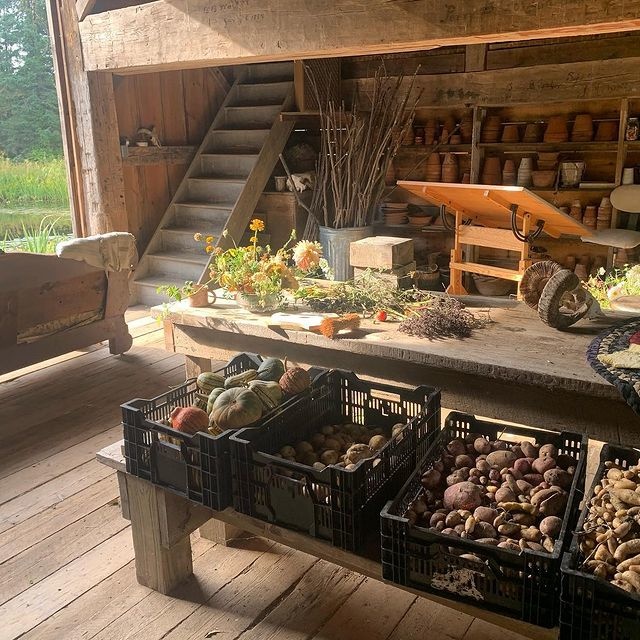 What does a typical day in your lives/work look like right now?
Seems like there is always something to do on the farm. Animals get fed and watered twice each day.  Chickens get let out of the coop…though they don't always want to come out in the snow. Planning for next year takes up a lot of our time…and some time for rest.
Tell us about your sheep! 
We have 15 right now. 3 rams and 12 ewes. The older ewes have been bred and are now separated from the rams. We name all of our sheep with a theme each year. The lambs born this past spring were all named with Egyptian names: Akhenaten, Nefertiti, Isis, Tefnut, etc.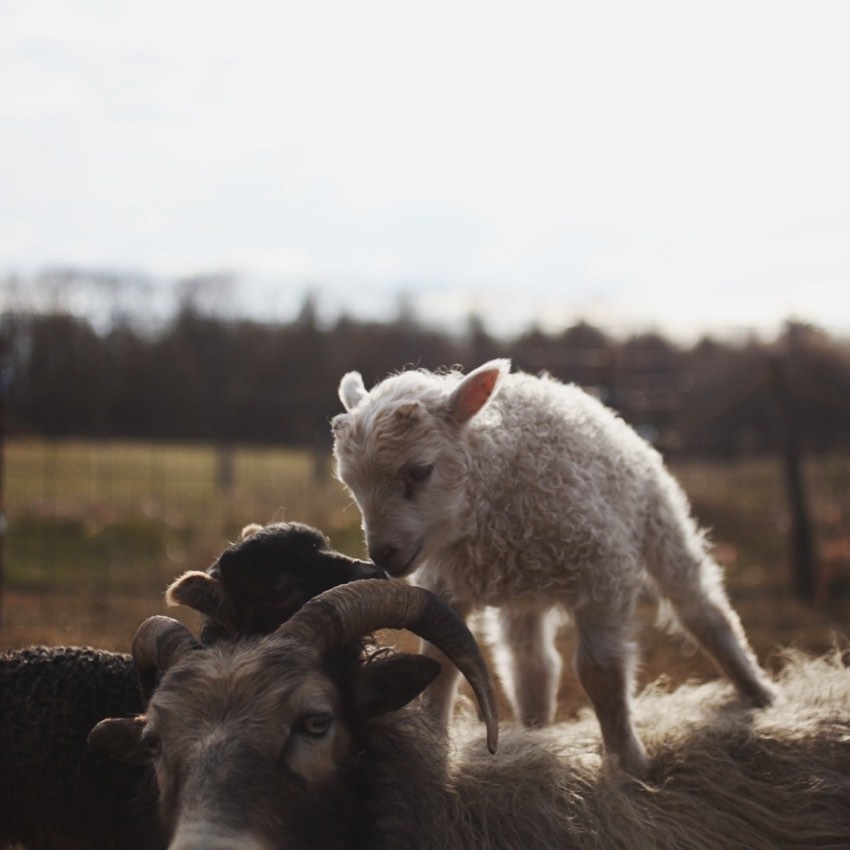 Who processes the wool into skeins and are these new skills for that person? 
We send the majority of our wool to a mill nearby that washes and spins it into yarn for us. But we also bring some of the fiber back to us 'unspun' so that we can make handspun. Both Sarah and I learned to spin when we sheared our first sheep a few years back. I love spinning….it's a relaxing pastime when the days are crazy.
Gracie is Sarah's favorite sheep and one of the original sheep.  She has black fleece and Sarah decided a couple of years ago that she wanted a sweater made of Gracie's fleece. I washed the fleece and carded it myself and then spun it into wool. I knitted the sweater. The process took at least 2 years. A few times I ran out of wool and has to process more fleece and then spin more wool.
It's a very special sweater.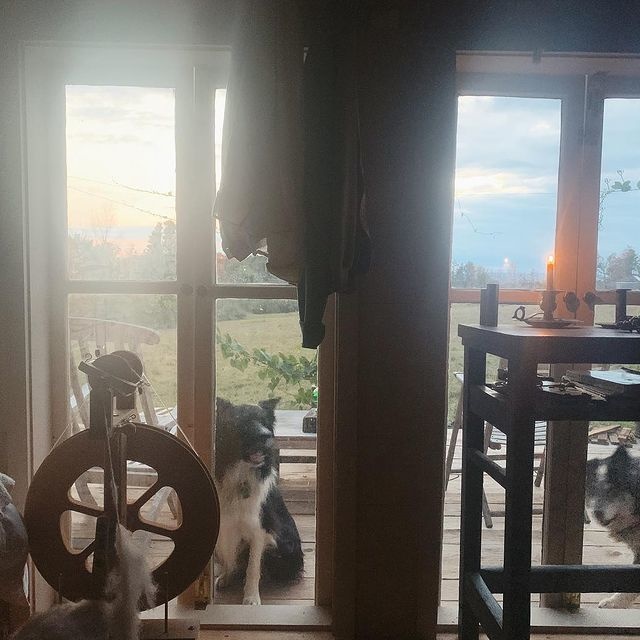 We also know that as a small business in this time we've had to pivot A LOT. Embracing change is hard, but we've also seen the power and possibility in some of our new ways of being/things we might not have ever considered otherwise. Have there been any revelations like that for you?
Yes!  It seems like soap is a huge seller in times of  pandemic. Our retail and wholesale business has been better than other years which helped to offset our loss of income from farm residencies and in-person events.
What are you missing or mourning most right now? 
Good restaurants. We don't eat out here at all right now…there are not many good restaurants in this rural area and I'm not sure we'd go if there were.
What is energizing and bringing you joy right now?
Living on the farm….it's beautiful here and it's great to be able to be with Sarah and James so we're not completely isolated.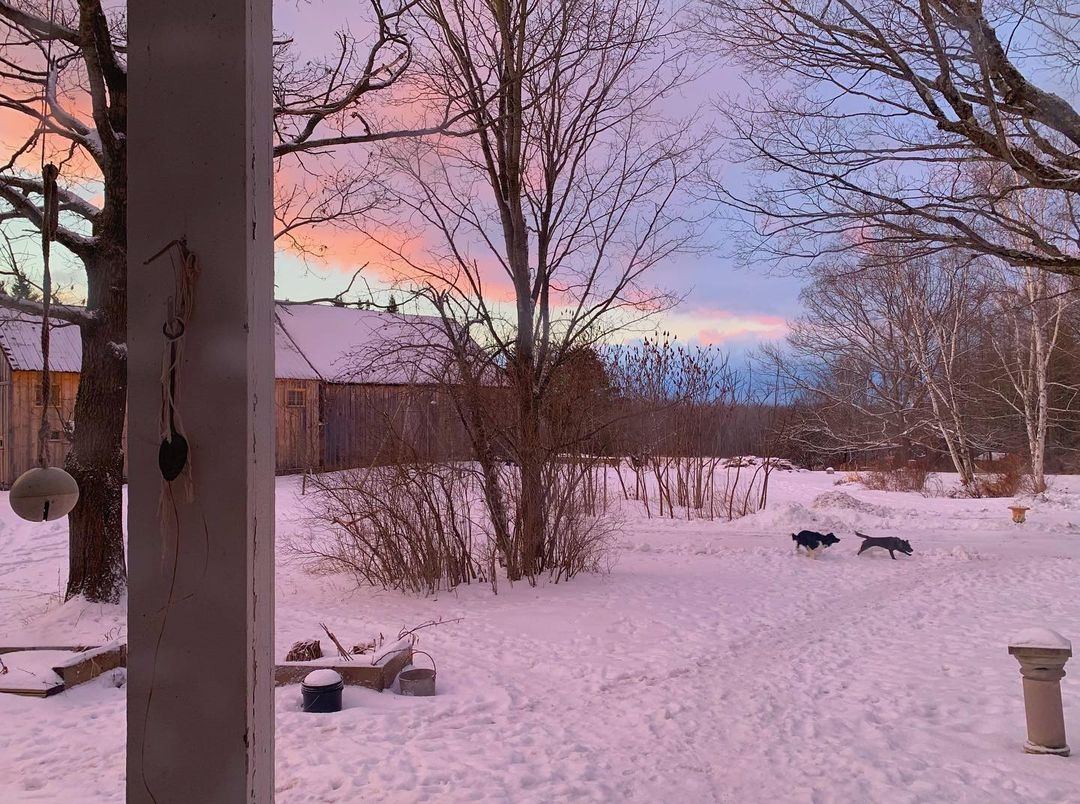 Question from our shopdogs: Who are your Saipua animals and do you think we could be pen pals?
In addition to the 15 sheep (and more to come when baby lambs are born in April!) we've got Nea, the original shopdog when we had a shop in Brooklyn. She is also about 15 and has survived being run over completely by a truck. She does like to sleep under vehicles. Georgio is our 4 yr. border collie who is in training to herd sheep. Then there are the 2 guard dogs. Puccini and Blondie. They live with the sheep 24/7 and guard them from predators like coyotes.
They might like a video chat…they all have terrible handwriting. 
*We spoke with Susan in the midst of the wild 2020 season. We highly recommend following along with their beautiful adventures (and for current news, updates, and the status of artist residencies and flower-making loveliness on their farm etc)
here!
*