If you've popped into the shop recently you *may* have noticed something awesome (and no, we're not just talking about the amazing folding-cot-as-Valentine-chill-zone, though that is certainly worth mentioning). We're talking about our brand new BULK CLEANING REFILL STATION!
After a ton of research (and more than a few literal smell tests) we've stocked our refillable cleaning arsenal with ethically produced, sustainably sourced, powerhouse cleaning products from an awesome BIPOC-owned cleaning collaborative: PUR Home.
We are currently obsessed with their super-powered powdered Laundry Soap which—your grandmother would tell you—is much more efficient in the machine and easier on the planet and wallet than water-heavy liquid detergents. Unlike grandma's Fels Naptha and Borax, however, PUR's laundry powder is scented with Sweet Orange, Bergamot, and Grapefruit oils as is their a powdered Oxygen Whitener and Stain remover. For dishes + surfaces there's a grease-cutting liquid dish soap and a brilliant all-purpose surface cleaner.
These products make everything feel sparkly clean and fresh—including your conscience.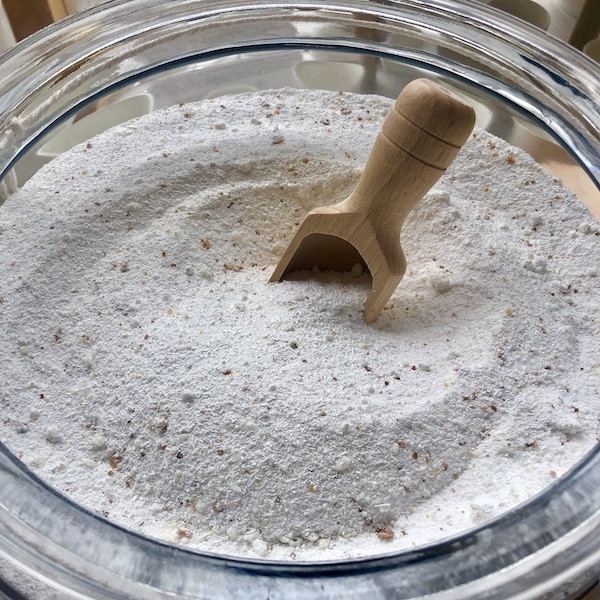 For tree-huggers: CEO Angela (product genius and self-proclaimed soap-obsessive) hand selects organic and raw ingredients that are plant-based, biodegradable, and low toxicity.
For animal-lovers: PUR Home is proudly Leaping Bunny Certified—which means they don't test any of their products on animals or source any ingredients from companies that do...Ruby approves.
For fact-checkers: all of PUR Home's products also rate a 1 or 2 on the EWG Website.
For number-crunchers: buying powerful products from small vendors you trust—from cleaning concentrates to ready-to-suds classics—in bulk is actually more cost effective than big-box chemicals we tend to think of as "affordable".
For label-haters: For anyone who hates looking at a giant thing of Palmolive sitting next to the sink, buying in bulk by definition allows you to use and fill your own container. We have a selection of sweet flip top decanters, screw top bottles, or plain 'ol favorite jars (and we also think that powdered laundry soaps are prettttty nifty in an enamel storage container dedicated to the purpose). We'll also be launching our own in-house containers for easy refill soon! We highly recommend any of those. HOWEVER. You can literally use anything! As long as we know how many ounces it holds, we're more than happy to fill up your vintage Japanese sake bottle, that cool old seltzer sprayer you've been holding on to, or your Grecian urn.
For small-space-livers: Similarly, for those of us with limited counter, under-counter, bathroom, or laundry-room space, buying in bulk can mean downsizing necessary storage requirements and diversifying your cleaning systems to better fit your needs and desires.
When we examine the costs—environmental, ecological, physiological, and, of course, monetary—of jumbo-sized, chemical-heavy cleansers shipped across vast distances housed in single-use petroleum-based plastic containers, choosing to transition to environmentally friendly, naturally-fantastic-smelling versions of our go-to cleaners stored in the beautiful, functional, re-usable vessels of our choosing feels like a no-brainer.
Ready to bulk up? Come on in we'll get you set up!