In ruminating on color, it seems that there are no constants. Like Monet's haystacks, freshly turned earth before and after the delicate dampening cast of dew, or the subtle sky around Madame Moon as the sun and stars argue over who will tuck her in at night...color is ever changing.
The same is true for watercolors. The intensity and shadow of even a single color pot depends on the exact conditions at the moment it is being worked. Consider Anong Beam's exquisite hand-crafted watercolor paints. In her native Ojibwe, "-aande" means "it is colored". Ziigwun Azaadibuk'aande. It is colored the sweet and hopeful green of spring. Zoogpoh'aande. It is colored the soft quiet hush of drifted snow. Dwaagi Azaadibuk'aande. It is colored the last burst of flaming fall yellow of the changing poplar tree. But, like those exact things in real life, the name doesn't quite cover the whole thing, end of story. The color, like the words, are just our human grasp at getting as close as we can to the impossible stunning truth of the real deal. Living with them, being present in their world, and trying our very best to call the very colors forth into being. THAT is the beauty of the thing.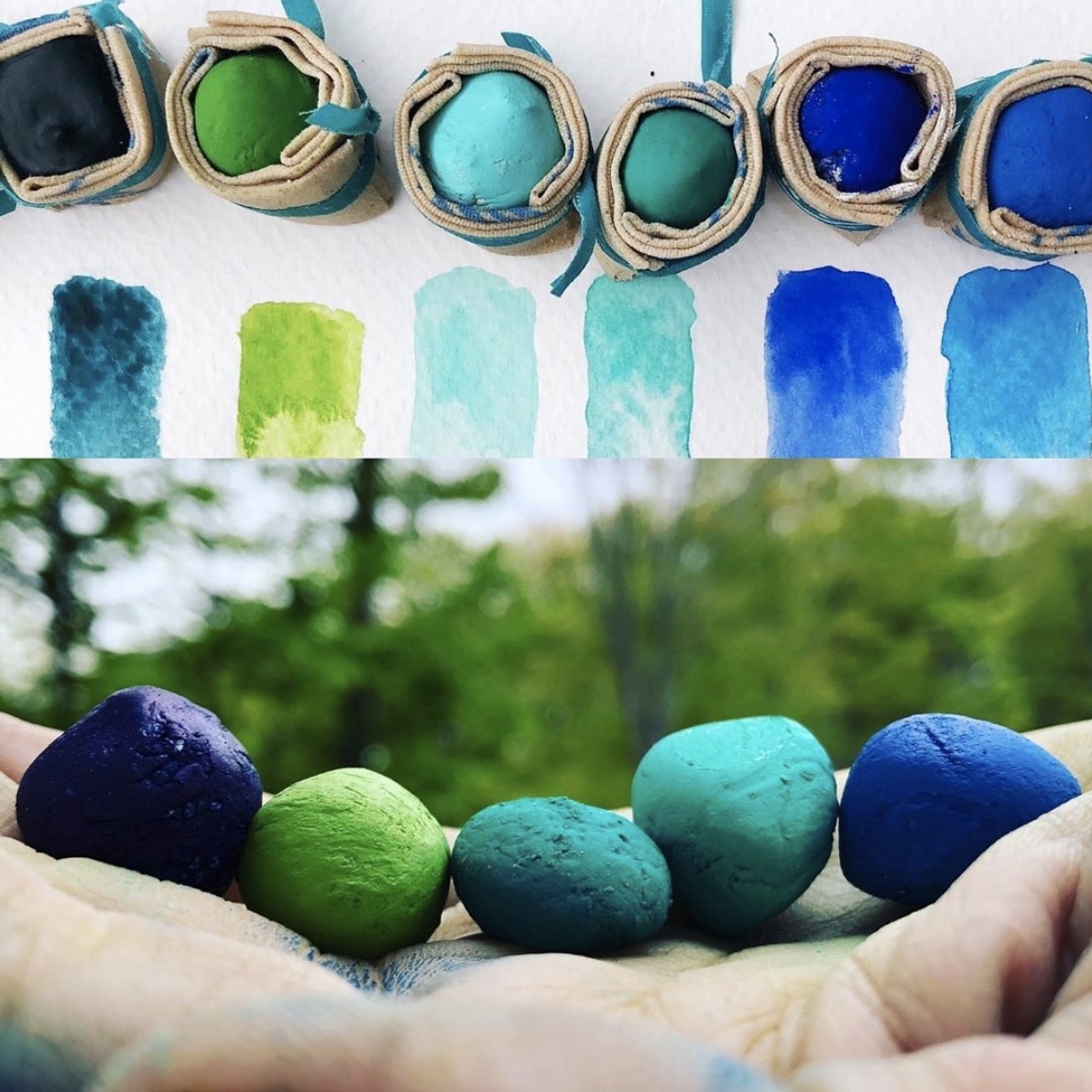 Raised by two artists in M'chigeeng First Nation on Manitoulin Island in Canada, Anong Beam was taught this power of color and palette from an early age. She would go with her father to harvest hematite pigment in the Lacloche Mountains and watch him prepare his "painting stones" using ceramic bowls, drumheads, or rocks.
Anong's indigenous-owned, female-led paint company is a testament to this rich tradition and artistic legacy.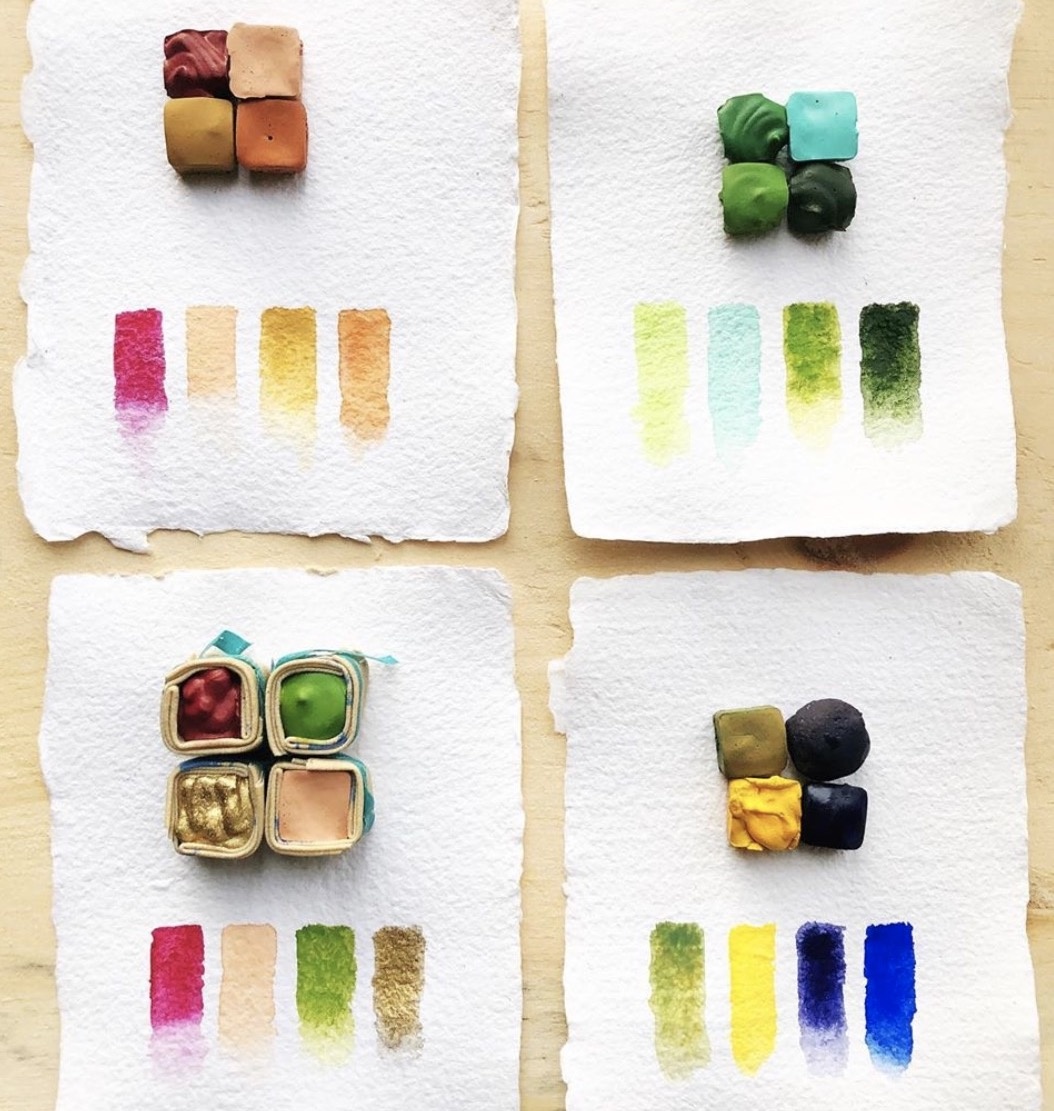 Made with Manitoulin honey, wildcrafted tree sap, hand-gathered, washed, and sifted stone, and the finest lightfast pigments, the paints themselves are smooth, luscious, easy to work with, beautiful in their pure, steadfastly non-toxic simplicity. And if you're looking to deploy these gorgeous "paint stones", we commissioned custom tabletop palettes to keep the rainbow within easy reach.
Dazzled by her palette and vision, and deeply moved by the true and honest pleasures that come from making and using something that is equal parts ancient and modern, useful and beautiful, we wanted to go deeper into Anong's brilliantly colorful world. So, we sat down and asked her all. kinds. of. questions. From meditations on motherhood to what kinds of tools she swears by, we were delighted to step into Anong's cozy studio and learn more about her paints, processes, and passions.

I am in my kitchen that is across the street from where my mum lives and I grew up. I now live with my boyfriend and two sons, my workshop is just out the front door in a small garage bay in a larger lumber and forestry operation that belongs to my boyfriend. This is where I find all the small pieces of wood to repurpose into palettes. All this busyness is in Mchigeeng First Nation, Manintoulin Island, the largest fresh water island in the world, at the very top of the Niagara Escarpment, in Lake Huron.

Tell us about your journey as an artist and your introduction into indigenous painting traditions. 
My mum and Dad were both full time artists, and from the time I was born they brought me with them into their full time practice. I was home schooled and did four regular years in high school, then four years art school, then back to work with them, particularly with my father as his studio assistant.
I have very vivid memories of colour, and my introductions to them...the names, smells, their qualities. I really loved going with my parents off into fields, rock cuts, gravel pits. We were always looking for rocks and fossils, clay and crystals, minerals.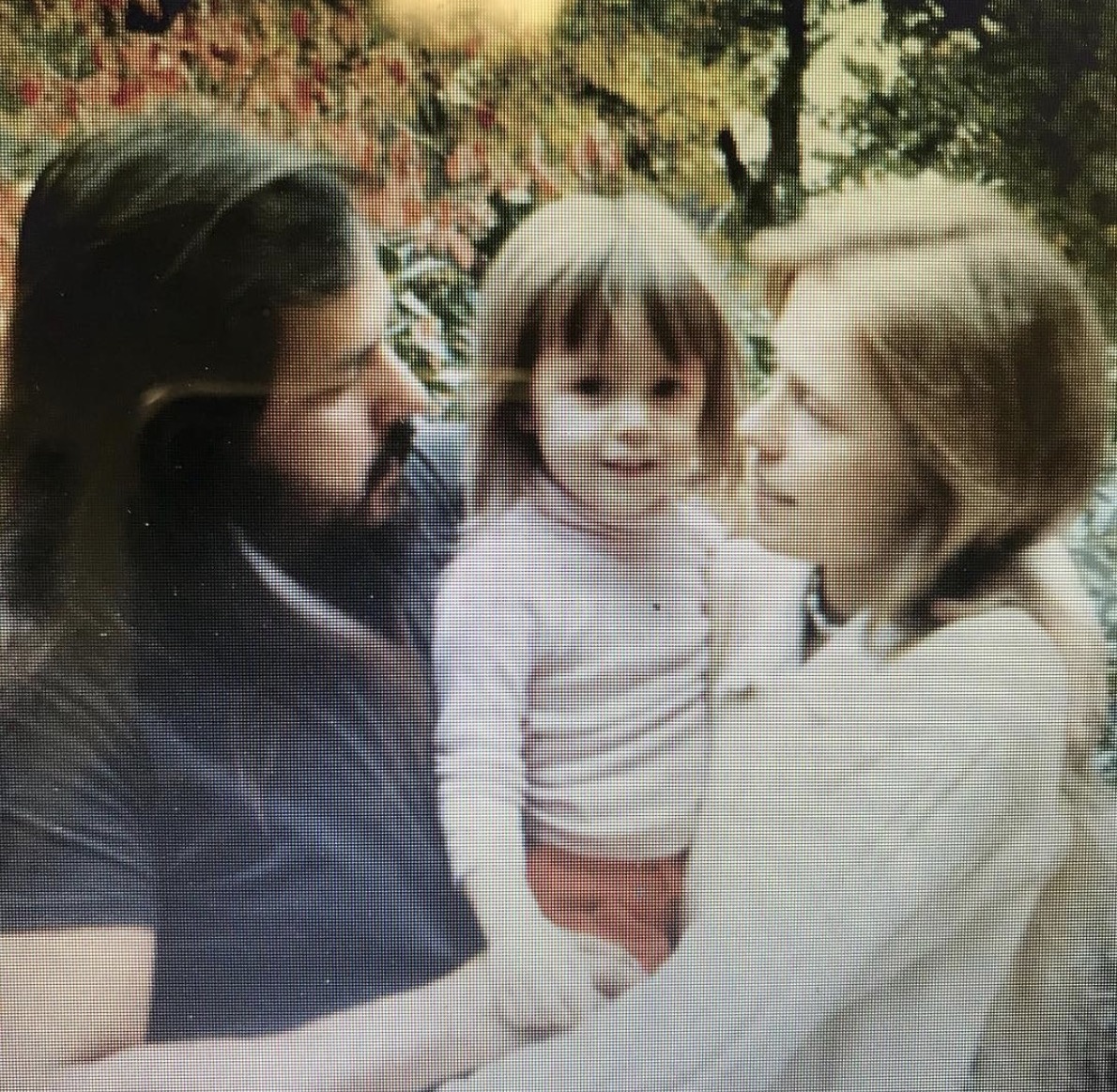 How is art-making approached, valued, or limited in your cultural tradition (like: do only "artists" paint? Is there such a construct? Is paint, paintmaking, and painting tied to religion/spirituality (in an official capacity or not)? How is the information shared/passed down?
In my cultural tradition there isn't really a way of dividing it off as a task "over there", or something separate. There is no real word for it as a separate pursuit really, there are words for painting and drawing, writing, and making images, "Mizzins", and there is the knowledge that it is a powerful thing.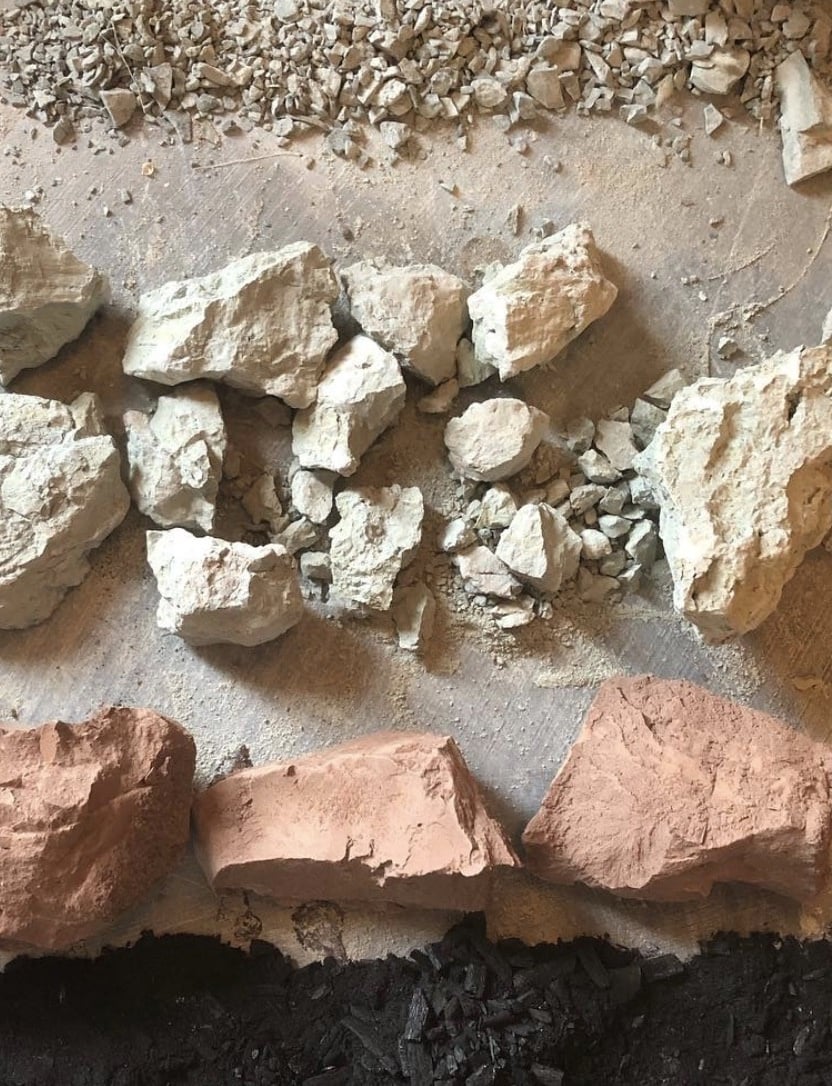 While watercolors span geological epochs and infinite artistic traditions, when many people think about "watercolors" their thinking is limited to English Landscape painting. How does your perspective on indigenous painting culture relate to the intersection of traditions? 
Really neat question!! I remember learning watercolour as a medium that had different ways it could express. It was the pigments my dad dug, and that we packed in cloth bags, and filed into dust, painted on drums or ceramic, it was also the gold Pelikan paint pucks I had in my travel box. Our house was full of books on
Turner
,
the Wyeths
, and also
ledger drawings
, the
Lascaux cave paintings
.
Gaugain
,
Monet
,
Joseph Beuys
. I really saw the whole pantheon. Spread out that way, that it seemed to me to all be majestic and equal in its expression. Although I had a very unusual upbringing, I believe each culture brings a viewpoint, and we are at a fantastic time in that they are all combining, and recombining at an incredible rate. It's almost absurd now to imagine that one would stay stacked in ones own cultural silo, when the possibilities for collaboration with others or even in isolation with oneself and all the myriad possibilities laid out by the sheer access to information relating to others practices and such. 
My garage opens up in the summer to look out onto a busy yard, not like a house yard but a full forestry operation yard, so it's not uncommon to hear birds singing in the trees and then a giant machine drives by, or people are welding things. Lots of busyness. 
All the time!! I'm always finding out new things. Lately it was that charcoal wont be bound by a binder like other pigments. Even in oil paint, the paint will dry but the charcoal can still be smudged around as if you drew it on.
I personally love the German names, Koenig Blau, and the French, and I love to name them in my language. Ojibwe, great ocean "gchi gaaming"
Man so hard! I remember green in an intense way! It's one of my first memories, my mum points up a canopy of spring maples, sun filtering through, "chartreuse"
The second would probably be peony pink red, the same colour as cherry popsicles! I used to sneak into my neighbour's yard and lay on the ground under their large peony garden, and smell the earth and look up through the petals at the sun.