In The Foundry world, pancakes are a thing.
Celebratory pancake suppers, camping pancakes, okonomiyaki-inspired savory pancakes, pancake birthday cakes (above), heart shaped pancake towers (below), Swedish pancakes, heck, LATKES. We pretty much love all pancakes. In fact, in the same way that some people look at the world through rose-colored glasses, we look at the world through the sweet haze of pancake specs: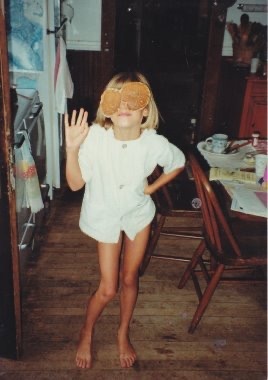 With all of this pancake love it's hard to play favorites as to which cake takes the...cake. But. The ritual of Saturday Pancakes is high on the list of things we *flip* out for.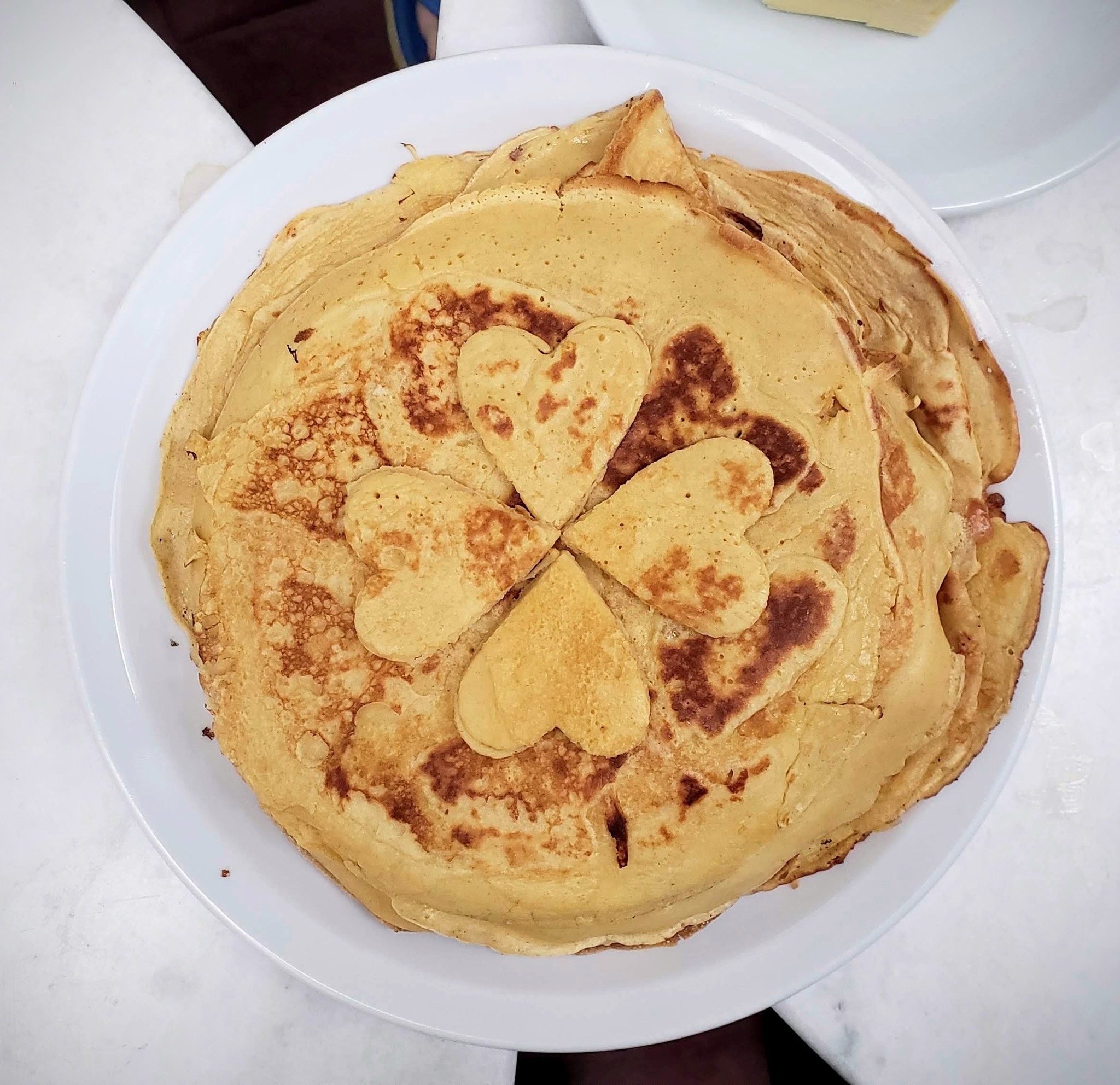 The weekend breakfast is one of our favorite meals (which is saying something because we deeply love all meals) and pancakes are our weekly go-to. While pancakes are—for the early riser or the bold soul—certainly suitable for weekday mornings (all of the batters below *could* technically be whipped up in advance and fried up to order before work/school/the mundanities of whatever your weekday might bring) everything about making pancakes on the weekend just *fits*.

The process of putting together the batter is a zen koan for a single chef at the whisk OR the perfect task to busy the paws of squirrelly little ones who would otherwise be underfoot. The repetitive act of pouring, waiting, flipping, and slipping directly onto a hungry plate (or into a warm oven if all want to sit and eat together) is the perfect way to still the mind and open the breath to the meditative possibilities of the day.

Infinitely riffable with the addition of fresh berries *while cooking* (Anna), frying in coconut oil (Jay), lemon juice and powdered sugar (Lillian), or rainbow sprinkles (Lois), we will always and forever swear by unsalted butter and fresh, hand-rendered real Two Pony maple syrup WARMED UP and ready for drizzling. 

Here are three Foundry Family go-to weekend pancake recipes, each tried and true and perfectly tailored to deliver exactly whatever you need from your pancake breakfast.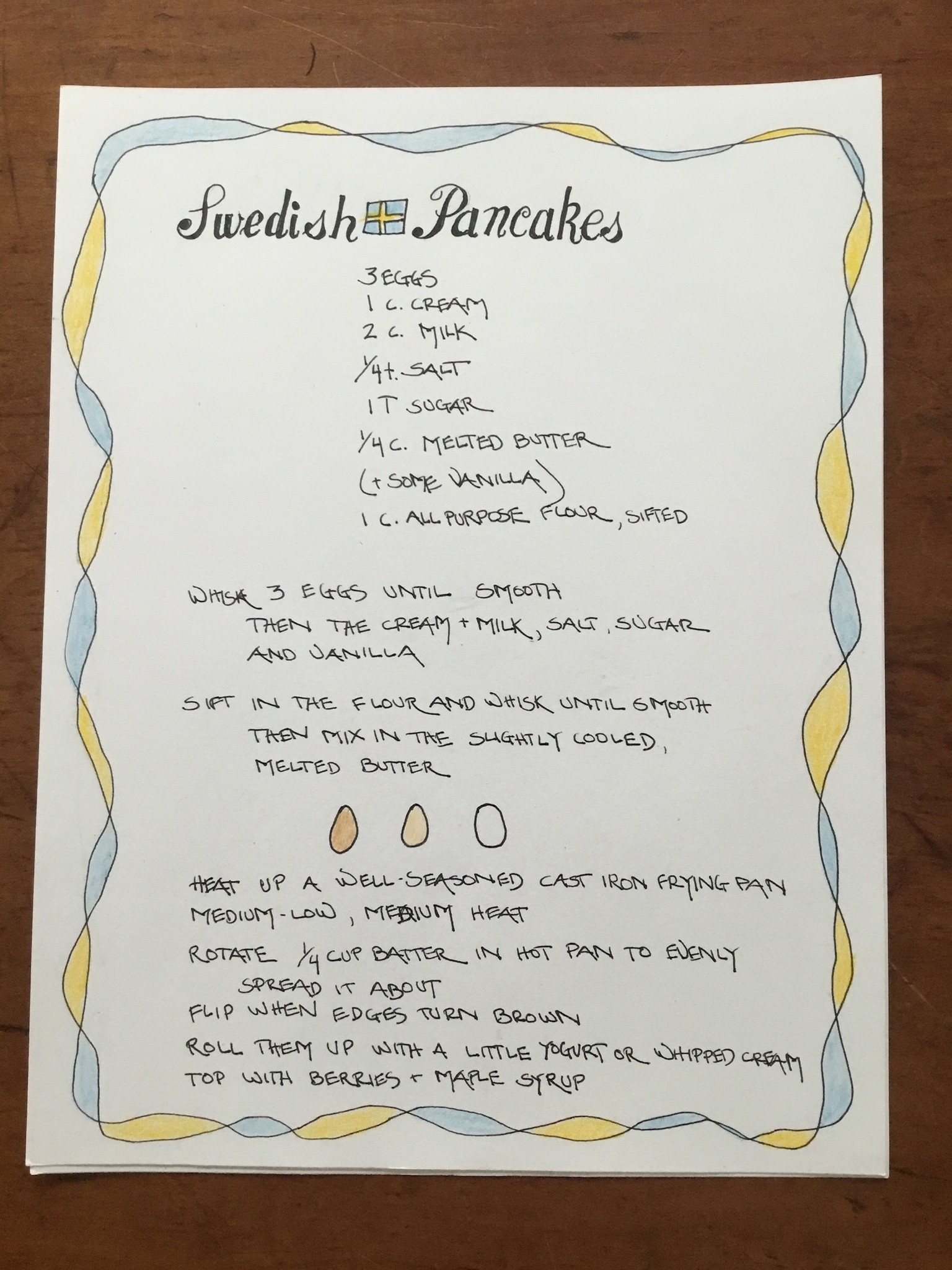 Of course Lisa's Swedish Pancake Recipe is a mind map! It's also the most elevated of our pancake recipes, making large, crepe-inspired single pancakes in a pan and requiring the oh-so-extra extra step of melting half a stick of butter first. As if we all needed another excuse to use our new favorite butter warmer ;) AND when you're done adding the butter just add the maple syrup right in there to gather any leftover butter and warm it all right up for serving. Here's the recipe written out for those of us who like it like that:


LISA'S SWEDISH PANCAKES

3 Eggs
1 Cup Cream
2 Cups Milk
1/4 Tsp Salt
1 Tbsp Sugar
1/4 Melted Butter
A Splash of Vanilla Extract
1 Cup All Purpose Flour, Sifted

Whisk 3 eggs until smooth.
Then the cream + milk, salt, sugar, and vanilla.

Sift in the flour and whisk until smooth.
Then mix in the slightly cooled, melted butter.

Heat up a well-seasoned cast iron frying pan, Medium-Low/Medium Heat
Rotate 1/4 cup batter in hot pan to evenly spread it about.

Flip when edges turn brown.

Roll them up with a little yogurt or whipped cream.

Top with berries + maple syrup.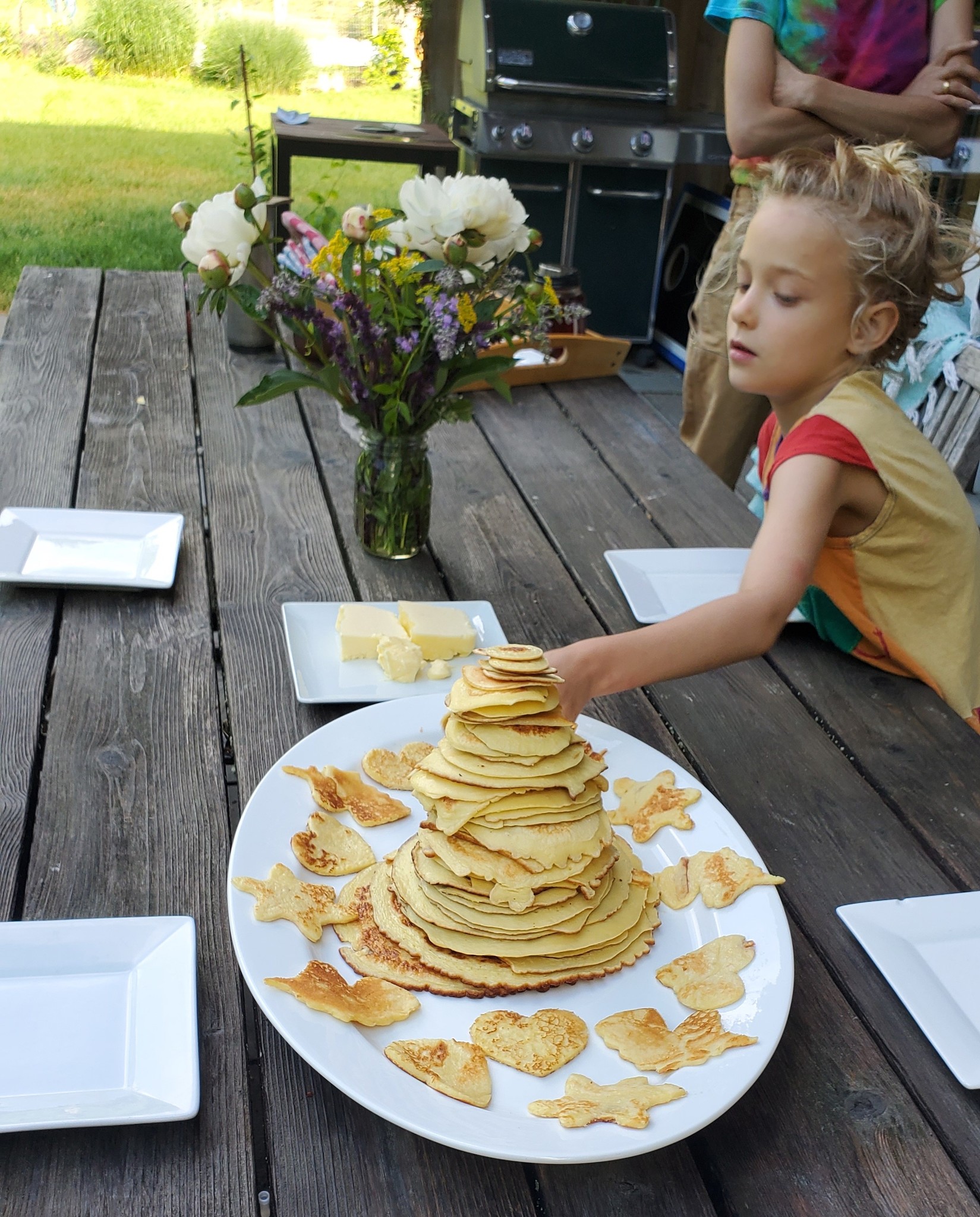 Anna's brother-from-another-mother/poet/pancake maker in chief, Jay, has a beautiful commitment to a beautiful pancake lifestyle. Turning out a big pile of slender-but-sturdy, delicate-but-delicious cakes that can be made any diameter (see the tower above), this recipe is completely foolproof AND scalable for big breakfast-do's. While he prefers coconut oil for cooking (!) don't think that doesn't mean he doesn't also serve with giant slabs of room temperature butter, ready for spready.


JAY'S PANCAKES: IT'S A LIFESTYLE

3 cups flour (ideally half whole wheat and half all purpose)
½ teaspoon salt
1 teaspoon baking powder
2 tablespoons sugar
3 cups of yogurt (can substitute milk)
10 eggs
1.5 tablespoon vanilla
Coconut oil for cooking

Combine dry ingredients in a bowl and mix

Add remaining ingredients and mix well (recommend immersion blender)
Cook up!

Use cookie cutters after cooking (use less batter for thinner pancake) for heart, star, unicorn or other shapes to delight young and old alike (do not overuse this trick or it will lose its charming-ness)

Makes enough for 4 pancake eaters, plus 3-5 "snacking" pancakes (very durable, no crumbs, use beeswrap or similar for easy transport and packing)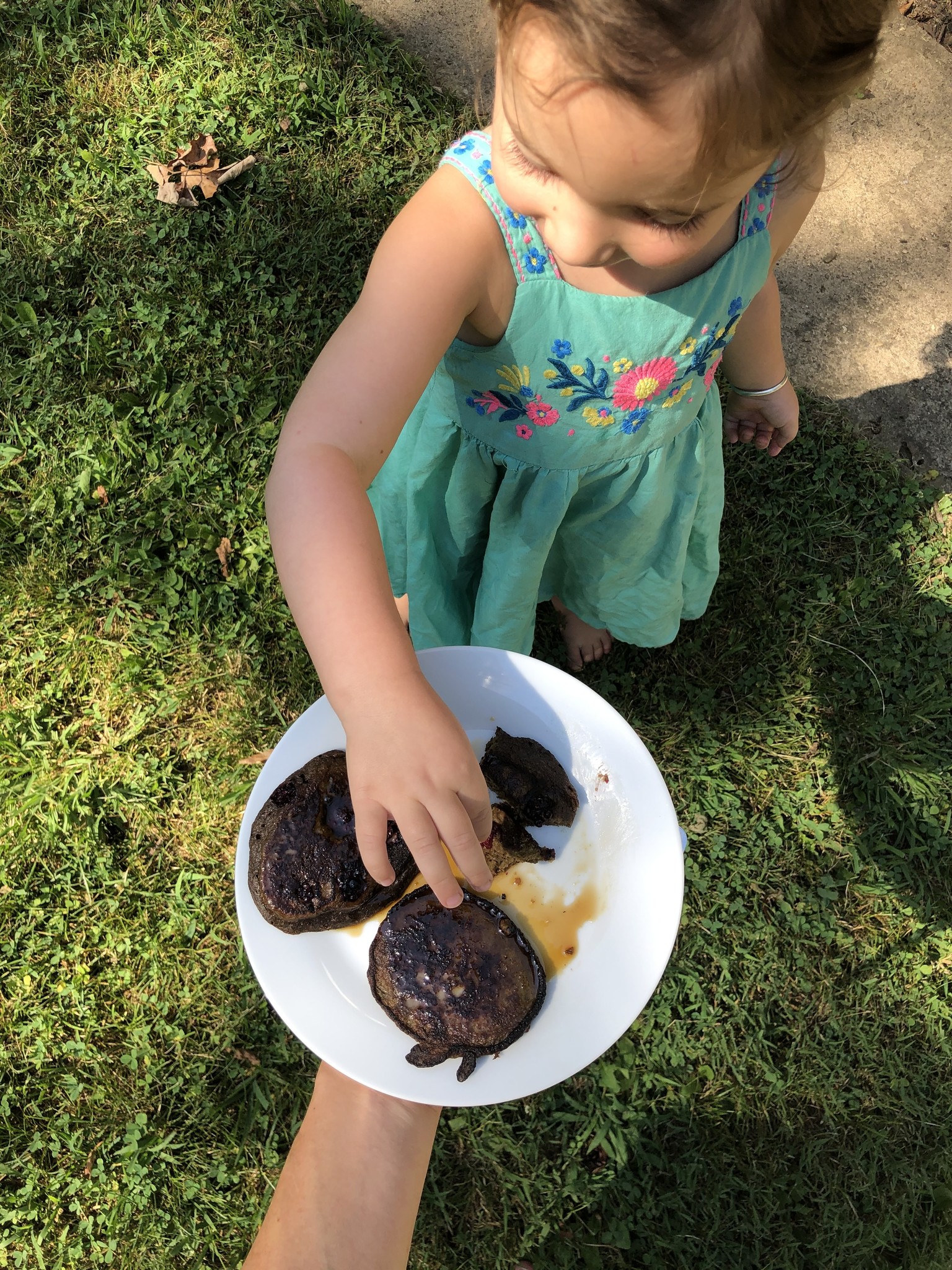 Susannah's "Green Pancakes" began as a way to use up "tired" greens or bonus greens like beet or turnip tops. The slightly heftier ingredients give these pancakes a little more sticking power in the bellies of kiddoes who really feel their metabolisms and might really benefit from an anchor in their weekend morning. By request these have also been made: PINK (swap greens for beets), ORANGE (swap pumpkin), YELLOW (swap + 2 bananas + 1/2c oats + tbsp turmeric), and PURPLE (add two cups of ripe blackberries, mulberries, or blueberries in season).


SUSANNAH'S GREEN PANCAKES: A MOTHER'S RITUAL

4 eggs
1/3 cup neutral oil
1 cup greek yogurt
1 1/2 bananas
2 cups oats
5-6 cups dark leafy greens, like kale/spinach/chard

Using a powerful blender, add all of the ingredients in the order they are listed above and blend until smooth. You can really pack the blender full to the top with the greens, just shove 'em on in there. Fry pancakes 4 at a time in a skillet with abundant butter, adding them to a baking dish in a warm oven until all are ready. Serve with warm maple syrup.

This makes about 20-25 thinner, smaller pancakes and they are DELICIOUS. A household of 3 often has enough for another day's breakfast or drive-by snacking. Kiddoes often request sprinkles, and, depending on their age/stove comfort, love to be tasked with sprinkling them on the top side of their cake while cooking/before flipping/which melts into a rainbow.