This time of year it becomes essential to capture snatches of sweetness whenever and wherever you can.
Sometimes that sweetness is metaphorical (taking a walk in the last of the precious golden light, breathing the aching cold air, and noticing the quiet beauty of the architecture of the bare trees, say) but sometimes it is literal...as the prophet said: just a spoonful of sugar helps the medicine go down. Now is the perfect time to bring a little something sweet, fancy, and just plain special to the rituals of the days, in the most delightful way.

Enter: a gorgeously illustrated apothecary-style bottle delicious N/A drinking syrup. Delicately flavored with sustainably sourced botanicals and lovingly crafted in Paris by a team of bon-vivants and alchemists, these next-level syrups are so marvelously extra, a little frivolous in the best possible way, the perfect dose of literal AND metaphorical sweetness for your winter get down.

We've been loving it drizzled over just-warm Everything Cakes, adding a tot to the daily seltzer, or literally just spooning it over fresh snow for a Foundry-grownup-and-kiddo approved après sledding treat: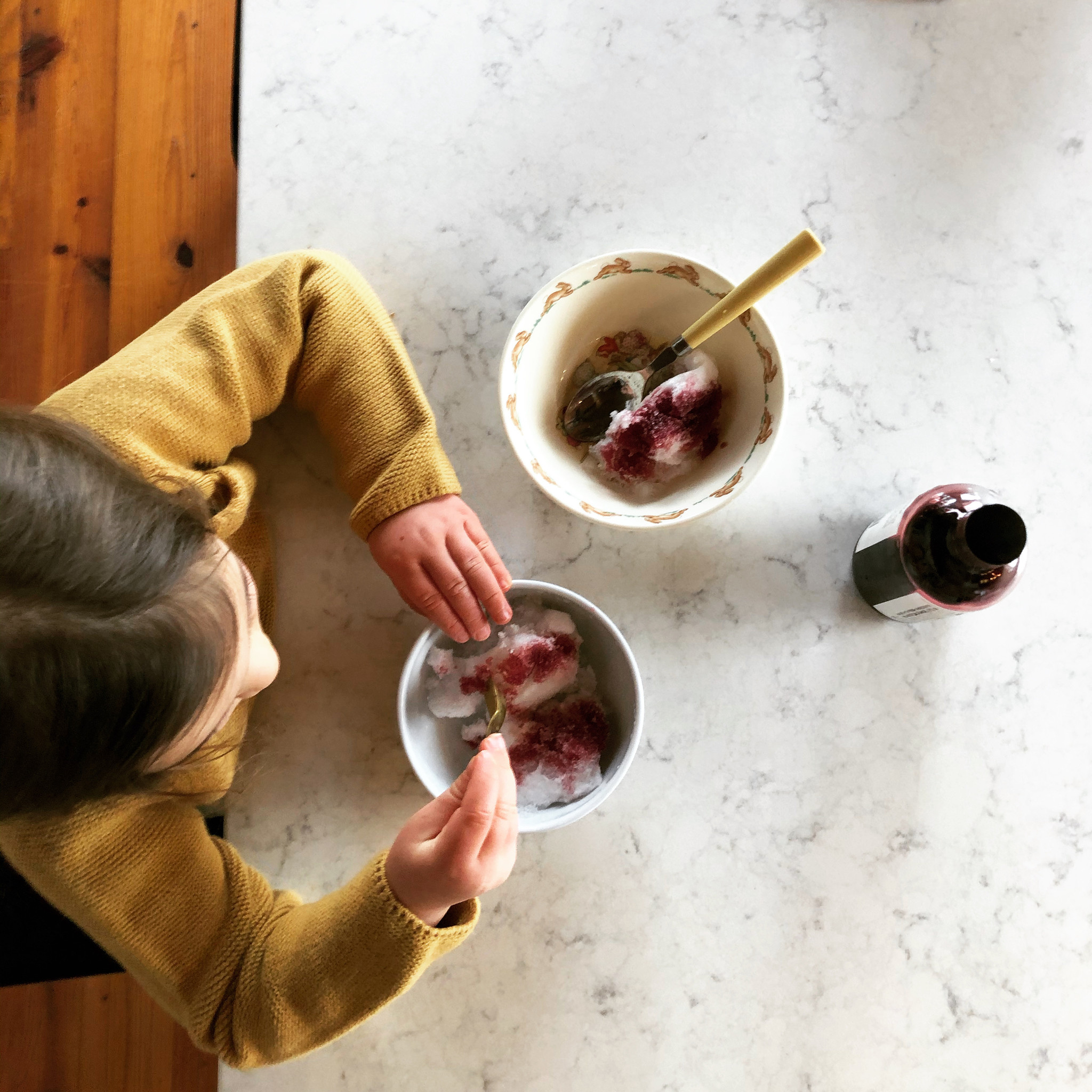 If some part of your ritual sweetness requires a more sophisticated application than simply syrup + snow (though even that feels *quite* fancy), we've been enjoying tinkering around with these flavor pairings, with a little additional genius from our own resident mixologist, Grant—trust him on that pickle juice, friends. Fun suggestions for sweet times, tailored by flavor profile below: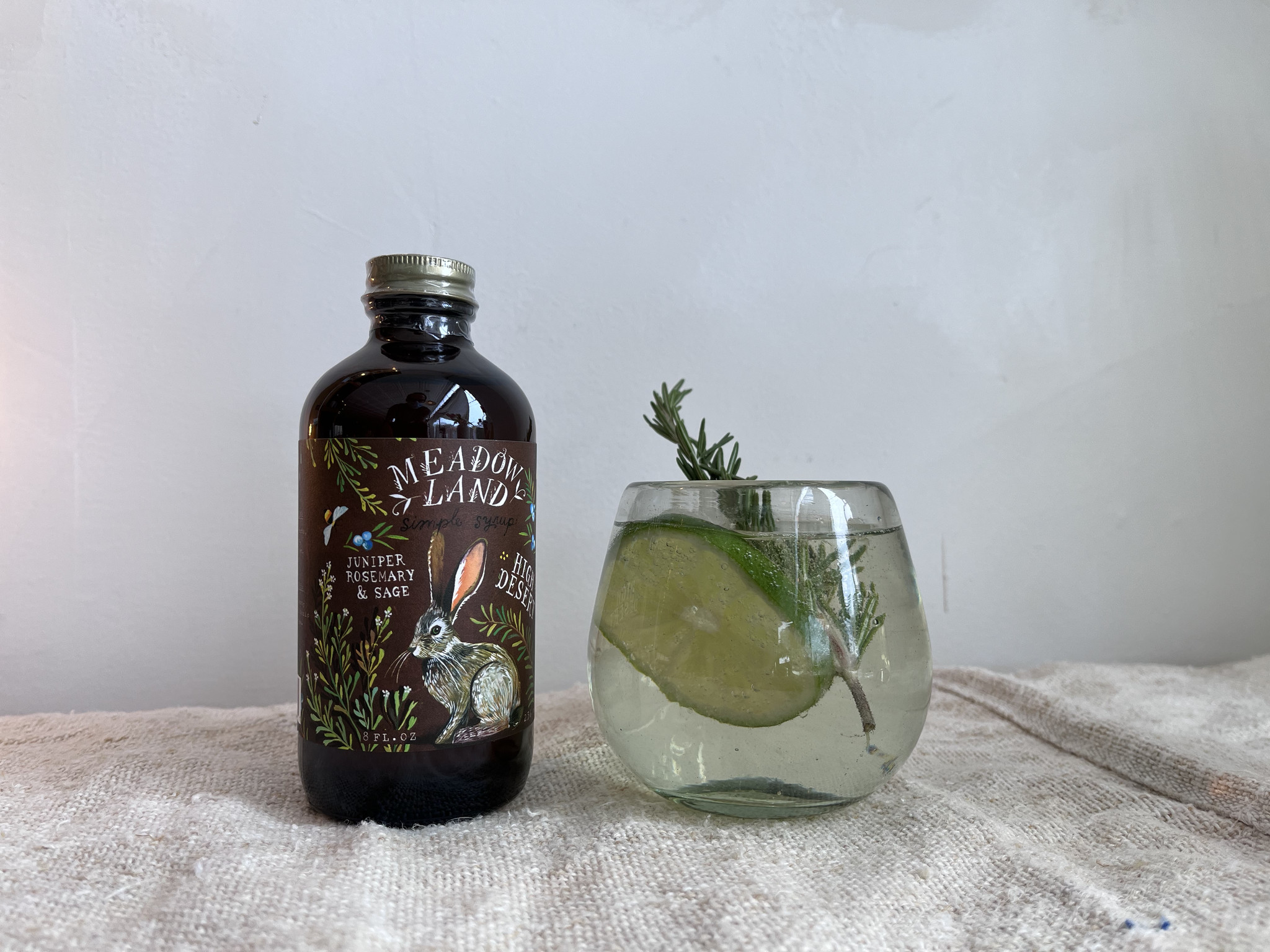 Mediterranean Gin + Tonic
with High Desert Juniper Rosemary Sage Syrup

1 1/2 oz. Cocchi Americano
3/4 oz. gin
1/2 oz. Meadowland High Desert Simple Syrup
Tonic Water
Garnish with a lime wheel and sprig of rosemary
February in Minnesota can feel a little bit closer to summer on the Amalfi coast with just a couple sips of this herbaceous little number. In a mixing glass, add your Cocchi Americano, gin, and Meadowland High Desert simple syrup over ice. Stir with your favorite mixing spoon until thoroughly combined and strain over ice. Float tonic water on top and garnish with a lime wheel and a sprig of fresh rosemary. Sunglasses optional; great vibes mandatory. Cin cin!
N/A Take: Mix High Desert simple syrup with tonic water and a splash of lime kombucha. Garnish with a lime wheel and sprig of fresh rosemary. 

The Forgotten Library
with Goldfinch Honey Vanilla Chamomile Syrup

INGREDIENTS
​1.5 oz Rye Whiskey
.25 oz Laphroaig 10 year
.25 oz Goldfinch Simple Syrup
2 dashes Angostura Bitters
Optional: Fernet Branca Rinse and/or Vanilla Bean garnish

DIRECTIONS
Add ingredients to shaker or large glass over ice. Stir. Rinse your drinking glass with Fernet if using. Strain drink into glass over ice. Garnish with half a vanilla bean.

N/A TAKE: Replace Rye + Laphroaig with Lapsang souchong or single fermented kombucha.
Golden Age Golden Milk Latte
with Golden Age Salted Honey Cardamom

INGREDIENTS
1/4 cup milk
1/4 teaspoon ground turmeric
1 teaspoon coconut oil
pinch of black pepper
.75 oz of Golden Age simple syrup
coffee
ground cardamom

DIRECTIONS
Heat 1/4 cup milk, 1/4 teaspoon ground turmeric, 1 teaspoon coconut oil, pinch of black pepper, and .75 oz of Golden Age simple syrup over medium heat. Stir frequently until milk starts to simmer around the edge of the pan. Allow it to simmer on low for one minute. Pour into a bowl and whisk until foam forms.

Brew one cup of hot fresh coffee and pour into mug leaving room for milk. Add hot Golden Age milk and a reserve a dollop of foam to spoon on the top. Garnish with a sprinkle of ground cardamom.

N/Caffeine Take: Double this and omit the coffee altogether.

A TAKE: Add 1/2 oz bourbon to the milk while heating (we won't tell your Ayurvedic practitioner).


Lavender Margarita
with Dusk Black Tea + Lavender Syrup

INGREDIENTS
1 1/2 oz. reposado tequila
3/4 oz. Cointreau
3/4 oz. fresh lime juice
1/2 oz. Meadowland Dusk Simple Syrup
Soda water
Sprinkle with flaky sea salt (the perfect application for your jar from last month!) and garnish with a lime twist

DIRECTIONS
Inspired by the signature cocktail from the truly swoon-worthy restaurant Piopiko in Kyoto, Japan, this floral, tangy twist on a margarita has us dreaming of cozy hotel bars in far flung locations. Add your tequila, cointreau, lime juice, and Dusk syrup over ice in a cocktail shaker. Shake until extra chilly and blended, then strain over ice and float soda water on top. Sprinkle with some flaky sea salt and garnish with a lime twist. 
N/A Take: Mix Dusk simple syrup with fresh lime juice, soda water, and a dash of pickle juice* before garnishing with flaky sea salt and lime twist.
* Let's talk about the pickle juice. We know it sounds weird, but it gives this mocktail just the right amount of tang and funk you would get from the tequila. Trust us.
Snake in the Grass
With Meadowland Signature Blend Syrup

INGREDIENTS
1 oz white rum
½ oz overproof dark rum
¾ oz fresh lime juice
½ oz Meadowland Signature simple syrup
4 mint leaves
Mint garnish

DIRECTIONS
Add mint leaves and Signature simple syrup to a shaker over ice. Muddle, then add ice and remaining ingredients. Stir until full dilution. Strain into a rocks glass over ice. Garnish with mint sprig.

N/A take: replace rum with 1 oz ginger beer and 1 oz coconut water.