RUBY + SHOP BIRTHDAY BASH!
Join us at the shop THIS FRIDAY, SEPTEMBER 8th
6-8pm
For sips and delights in celebration of our/Ruby's 11th birthday!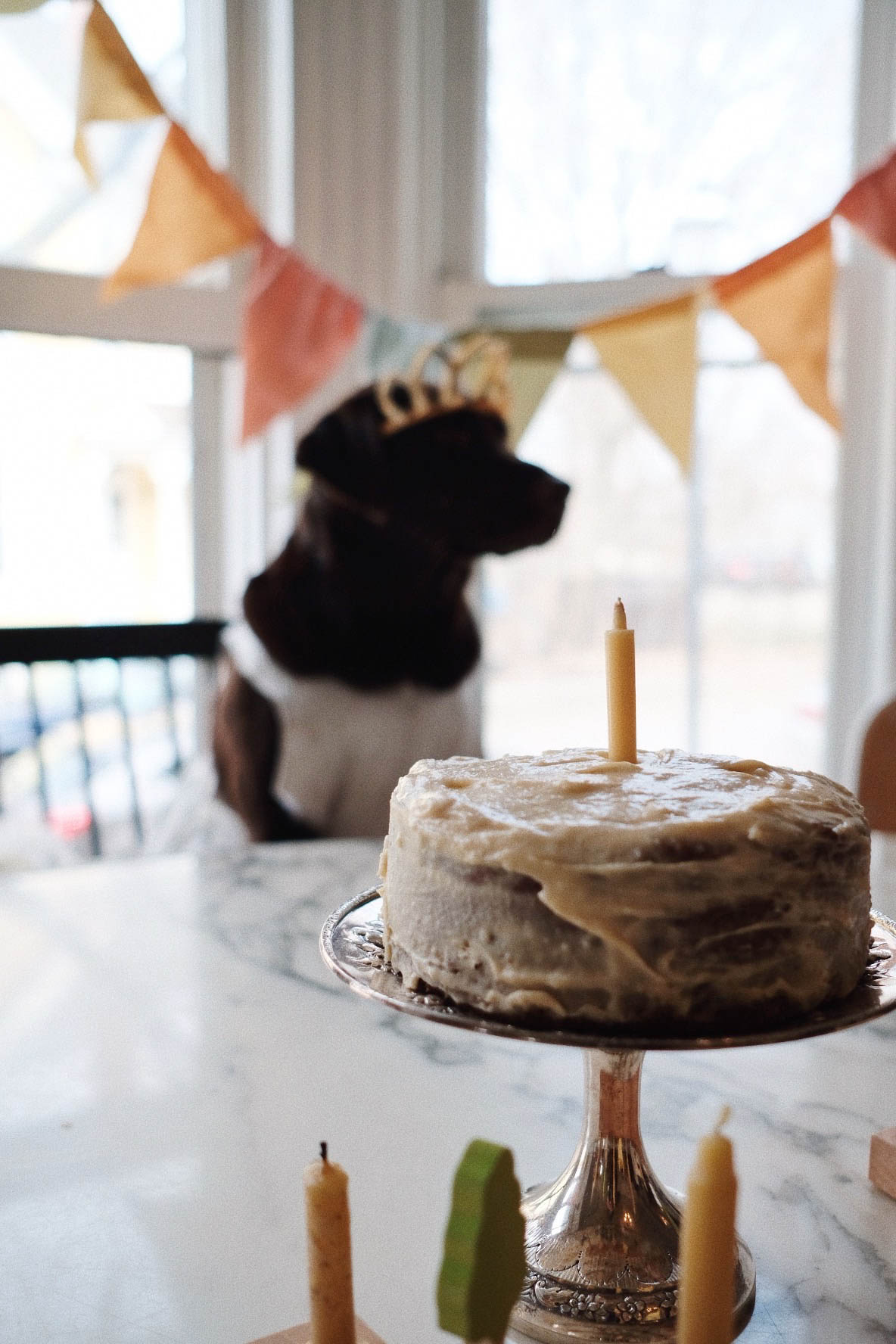 EVERY THURSDAY: Laune Bread Orders + Subscription pickup!
Order Here and come by any time during shop hours to snag your delights.
Join Us + The Neighbors 
FOR A "SWITCH HOUSE" THURSDAY NIGHT MIXER
5-7pm
Sips + delights with the doors thrown open.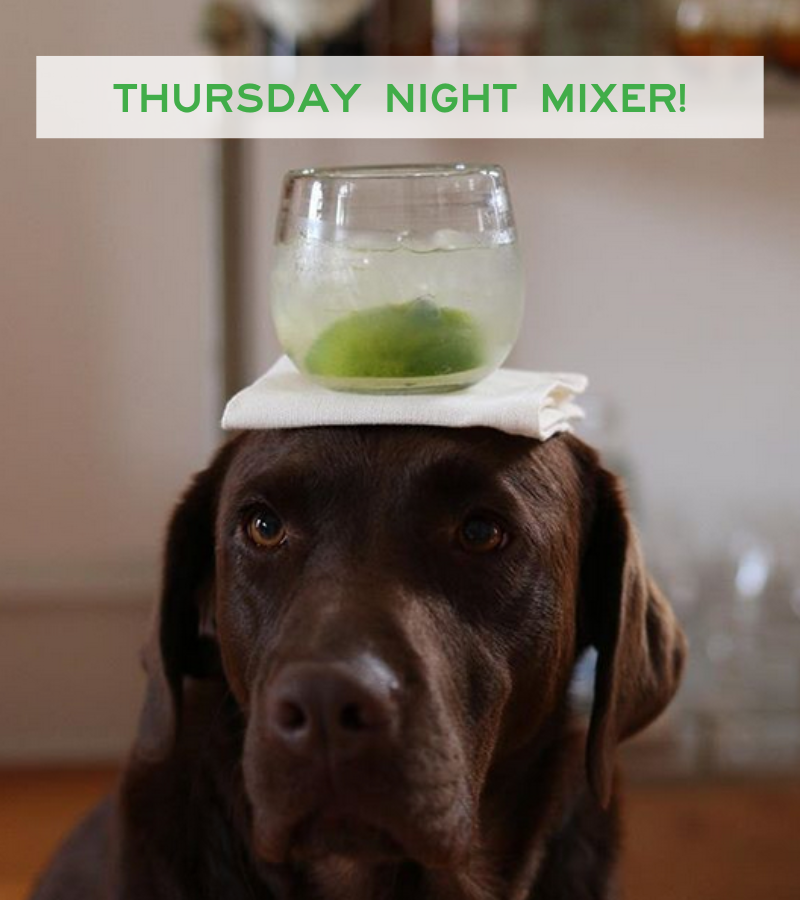 DECEMBER 3rd, 2022
JOIN US + THE NEIGHBORS
FOR A "SWITCH HOUSE" HOLIDAY FÊTE

Saturday, December 3rd
4-7pm

There is designated parking for our Switch House building (formerly Soap Factory) directly by the front shop doors and ample street parking is to be found on the surrounding streets!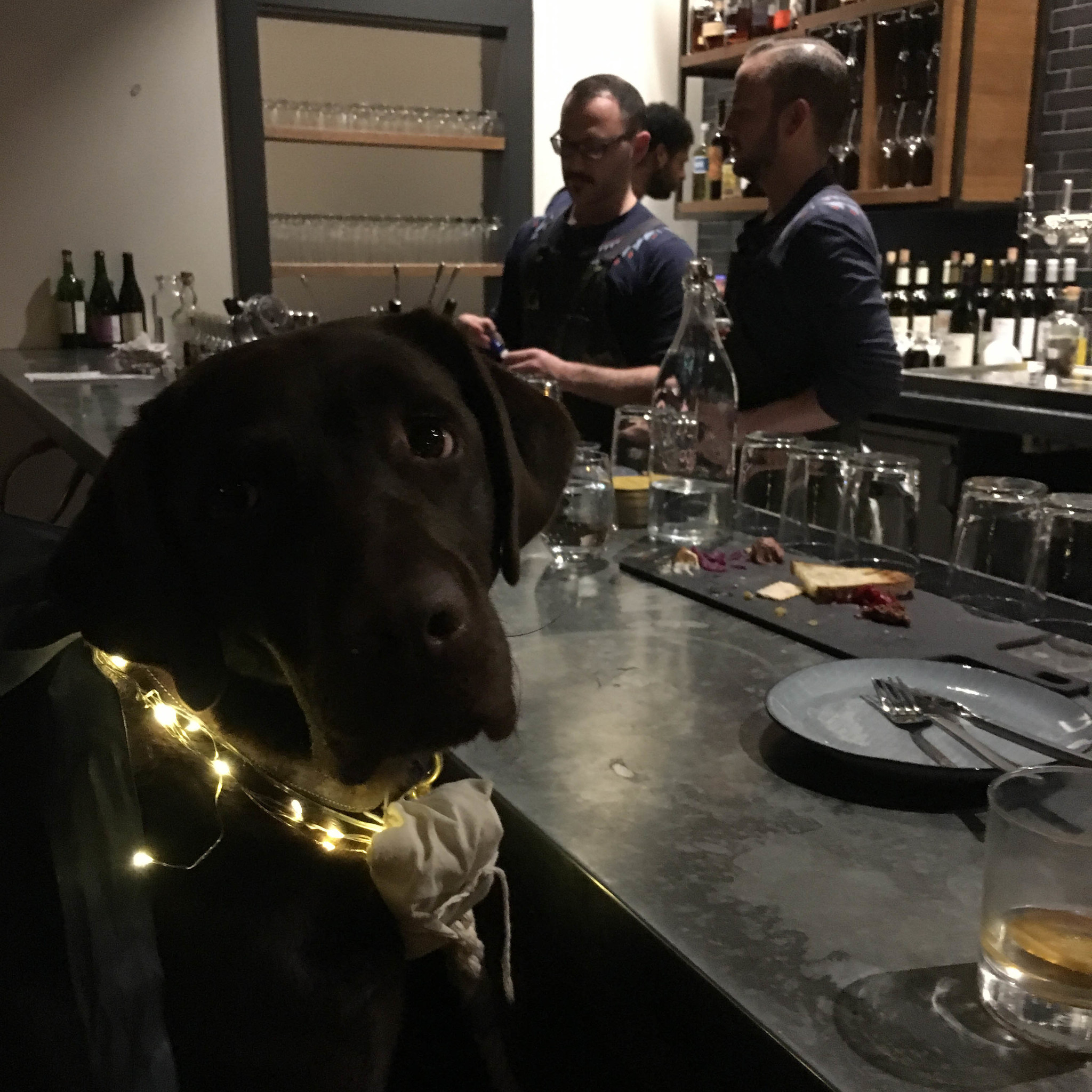 NOVEMBER 19th 2022, 10-2pm:
Tea Party at the shop! Feat. Northeast Tea House
Come join the Matcha Mavens from the Northeast Tea House and lift your pinky fingers with us Saturday, November 19th from 10-2pm. Learn about their (amazing!) in-house Matcha-making operation and steep in a little tea and sympathy.




SEPTEMBER 29th 2022: BUILDING PARTY w/OUR WONDERFUL NEIGHBORS!
Join us and our fabulous building-mates, Spoke + Weal and Watershed Spa, for a building-wide party Thursday, September 29th!
Bubbly + Build Your Own Bouquet Bar at The Foundry
4-8pm

Open Bar, Live Music, Bites, and DJ: Next Door + Downstairs
6-8pm—and Beyond!



SEPTEMBER 2022: TWO PONY DAHLIAS AT THE FOUNDRY
Our dear friends out at Two Pony Gardens will be dropping off stunning just-picked dahlia bouquets throughout September. Follow along on Instagram to check availability, give us a call, or just pop by!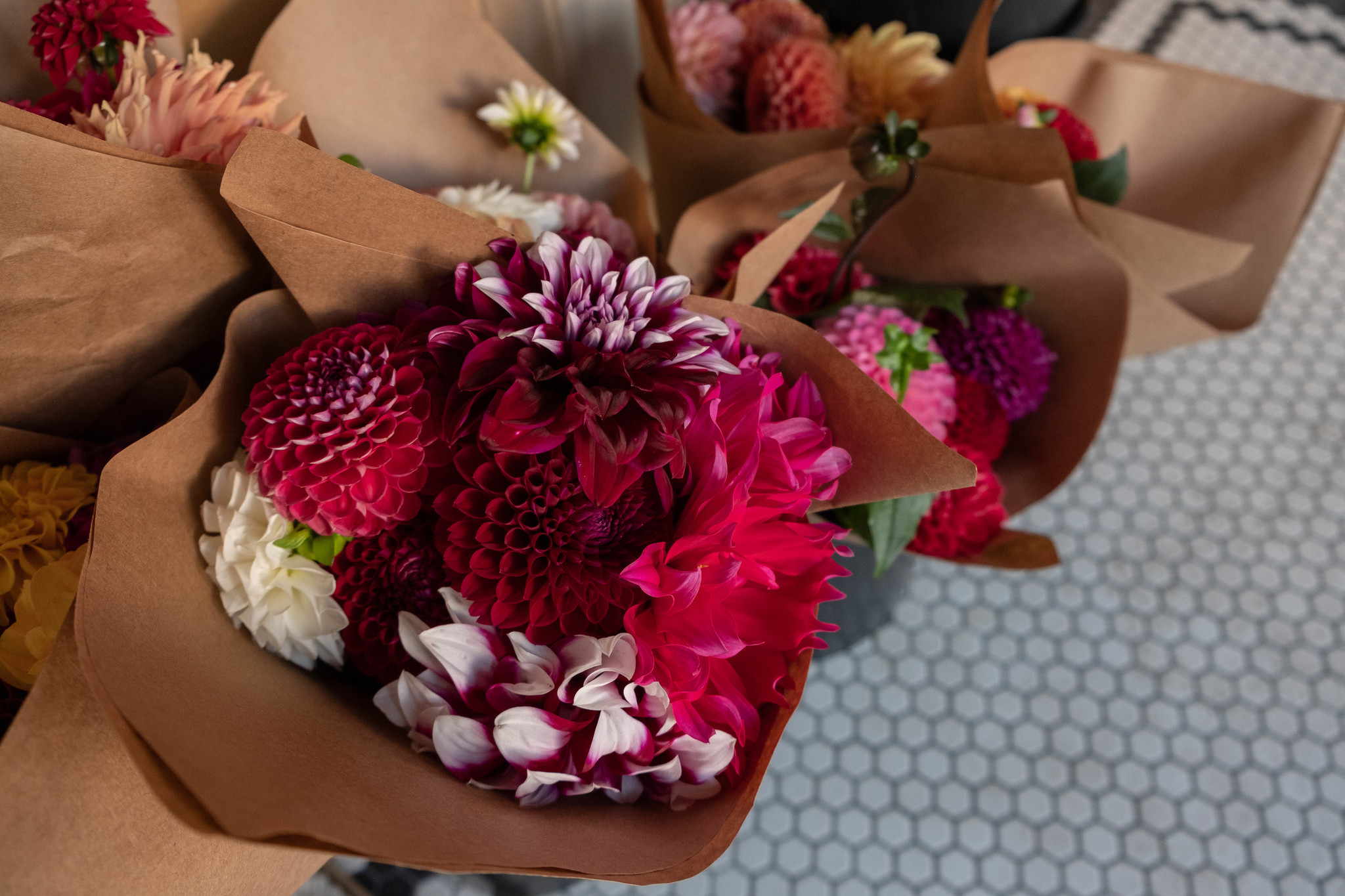 SEPTEMBER 7 + 8 2022: RUBY + SHOP 10th BIRTHDAY CELEBRATION
Swing by the shop to celebrate A DECADE of Darling Ruby (Wednesday September 7th) and our TEN YEAR SHOP ANNIVERSARY (Thursday September 8th). Snacks + Bubbles, of course.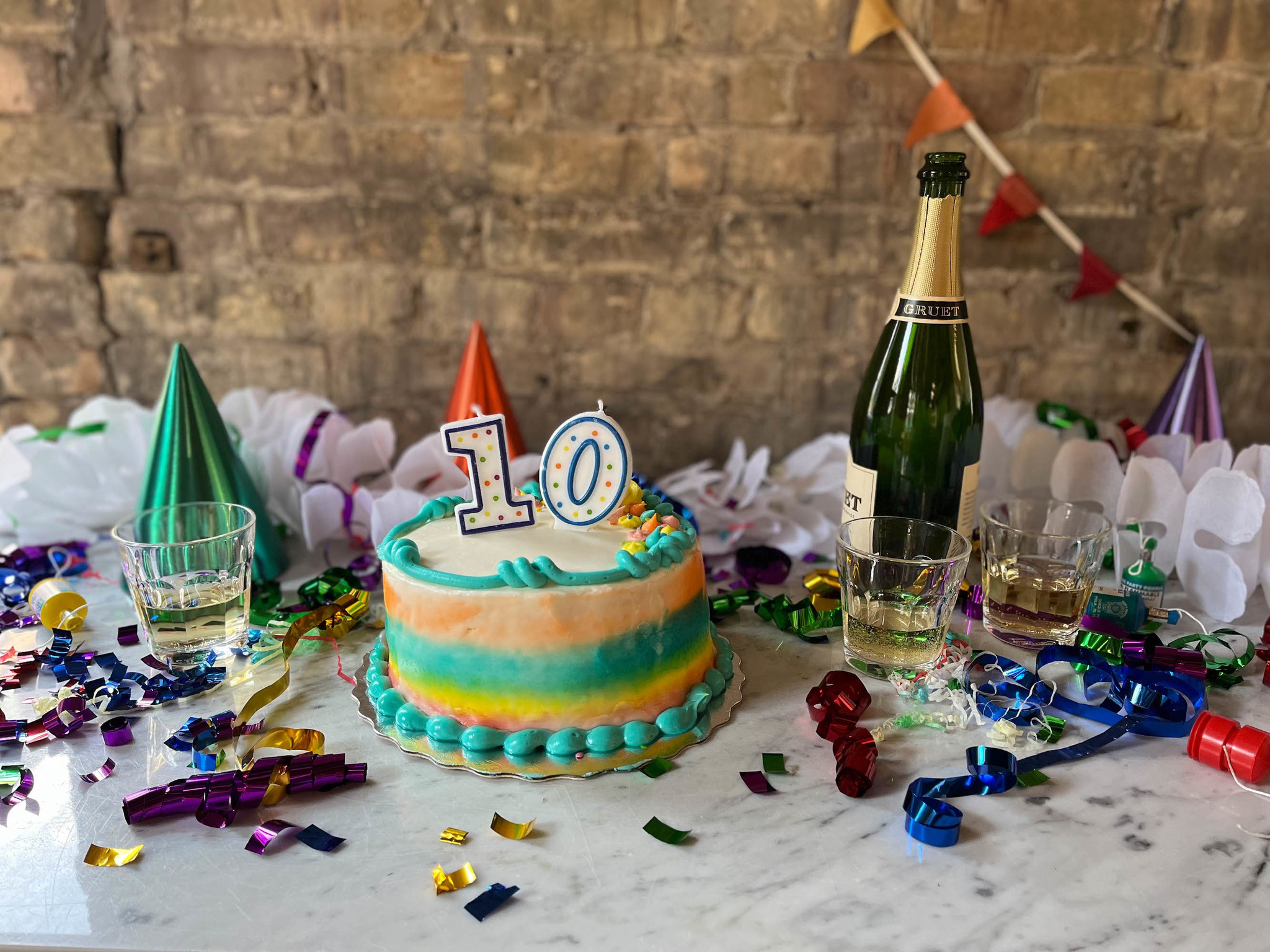 SUMMER 2021: TWO PONY GARDENS FARM POP-UP EVERY THURSDAY FROM 2-6pm!
Our dear friends out at Two Pony Gardens will be popping up at the shop every Thursday from 2-6pm, bringing the freshest, most vibrant, just-harvested produce, farm honey and maple syrup, and truly gorgeous bouquets. Flowers go fast, don't miss 'em! Follow along with their farm adventures to see what's ripe this week.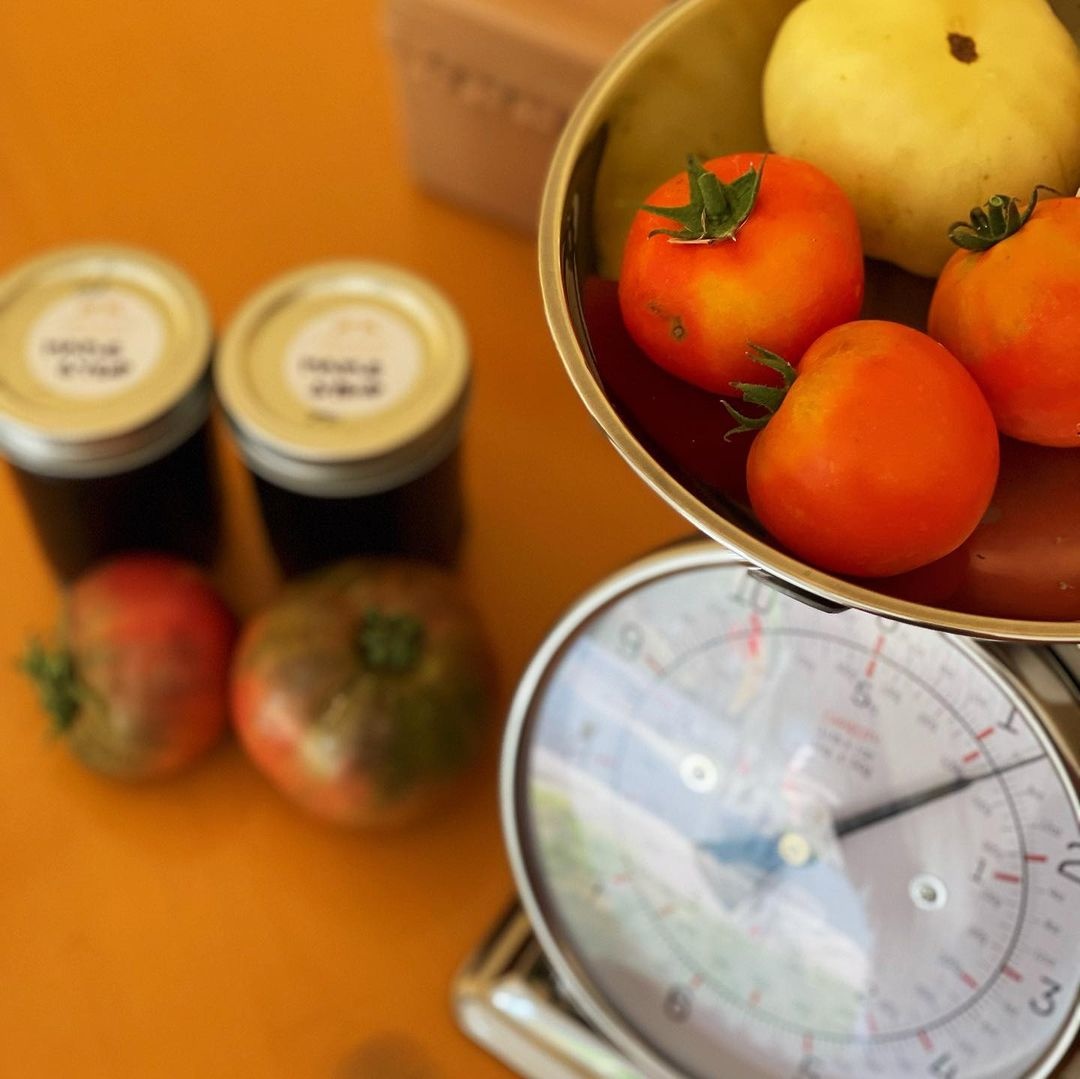 TURNIP'S VIRTUAL DANCE-A-THON & THIRD BIRTHDAY DIGITAL CAKE SMASH!
Join us, with joy, for a remote-bringing-together of our Foundry Friends & Family in honor of Turnip's Third Birthday!
Streaming, live and in technicolor, from Anna's house on the island!

Friday, March 27th, 2020
1pm CST (2pm EST, 12pm PST)

join the fun right over here on INSTAGRAM LIVE


There will be cake, hats, tunes, and plenty of pawsitive vibes!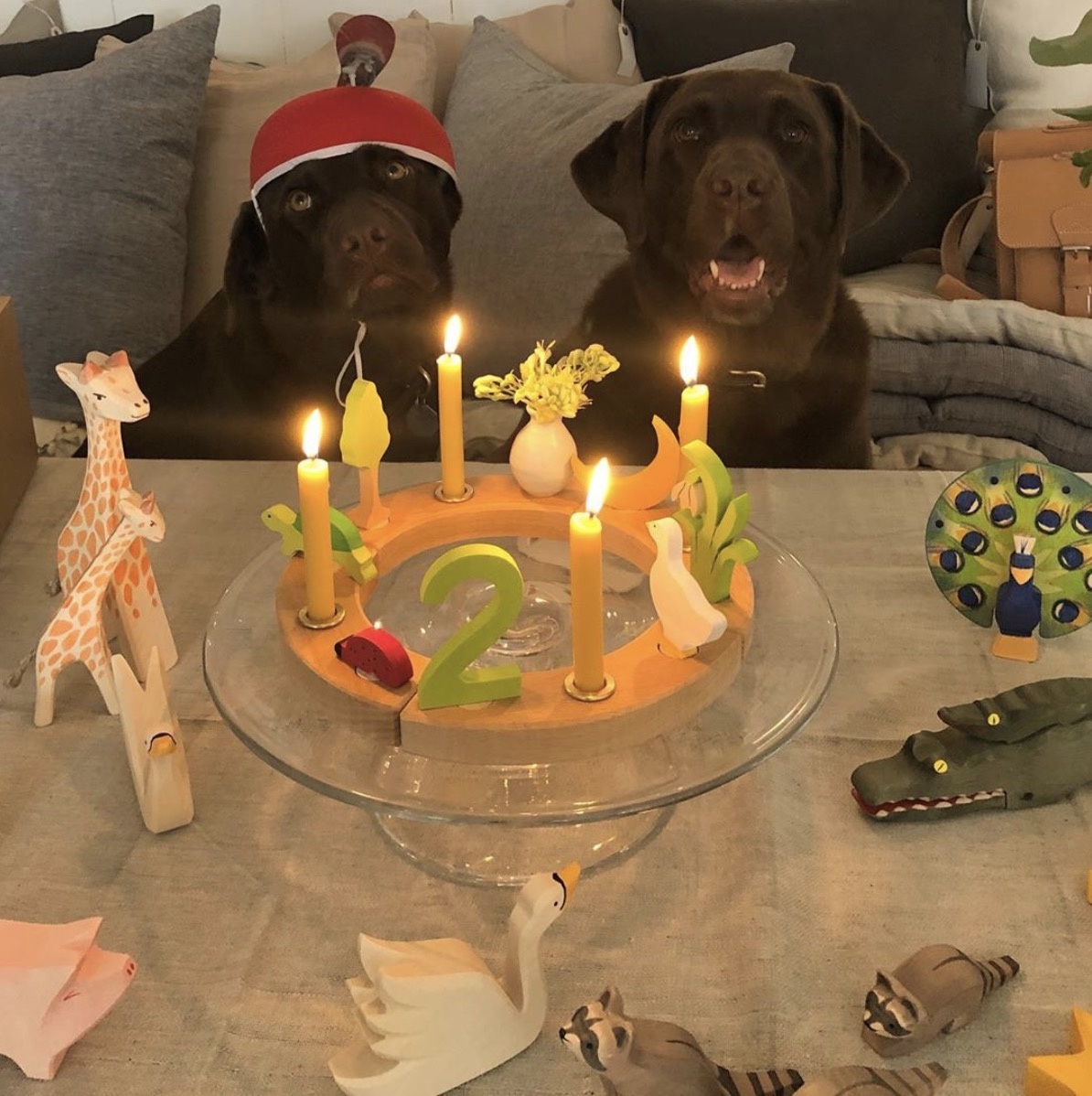 VALENTINE'S BYOBB: BUILD YOUR OWN BLOSSOM BAR
Thursday, February 13th-Friday, February 14th All Day! 
We'll be putting together a gorgeous selection of Anna's favorite uncommon blooms, blossoms, and branches, all available by the stem. Bring your own vessel or pick up a cutie in the shop (think outside the vase!) and fill at will! Ruby will be on hand for expert floral consultations. *Might* pop some bubbly if the mood strikes!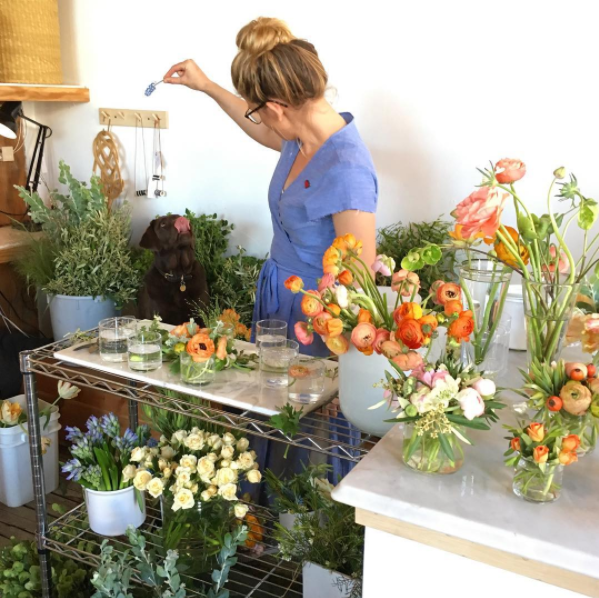 HOLIDAY BLOCK PARTY & WASSAIL! 
Tuesday, December 3rd
5-8pm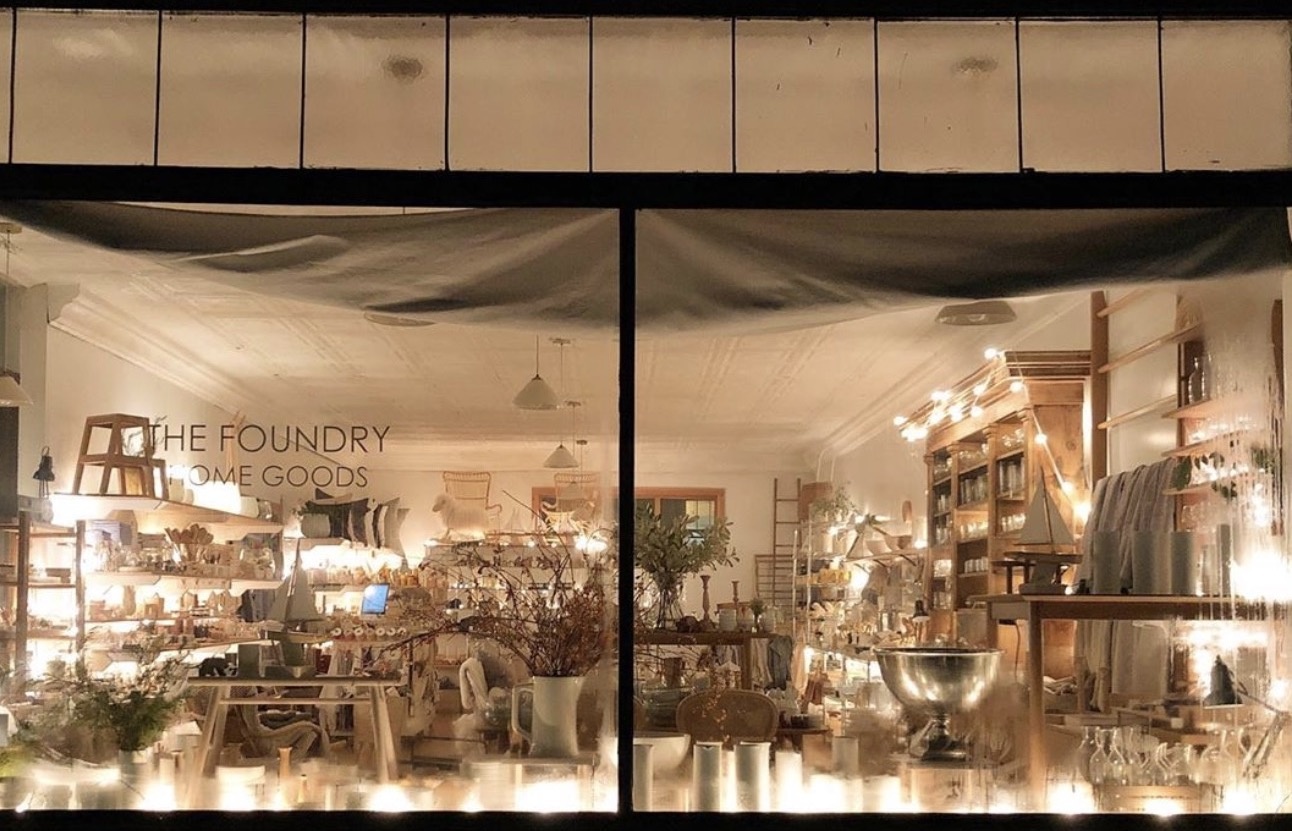 Join us for good cheer, jolly vibes, hot toddies, and wet noses c/o Ru(dolph)by! Our marvelous neighbors Mille & BlackBlue will be getting festive as well so come on out and make a night of it!
NORTHERN DYER NATURAL PLANT DYE WORKSHOPS

September 11th - SOLD OUT

October 3rd - Reserve your spot here!
Step into the glorious, wild-blooming, color-rich world of Minneapolis-based Botanical Dyer Libby London at a Foundry x Northern Dyer Natural Dye Workshop.
RUBY'S GOLDEN BIRTHDAY!

Saturday, September 7th at HIGH NOON!

What's the best way to celebrate the original shop dog's GOLDEN birthday? With a golden birthday cake, that's how! Stop by to witness the Majesty (and incredible patience) of Ruby as we sing her happy birthday and shower her with the love she deserves. You only turn 7 once, after all!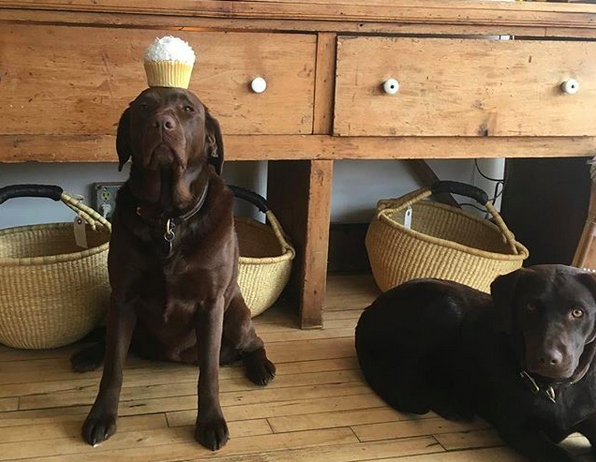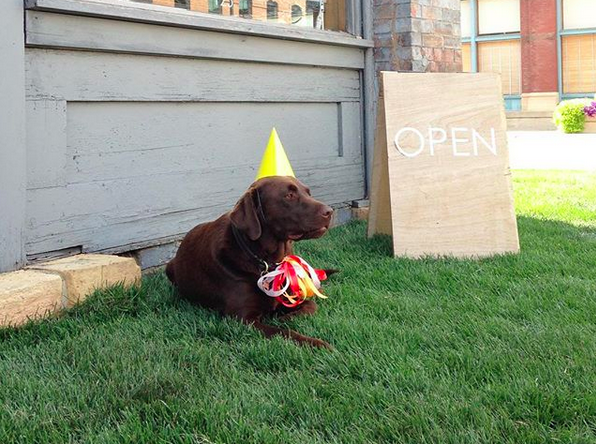 THE FOUNDRY'S 7TH BIRTHDAY SALE

Saturday + Sunday, September 7th + 8th ALL DAY!

We're celebrating The Shop's 7th birthday with a weekend-long 7% sale on every. single. thing.

We can't forget about our out of town friends! Online purchases use promo code RUBYSGOLDEN for 7% off your whole order!
*Sale and online promotion valid Sept 7th + 8th only
NEIGHBORHOOD MIXER
Thursday, September 5th, 5-7pm
Why not! Stop by and have a glass of rosé on this beautiful evening. Our friends at Blackblue will also be having a little cocktail party across the street. A great day to visit the neighborhood!
NEIGHBORHOOD MIXER
Thursday, June 27th 4-7pm
Why not! Stop by and have a glass of rosé on this beautiful summer evening. Our friends at Mille and Tula Spa will also be sharing some of their favorite beverages. So be sure to swing by their shops too!
IMPROMPTU TANGLETOWN BLOCK PARTY!
Friday, June 14th 5-7pm
Come raise a glass with us (and our dear friends at Mille + BlackBlue) this Friday, June 14th from 5-7. Wine, slanty-summer-golden-hour-sun, and labradors!
TURNIP'S 2nd BIRTHDAY PARTY!
March 27th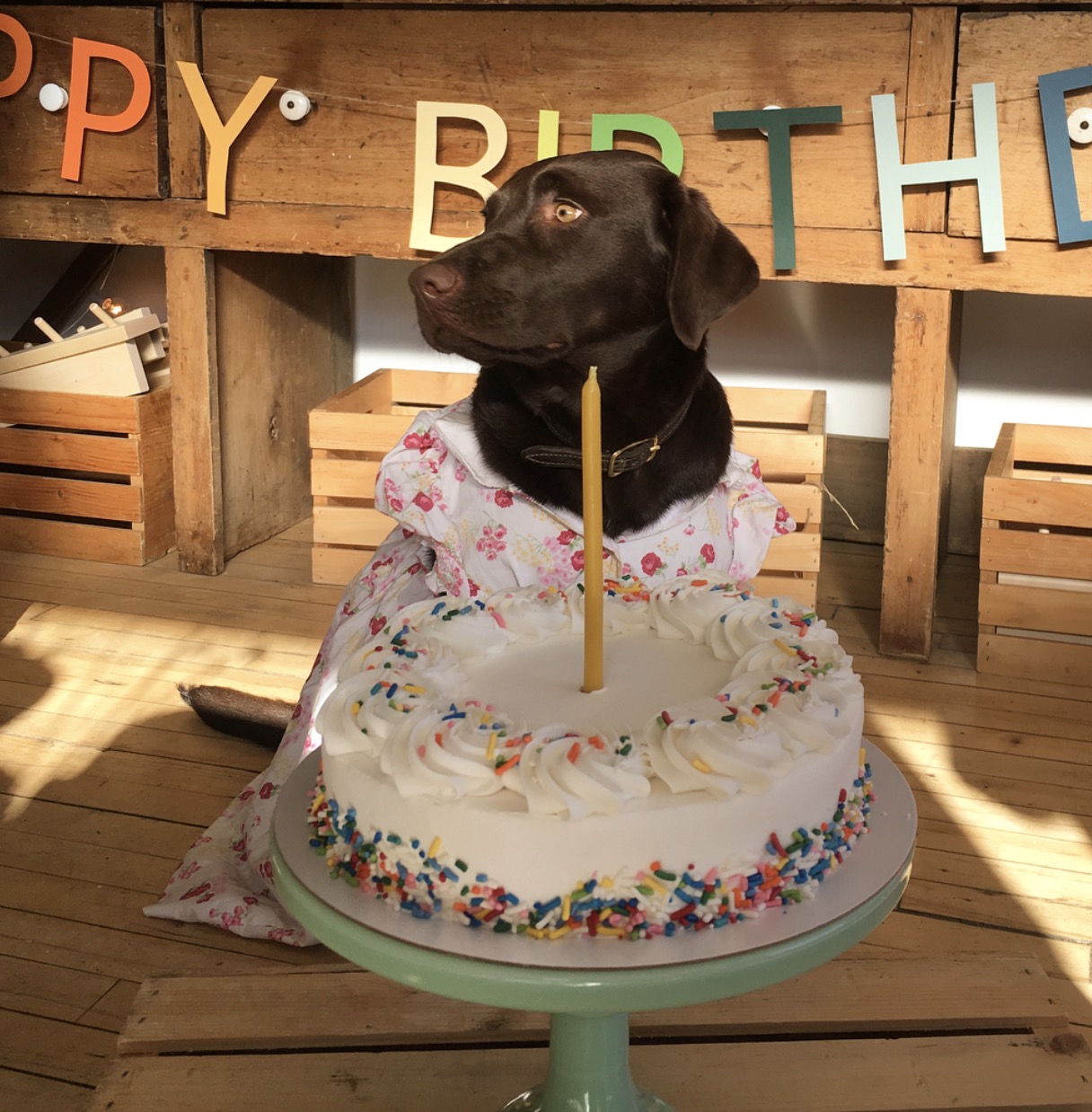 Join us from 5ish - 7ish for an all out dog birthday party. Think pigs-in-a-blanket, party dresses, streamers and a cake fit for a dog. Be here by 6pm to witness the cake smash and sing to our girl.
And a little trip down memory lane for all lovers-of-Turnip (so, everyone):
Turnip possesses a fierce love of Ruby AND of ice cream: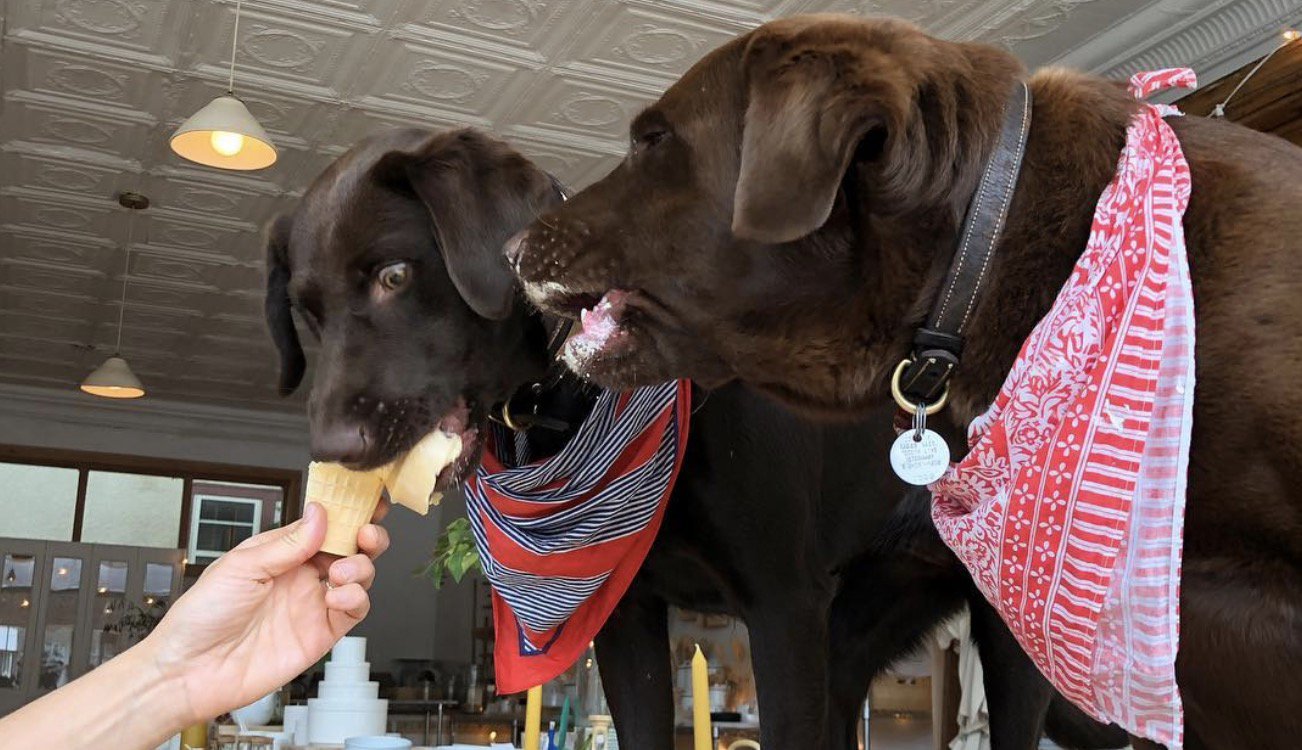 Turnip always puts on a great spread: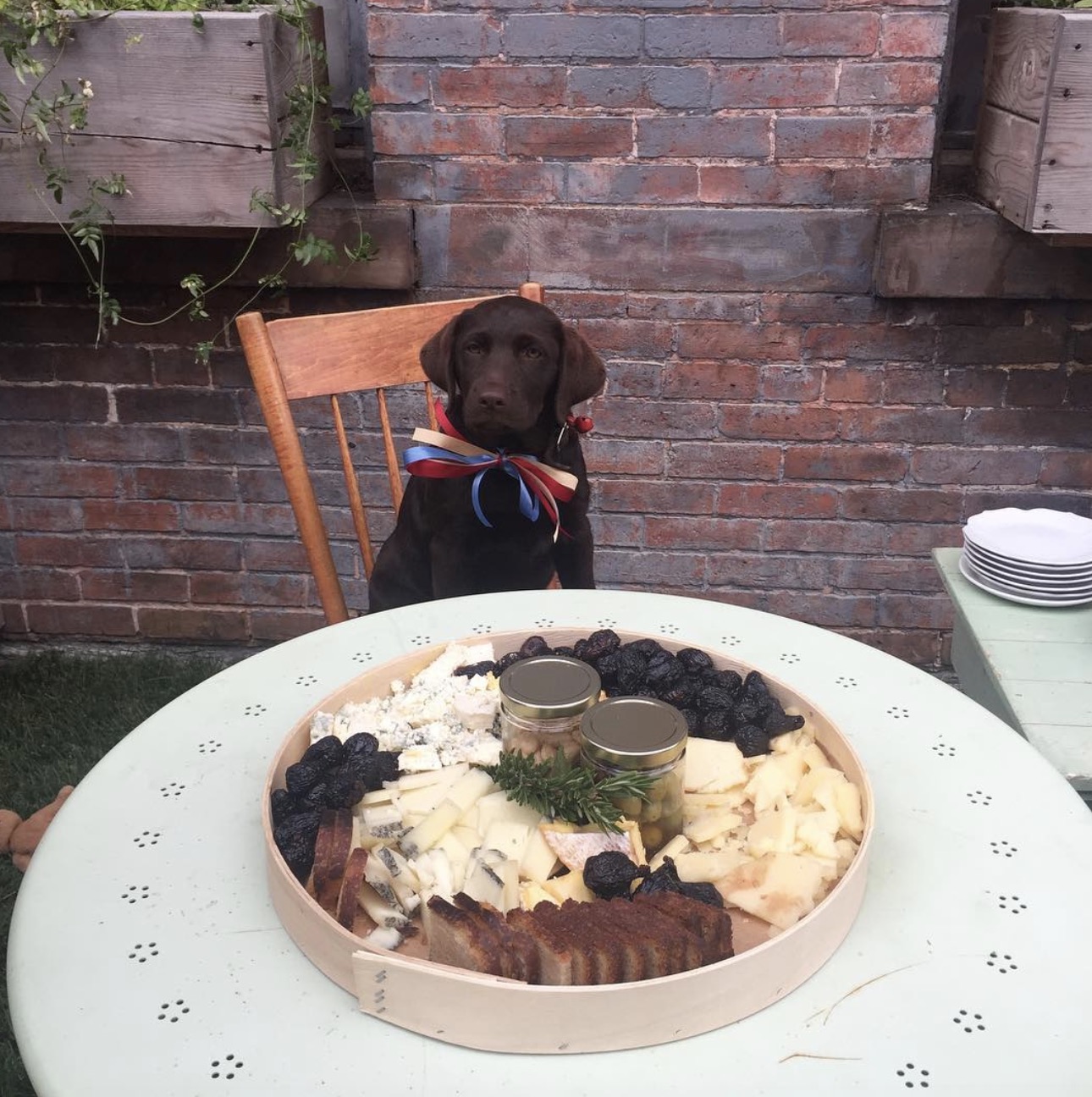 Turnip as a wee one (eeeeeeeee!) oh, they grow up so fast!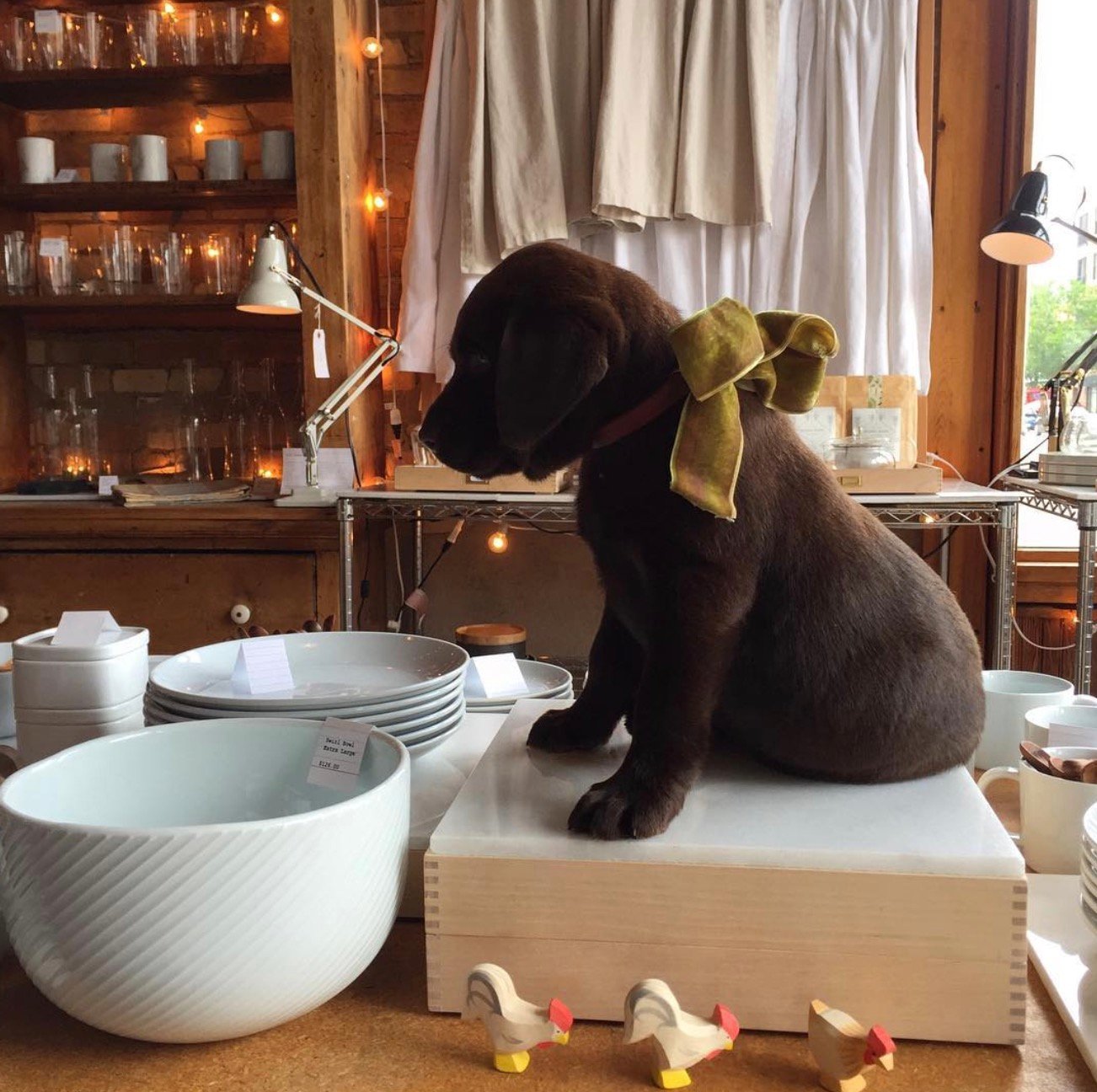 Need more Turnip love? Come celebrate with the genuine article, 3/27! We hope to see you there.
VALENTINE'S DAY PARTY!
February 14th
Save the date for an all-day party to celebrate Valentine's Day. Think flowers! Think Champagne! Think Labrador cupids! More details to come!
THURSDAY NIGHT MIXERS - HOLIDAY EDITION!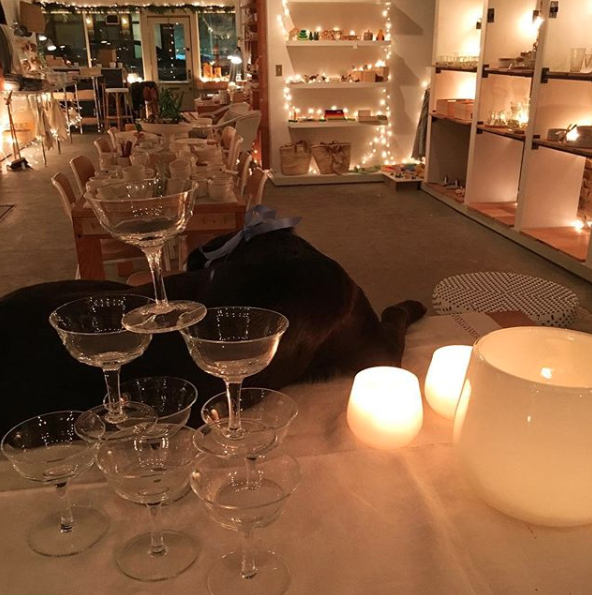 Join us for Hot Toddies & cheer every Thursday* during December. We'll be decking our halls (and our labradors) and staying open late so you can swing by to raise a glass or do some last minute shopping.
HOLIDAY MIXERS: 5ish until 8ish
November 29th, December 6th, 13th, and 20th
* Okay, full truth: We make a batch of Hot Toddies just about every night, so you probably don't have to wait for a Thursday to roll around if you're in the mood! And if you want to make one at home, take a peek at Anna's recipe!
FRIDAY SEPTEMBER 7th-SATURDAY SEPTEMBER 8th: Ruby's + Our BDAY PARTIES!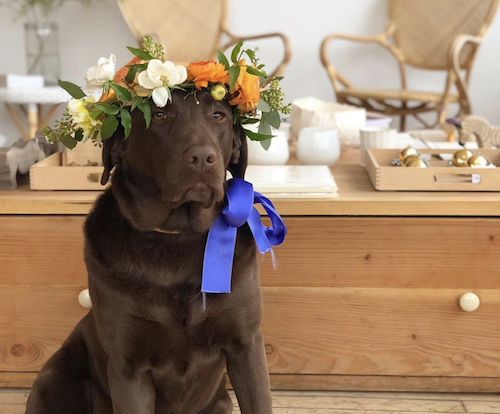 On September 7th 2012, Ruby, the original shopdog, was born. The next day, The Foundry Home Goods opened its doors for the first time ever. Call it destiny, call it star crossed love, we're going to call it A CELEBRATION! Join us for weekend full of fêtes in honor of Mlle. Ruby and our 6th Anniversary. Details to follow. 
All Day: Friday, September 7th + Saturday, September 8th
Cupcakes + festive beverages for kiddoes + adults.

5-7pm: Friday, September 7th
We'll be turning our usual three ring circus of shopdogs, flowers, and beeswax into an actual three ring circus complete with carnival barkers, drinks for cheersing, snacks, tightrope walking, lion/lab tamers, and a very special birthday girl getting her very own cake.



(quite nearly) WEEKLY: Thursday Night Mixers*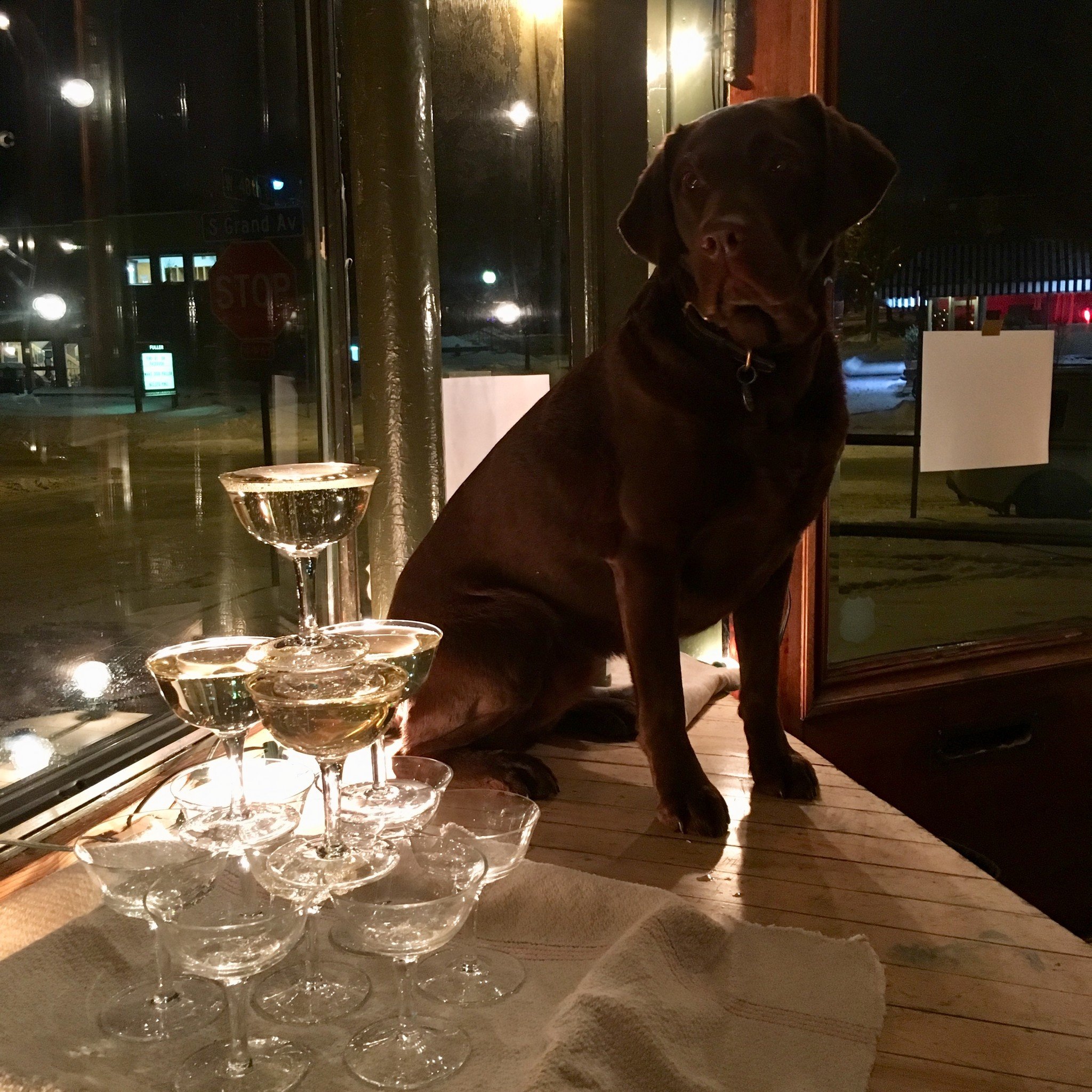 Oh yes friends! Our summertime Thursday Night Mixers are back!
The grass is out and the pups are ready to party. What's a Thursday Night Mixer, you ask? Well, it's a casual, neighborly, summertime tradition at The Foundry. Swing on by on Thursdays* from 5ish - 8ish. We'll whip up some drinks and snacks, fill the labrador pool and the dogs will sport their best outfits. You're welcome to bring something to share if you fancy. 
*We try our darndest to host a mixer every single week, but occasionally Ruby has a schedule conflict, so take a peek at our Instagram account for our mixer announcement each week!
EVENT RESCHEDULED!
SATURDAY AUGUST 4th, 11am - 12:30pm: Fox Tales with Johnna Holmgren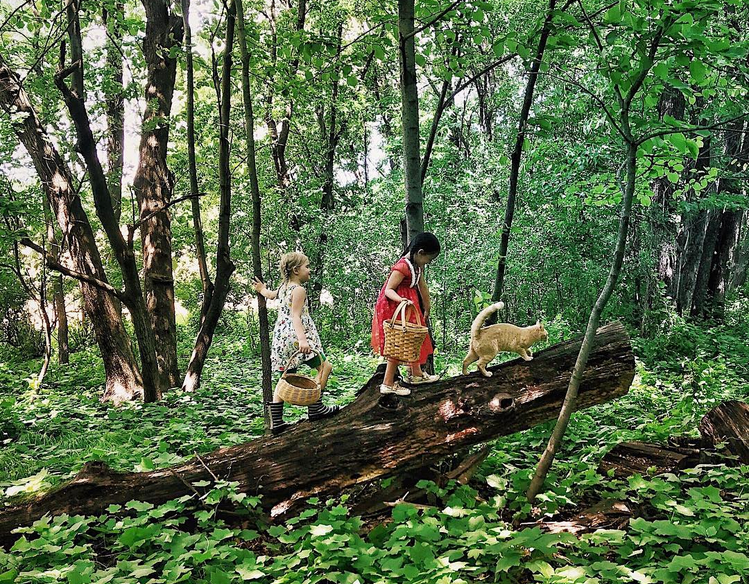 Bring your little foragers down to The Foundry for some very special magical tale-telling with our favorite forest sprite + author of Tales from a Forager's Kitchen: Johnna Holmgren of @foxmeetsbear.
This event is open to all humans, with specific care + attention paid to the pleasures and appetites of the littlest ones: snacks, non-staining drinks, puppies, magic, beauty, science, wonder, nature, lessons, and carpet squares.
Shoot! Sometimes life just happens and you have to reschedule. We'll be looking for a new date for storytime coming up this fall. Keep your eyes peeled, we can't wait!