It's simple: we're all at home, let's make it good.... and what could be better than starting your very own garden?
Our Foundry Family is full of garden lovers (heck, even those of us without thumbs love to get their paws in the dirt!), so it was with great excitement that we decided to place our first-ever order of exceptional heirloom saved seeds from the good folks at Iowa-based Seed Saver's Exchange back in October. We spent the winter with the same giddy anticipation and hopeful dreaming of patient homesteaders, scheming of plans and bounties that might arise when the weather warmed and the seeds came in. After all, a seed is a small miracle. Each tiny kernel holds within it the concurrent wonders of nourishment and nature, of hope and home, of green and light and all that is possible with a little love in the right conditions. We couldn't know then exactly how deeply we'd be feeling the need for just this kind of miracle right about now.

Though our Seed Savers Exchange shipment arrived, fortuitously, on the first warm day of the season, rattly envelopes practically bursting with possibility and sunshine, it is still too cold for us in Minnesota to direct sow our seeds. We turned to Lillian, garden-mistress extraordinaire, to give a step by step tutorial on how to get your garden off to a running start by getting your seed-friends going indoors first. So... now what? Let's get this (seed) party started!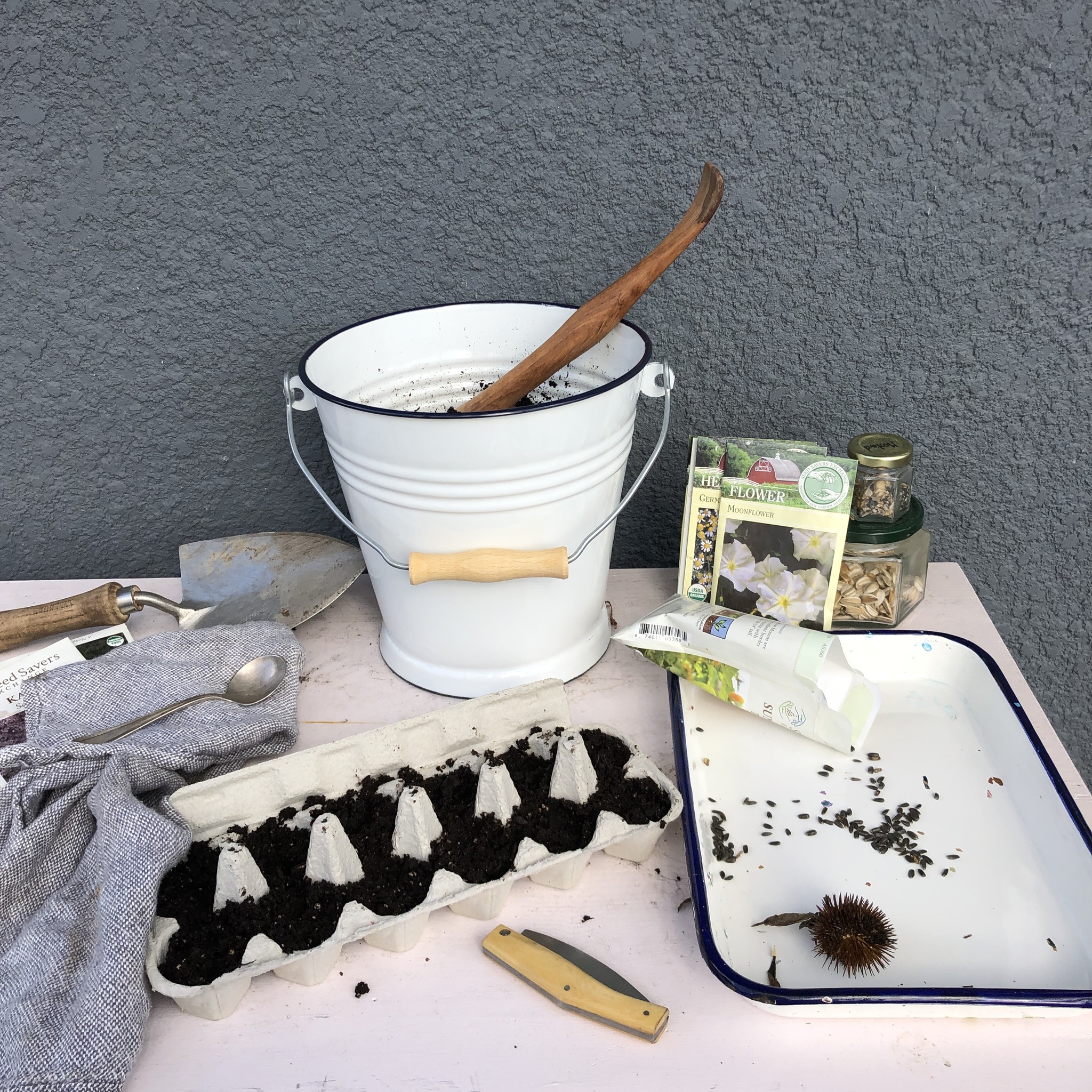 HOW TO START SEEDS INDOORS
Gather your tools! You'll need:
- Seeds!
- Old cardboard egg carton(s)
- Potting Soil
- Coffee Grounds
- Scissors
- A big spoon
- A little spoon
- A waterproof dish large enough to fit all of your cartons
- A big bowl or bucket

1) Use your big spoon to mix together equal parts coffee grounds and potting soil in your bowl or bucket. Why coffee grounds? Because seeds can't start the morning without it  coffee grounds add essential nutrients—nitrogen, potassium, and phosphorus—to the soil. They also help regulate and maintain moisture in the soil throughout the growing process.
2) Use your little spoon to fill the cups of your egg carton with your potting soil mixture. Fill each cup about halfway full with soil mix, keeping in mind the planting depth of each seed you're going to grow. The seed packet should have the planting depth on it, but we also put that info on every seed page in case you need a refresher! For seeds that need to be planted deeper, add less soil at this stage.
3) Pop in your seeds! Be sure not to put too many in each cup, Not every seed will sprout, but those that do will compete for resources and crowded seeds tend to bum each other out. For bigger plants/seeds like squash or melons plant one or two seeds in a cup. For smaller seeds like lettuce or radish you can plant four or five seeds in a cup.
4) Use your small spoon to cover the seeds with a thin layer of soil according to the seed's planting depth. 
5) Label your cartons! We sometimes think we will remember which is which. We are always wrong. An added bonus of the egg carton method is you can write directly on the cardboard.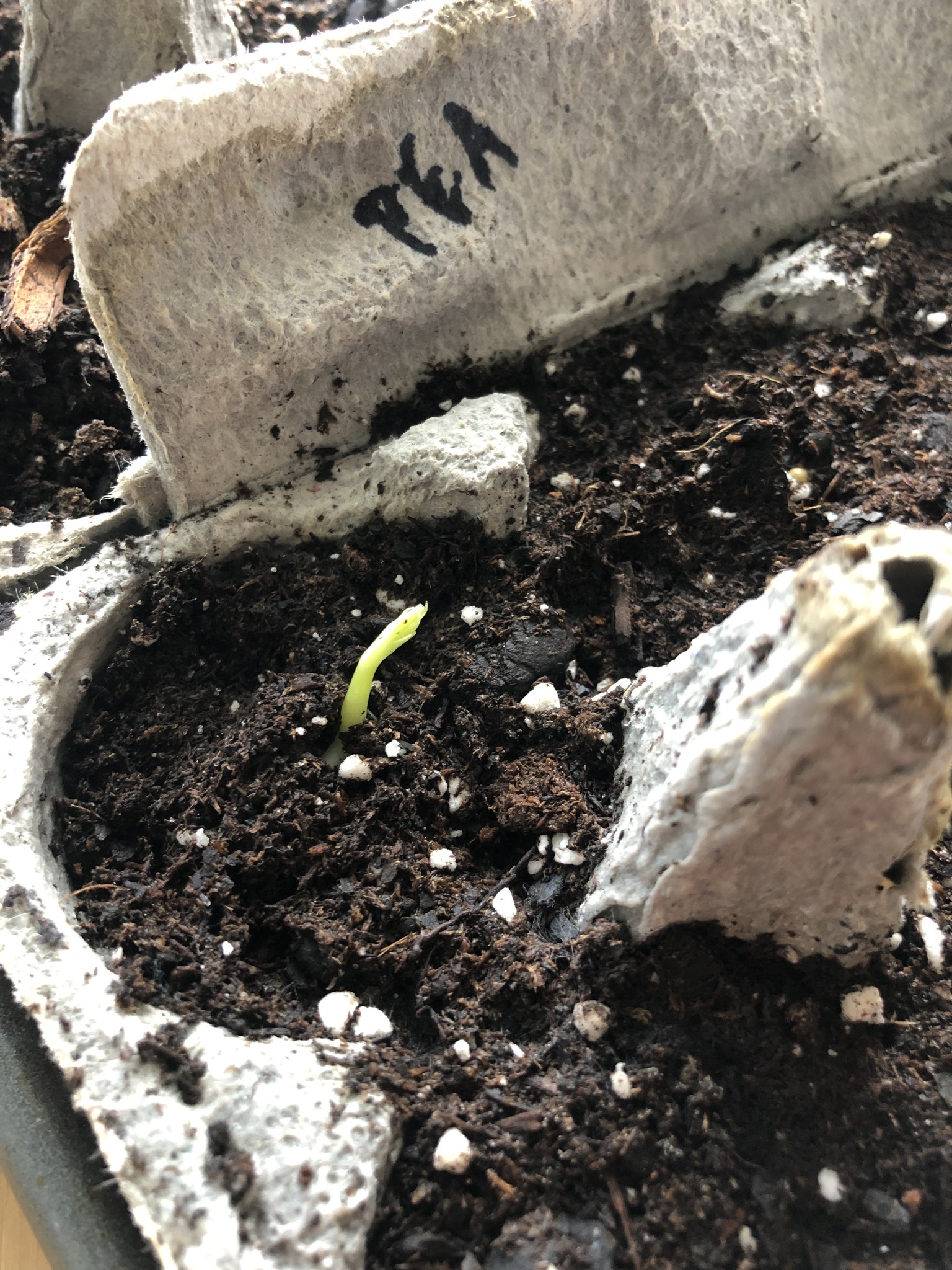 6) Place your cartons in your waterproof container.
7) Water your cups! You can water each one individually, or if your waterproof container has a rim, just keep a layer of water in the bottom of it. The cardboard of the egg carton will wick up moisture as needed and keep your seeds adequately hydrated.
8) Place your seeds in a sunny spot. The sunlight requirements for each plant (also listed on the seed packet/our seed pages) are different, but they all need sun to germinate, so at this stage, find the sunniest spot inside you can and let 'em bask!
9) Continue to water your plants and watch your seeds grow! This is always a beautiful thrill, but for those in our Foundry world who are currently home-schooling/unschooling little ones, this is a particularly wonderful activity, proof of the intersection of science and wonder that eventually can be tended, harvested, and popped straight from grubby little hand into sweet little mouth (this is true regardless of grubby hand size/age). Swoon!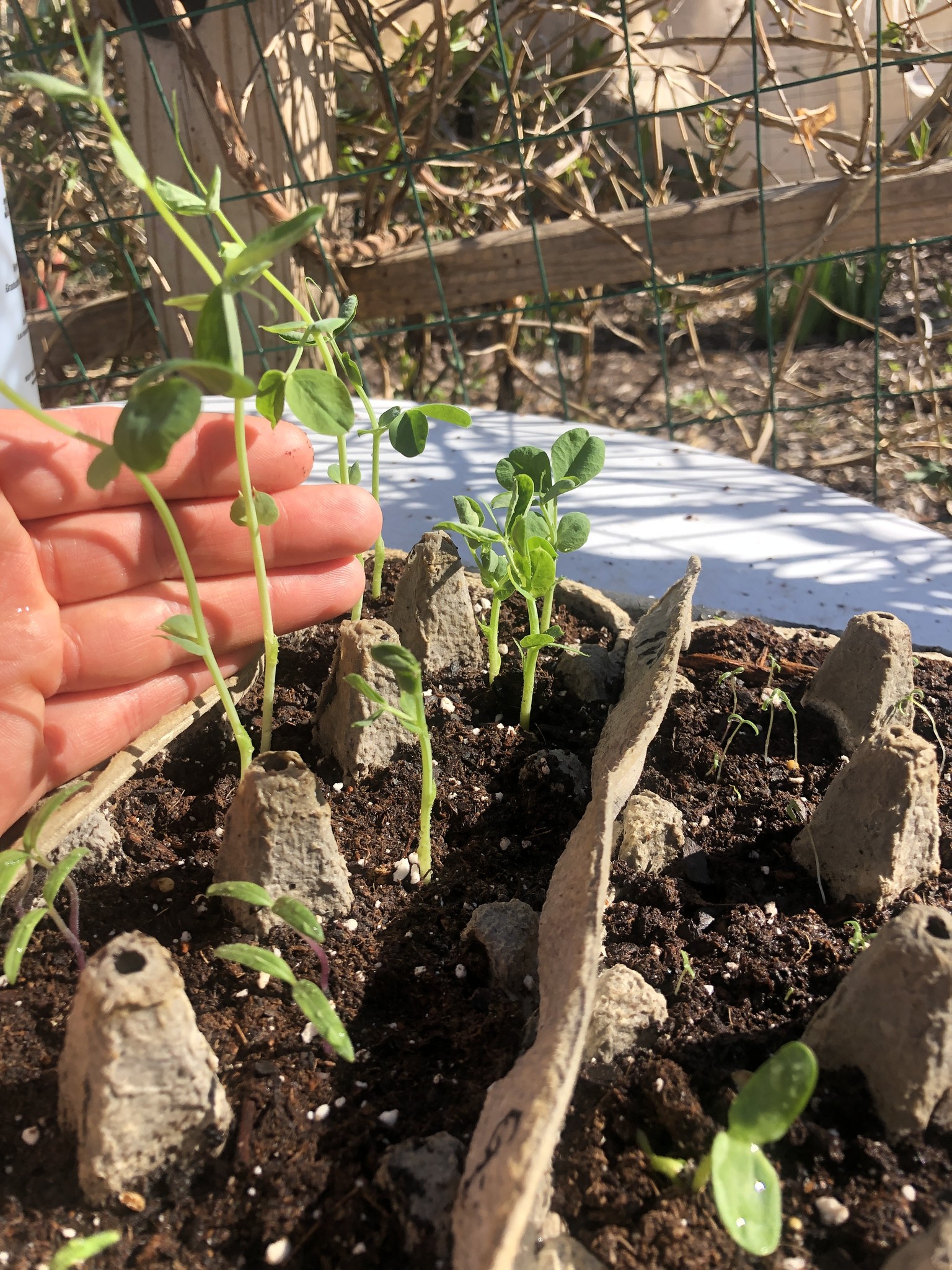 WHEN IT'S TIME TO PLANT...
When your seedlings are big enough and it's warm enough outside (the standard "guaranteed" last frost date in MPLS is 5/29), it's time to plant. Take your scissors and cut apart the cups to separate each pot.
In addition to being a cheap, self-watering, label-friendly, waste-free alternative to plastic seed pots, the major benefit of starting seeds in egg cartons is that you can plant them directly into the soil, pots and all. BOOM! The roots will grow out through the paper (which will break down into compost eventually) and the carton's structure provides stability and helps retain moisture around roots as they grow. Some seedlings may outgrow their egg cup homes before it's time to plant outside. If this happens, you can simply replant your seedlings (cup and all) into a larger flower pot or cup. An old disposable paper or cardboard cup is nice since those will break down eventually, too, and can be direct sown just like the egg carton cups.
Consult the oracle/seed packet/seed pages to determine the best location and spacing for your babes to thrive and, then, dig a small hole in the desired spot and pop your little seedling right in there! Endless options abound for watering setups and soil amendments, but we'll leave that to another day. Label it if that's your fancy and sit back and wait for beauty to unfurl before your eyes.
Get your seeds stocked, your tools out, and bloom where your are planted!
FYI: The Foundry At Home is our very own Foundry series of ongoing/daily/weekly/golly-we-hope-not-longer-than-monthly activities designed and executed by our insane-amazing shop team to occupy your BRAIN and engage your BODY and help us all lean into the lovely moments of calm and beauty that are possible.