A changing of the seasons is always a time for revisiting the humble daily rituals that make our lives run smoothly and save our minds from mental chaos of all shapes and sizes.
This particular changing of the seasons, the need for reordering systems and re-imagining ways to remove upheaval and uncertainty from the daily seems particularly acute. There have been lots of major shifts over the past few months and one place we've really noticed it is: what is required for happy ingress and egress from our homes. With work (or not), school (or not), storms (or not), adventures (or not), masks (yes>no>yes>?), visitors (or not), deliveries (or not) all happening in a months-long state of suspended flux...our systems—both organizational and endocrine—haven't really had a chance to catch up.
On its face it's not as if "knowing where the gloves/keys/coat/homework/umbrella is" is a make-or-break for the day but, hey, on some days "knowing where the gloves/keys/coat/homework/umbrella is" actually can be a make-or-break for the day. As we get our favorite cozy layers out of storage and revisit what activities may or may not be on the agenda for the days, weeks, and months ahead, now feels like the perfect time to take a peek into Anna's entryway to see how she and Ruby are recalibrating their systems this season to make the most of their time, space, energy, and joy.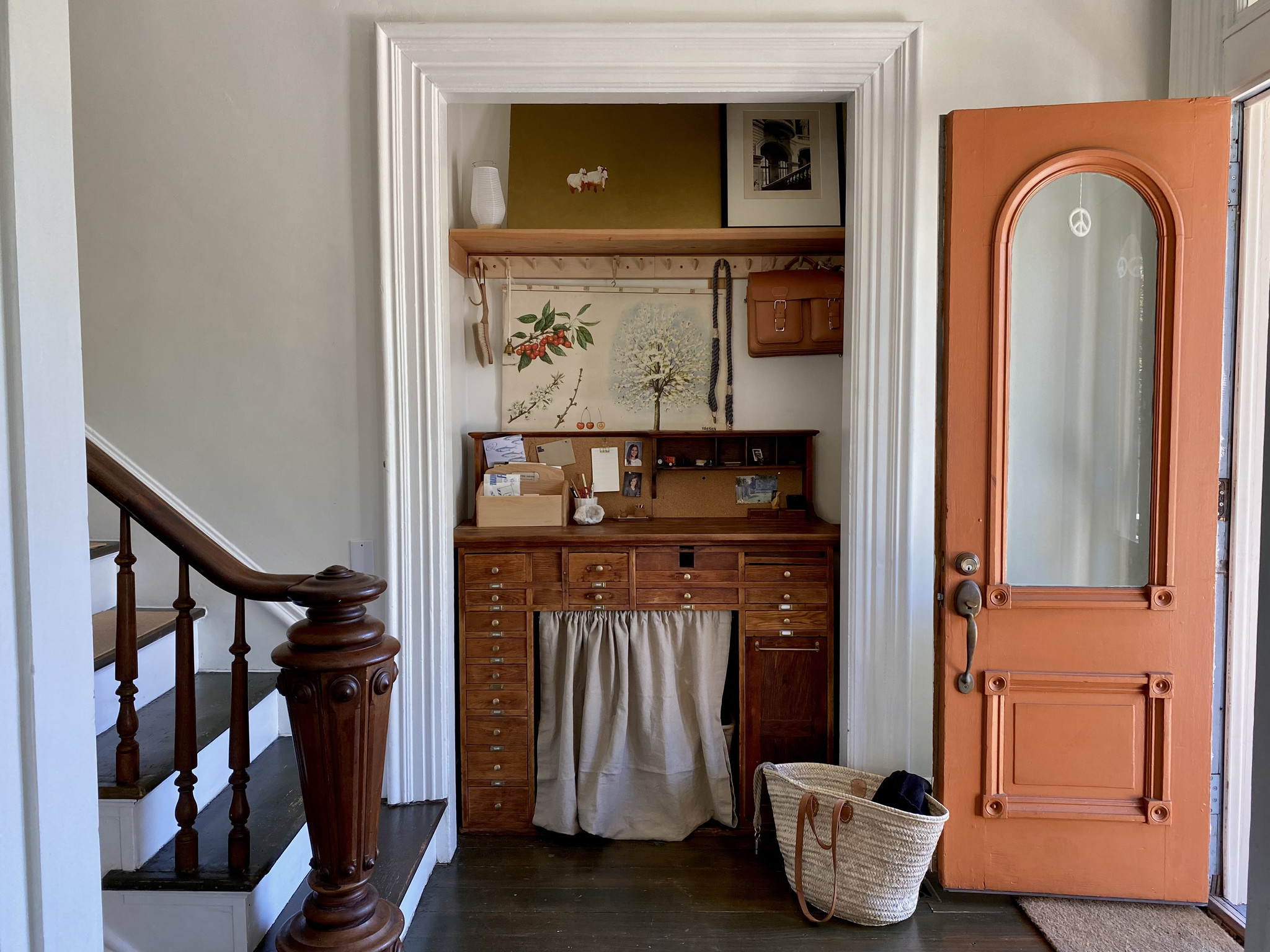 Swedish Birch Peg Racks, two, four, and seven peg options, Beechwood Carrying Tote, Ruby's favorite leash Grey 4", Ruitertassen Bag, Double Handle French Market Basket,
Multiple Zones Make For Quick Corralling: Anna took the doors off of a shallow former closet and tucked this vintage storage "desk" (formerly from a dentist's office) in the alcove. She added a quick linen curtain below, installed a pine shelf across the top using simple wooden cleats, tucking an additional stack of shelves in the right hand side. While this solution is obviously tailored to Anna's space, the mix of abundant drawers, flat surface space, peg racks, and ample hidden storage allow for fluid processing of all of the myriad items that come and go—and occasionally need a place to stay—in the course of daily life.
Catalan Scissors, Paper Clips, Washi Tape, Brass Cabinet Hardware (to replace the original missing, broken, and/or mismatched bin pulls), Futagami Brass Stationery Trays, Large + Small
Identify, Subdivide + Conquer: The best thing about drawers is...you can't see what's in them. Perfect for quickly hiding Ruby's diary when Valentine comes over. But how do you find it next time? Labels. While the labels on Anna's entryway desk *appear* as if they've been there for 1000 years, they are actually these ingenious brass label plate stickers (!). They can be mounted with accompanying tiny brass nails into suitable surfaces (as shown here), but also come a great with self-adhesive patch locked and loaded on the back. Once you've labeled (if you're into that sort of thing), Anna swears by further dividing the contents of drawers to keep them neat and most-used items separated and easy to find. A brass tray here, a labeled envelope there, and it almost feels fun to put things away in their proper place.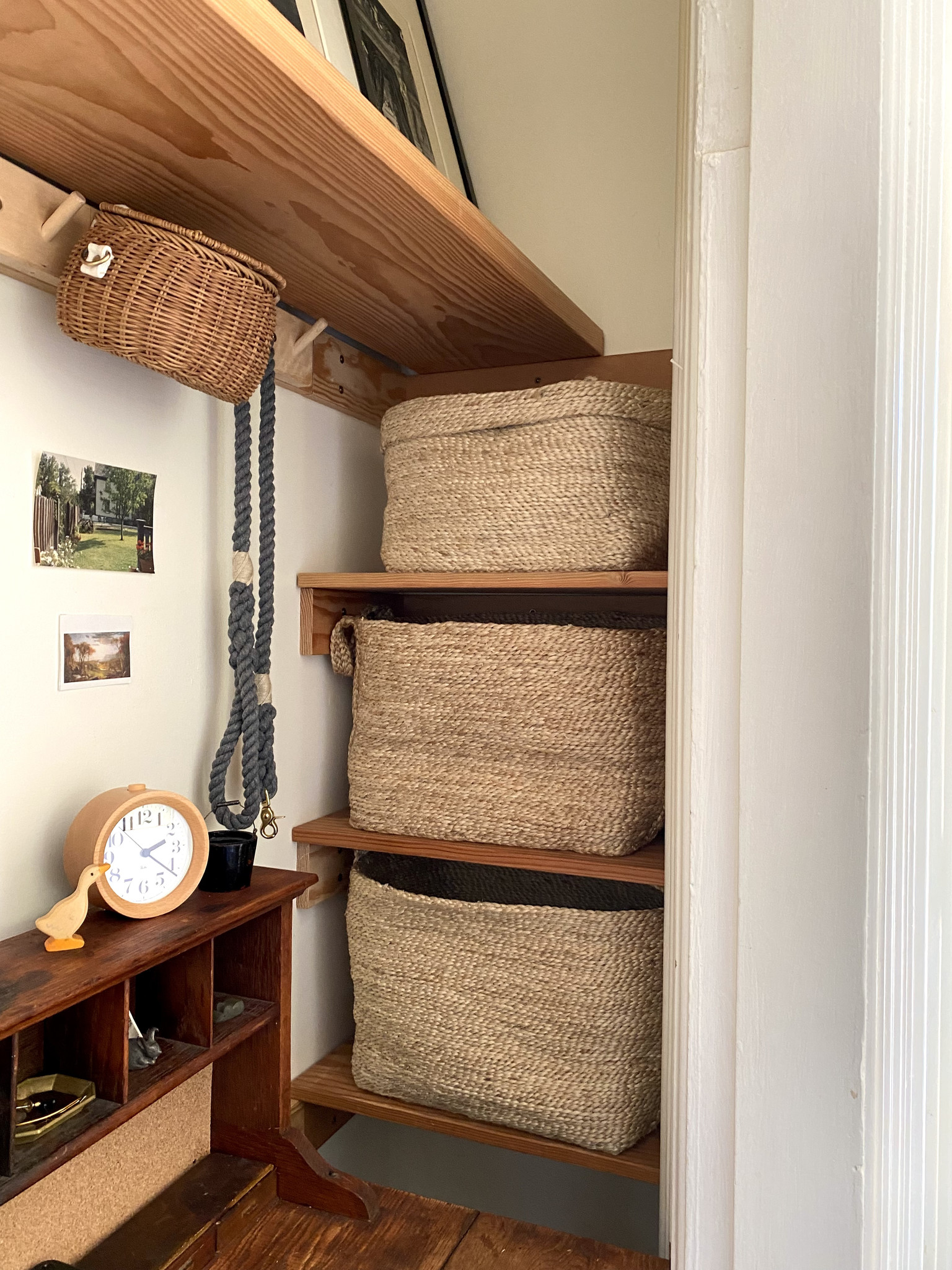 Swedish Birch Peg Racks, two, four, and seven peg options, Fold Over Top Jute Basket, Rectangular Jute Storage Basket With Handles, Ruby's favorite leash Grey 4", Mini Chari Basket, Lemnos Riki Alarm Clock,
More Baskets Are Better: Anna keeps a stack of Jute baskets tucked into the "hidden shelves". There is often a rotating cast of tailored storage depending on the season (one was filled with apples when we were last there) and the needs of the day (one often has mail or parcels that need attention coming or going, sometimes a stack of books waiting to be passed on finds its way here, gloves/scarves/hats fit the bill when it gets cold, Ruby walk supplies, and one holds an ever-growing collection of clean masks—as well one of these laundry bags for wrangling the dirties...sometimes Anna will even stick her phone or her laptop in here to get it out of her energy zone).
Just put your shoes somewhere!: A basket is a classic go-to for the doorside shoe salad. Anna recently snagged a super strong and sturdy storage basket from Steele Canvas. They come on wood skids or wheels, and a few sizes to suit your needs/space. If you have more shoes, we love this jute friend, or if you have lots of people with lots of shoes, this giant bud is a real winner.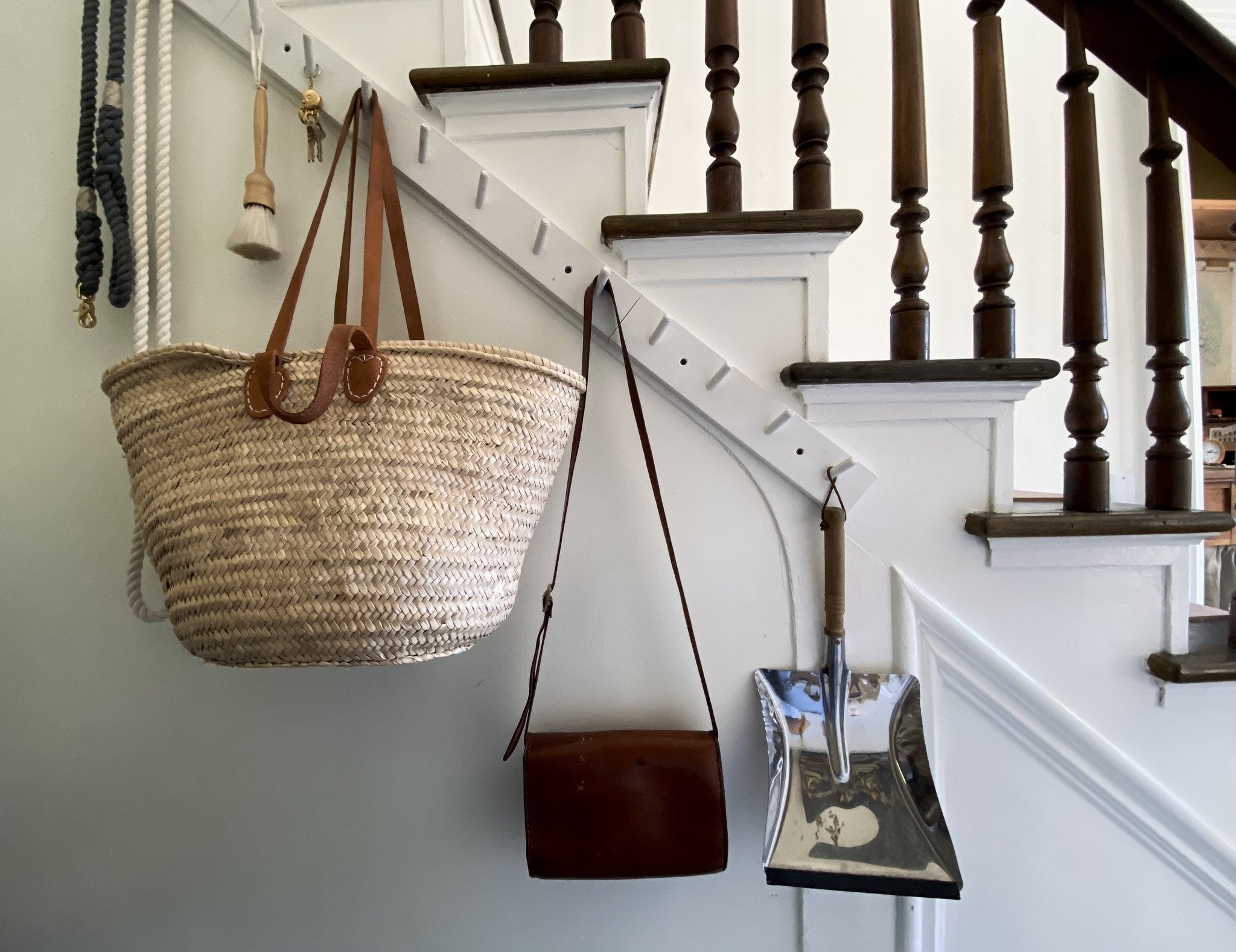 Swedish Birch Peg Racks, two, four, and seven peg options, octopus keyring, stocky dust brush, Ruby's favorite leashes Grey 4", White 6", Stainless Steel Dust Pan, Double Handle French Market Basket
When In Doubt, Peg Rack: Our beloved Swedish Birch Peg Racks are our favorite way to adding crucial storage wherever you might need it. Their variable lengths can be mixed and matched to fit in most any location (in the alcove, Anna has a seven peg and two four peg racks in a row, and here she has a two, a seven, and a four butted together). Their raw birch construction can be left gorgeously au naturale or painted or stained to blend in literally anywhere. By utilizing the formerly dead zone on the back side of her entryway staircase, Anna created an easy home at hand for coats, bags, extra leashes, or whatever might otherwise just have been dumped by the door. 
Looking for more entryway wrangling solutions? Anna's picks, right this way: